So you've decided it's time to include a few more veggie-centered recipes in your weekly rotation. Maybe you're dipping your toe in the plant-based pool or want to make sure you're getting extra fiber for gut health. Either way, choosing a vegetarian ramen recipe is a delicious and nourishing way to supply your body with nutrients.
We've rounded up six vegetarian ramen recipes that are sure to delight. From a crunchy and satisfying ramen salad to a Thai interpretation of your favorite dish, you're bound to find something you'll want to make again and again.
Easy Ways to Make a Ramen Recipe Vegetarian
While you're browsing ramen recipes, don't pass on something you're dying to make just because it isn't vegetarian. Most of the time, all it takes are a few easy swaps to make it into a more vegetable-centered dish.

If you see a recipe that calls for chicken, pork, or beef stock, replace it with equal amounts of vegetable broth. While it will change the flavor profile a bit, you can get creative with spices and other aromatics that will be equally delicious.

Try swapping out meat and seafood with savory pan-fried tofu, tempeh, or soft-boiled eggs. Another trick is to try a high-protein noodle option, like immi ramen. You'll know you're getting enough protein while keeping things plant-based. This list of healthy ramen hacks will keep your creative juices flowing and help you throw together the perfect bowl and enjoy your favorite comfort food in a new way.
Don't have time to cook? Try our 100% vegetarian-friendly immi ramen. Delicious, healthy, and slurp-worthy all in one!
Variety Pack
Variety is the spice of life. Get all three flavors including Spicy Beef, Black Garlic Chicken, and Tom Yum Shrimp. You'll be covered for all occasions.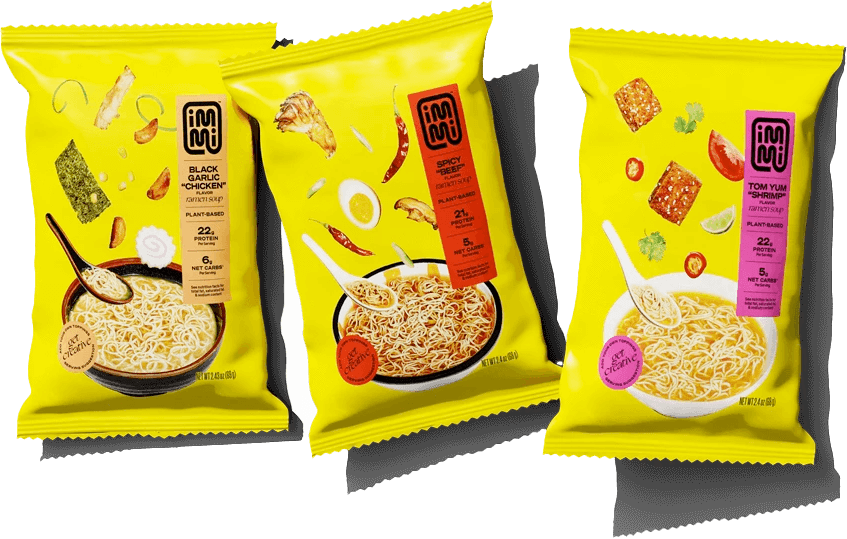 Slurp Now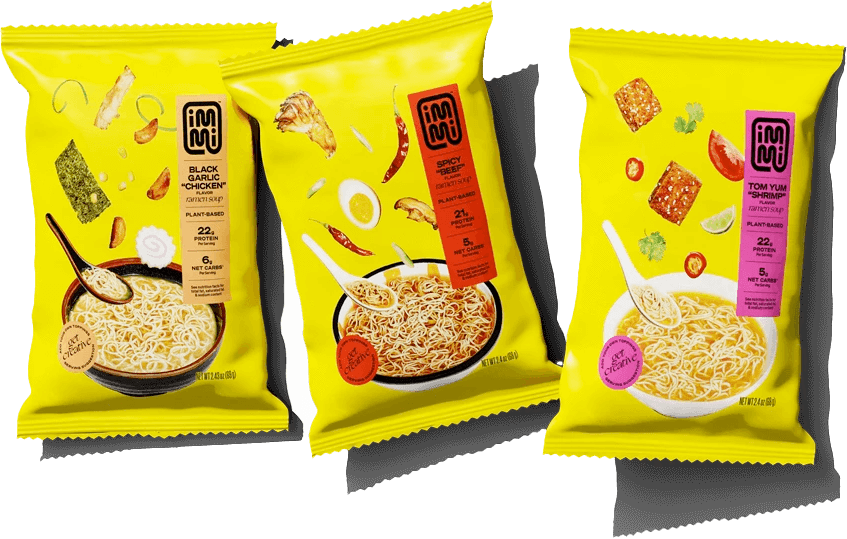 6 Drool-Worthy Vegetarian Ramen Recipes to Try This Week
Almost all of these recipes are something you can tackle on a weeknight, even if you feel more like the Swedish Chef and less like Gordon Ramsay. When you're up for putting your culinary prowess to the test, we've got you covered with a challenging but worthwhile ramen bowl that's perfect for a lazy Sunday. And every single one is made with plenty of whole foods to nourish your body inside and out. Who knows? You might even feel confident enough to toss your cookbook altogether after your week of cooking.
Here are six (mostly) easy recipes to get you started.
1. Crunchy Ramen Noodle Salad
Image: How Sweet Eats
This yummy and veggie-packed salad is a terrific way to enjoy your ramen noodles during warmer weather or when you're hunting for a more travel-friendly option than your typical ramen bowl. No need to get out a large pot, this is no-cook from start to finish.

Most of the work for this salad comes down to prep. As long as you're ready to chop a few vegetables and find something to do while it chills in the refrigerator for 30 minutes, put on your apron.

You'll get a dose of phytonutrients from the kale and cabbage and antioxidant carotenoids from the bell peppers and carrots, not to mention healthy fats and fiber from almonds and sunflower seeds.

After you've practiced your knife skills, break apart the ramen noodles and toss everything together in a bowl. All that's left is to whip up the sesame oil vinaigrette. Garlic cloves, ginger, and lime juice give this salad a bright flavor. Try adding extra green onions, sesame seeds, and a squirt of Sriracha for a summery dish with an Asian feel.
2. Ramen Noodles With Dashi Broth
Image: Where Is My Spoon
If you aren't familiar with dashi, you're in for a real treat. Dashi is a foundational part of Japanese cuisine and refers to a group of broths rather than one specific one. While many dashi recipes call for katsuobushi, or bonito (dried, fermented fish flakes), you can omit them and wind up with one delectable meal.

While this ramen recipe isn't vegetarian, it's a cinch to adapt. Feel free to substitute more kombu (a variety of edible kelp) or shiitake mushrooms in place of the bonito for more umami flavor. It'll shave off some of the prep time too.
Get started on your ramen broth and then prep your soft-boiled eggs as they'll need to marinate for a few hours. Once you've made your dashi broth, you'll stir in a bit of mirin, sake, and soy sauce, taking its flavor to the next level. Try wilting some baby spinach for more fiber and extra nutrients. Now all that's standing between you and a tasty bowl of ramen is putting it together.
3. Savory Vegan Ramen Bowl
Image: Serious Eats
Definitely the most complicated recipe on our list and best suited for the weekend, it's well worth the effort. Get ready for the ultimate ramen bowl. Oven-roasted vegetables along with fresh and dried shiitake mushrooms give you meat-free heartiness. You'll even get to try your hand at tare, which may be the secret to crafting a life-changing miso ramen bowl.

Tare is what takes ramen from good to fantastic. It's added to the bottom of the bowl just before you ladle the noodles and broth on top (which you'll finish with white miso paste — yum!). Here you'll create your own tare from scallions, ginger, garlic, and more.

One reason why this ramen recipe gets top marks is because of the flavorful garnishes. Charred eggplant imparts an earthy smokiness while tender roasted sweet potatoes add a creamy texture. Finish with a sheet of nori for an authentic touch.
It really doesn't get much better than this, so if you're up for a cooking project, start here.
For more tips on creating a show-stopping vegan ramen bowl, take a peek at this collection of vegan recipes.
4. Quick Ramen Stir-Fry with Vegetables
Image: The Stingy Vegan
Quick is the name of the game with this recipe. With a total time of 20 minutes and loaded with vitamins and minerals, this vegetarian ramen stir-fry is sure to become a weeknight staple in your home. If you have a well-stocked pantry, you can avoid a trip to the grocery store on top of it.
You'll start by cooking your ramen noodles. While they're still chewy, make sure to drain them and rinse with cold water to stop the cooking process. Next, over medium-high heat, you'll warm some vegetable oil and saute the broccoli, carrots, red pepper, and zucchini. While they cook, mix together a super quick sauce. Opt for low sodium soy sauce if you're watching your salt intake.

As soon as the vegetables are crisp-tender, the only thing left to do is add the sauce, give everything a good stir and dish up.
5. Coconut Thai Ramen
Image: ZZeal
For something a little different, but equally scrumptious, give this Thai curry ramen soup a go.

The beauty of ramen bowls is how you can customize them to your liking in a snap. If you're after a gluten-free noodle option, look for brown rice noodles. To load up on veggies, spiralize some sweet potato noodles for a fun twist or gently steam some baby bok choy. If not, try udon noodles to switch up the texture and flavor.
All you need for this Thai-inspired ramen are some pantry staples and a few fresh ingredients. You'll enjoy a touch of sweetness from the shishito peppers and coconut milk. Add a squeeze of fresh lime juice to finish, and you'll have a perfect weeknight bowl of comfort food.
6. Ginger Scallion Ramen
Here's another example of how easy it can be to turn an old favorite into a new love.

The original recipe for this ginger scallion ramen calls for pork belly. To preserve the meal's heartiness and keep that savory, meaty flavor, pick up some portobello mushroom caps. You can slice them into strips and slow cook per the directions.
With a delicious medley of flavors including sake, soy sauce, garlic, and your choice of toppings, you'll be in umami heaven.

You never have to feel like you're missing out on something you enjoy with a few smart kitchen substitutes.
Turn to a Vegetarian Ramen Recipe for a New Spin on Dinner
We'd be lying if we didn't admit to being *slightly* obsessed with ramen and the different ways we can incorporate it into our day. There's nothing quite like tucking into a bowl of noodle soup, whether you're looking for a cozy version of vegan ramen, a culinary masterpiece, or something in between.

Even if you think it can't get any better than your favorite seafood ramen, you might be surprised to enjoy a vegetarian version just as much.

Start with one of the recipes on our list or practice coming up with your own kitchen creation. The possibilities are truly endless.