A few years ago, I took a friend who had never been exposed to much Asian food to a Koreatown plaza where we had a chance to try a bunch of different Korean dishes.
I was really craving some Jjamppong because… spice, seafood, noodles, soup? What more could you want?
For anyone who hasn't been exposed to Jjamppong before, it's a Korean-Chinese dish that involves a mix of seafood, vegetables, meat, and noodles in a spicy, savory soup. The origins are debated but supposedly it was created by Chinese immigrants living in Nagasaki, Japan and then became adapted by Koreans, who added chili oil and gochugaru, a popular Korean hot pepper flake ingredient.
When the dish arrived, my friend looked shocked. He leaned over and whispered, "Why are they serving Cioppino at a Korean place? Is this Italian owned?"
I laughed… a lot. Truthfully, I hadn't ever made that connection but I could see why he thought that.
They are both red-colored seafood soup based dishes – although cioppino's are red from the tomatoes whereas Jjamppong gets its redness from gochugaru. 
Getting hungry but no time to cook? Try our immi ramen. It's healthy, delicious, convenient, and slurp-worthy all in one!
Variety Pack
Variety is the spice of life. Get all three flavors including Spicy Beef, Black Garlic Chicken, and Tom Yum Shrimp. You'll be covered for all occasions.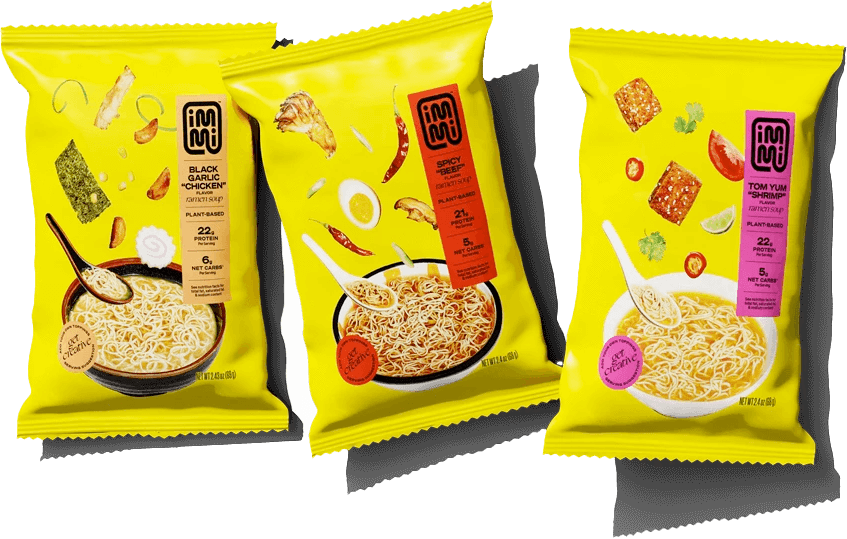 Slurp Now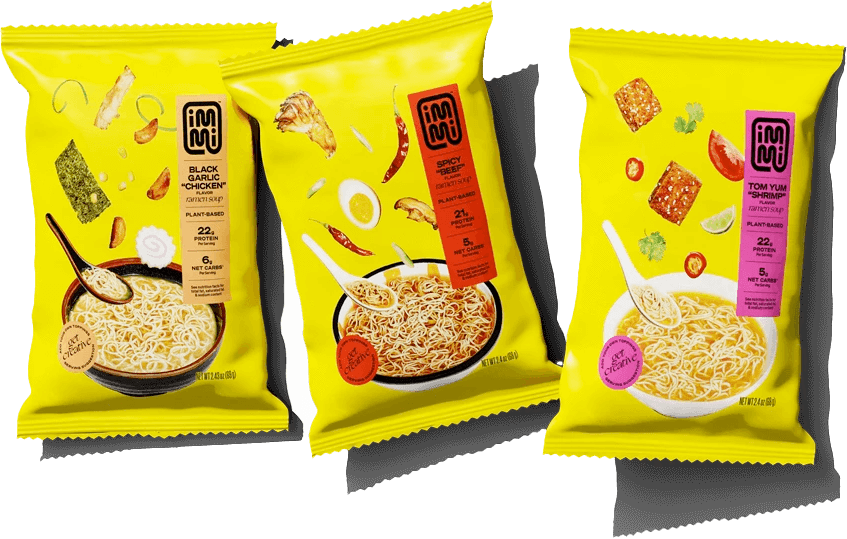 Print
Jjamppong Spicy Korean Seafood Ramen
---
1/4

onion

1/2

small carrot

1/2

zucchini

3 oz

napa cabbage

2

–

3

fresh shiitake mushrooms

2

scallions

3 oz

fatty pork (or pork belly)

4

–

6

littleneck clams

4

–

6

mussels

4

–

6

shrimps

3 oz

squid

1 tbsp

ginger

1 tbsp

garlic

1 tbsp

Gochugaru Korean Chile Flakes (we used Mother In Law's Kimchi brand)

1 tbsp

avocado oil

1 tbsp

soy sauce
salt and pepper

5 cups

of chicken stock

1

serving of immi ramen noodles
---
Instructions
Vegetable Prep
Cut ¼ onion into thin slices
Cut ½ of a carrot into thin 2" length slices
Cut ½ of the zucchini into thin 2" length slices
Cut ⅓ of the napa cabbage into thin 2" length slices
Cut 2 shiitake mushrooms into thin slices
Cut 2 scallions into slices
Mince 1 tsp of ginger
Mince 1 tbsp of garlic
Meat Prep
Cut the pork belly into thin slices
Cut squid into thick slices
Soak mussels and clams in salt water to clean
Broth
Heat a wok over high heat
Add 1 tablespoon of oil
Add minced ginger
Add minced garlic
Add sliced scallion
Add 1.5 tablespoons of gochugaru
Add 1 tablespoon of soy sauce and stir fry for a minute
Add the sliced pork and stir-fry for 2 minutes
Add in the onion, carrot, cabbage, zucchini, and mushrooms
Pour in 5 cups of chicken stock
Add the clams first, then the mussels, then shrimp, and squid last
Add salt and pepper to taste
Add in your noodles of choice. We love immi's low carb, high protein ramen noodles
Assembly
Ladle the broth into a serving bowl
Add extra gochugaru flakes
Enjoy!
Visual Recipe
Food Facts to Get Rameducated
Gochugaru is an essential ingredient for kimchi and Korean cooks will recommend against using any other kind of dried chili, as they won't produce the same results.