Ginger and scallion seem like an unlikely duo. But in many Asian recipes, these two pair like the Batman and Robin of aromatics. Throw some oil in the mix and you've got a fresh-tasting sauce to dip or toss any food into.
We recently took our chef to one of San Francisco's oldest Chinese restaurants and blew his mind (and taste buds) with a classic order of Hainan chicken with ginger scallion sauce. If you haven't tried this dish before, go to your local Chinese joint and order it now!
After commenting on how simple and delicious this dish was, we decided to bring it back to our ramen lab. With a few iterations, we came to this simple, quick, and delicious recipe for a ginger scallion ramen with chashu braised pork belly, poached egg, and chili oil.
This dish hits the spot at any time of the day, and in any kind of weather. 
Getting hungry but no time to cook? Try immi ramen: Delicious, slurp-worthy, healthy, and ready in 7 minutes!
Variety Pack
Variety is the spice of life. Get all three flavors including Spicy Beef, Black Garlic Chicken, and Tom Yum Shrimp. You'll be covered for all occasions.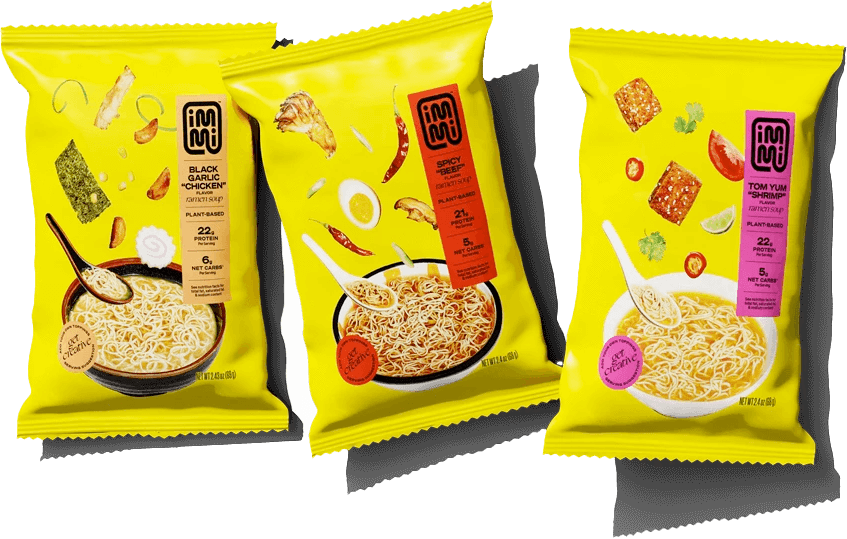 Slurp Now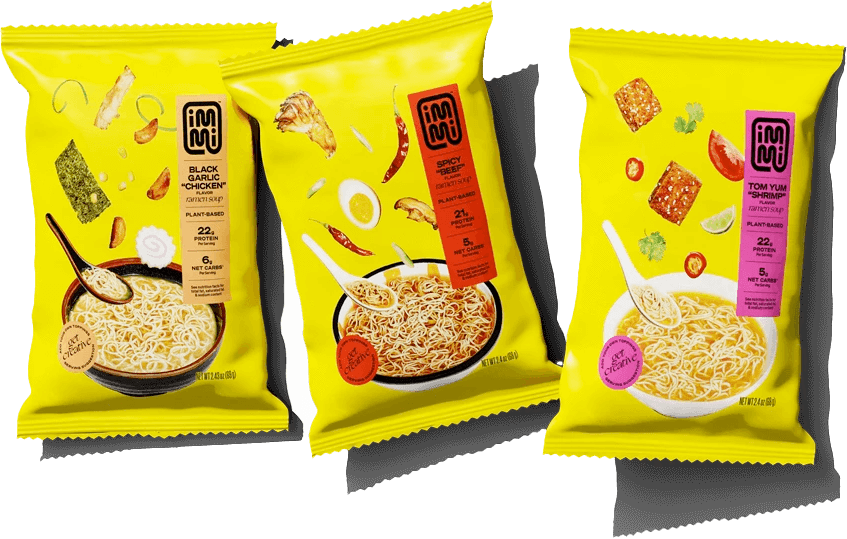 Print
Ginger Scallion Ramen with Chashu Braised Pork Belly
---
1

5-inch piece ginger

4

garlic cloves

1

large bunch of scallions
Toasted sesame seeds
Avocado oil

2 tbsp

soy sauce

1 tbsp

unseasoned rice vinegar

1 tsp

freshly ground black pepper

1/2

lb pork belly block

3

green onions

2

knobs ginger

⅓ cup

sake

⅓ cup

soy sauce

⅔ cup

water

1

serving of immi ramen noodles
---
Instructions
Ginger Scallion Chashu (Pork)
Pour oil into skillet
Sear ½ lb of pork belly on all sides. Start with Fat.
In a pot, add 2-3 whole green onions
Add 1 knob of ginger
Add ⅓ cup of sake
Add ⅓ cup of soy sauce
Add ⅔ cup of water
Move the seared pork belly into the sauce pot
Bring to low simmer for 1 hour (you can go much longer than this and the longer you simmer, the more tender the pork belly will be)
Ginger Scallion Sizzling Oil
Mince a 5-inch piece of ginger
Mince 4 cloves of garlic
Chop two-thirds of bunch of scallions
Heat up avocado oil in a saucepan
Fry the scallions, ginger, and garlic
Stir in 2 tbsp soy sauce
Stir in 1 tbsp rice vinegar
Stir in 1 tsp fresh ground black pepper
Stir in 1 tsp sesame oil
Season with salt. 
Plating
Add the ginger scallion oil to your noodles and toss together.
Put your tossed noodles in a serving bowl.
Slice the braised chashu pork belly and place on top of the noodles.
Sprinkle sesame seeds on top.
Drizzle chili oil.
Add toppings (i.e. poached egg).
Enjoy!
Visual Recipe
Food Facts to get Rameducated
Ginger scallion sauce is one of David Chang's favorite sauces and he previously featured a ginger scallion noodle recipe as a homage to one of his favorite New York dishes.