Whether you're a full-time veg head or just want to minimize your meat-eating ways (meatless Mondays, anyone?), you may need some plant-based culinary inspiration. And if you're like most people on the planet, you have a special hankering for ramen, which you can enjoy in seemingly endless variations.
Well, you've come to the right place. Ramen happens to be our specialty, so we have plenty of ideas to help you create tasty ramen meals that won't drain your energy or time. With that in mind, have a look at this collection of vegetarian ramen recipes along with some simple ways to step up your meatless game any day (or night) of the week.
How to Make Vegetarian Ramen at Home

It's easy to go meat-free when you keep these tips in mind. Here's a quick primer for planning your next vegetarian ramen meal.
Choose your noodles wisely: Most commercial instant ramen noodles brands are loaded with additives and have no real nutritional value. (Our guide to ramen noodle nutrition shares the good, the bad, and the ugly.) That's why we created immi, the world's first low-carb, high-protein, high-fiber, completely plant-based instant ramen. 
Load up on veggies:

Naturally, you want to include plenty of vegetables in your at-home vegetarian ramen dishes. From red cabbage, scallions, and nori to baby bok choy, carrots, and colored peppers, eat all colors of the rainbow to get a variety of nutrients.

Use meatless broth:

Instead of chicken broth or other animal-based ramen broths, opt for vegetable broth or miso, such as white miso paste. You can also make your own

dashi

with kombu (aka kelp). It's surprisingly simple.

Don't forget the protein:

For a filling and well-balanced meal, you need plenty of protein. Try hard-boiled or soft-boiled eggs, edamame, lentils, or tofu.
Eager to eat, but no time? Try our 100% vegetarian immi ramen. Delicious, slurpworthy, and convenient all-in-one.
Variety Pack
Variety is the spice of life. Get all three flavors including Spicy Beef, Black Garlic Chicken, and Tom Yum Shrimp. You'll be covered for all occasions.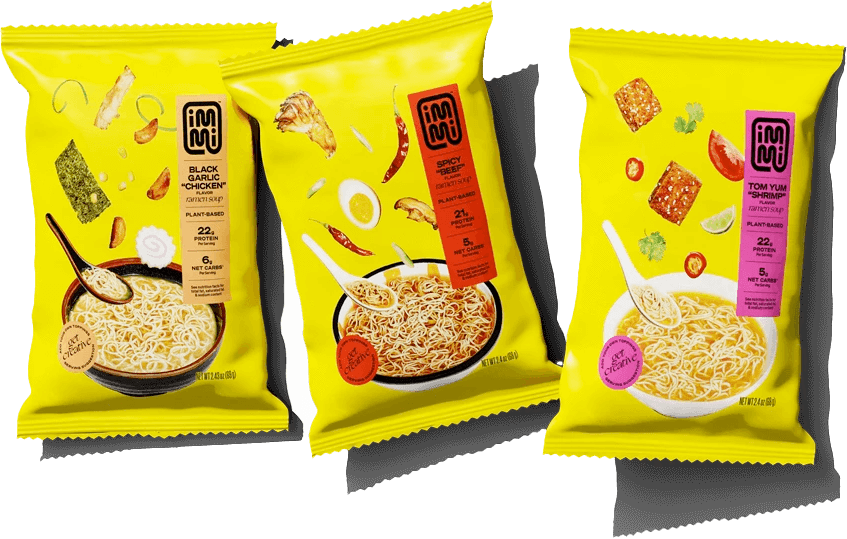 Slurp Now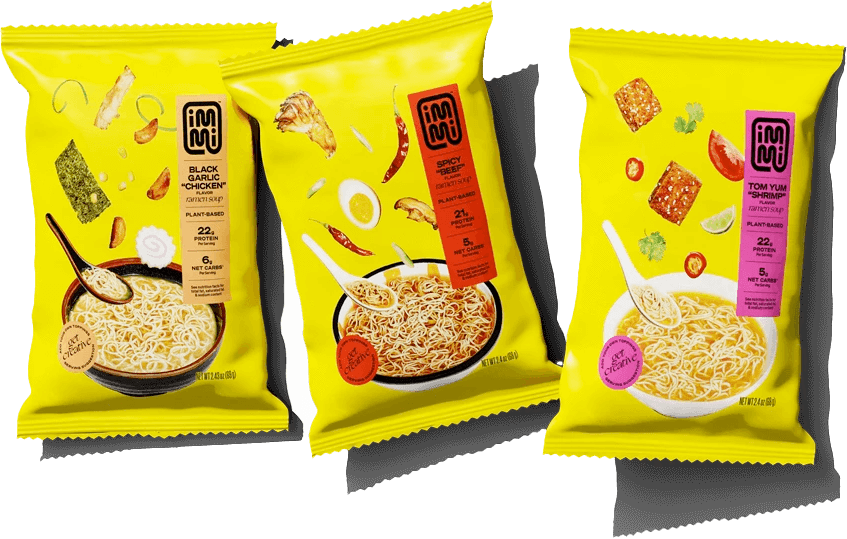 6 Vegetarian Ramen Recipes You'll Want to Make ASAP

From soups to salads, try these vegetarian ramen recipes that are sure to inspire your creativity and keep you returning for more. For more meatless meal ideas, don't miss our roundup of tasty vegan ramen recipes — no cookbook required.
1. Avocado Miso Ramen Topped With Avocado Tempura

Avocado, miso, and ramen, oh my! You can't lose with this Cali twist on ramen noodles. To get started on this creative vegetarian ramen bowl, you'll make a crispy breading for the avocado with eggs, seltzer water, almond flour, and a few other everyday ingredients.
Once you fry that up, the rest involves sauteeing green onion, yellow onion, and garlic cloves then mixing them in a blender. Before you know it, you'll have a fantastically flavorful and filling bowl of noodles. Bonus: You can easily veganize this recipe by using aquafaba (chickpea liquid) instead of eggs.
2. Cooked Ramen Noodle Salad With Kimchi

Image: From My Bowl
For this easy vegetarian ramen recipe, you only need 20 minutes and nine ingredients you might already have in your kitchen. (If not, they're easy to find at your local grocery store.) To start, boil water in a large pot to cook the ramen noodles. Meanwhile, chop the cabbage, carrots, green onions, and garlic.
Once the noodles are cooked and drained, toss them in a bowl with the chopped veggies. Mix in some tamari (or soy sauce), toasted sesame oil, and sesame seeds. It's the perfect weeknight dinner you'll turn to again and again.
3. Vegan Vegetable Lo Mein With Tofu

Image: Short Girl Tall Order
This vegan take on lo mein gets high marks thanks to the mix of textures and yummy umami. To enjoy this easy recipe on your plate, saute a variety of veggies including mushrooms, carrots, red peppers, snow peas, and cabbage. To get the crispy tofu just right, coat it with cornstarch and stir-fry it in sesame oil.
While traditional lo mein is made with egg noodles, the recipe suggests wheat udon noodles or whatever noodles you have on hand. But we say immi noodles make for a low-carb win that's better than takeout.
4. Vegetarian Red Miso Ramen

Image: Delectabilia
We admit the recipe for this bowl of ramen isn't as fast as the others on this list, but you can make some simple adjustments to save on total time. For instance, instead of making your own ramen broth from scratch, swap in premade veggie or miso broth.
For protein, use marinated tofu (or any plant-based meat substitute) and soft-boiled eggs. You can also use dried shiitake mushrooms if you don't feel like sauteing fresh mushrooms.
What really sets this recipe apart from the others is the DIY black garlic and truffle drizzle. It's easy to make, and if you can't find black garlic, regular garlic cloves will do. Once the noodles are good to go, you'll ladle this flavorful ramen soup into a bowl and top with the drizzle, nori flakes, and scallions. You can also add a touch of Sriracha to spice things up.
5. Vegan Ramen Noodle Salad

Image: V Nutrition
We love slurpable noodle soups as much as the next person, but sometimes you want to change things up. That's where this meatless ramen noodle salad comes in. Made with shredded red cabbage, carrots, scallions, and slivered almonds, you'll have plenty of crunchy goodness that perfectly contrasts with the creamy dressing.
To whip up the oil-free dressing, you'll combine warm water with smooth peanut butter, lime juice, apple cider vinegar, soy sauce, and a few other simple ingredients. While the recipe suggests using rice noodles, you can bypass the high carbs with immi ramen. Either way, you'll be thrilled to learn this recipe takes only 15 minutes.
6. Veggie Ramen

Image: Veggiecurean
It doesn't get much easier than this veggie ramen recipe that's ready in 20 minutes. To begin, you'll make a sauce with just three ingredients — soy sauce, sesame oil, and a teaspoon of sugar. Note: If you're trying to limit your sugar, try monk fruit or another low-carb sweetener. The dish also works if you skip the sugar altogether.
The recipe calls for stir-frying a mix of julienned carrots, red peppers, broccoli florets, and onion for about five minutes, but you can use whatever veggies you have on hand. Toss in some mirin (Japanese cooking wine) and your ramen noodles and blend the ingredients. For added protein, you could top the dish with egg, tofu, or edamame. Better still, use immi ramen, which has a whopping 31 grams of protein per serving.
Vegetarian Ramen Recipes That Won't Let You Down

These recipes prove meat-free ramen can still brim with flavor and nutrition. While many ramen dishes rely on beef, pork, or chicken for taste and texture, you can make simple changes along the way to create a fantastic meal that won't leave you with FOMO.
What's more, immi ramen is the perfect healthy replacement for the conventional, high-carb ramen noodles. Low in carbohydrates, high in protein, loaded with fiber, and totally plant-based, it's the noodle experience you've been waiting for.
For more ideas on making your own tasty meals at home, don't miss our ever-expanding list of ramen recipes that will get you cooking (and eating) in no time.