There's nothing quite as tempting and satisfying as a big bowl of yummy noodles. But when you're following a plant-based diet, you might wonder if this classic comfort food can be part of your meat-free lifestyle. Fortunately, the answer is yes — as long as you choose wisely. In this guide, we'll delve into what kind of noodles are naturally vegan and how to make your own vegan ramen noodles with easy recipes.
Are Ramen Noodles Vegan?
When it comes to ramen noodles being vegan, it's a mixed bag (so to speak). Most instant ramen brands are not vegan since the products are made with eggs, chicken stock, or other animal-derived ingredients. What's more, these instant noodles are terrible for your health. Check out our guide to ramen noodle nutrition to see the facts for yourself.
There are other vegan ramen noodles on the market, but they're not necessarily an ideal choice. For example, rice noodles (made from white rice or brown rice) are often vegan. But these rice ramen noodles are high in carbs. As a result, if you're watching your carb intake for the health benefits, these noodles could be a no-no even in small serving sizes.
Now, if you go the low-carb noodle route, there are a variety of options — think shirataki noodles, spiralized vegetables (hello, zoodles!), and kelp noodles. The thing is, these ramen alternatives will make you miss the taste and texture you love so much. But we're not going to leave you hanging.
For the best vegan ramen noodles, look no further than immi. (Yes, we're tooting our own horn, but for good reason.) As the world's first low-carb, high-protein, high-fiber, and 100% plant-based instant ramen, immi won't let you down in the nutrition department. Plus, this ramen has the delicious flavors you remember.
Try the best vegan ramen available with a delicious slurp you'll keep coming back to!
Variety Pack
Variety is the spice of life. Get all three flavors including Spicy Beef, Black Garlic Chicken, and Tom Yum Shrimp. You'll be covered for all occasions.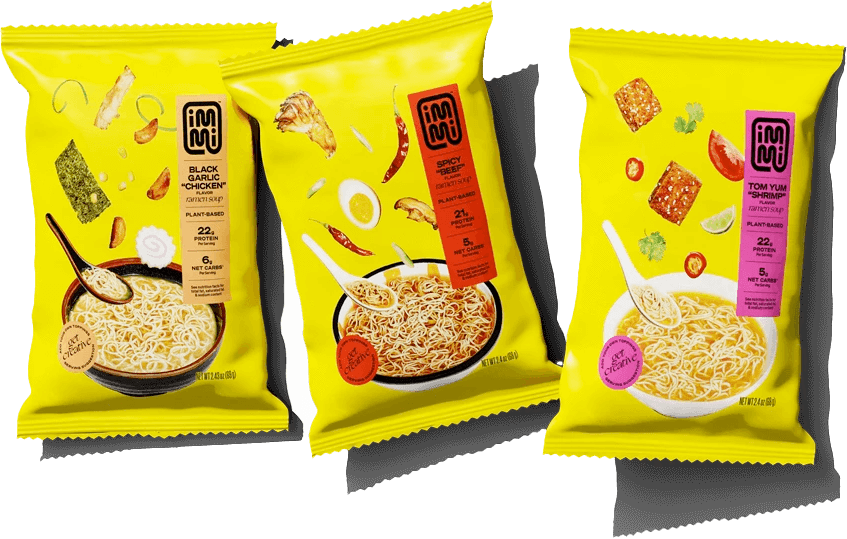 Slurp Now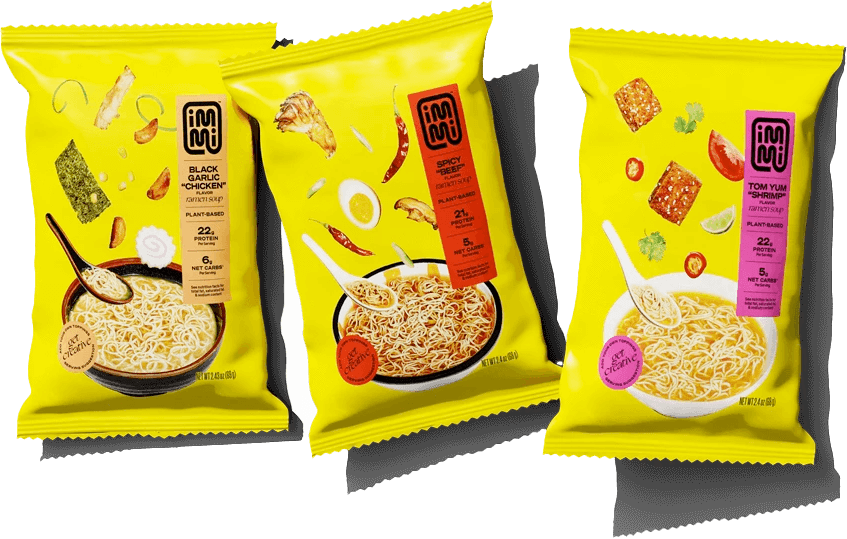 How to Make Vegan Ramen Noodles

Now that you have your noodle bases covered, it's time to get cooking. Don't worry — it's a lot easier than you might think. The key is to create a shopping list of everything you need and then gather your ingredients. Many of these are everyday items you might already have in your kitchen.
Vegan Ramen Broth
For this easy vegan ramen broth that has the perfect umami flavor, you'll want the following ingredients that you will find at most grocery stores:
Sesame oil

(or

olive oil

)

4-5

garlic cloves

(minced)

1-2 tablespoons of fresh ginger (minced)

1 yellow or white onion (minced)

6-8 cups of

vegetable broth

or

veggie

stock

2 tablespoons of

soy sauce

(you could also

tamari

sauce or liquid

aminos

)

1/3 pound of fresh

shiitake mushrooms

(or

dried shiitake mushrooms

)

3 tablespoons of

miso paste

Salt

Black pepper

Red pepper flakes (optional)

Sriracha

(optional)
Recipe Instructions
Place a

large pot

over

medium-high heat

on your stovetop.

Add your oil to the pot. Once it's hot, throw in the minced garlic, ginger, and onion.

Sauté

the ingredients and stir occasionally until the edges of the garlic and onion have browned.

Add 1-2 cups of

vegetable broth

to the pan, and scrape up any pieces that might stick to the bottom of the pot. (It'll release more flavors.)

Add the remaining amount of

vegetable broth

, plus the

soy sauce

and

shiitake mushrooms

.

Gently stir the ingredients, adjust the temperature to low heat, and cover the pot.

Simmer on low heat for at least an hour and stir occasionally. The longer the broth simmers, the richer the flavor will be.

Taste the broth and stir in the

miso paste

one tablespoon at a time to see how you like the flavor. You can also add more soy (or

tamari

) sauce or oil if you like.

FYI: Even though you've sauteed fresh garlic and onion, feel free to throw in some garlic powder and onion powder for added flavor. It's really up to you.
Vegan Ramen Veggie Toppings

It's always a good idea to opt for nutrient-rich whole foods rather than highly processed items that are usually loaded with preservatives and other additives. Remember that you don't need all of the veggies on this list. These are simply suggestions, so you can go with the tastiest options available in your local grocery store.
So go ahead and mix things up, try something new, and swap out whatever ingredients you like to suit your personal taste. Once your broth is ready, add your veggies and let them soak up the brothy goodness for at least 10 minutes.
Here are some nutritious, flavorful veggies that work well in most ramen:
Baby spinach

Bok choy

Nori

Eggplant

Bell peppers

Kimchi

Bamboo shoots

Bean sprouts

Scallions

(i.e.,

green onion

)

Sesame seeds
Plant-Based Protein
To complete your vegan ramen noodle bowl, don't forget the protein. You may already know that protein is vital for good health, and when you combine it with fiber, it helps to keep you feeling fuller longer. Having the right combo of protein and fiber-rich veggies will ensure you get a well-balanced mix of nutrients, texture, and taste.
Here are some meatless, plant-based proteins to consider:
Firm tofu

(you can

sauté

it, fry it, or bake it ahead of time)

Any meat substitute of your choice

Edamame

Lentils

Beans
More Vegan Ramen Recipes

Never mind the cookbook. You can whip up these tasty ramen recipes even if you're not a whiz in the kitchen. From ramen soup to ramen noodle salads, these scrumptious ideas will keep you feeling full and satisfied any day of the week. Be sure to also check out this list of eight vegan ramen recipes from around the world. We also have a roundup of 12 vegan Chinese food recipes that will have you asking for more.
Enjoy Some Plant-Based Ramen Goodness
When you're following a plant-based diet, some of the favorites you once loved eating are off-limits. But the good news is eating diets is growing in popularity, which means more people (and companies) are coming up with creative culinary alternatives to animal-based dishes. Granted, most mainstream instant noodle brands aren't a healthy option or a vegan option. But not all is lost.
With some proper planning, simple modifications, and a willing attitude, you can easily create your own vegan ramen noodle experience without missing out on all the flavors you crave. We hope you use this guide as a jumping-off point to dive into some fun and exciting food experiences. Depending on your personal preference, you can adjust these ingredients however you like.
Also, don't forget the fastest way to enjoy some vegan ramen is to pick up some immi ramen. As the world's first low-carb, high-protein, high-fiber, and 100% plant-based instant ramen, this will no doubt be a game-changer for you.
We're committed to bringing you a nutritious and delicious noodle you can feel good about. For more ways to make the most out of your meat-free lifestyle, be sure to check out our list of more vegan recipes for plant-based perfection.