Set down your phone and slowly back away from the Chinese takeout menus. Tonight, you're dining in.
Even if you're no master chef, you can sashay — excuse us, saute — your way to a five-star meal. Because while we can't *quite* fit a Chinese restaurant inside your home, we're all-too-happy to fit a drool-worthy dinner on your plate (utensils and to-go boxes not included).
Creating veggie-loaded, vegan Chinese food dishes is easier than Pinterest photos lead you to believe. And we won't force you to keep 27 browser tabs open in order to execute your meal — we collected them all in one place.
Below, we're sharing 12 of our favorite Asian-inspired vegan dishes. From vegan lo mein to spicy peanut noodles, you'll find more than a few options to satisfy your takeout cravings, without the takeout prices attached.
12 Vegan Chinese Food Recipes You'll Want to Devour

Grab a pair of chopsticks and pull up a chair, because we have a dozen vegan-friendly dishes you have to try. If you believe plant-based is king, you simply have to have to put these Chinese recipes to the test.
1. Avocado Miso Ramen Topped With Avocado Tempura

For all you hopeless ramentics, you'll fall head-over-heels in love with this vegan recipe.
While most ramen recipes call for eggs, we modified this version to be completely vegan-friendly. We swapped out the eggs for aquafaba, a bean water typically made from chickpeas. (You can make aquafaba at home or pick it up at most health food stores.) Combine with avocado, yellow onions, corn, bamboo shoots, and immi noodles for a takeout-worthy entree. 
Getting hungry but no time to cook? Try our 100% vegan immi ramen with delicious Asian flavors you'll crave.
Variety Pack
Variety is the spice of life. Get all three flavors including Spicy Beef, Black Garlic Chicken, and Tom Yum Shrimp. You'll be covered for all occasions.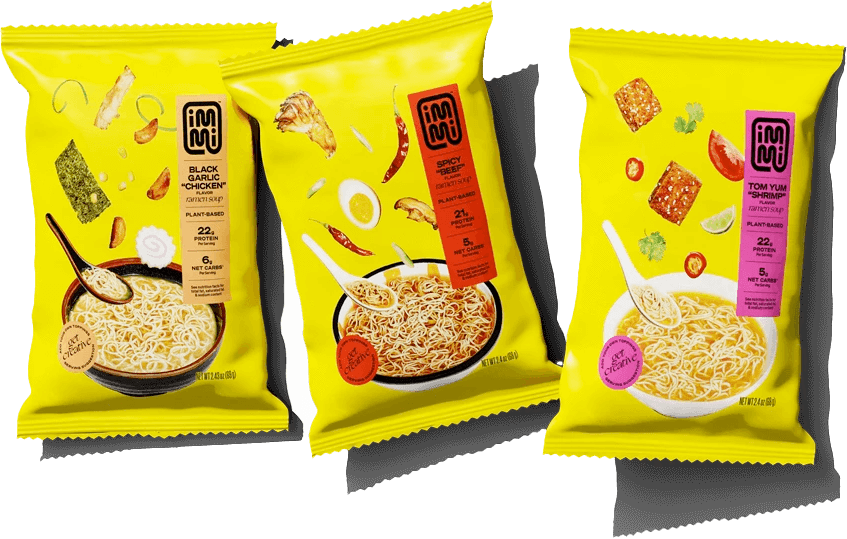 Slurp Now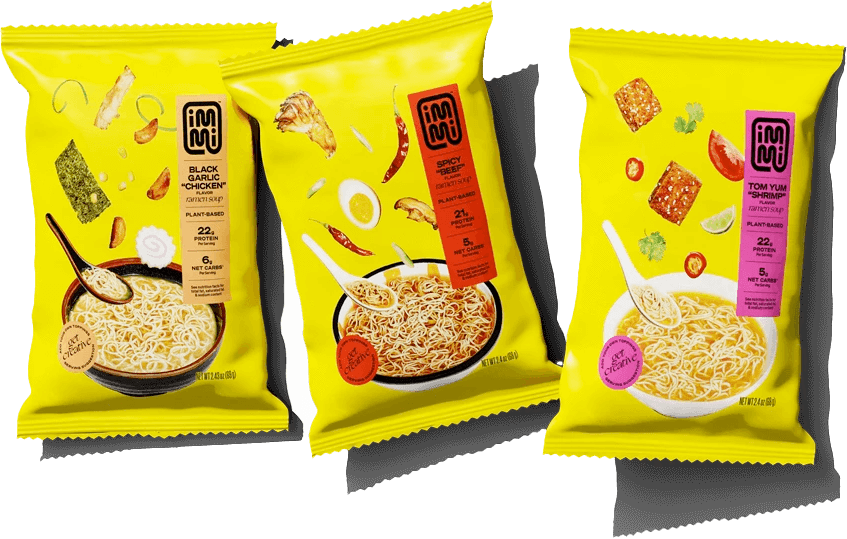 2. Asian Cucumber Salad

Image: Shuangy's Kitchen Sink
This light Asian cucumber salad is keepin' things fresh with red onions, green onions, fresh ginger, and English cucumbers. The sauce requires just six simple ingredients, and you can leave out the sugar to keep things low-carb and sugar-free. Plate it next to your favorite entree for a refreshing meal.
3. Orange Tofu

Image: Purely Kaylie
This orange tofu is crispy, tangy, and all-around delicious — a wonderful take on the fan-favorite recipe. To make the sauce, you'll need sriracha, rice vinegar, garlic, ginger, and soy sauce (or coconut aminos). If you're looking to ditch a few carbs, serve the dish over cauliflower rice or immi noodles.
4. Vegan Peanut Noodles

Image: Purely Kaylie
We tend to go a little nutty for plant-based Chinese cuisine. These vegan peanut noodles are spicy, creamy, and surprisingly easy to make.
For the spicy peanut sauce, you'll need soy sauce, peanut butter, lime juice, sriracha, ginger, and garlic. Combine with immi ramen noodles (or zucchini noodles), peanuts, and your choice of veggies. And best yet, this dish goes from wok to plate in under 30 minutes.
5. Vegan Vegetable Lo Mein With Tofu

Image: Short Girl Tall Order
We've been craving a lo mein for some time now, and this recipe promises to leave us satisfied.
Made with crispy tofu, mushrooms, carrots, red peppers, snow peas, and cabbage, this dish packs a day's worth of veggies into a single skillet. To keep things light, swap out the wheat noodles for immi noodles, sparing yourself many carbohydrates.
6. Sweet and Sour Chickpeas

Image: Emilie Eats
Looking for a sweet and tangy fakeout-takeout recipe? You might want to bookmark this main dish.
Made with a few basic ingredients, this dish uses pineapple juice, soy sauce, rice vinegar, tomato paste, and garlic for an incredibly easy sauce. Serve with canned chickpeas for a high-protein, veggie-loaded dish. Pair with fried rice (or a vegetable fried rice, made with green onions, cauliflower rice, and carrots) to complete your meal.
7. Kung Pao Cauliflower

This veggie-loaded dish seeks to veganize a fan-favorite Chinese takeout order. By placing cauliflower at center stage, this vegan option is lighter and healthier, yet still packs the same punch as the traditional recipe.
Made with bell peppers, cashews, flax eggs, and all the spices, this dish is sure to satisfy any Asian-inspired cravings. Looking to add more protein? Swap out the cauliflower for tofu to make kung pao tofu instead.
8. Mapo Tofu

Image: My Vegetarian Roots
Mapo tofu is a popular Chinese recipe from the Sichuan province. Served from a spicy sauce made from chili paste, hot red peppers, and fermented black beans, it's a delicious comfort food that packs its fair share of heat.
While traditional mapo tofu is usually made with minced meat, this plant-based version uses shiitake mushrooms instead. But red-flag alert, this recipe ranks high on the heat spectrum, so taste buds be warned!
9. Spicy Peanut Tofu and Bok Choy Rice Bowl

Image: Kara Lydon Nutrition
[Bok] choy to the world, this easy, Thai-inspired dish comes together in just 30 minutes.
Made with crushed peanuts, tofu or tempeh, sesame oil, garlic, and bok choy, this recipe is as simple as it is flavorful. Pair it with white or cauliflower rice, or plate it next to stir-fried veggies.
10. Vegan Potsticker Dumplings

Image: Ethically Living
There's absolutely no being down in the dump-lings when it comes to this Chinese dish. (Unless you completely run out, of course.)
These vegan potstickers work well as an appetizer or as the star of the dining table. Stuffed with mushrooms, cabbage, ginger, spring onions, and soy sauce, these dumplings can be steamed or fried in a wok for added texture. Serve with a simple dipping sauce made from soy sauce, rice vinegar, and chili oil.
11. Vegetable Chow Mein

Image: Connoisseurus Veg
Homemade vegetable chow mein that's better than takeout? Where do we sign up?
With crispy noodles (that we made low carb by using immi noodles), stir fry veggies, and a savory sauce, you won't be able to say no to this recipe. And weighing in under 500 calories, you shouldn't have to.
12. Baked Vegetable Spring Rolls

Image: Mrishtanna
Finding a vegan version of crunch spring rolls is not an easy task. Luckily, we did the digging for you.
This recipe might take an hour to prepare, but we assure you it's worth the delayed gratification. Stuffed with cabbage, carrots, onions, and chili powder, these veggie spring rolls taste just like the ones in your favorite Chinese restaurant. Plus, since they're baked instead of fried, they're healthier than the original version.
Treat Yourself to Your Favorite Vegan Chinese Food Dish

… Without even leaving the comfort of your kitchen.
We can't get enough of these homemade, Asian-inspired recipes. Overflowing with veggies and flavor, they taste just like your favorite takeout dishes. Plus, they're easier on your wallet than their restaurant counterparts.
To make any vegan Chinese food recipe low-carb as well, swap out noodles or white rice for immi noodles. Low in carbs, high in protein, and packing its fair share of fiber, immi ramen is the delicious, plant-based alternative to one of your favorite comfort foods.
If you think it sounds too good to be true, you'll just have to try it for yourself. Sign up for our email list to be one of the first people to try immi ramen.