Ramen is one of those ridiculously convenient comfort foods that many of us grew up eating alongside pizza, mac and cheese, and fried chicken. But we're adulting now and that means being more careful about what we consider an actual meal. Still, you're probably thinking it would be nice to enjoy a ramen bowl of piping hot noodles every now and again without throwing a wrench in your low-carb lifestyle.
But is there such a thing as healthy ramen noodles? (Spoiler alert: Yes, there is!) In this guide, we'll show you what kind of ramen is healthiest and how to make your next bowl of ramen better for you. We'll also share some of our favorite ramen recipes so you can get to slurping sooner than later.
Instant Ramen vs. Fresh Ramen
Before we go any further, let's quickly compare instant ramen noodles to fresh ramen noodles. When we talk about instant ramen, we're talking about those crispy blocks of precooked, dried noodles that come with those little mystery seasoning packets. Chances are this is what you were eating in college before you realized how damaging this processed grub could be.
If you look at the nutrition facts of your typical grocery store ramen, you'll soon discover that it's loaded with carbs, fat, sodium, and preservatives. Yet it has virtually no fiber, protein, or any real nutritional value. In other words, most instant noodles aren't doing your health any favors.
Now, when it comes to fresh ramen, these noodles are what you find in many Asian supermarkets and restaurants. While they're not necessarily low-carb, they're not precooked and dehydrated. Also, fresh ramen noodles are usually made with veggies and protein (such as egg, duck, or chicken), which adds to the overall nutritional value.
One more thing: There is an exception to the instant ramen rule — immi ramen is the world's first low-carb, high-protein instant ramen. (Yes, it also comes with a little seasoning packet, but it's not filled with questionable ingredients.) What's more, immi happens to be keto-friendly, vegan, and has a good amount of fiber. 
Craving delicious ramen but trying to stay healthy? Try immi ramen – low-carb, high-protein, plant-based, and slurp-worthy all in one!
Variety Pack
Variety is the spice of life. Get all three flavors including Spicy Beef, Black Garlic Chicken, and Tom Yum Shrimp. You'll be covered for all occasions.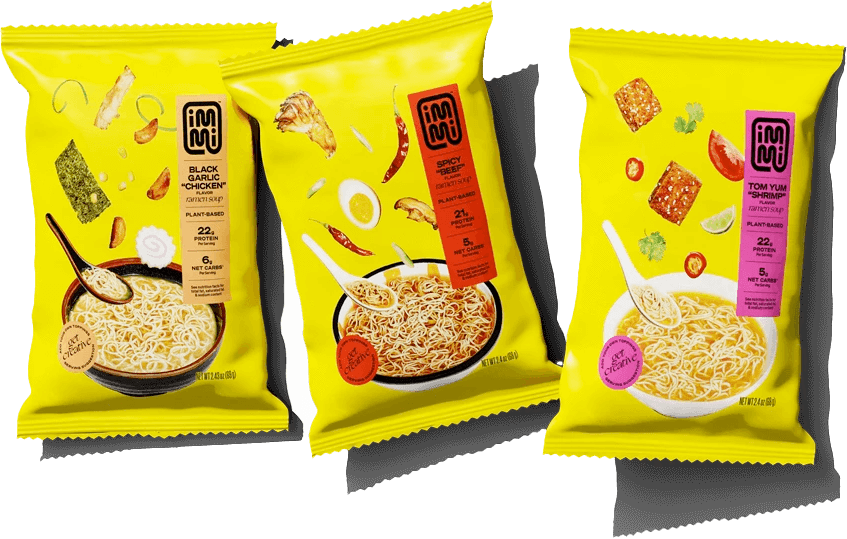 Slurp Now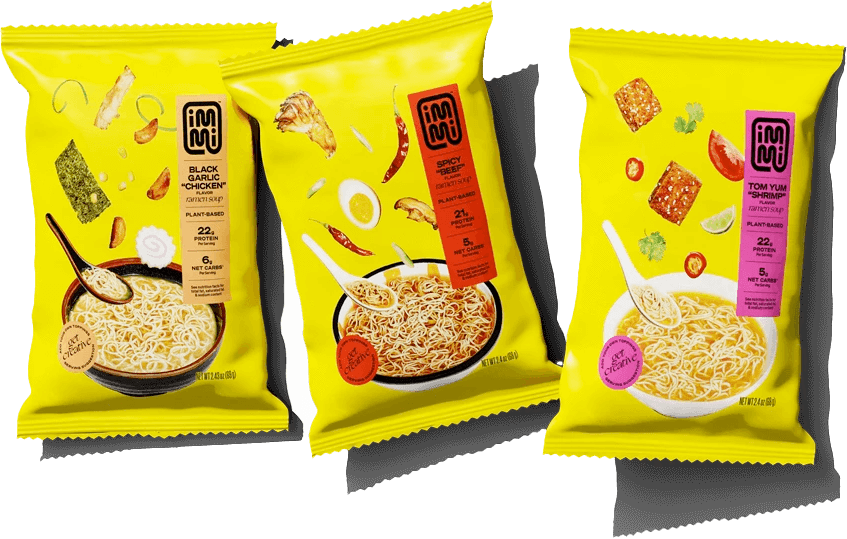 Easy Hacks to Make Your Ramen Noodle Bowl Healthier
Even though most instant ramen noodles on the market are bad for your health, the good news is that there are some ways around this situation. Follow these top tips for making your next bowl of ramen noodle soup without compromising on taste.
Ditch the High-Carb Noodles
Along with avoiding commercial instant ramen noodles that are fried and dehydrated, there are other noodles you may want to steer clear of when making homemade ramen soup. For instance, even though soba (buckwheat) and rice noodles are much more nutritious alternatives to instant noodles from brands like Nissin and Maruchan, the carb count is still rather high. Depending on what type of diet you follow, you may want low-carb or keto-friendly noodles such as:
Shirataki noodles (made from Japanese konjac yam)

Kelp noodles

Hearts of palm noodles

Spaghetti squash noodles

Zoodles (zucchini noodles)

Low carb, high protein

immi ramen

noodles
Punch It Up With Protein
You don't need us to tell you that you need protein. But we're gonna tell you anyway. Protein is essential for good health and impacts every cell in your body. It's the building block of bones, muscles, and skin, plus it helps build and repair tissue. It can also help you maintain a healthy weight and fill you up faster. So, if you're not having your bowl of ramen with protein, you're doing it the wrong way. Be sure to balance out your noodles with your choice of:
Chicken

Beef

Pork

Shrimp

Egg

Tofu

Edamame
Mix In a Lot of Veggies
We all know that veggies are brimming with essential vitamins and nutrients you need to stay healthy. So it's no surprise that adding a variety of colorful vegetables to your ramen noodles will instantly boost the nutritional quality. Mix things up with the following good-for-you additions:
Scallions

Shiitake mushrooms (they've been used medicinally in Asia for centuries and they're

higher in nutrients

than other mushrooms)

Green onions

Spinach

Bok choy

Zucchini
Use whatever vegetables you have around — if you don't have fresh produce, frozen veggies will work just fine. We love throwing in some kimchi, which is loaded with probiotics and beneficial nutrients.
Make Your Own DIY Seasoning
Instant ramen relies on that little seasoning packet to flavor the water, but you can make your own savory base with miso paste, vegetable broth, beef bone broth, or chicken broth. (You could also use chicken stock, which tends to have a richer flavor.) Add the following herbs and spices to really make your taste buds happy:
Pink Himalayan salt

Fresh ginger

Garlic powder

Onion powder

Red pepper

Sesame seeds

Sriracha (when you want an extra kick!)
A Few Healthy Ramen Soup Recipes to Get You Started
As you can see, giving your ramen experience a healthier makeover is not as hard as you might have thought. For more ideas, be sure to scroll through our library of tasty, easy-to-make ramen recipes. Here are just a few options that you can make for a delicious weeknight meal.
Ginger Scallion Ramen With Chashu Braised Pork Belly
For a creamy bowl of ramen, this pork ginger scallion recipe is just the ticket. You don't need much in the way of ingredients, just some pork belly, a bunch of scallions, garlic, ginger, and seasonings. Try it when you feel like cozying up with some warm comfort food.
Avocado Miso Ramen Topped With Avocado Tempura
For a unique Los Angeles twist on traditional ramen, you have to give this avocado ramen with tempura recipe a try. Along with the avocados, you'll need a bottle of seltzer water (we told you it was unique), three eggs, half a cup of almond flour, miso paste, and a handful of other ingredients. You'll also need a small blender. Trust us — once you taste the first spoonful, you'll be putting this one on regular rotation.
Jjamppong Spicy Korean Seafood Ramen
Spicy, savory, seafood soup with noodles? Yes, please! Akin to a Korean-Chinese version of Italian cioppino, this delicious seafood ramen is a jumble of veggies and protein (think pork, clams, mussels, shrimp, squid) that is sure to satisfy your cravings for a full-throttle flavor experience. Be sure to watch the fun visual recipe to make the process go more smoothly.
Healthy Ramen Is Possible (Yay!)
When it comes to ramen, most of us remember the old-school days of ripping open a packet of noodles or peeling back the lid on one of those styrofoam cups of noodles. But now that we're older (and wiser), we've had to make some changes.
While it's best to avoid instant ramen noodles because of the low nutritional value, high carbs, and chemical additives, not all is lost. As it turns out, there are some healthier alternatives.
Along with making some simple changes like using low-carb noodles (these days there are plenty of options) and adding whole ingredients like veggies and protein, you can recreate your favorite comfort food without compromising your health. And thanks to immi ramen, you can actually have the instant noodle experience without all the downsides. Healthy ramen at last.