Nothing is more satisfying than slurping up a well-seasoned, silky ramen broth or digging into a hearty bowl of pasta. Just because you're on the ketogenic diet doesn't mean you have to give up on delicious noodles. You just have to know which types of noodles are keto-friendly.
While carbs are generally off-limits under the keto diet, there are several noodle alternatives you can use to make delicious pasta meals without falling out of ketosis.
Here, we'll show you the best keto noodles you can use to make a piping hot bowl of ramen or your grandma's lasagna recipe. Whether you want to make an Italian pasta dish with marinara sauce or something with a touch of Asian flair, here are some keto-approved noodles to use in your next recipe.
Noodles and the Keto Diet
If you're on the ketogenic diet or looking to try it, you probably know that pasta is persona non grata. That's because the keto diet prioritizes eating high-fat and low-carb foods. Traditional pasta contains large amounts of carbs, which increase blood sugar and can kick you out of ketosis. Ketosis is a metabolic process that uses ketones instead of glucose to produce energy. This process may help to boost brain function and weight loss, which is why the keto diet is so popular.
While many people think pasta is completely off-limits on the keto diet, you actually just need to avoid carbs. Thank the noodle gods — there are several low-carb noodle alternatives you can use to satisfy those noodle cravings and not destroy your diet. Here are some of the best options for eating noodles when on the keto diet.
The 12 Best Types of Keto Noodles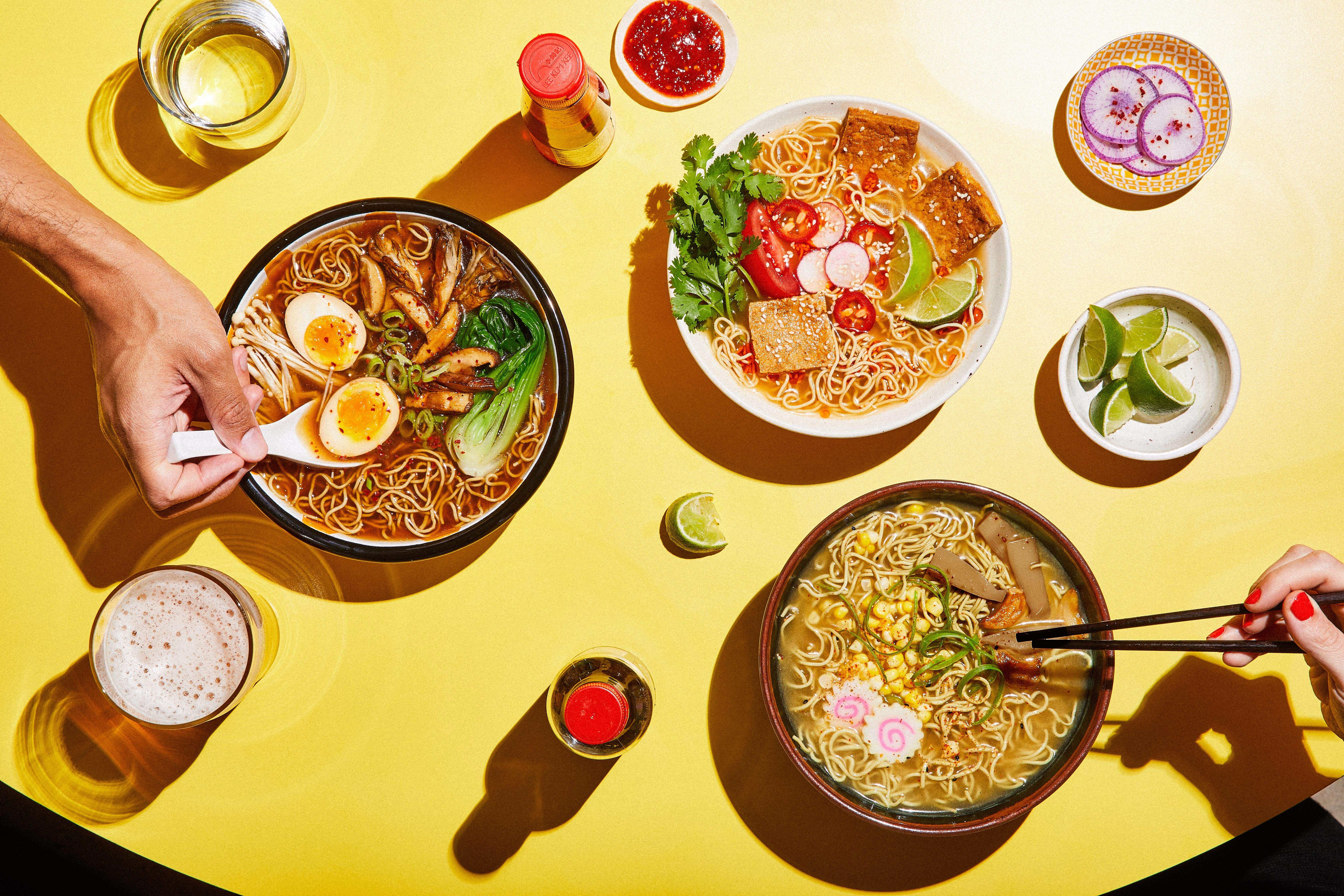 All of these keto noodle alternatives are made using ingredients that have no carbs or a low amount of carbs. You can use them in traditional pasta recipes from your favorite cookbook or invent your own noodle recipes to try something new. Here are some healthy, keto-friendly pasta alternatives you can try so you don't have to wave goodbye to one of food's greatest gifts to humankind.
1. immi Ramen
Net carbs per serving: 5-6 grams
immi ramen is a low-carb, high-protein, keto-friendly, and fully-plant based noodle that has the familiar chew and taste of a regular noodle.
Each serving only contains 5-6 grams of net carbs (depending on the flavor) and they are packed with plant-based protein that will help keep you full for hours.
The noodles have a great bite and chew and they don't get soggy in broth like other vegetable noodles. You can prepare immi ramen noodles within 7 minutes and pair them with your favorite ingredients and toppings for a delicious meal.
Thousands of ramen lovers love immi noodles because it's keto-friendly, low in net carbs, and delicious. Try our Variety Pack today!
Variety Pack
Variety is the spice of life. Get all three flavors including Spicy Beef, Black Garlic Chicken, and Tom Yum Shrimp. You'll be covered for all occasions.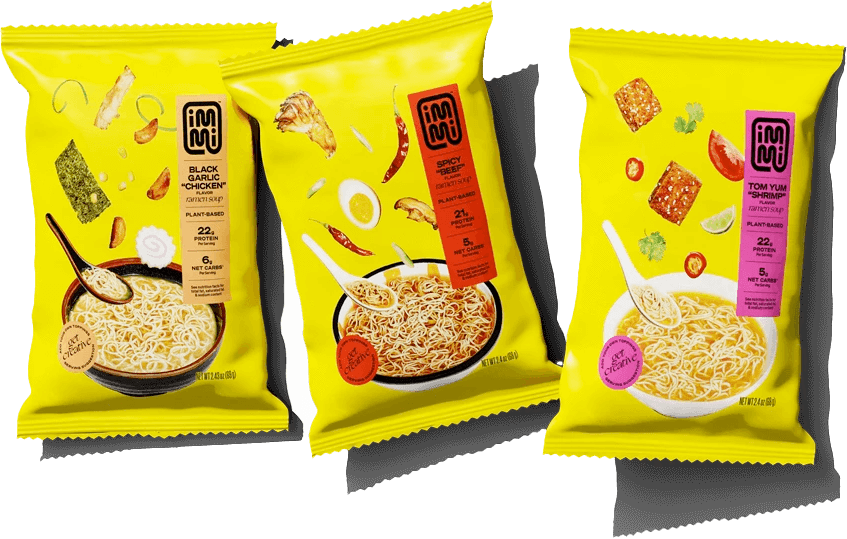 Slurp Now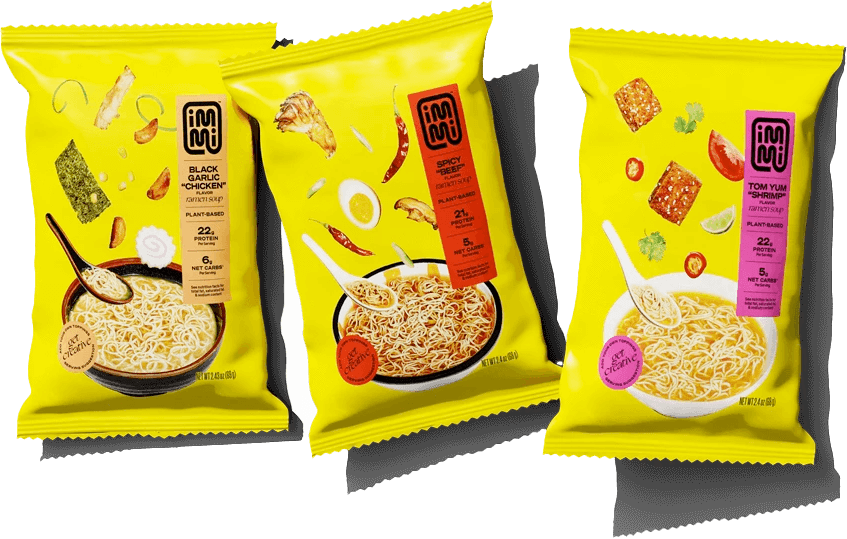 2. Shirataki Noodles
Net carbs per serving: 0 grams
Shirataki noodles are wildly popular Japanese noodles made from the root of konjac yams. The name translates to "waterfall," referring to the delicate, translucent nature of these noodles. These veggies have zero net carbs, are low-calorie, and will fill you up with their high fiber. They're also grain-free. The noodles have an aroma similar to fish sauce, and the texture is similar to jelly.
For those who don't like the slimy texture of traditional shirataki noodles, try tofu shirataki noodles instead. Tofu shirataki noodles are made with konjac yams and tofu. The silken, creamy texture of tofu helps to make the texture less slippery.
Both types of shirataki noodles are excellent choices for low-carb ramen. The noodles are firm and chewy, and they don't disintegrate in broth like other vegetable noodles. Cook the noodles on low to medium heat for about 10 minutes in miso soup or another broth. Saute ingredients such as green onions, garlic, and sesame seeds for added flavor.
3. Kelp Noodles
Net carbs per serving: 1 gram
Kelp noodles, or seaweed noodles, are made from brown kelp and water. These low-calorie keto pasta noodles contain calcium, iodine, and iron. There are two types of kelp noodles: green and clear. The green kelp noodles have a seaweed flavor and an al dente texture. The clear noodles are harder, crispier, and have less flavor. To keep the al dente texture of green seaweed, add a tablespoon of lime or lemon when cooking. You can also cook them in an acidic noodle soup broth instead.
4. Low-Carb Egg Noodles
Net carbs per serving: 1 gram
Regular egg noodles are made with egg yolks and flour and are loaded with carbs. Fortunately, you can swap out a few ingredients to make a low-carb egg noodle that fits right in with your keto diet. To make low-carb egg noodles, blend cream cheese with egg yolks. You can also add wheat gluten if you want to improve the texture of the noodles. These noodles are great in pasta dishes and casseroles and can be used in most keto recipes.
5. Heart of Palm Noodles
Net carbs per serving: 1.6 grams
Heart of palm is a vegetable found in the core of some palm trees, including acai palm and coconut palm plants. The vegetable looks like a mozzarella cheese stick or a piece of string cheese. It offers a firm texture similar to linguine noodles, and its flavor profile is similar to artichokes. Mix it with pine nuts, lemon juice, alfredo sauce, and artichokes hearts for a zesty pasta alternative.
6. Cucumber Noodles
Net carbs per serving: 2 grams
Want to make a pasta dish but don't feel like cooking? Try cucumber noodles, which require just a few minutes of preparation and don't need to be cooked. Cucumber noodles offer a crisp texture and mellow flavor. Use a spiralizer to cut the cucumber into thin pieces. Sprinkle them with seasoning and serve with your favorite pasta sauce. If the noodles are too wet, you can add a touch of salt to dry them out a bit before covering them in the sauce.
7. Low-Carb Flour Noodles
Net carbs per serving: 2 grams in almond flour, 3 grams in coconut flour
If you still crave the texture and taste of real pasta, try making your own pasta noodles using a keto-friendly flour such as almond flour or coconut flour. Nut flours including almond meal, almond flour, walnut flour, and pecan meal are all good substitutes for all-purpose wheat flour. While these flours still contain carbs, they're a good choice when you want the real thing with fewer carbohydrates.
8. Spaghetti Squash Noodles
Net carbs per serving: 3 grams of net carbs
Keeping with the theme of vegetable noodles, these keto-friendly noodles are made from spaghetti squash. Spaghetti squash is a low-carb vegetable that is also packed with vitamins and minerals. When baked, the squash separates into thin strings that look similar to spaghetti. While the texture is markedly unique, it's a good choice for making keto-approved pasta dishes.
9. Eggplant Noodles
Net carbs per serving: 3 grams
If you crave a delicious plate of lasagna or a healthy casserole, use eggplant instead of traditional noodles. This purple vegetable is low-carb and develops a squishy, chewy texture when baked. Slice the eggplant into even pieces using a mandoline slicer and layer with cheese for a healthy keto lasagna. Some of the best keto-friendly cheeses include goat cheese, bleu cheese, cream cheese, and parmesan cheese.
10. Kohlrabi Noodles
Net carbs per serving: 3 grams
Kohlrabi, also known as German turnip, is a spicy and crunchy low-carb vegetable. It's high in fiber, vitamins, and potassium. This keto noodle makes a great choice for spaghetti, ramen, and casseroles. The vegetable cooks quickly and offers a crunch that mimics the feel of al dente pasta. The spicy undertones pair well with garlic powder and work well in linguine and fettuccine recipes. Speaking of garlic, try our garlic clam ramen recipe.
11. Edamame Noodles
Net carbs per serving: 5 grams
While most soy-based foods have too many carbs to be keto-friendly, edamame works thanks to a high amount of dietary fiber. This vegetable is more carb-loaded than these other alternatives but better than regular pasta. Foodies argue it has the closest texture and taste to normal pasta.
12. Zoodles
Net carbs per serving: 6 grams
You've probably seen these noodle alternatives all over every influencer's Instagram. Zucchini noodles — or zoodles, as they're fondly called — are noodles made by spiralizing zucchini. While these noodles don't have the same texture as regular pasta, they offer a mild flavor that serves as the perfect base for a range of pasta sauces. Add a few ground beef meatballs and marinara sauce for a guilt-free bolognese, or douse the noodles in a few spoonfuls of carbonara sauce.
How to Enjoy Keto Noodles
Following the keto diet doesn't mean you have to give up pasta or ramen (whew). You can still make your favorite dishes from chicken noodle ramen to creamy pesto pasta by using a great alternative — keto noodles. Keto, low-carb pasta can be made from a variety of vegetables including zucchini, spaghetti squash, and kelp. Or, look to alternatives like shirataki noodles and low-carb flours.
Looking for low-carb keto noodle recipes? We've got you covered with high-protein, low-carb ramen recipes. From spicy mi goreng to seafood ramen and braised pork belly ramen bowls, you're sure to find a keto-friendly option you love. Whip up your next keto dinner with these keto noodle alternatives.