You've been there: You open your fridge in the middle of a midnight craving and begin to wonder, how long does ramen last? Well, the answer really depends on the noodles.
If you're craving instant ramen noodles packaged in a foam container or a crinkly bag, then your best bet is to look at the expiration date. Most instant ramen, including immi ramen, lasts for eight to 12 months from the moment you buy it, but there are exceptions to this rule we'll explain below.
Fresh ramen, on the other hand, lasts up to one or two weeks in the fridge, or a month in the freezer. Because it's made using fresh ingredients and doesn't undergo any of the preservation steps (like frying or drying) that instant ramen goes through, it spoils at a much faster pace.
If you're thinking of reheating some old broth, similarly take note that it should only be refrigerated for 2-3 days. If it's frozen, then it'll be good for up to two months. It has a limited "shelf life" because, again, it's made with no preservatives and filled with fresh ingredients, like meat or vegetables, that are sensitive to elements that may make it go bad.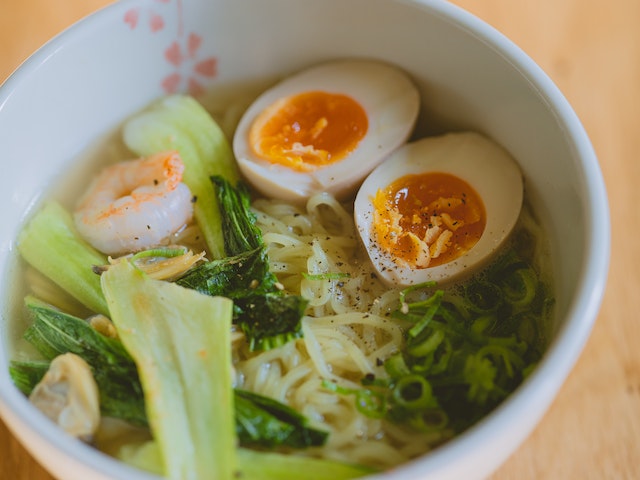 Why does instant ramen last for so long?
Instant ramen lasts so long because of how it's made. Like many of our favorite noodle dishes, instant ramen is made with a simple combination of flour, water, salt, and kansui. It's rolled out into its familiar noodle shape, steamed, and then importantly, either deep fried or blow dried. This dehydration step is crucial, because it helps in removing all the moisture from the ramen noodles. Without this step, instant ramen would be packaged with much more moisture, making it much more susceptible to microbes that can rot the food.
Now, because instant ramen is such a dehydrated item, you can have a looser interpretation of its expiration date — at your own risk. First, you'll want to make sure that the ramen was stored in a cool, dark place and that its packaging hasn't been punctured or compromised in any way. Additionally, within six months of its expiration date, you may be safe to eat the cooked ramen if you can answer all of the following questions with a no:
Does the ramen show any "growths"?
Does it smell off?
Has it changed color?
Does it taste off or different from what you might have expected at first bite?
It's likely that if your instant ramen has been properly stored in a place that doesn't experience extreme temperature fluctuations, and you're within six months of the expiration date, you'll be safe to eat it. But again, do so at your own risk!
Craving fresh, 100% plant-based ramen? Try immi!
Variety Pack
Variety is the spice of life. Get all three flavors including Spicy Beef, Black Garlic Chicken, and Tom Yum Shrimp. You'll be covered for all occasions.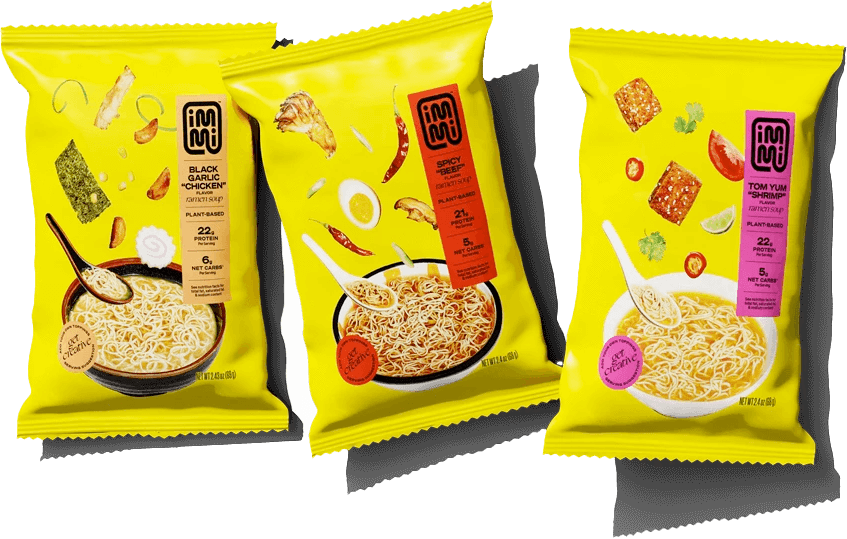 Slurp Now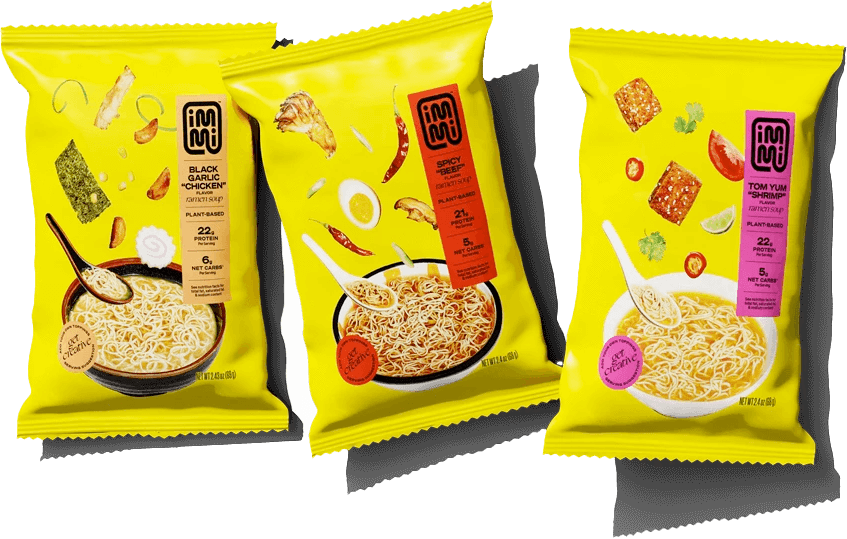 The best way to store instant ramen
The best way to store instant ramen is in a cool, dark pantry. A fridge could also work, but honestly isn't necessary. Also note that a fridge's low temperatures might change the composition of instant ramen. Same goes with a freezer.

The key here is to store it in a place that's untouched by sunlight or any sources of heat, like your oven or even a particularly warm patch of sunshine.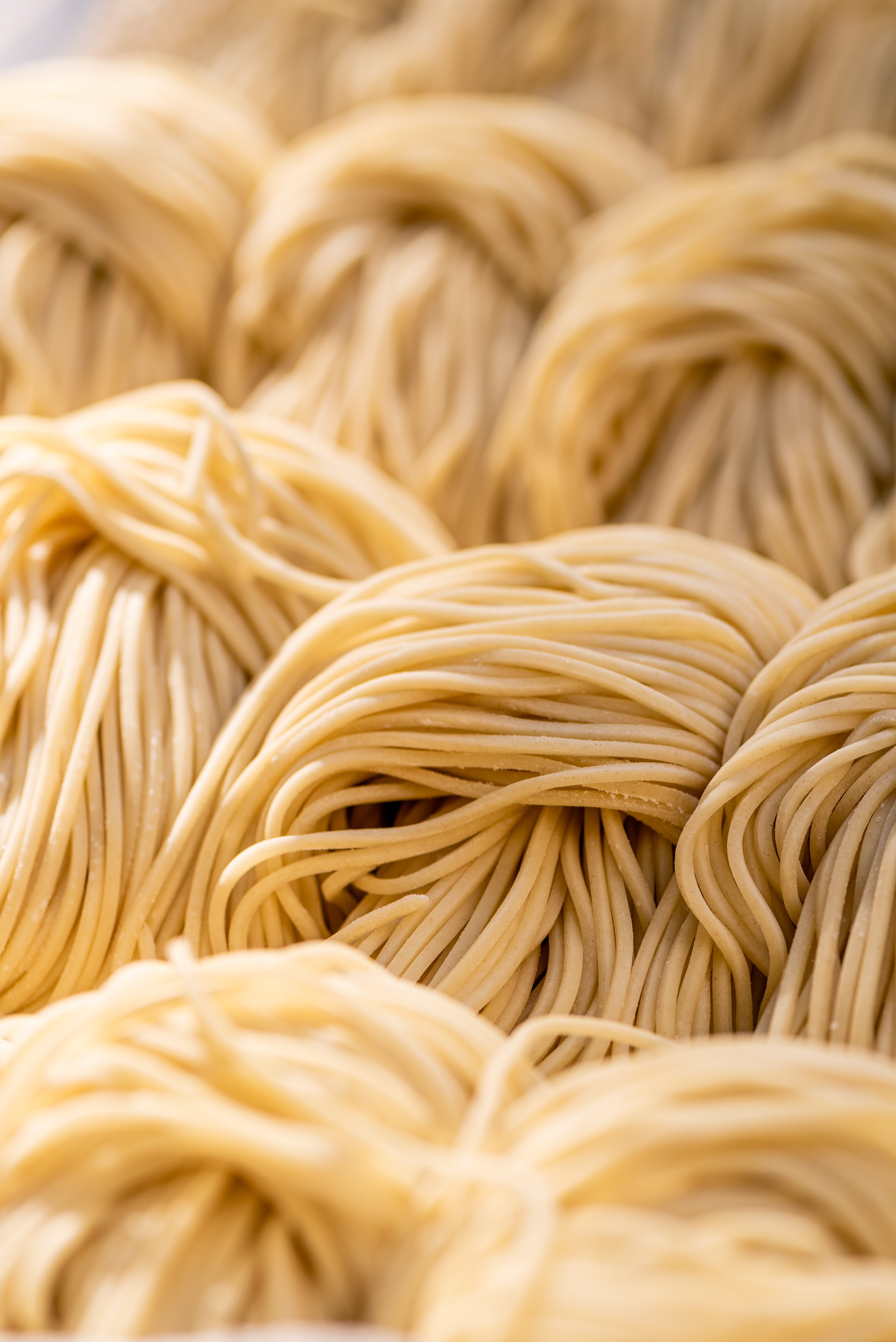 Why does fresh ramen last for such little time?
Have you ever tried storing cooked pasta in tupperware, only to realize a few days later that it's grown mold? The same propensity for rot exists in fresh ramen (defined as fresh ramen that's either raw or already been cooked). That's because fresh ramen has a significantly higher water content than instant ramen, creating an environment ripe for mold. Pre-cooked fresh ramen is consequently slightly more immune to mold, and might last longer than fresh cooked ramen.
If more than three days have passed since you've stored your fresh ramen in your fridge, then you'll want to review the questions in the above section and see if any of them apply to your ramen before considering them for a meal. If they look okay, you can reheat them, and pay attention to that first bite of noodles.
Try easy-to-store, easy-to-prepare immi ramen!
Variety Pack
Variety is the spice of life. Get all three flavors including Spicy Beef, Black Garlic Chicken, and Tom Yum Shrimp. You'll be covered for all occasions.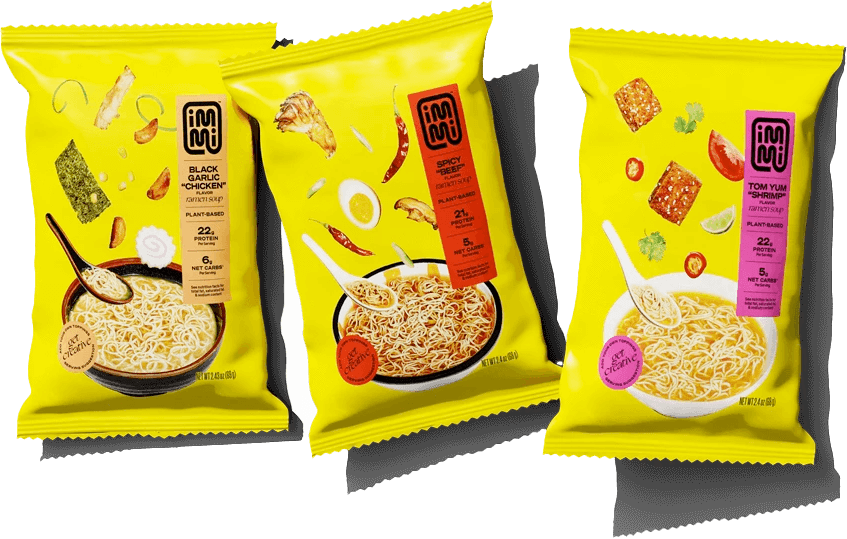 Slurp Now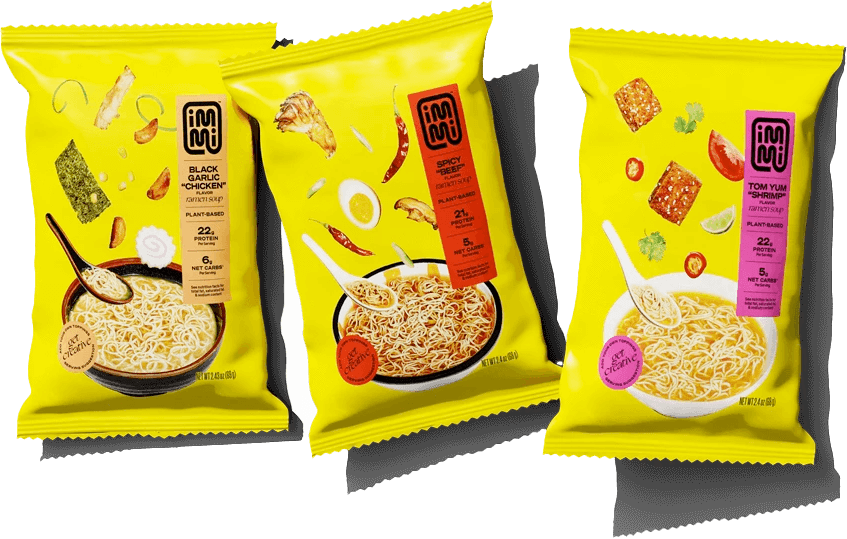 The best way to store fresh ramen
Fresh ramen should always be stored in either a refrigerator or a freezer. Leaving it out at room temperature for more than a few hours is a guaranteed way to make fresh ramen go bad. If you're storing it in the fridge, remember to wrap the noodles in an airtight bag or Tupperware and place them in the fridge as soon as you're home (or done eating your take-out). The less liquid and air it's stored with, the more likely it is that they'll last longer. Not to mention, storing ramen in liquid will make it soggy and completely disintegrate its chewy and elastic texture.
You can also store them in the freezer for a longer-lasting storage solution. If you freeze your noodles, especially pre-cooked noodles, they're likely to last you up to a month. Just remember to safely thaw them in the fridge before you prepare them in your favorite broth.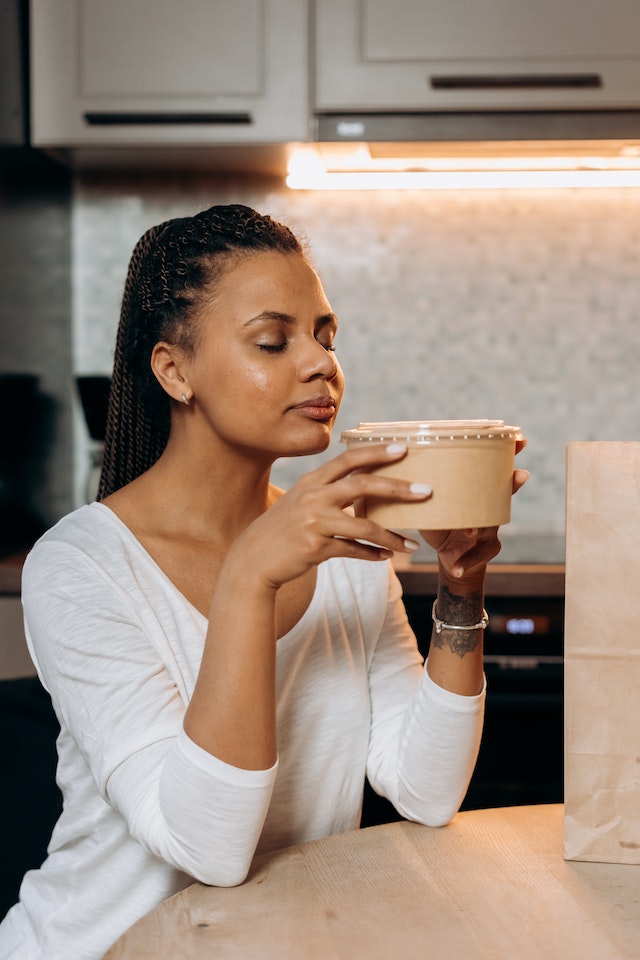 Why does ramen broth last for so long?
The truth is, that ramen broth can spoil just as fast as ramen noodles. Ramen broth can be full of rich ingredients, like miso, pieces of meat, and a variety of aromatics. These ingredients make the broth delicious, but also create a warm, fertile environment for microbes to thrive on. Ramen broth stored in the fridge is good for a few days, or can keep for up to two months if stored in the freezer.
Soothe yourself with a serving of fresh immi ramen broth!
Variety Pack
Variety is the spice of life. Get all three flavors including Spicy Beef, Black Garlic Chicken, and Tom Yum Shrimp. You'll be covered for all occasions.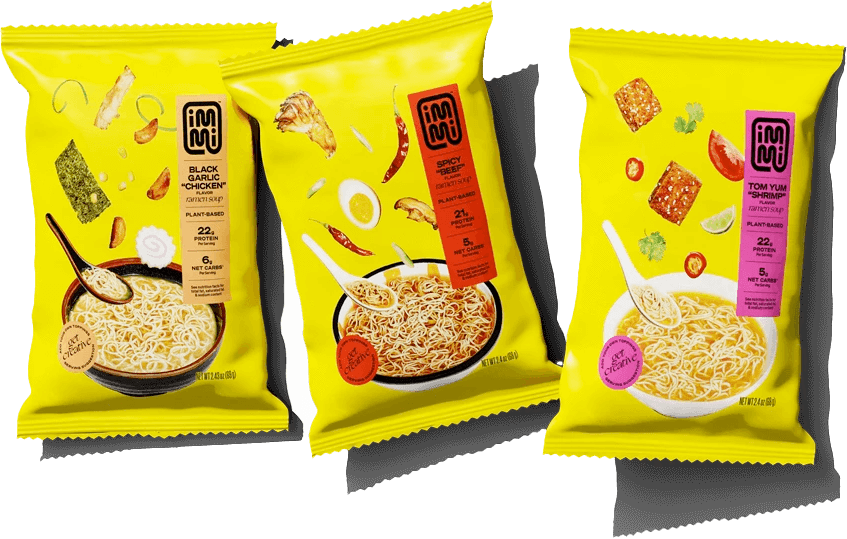 Slurp Now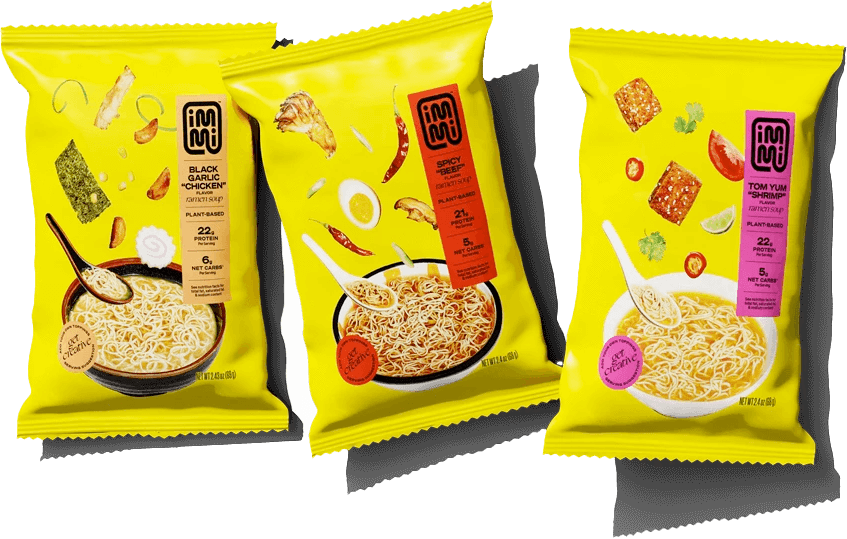 The best way to store ramen broth
The best way to store ramen broth is in the freezer. Allow the broth to cool down to room temperature (about one hour), then place it in an airtight container. Tupperware or jars work great in this case. Then, place it in the freezer and, when you're ready to enjoy it, thaw in the fridge for a few hours.
If you know you'll eat your leftovers within a few days, then store them in the fridge — but make sure to let them cool down to room temperature before placing them away in the fridge. If you get hasty and refrigerate your warm broth in an airtight container before it's had a chance to cool down, it could take hours for it to reach a safe 40°F or below. Then, don't be surprised if your next midnight trip to the fridge reveal spoiled noodles!