Low-carb diets aren't new, but they are getting increasingly more popular. Whether you're curious about a ketogenic diet, or you've already changed your eating habits, we've got some tips and recipes to make the transition easier and get you feeling confident in the kitchen.
In this guide, you'll find some general guidelines for adapting Asian recipes to be more keto-friendly. We've also compiled a list of classic dishes for you to explore in the kitchen. With a few simple tweaks here and there, you can look forward to a delicious and nutrient-dense meal that fits your lifestyle.
Modifying Asian Recipes for a Keto Diet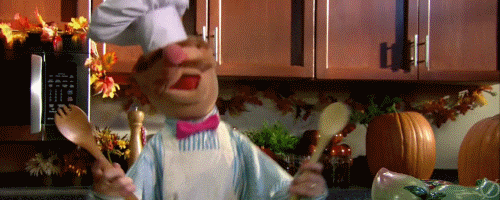 Even if a keto diet (or other low-carb diet) seems intimidating, you can make a seamless transition into a new way of eating and still enjoy your favorite dishes with a little creativity.
Not all Asian foods are high in carbohydrates. When you run across a meal where you need to lower the carb count, there are a few things you can do to modify the dish.
Perhaps the most basic swaps are rice and noodles. Cauliflower rice is quick to prepare (especially compared to traditional rice) and makes a delightful substitute in fried rice dishes. Squeeze in some extra fiber and vegetables with spiralized daikon or zucchini noodles. Or you could look for a low-carb, high-protein noodle like immi ramen. immi is a perfect keto-friendly substitute for any dish with pasta such as lo mein or pad thai. Check out this article for more keto noodle ideas.
Try the best low-carb, high-protein noodle available with a slurp you'll love.
Variety Pack
Variety is the spice of life. Get all three flavors including Spicy Beef, Black Garlic Chicken, and Tom Yum Shrimp. You'll be covered for all occasions.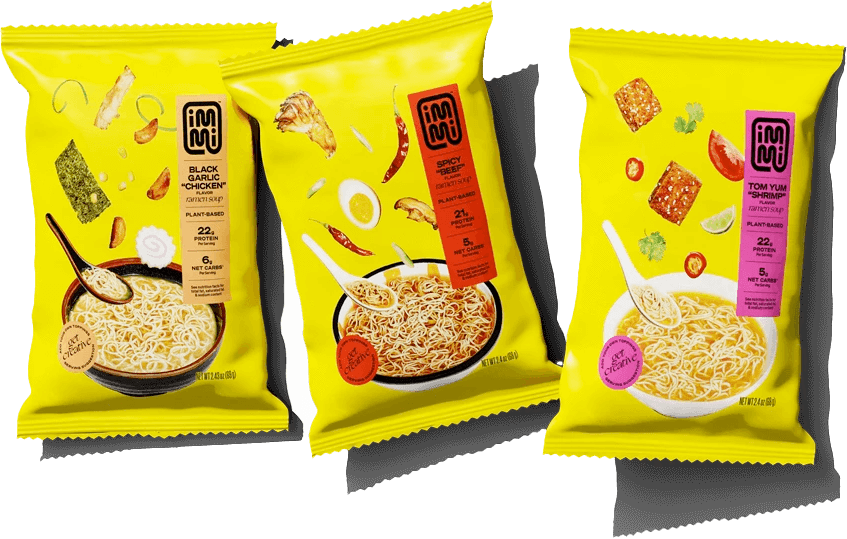 Slurp Now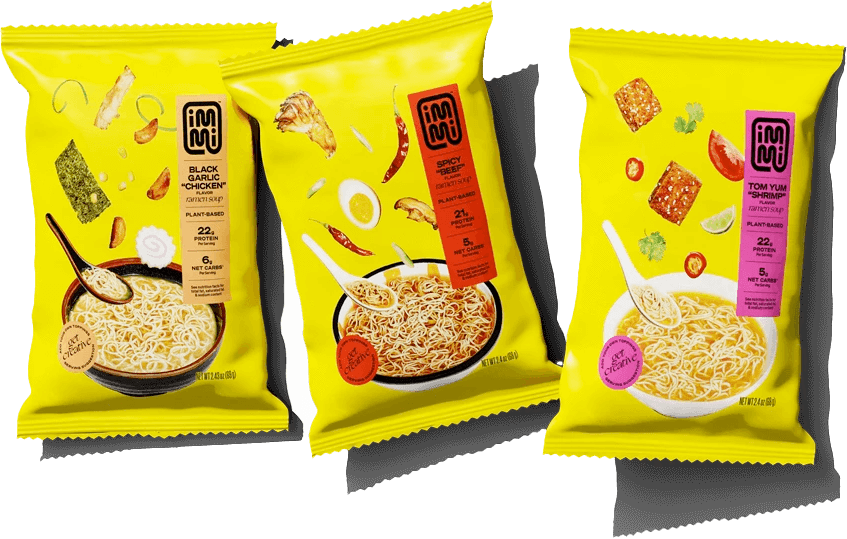 If you've picked a dish without noodles or rice, you might think you're in the clear, but sauces can be sources of carbohydrates if they're filled with added sweeteners. Sweet and sour sauce, along with hoisin, should be avoided if you're on a low-carb diet. Try making meals that use these sauces at home where you can substitute erythritol or monk fruit to add a bit of sweetness without all the carbs.
6 Keto-Friendly Asian Food Recipes
Now that you've got ideas for adapting a dish for a low-carb lifestyle, you can feel more confident ordering out or putting a meal together for friends and family. Here are six simple (and mostly quick) keto recipes to try out.
1. Egg Drop Soup
Image: Ruled.me
When it's a chilly day, or you're feeling under the weather, nothing beats a cozy bowl of soup. And if you're in a rush, it doesn't get much easier than this keto egg drop soup.
Egg drop soup seems like a perfect addition to a low-carb diet, and it can be, but if you're on a strict ketogenic meal plan, you may need to make adjustments. Your typical recipe is likely to use cornstarch as a thickener. To keep your carb count low, try xanthan gum or arrowroot if needed. Both work just as well as cornstarch.
In this recipe, bacon fat and chili garlic paste create a rich umami flavor. You can stick with chicken stock or substitute bone broth for extra nutrients. Top with chopped scallions, and you're set.
2. Sesame Chicken
Image: Peace, Love and Low Carb
If you're looking for a different but equally delicious low-carb meal, think about making one-pot sesame chicken instead.
Another bonus to this recipe? It has a simple and straightforward ingredient list. Tender broccoli boosts the nutritional value but feel free to add extra vegetables such as zucchini or eggplant. Coconut aminos help create a savory sauce. After a quick saute, all that's left is to garnish your plate with red pepper flakes, toasted sesame seeds, and fresh green onions.
3. Zha Jiang Mian
Image: The Woks of Life
Here's a recipe you may not see on your local Chinese restaurant menu but is definitely worth making. Zha jiang mian is also known as "fried sauce noodles." It's wildly popular in Beijing and is as tasty as it sounds. You will have to make a few minor substitutions to make this keto-friendly, but it should still come in under an hour start to finish.
Opt for arrowroot instead of cornstarch, trade carrots for daikon radish, and swap the wheat noodles for a low-carb pasta. Think about substituting hoisin for the bean paste. Since hoisin sauce is typically high in carbohydrates, making your own keto version will help you keep the carb count low.
Pack in extra flavor by marinating your pork ahead of time if possible (you'll still enjoy a mouthwatering meal with a quick marinade). Garlic, ginger, and shiitake mushrooms lend loads of flavor while cucumber and green onions tie the dish together.
Privy Sign Up form
Want more delicious recipes like this straight to your inbox? Sign up for our e-mail list.
You'll also get updates on immi, delicious recipes, exclusive offers, and more. No spam ever.
4. Lo Mein
Image: Fit Mom Journey
Lo mein is a Chinese takeout staple, and at first glance, you might be wondering how you can turn it into a low-carb Chinese food. Believe it or not, dishes such as lo mein or ramen bowls are surprisingly simple to adapt.
When your goal is low carbs, replace traditional lo mein noodles with something a little more keto-friendly. Making kohlrabi noodles helps you reap the benefits of more veggies. Still, a low-carb pasta like immi ramen lends the meal a more original feel.
With minimal prep time (just 10 minutes), you can get a nutritious keto Chinese meal on the table in under half an hour thanks to smart prep work. Take a peek at this post for more ideas on using low-carb noodles in your cooking.
5. Cauliflower Fried Rice
Image: KetoGasm
It's essential to have a go-to fried rice recipe when you're following a low-carb diet, and cauliflower rice makes it a cinch to keep this dish in your kitchen repertoire. It's also an excellent accompaniment to several of the Chinese dishes on our list.
You'll start by prepping your vegetables. Bell peppers and celery add texture and color while sesame oil and soy sauce gives it an authentic fried rice flavor. Crack open a couple of eggs and stir until they've set. To add a bit of heat, finish your fried rice with a sprinkling of shichimi togarashi. Trust us when we tell you this unique Japanese spice blend is delicious on everything.
Keep this dish in mind when you want something quick; its total cook time is around 20 minutes.
6. Keto Egg Rolls
Image: Kirbie's Cravings
We've saved the most labor-intensive recipe for last, but we promise it'll be worth taking the time to make. If you're a fan of appetizers (who can resist lettuce wraps and fried wontons?), you'll definitely love this delicious low-carb recipe for crispy keto egg rolls.
These egg rolls are the ultimate savory treat. Stick with the filling as is, or swap out the carrots for cucumbers or thinly sliced bok choy. Thanks to a combination of almond and coconut flour, you can roll out egg roll wrappers that fry up beautifully. Now you can enjoy having an extra roll (or two) while keeping your net carb count right where you want it.
Classic Recipes Tailored To You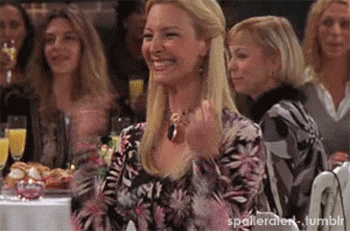 Shifting your eating habits can feel intimidating, especially if you're following a ketogenic diet. It can take some time finding low-carb Asian recipes you're excited to make again and again. Be open to experimenting a little until you find your own sweet spot.
Fortunately, it doesn't take much to turn your favorite dishes into low-carb delights. After you've mastered these recipes, take a look at this list of keto Asian foods for more low-carb meals.