Whether you're new to the keto diet or have been a devout follower for years, one thing remains the same: This low-carb, high-protein approach to eating remains a popular lifestyle for numerous reasons. It can promote weight loss, curtail high blood pressure, and reduce cravings for sweet and starchy foods, which in turn can lower blood sugar levels and the risk of diabetes.
Going keto means cutting back on carbohydrates in a big way, and that includes most regular pasta and noodles — from Italian favorites like fettuccine and lasagna to Asian mainstays like ramen. But just because you're limiting your carb intake doesn't mean you have to give up these foods. More than ever, there are keto-friendly alternatives that provide a satisfying experience.
To help you stay on track with your low-carb lifestyle, we've gathered some tasty keto noodle recipe ideas for meals. But first, let's review some of the top noodle options that can fit your keto way of life.
A Quick Breakdown of Low-Carb Noodles
The main reason why regular noodles are different from low-carb noodles is the carbohydrate count. If you look at the nutrition information on most noodle packaging, you'll see that they're made from some type of all-purpose or wheat flour, which is always high in carbs.
For example, most instant ramen noodles contain about 40-80 grams of carbs from wheat flour. Even whole-wheat spaghetti, which is often touted as a healthy option, contains 37 grams of carbohydrates per cup. There are also alternative noodles such as those made with chickpea flour. But with 53 grams of carbohydrates per cup, they're not exactly an ideal option when you're trying to stay keto.
Instead, you may want to consider noodles made from almond flour or coconut flour, both of which are much lower in carbs. For more ways to incorporate keto noodles into your diet, be sure to check out our comprehensive guide on low-carb noodles. In the meantime, here's a brief look at a few popular keto-friendly selections.
Shirataki Noodles:

Also known as "miracle noodles," these stringy sensations come from the Japanese konjac plant. They have a good amount of fiber and practically no calories or carbs, which is why they've become more popular in recent years. That said, the fishy smell and jellyfish-like texture is often a turn-off for folks, so keep that in mind. 

Spiralized Veggie Noodles:

Whether it's zucchinis, carrots, or sweet potatoes, you probably don't need us to tell you about spiralized vegetables since they seem to be everywhere these days. While they're an increasingly common pasta alternative, the main complaint about zucchini noodles and other spiralized veggies is the soggy texture that tastes nothing like regular pasta. 

Spaghetti Squash:

This stringy squash

is a popular keto pasta substitute in low-carb pasta recipes, particularly for Italian cuisine. It has the added bonus of being high in

vitamin A, potassium, and beta carotene. That said, the texture doesn't give you that same sensation as traditional pasta and it can be a bit fragile. 

immi Instant Ramen:

Arguably the easiest (and tastiest) option of the bunch,

immi ramen

is the world's first low-carb, high-protein, high-fiber instant ramen. What's more, unlike so many other keto-friendly noodles, it has the chewy texture you love without any of the nutritional drawbacks. 
Want to eat the best keto noodle available with a delicious slurp you'll love? Try immi ramen!
Variety Pack
Variety is the spice of life. Get all three flavors including Spicy Beef, Black Garlic Chicken, and Tom Yum Shrimp. You'll be covered for all occasions.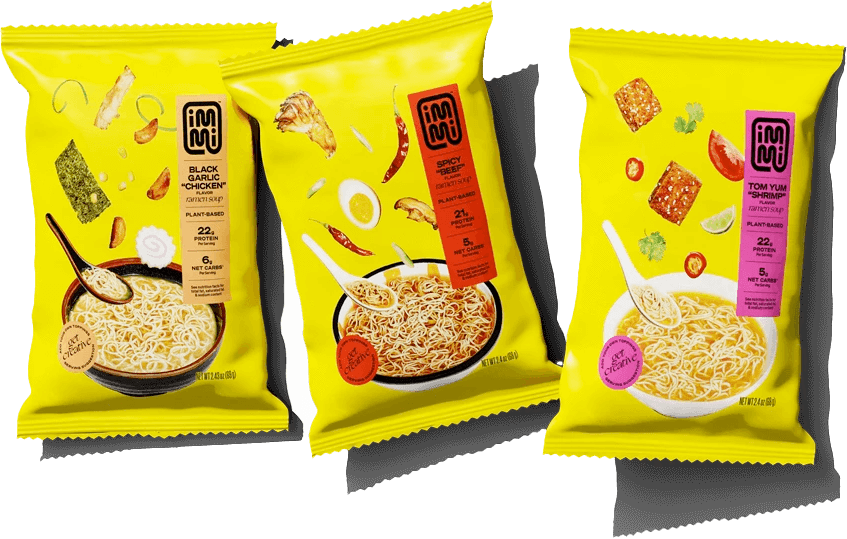 Slurp Now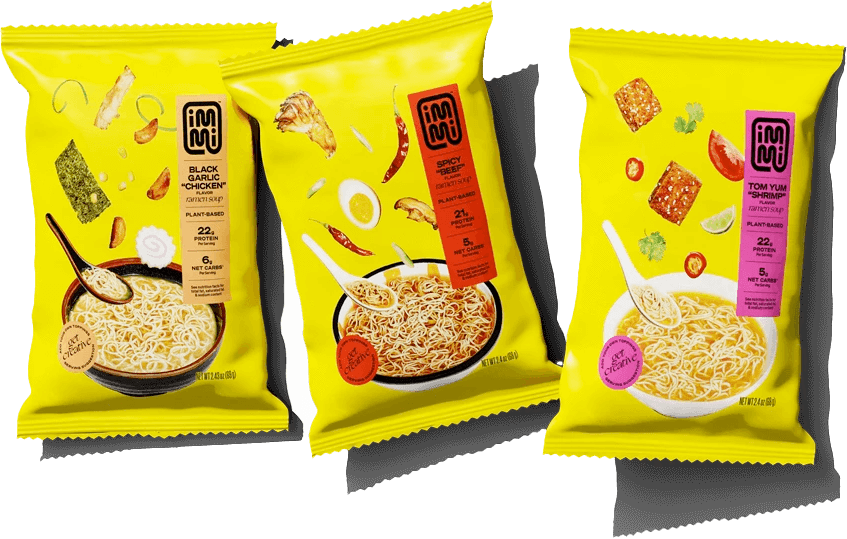 A Quick Keto Noodle Recipe
Trying keto-friendly noodles that suit your taste is an excellent way to step up your weeknight meals and stay on track with your ketogenic goals. Fortunately, you don't need tons of time to make it happen. In less than an hour, you can make your own keto noodle recipe. We realize it sounds like a task for a culinary pro, but it's a lot easier than you might think.
Here's a step-by-step guide for making a keto-friendly version of stir-fried spicy ramen, a popular Asian dish that you're sure to love as much as we do.
Ingredients:
Cooking oil of choice

3 garlic cloves, minced

1 block of firm tofu, thinly sliced

Green onions (chopped for garnish)

1 red chili, chopped

1 lime, cut into wedges

1/2 pound of chicken, thinly sliced

8 peeled shrimp

2 tablespoons of soy sauce

2 tablespoons of dark soy sauce (for a keto version, mix tamari and xylitol on a saucepan and stir)

3 tablespoons of

sugar-free

ketchup

1 teaspoon of oyster sauce

3 tablespoons of chili paste

Pepper (white if possible)

Bean sprouts (handful)

3 eggs

1 serving of immi ramen noodles
Instructions for Sauce:
In a bowl, mix both soy sauces, ketchup, and oyster sauce

Add salt and pepper to taste
Instructions for Stir-Fry:
In a pot, boil your immi ramen noodles and set aside

In a wok or large frying pan, add cooking oil until heated

Add your minced garlic and chili paste

Throw in the tofu, shrimp, and chicken

Add immi noodles, then stir in the sauce until evenly mixed

Move the noodles to the side of the wok and toss in the bean sprouts

Add more cooking oil and scramble the eggs

Serve and garnish with chopped green onions and red chili slices

Squeeze a bit of lime juice over the dish and enjoy
As you can see, the total time for making your own keto noodle recipe doesn't require hours of work. Plus, this simple yet delicious meal uses many ingredients you probably already have in your keto-ized kitchen.
Don't forget that immi instant ramen works well in a variety of dishes, so try them topped with your protein of choice (meatballs, ground beef, and chicken come to mind) and even sugar-free marinara sauce, alfredo sauce, or pesto sauce. Hey, it's all about experimenting to see what pleases your palate.
6 More Keto Noodle Recipe Options
When those noodle cravings strike but you want to stay keto, don't stress. Check out these delicious keto ramen recipes that include easy recipe videos so you can craft tasty twists on Asian favorites, Italian classics, and more.
Kick Carbs to the Curb With Keto-Friendly Options
Giving up carbs can feel daunting, especially if you're just starting a keto diet. We know it's hard to say goodbye to regular pasta and noodles, but the good news is that you're not alone — and you have options. Knowing about which different low-carb noodles are out there is a good start, and having some delicious keto recipes up your sleeve will help make the daily experience much more enjoyable and manageable.
That's why we created immi ramen. Most instant noodles aren't great for your health, but we wanted to offer a better-for-you (yet no less tasty) ramen that's low-carb, high-protein, and entirely plant-based. By making some adjustments, you can see food in a different way and realize that following a ketogenic diet offers a world of eating opportunities that are far from boring or limiting.
For more ideas on how to keep your carb intake low and the flavor quotient high, don't miss our ever-expanding list of keto recipes. We promise you won't ever need to open a cookbook.