A low-carb ketogenic diet continues to be a way of life for many people, and for good reason. Studies show that decreasing your daily carbohydrate count can support weight loss, reduce sugar cravings, and lower the risk of diabetes.
But what do you do when you're in the mood for a piping hot bowl of ramen and don't want to fall off the keto train? Well, get on board because we have the answer for you.
Join us as we share some top tips on how you can stay on track with your health goals and still indulge in one of your favorite childhood foods. Yes, friends, keto ramen is real.
4 Low-Carb Ramen Noodle Options for Staying Keto
When you're following a keto diet, it's essential to lower your carb intake and increase your consumption of protein and healthy fats (gotta get those omega-3s in!).
Fortunately, going keto doesn't mean you have to give up ramen noodles — as long as you know which ones to eat.
For more detailed information and even more noodle options, be sure to check out our guide on low-carb noodles. In the meantime, here are a few top picks that you can add to your shopping list for your keto meal plan:
Zucchini noodles:

Chances are you know about zoodles, which you can find fresh or frozen at Trader Joe's or just about any local grocery store. While they're certainly a nutritious low-carb alternative to conventional ramen, they tend to get watery and soggy, so they don't have the same chewy texture as regular noodles. What's more, it can be expensive and time-consuming to buy a spiralizer and spend time spiralizing these veggies.

Spaghetti squash:

Just as the name says, this orange-hued squash creates stringy, spaghetti-like strands once you cook it. While it doesn't have the same texture of real noodles, spaghetti squash does have a nice bite to it and generally doesn't get mushy like zoodles often do. Plus, you get a good dose of fiber and nutrients, including vitamin C, manganese, and vitamin B6.

Shirataki noodles:

Also known as miracle noodles, these see-through gelatinous creations are made from the Japanese konjac yam. Shirataki noodles have a jellyfish-like consistency that can be off-putting to many people unfamiliar with the texture. Plus, some people say the noodles smell a little fishy, so you may want to rinse them in cold water before preparing.

immi ramen noodles:

While most instant ramen is made with carb-heavy wheat flour,

immi ramen

is the world's first low-carb, high-protein instant version. Not only that, but it's also high in protein and fiber, 100% vegan, and tastes great. They have the chewy texture of noodles that most people know and love, but without the high carb load. It might sound like a too-good-to-be-true situation, but we promise it's not. Learn all about immi to get the facts.
Try the best keto ramen available with immi. Delicious, keto-friendly, and slurp-worthy all in one!
Variety Pack
Variety is the spice of life. Get all three flavors including Spicy Beef, Black Garlic Chicken, and Tom Yum Shrimp. You'll be covered for all occasions.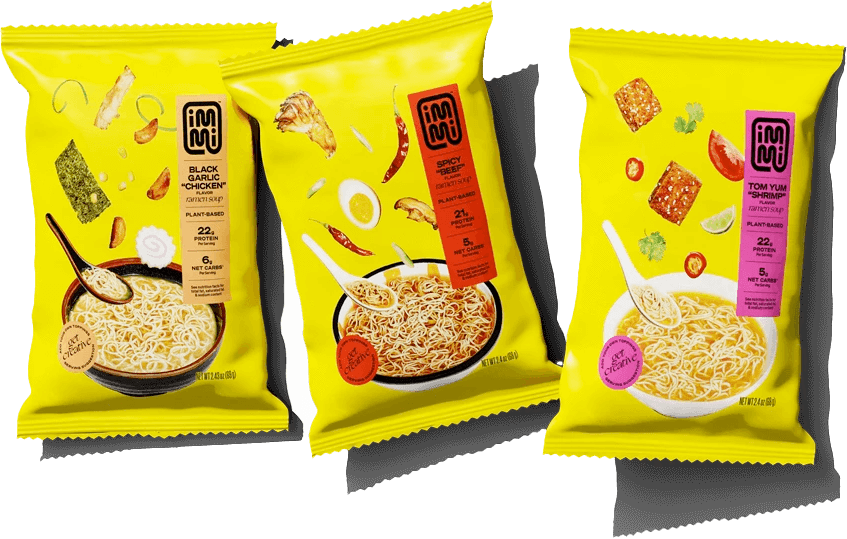 Slurp Now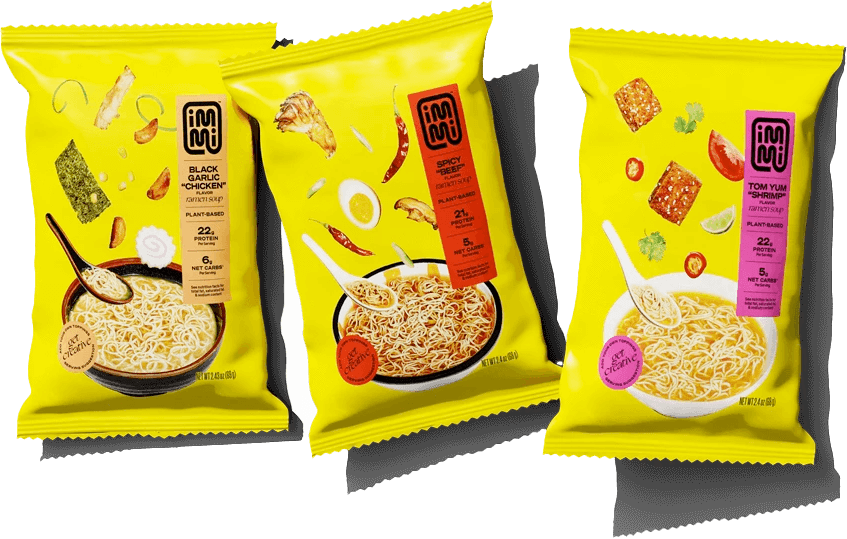 Whether you're having ramen noodle soup or incorporating ramen into another type of dish, make sure you include plenty of low-carb veggies like bok choy, green onions, and mushrooms. Don't forget healthy fats such as avocado oil and olive oil as well as high-quality protein such as beef, pork, chicken, and eggs. These will give you essential nutrients to fill up faster.
6 Tasty Keto Ramen Recipes That'll Have You Coming Back for More
When you have a serious hankering for ramen but don't want to break keto, don't stress — you have options. Check out these delicious keto ramen recipes that include twists on Asian favorites, Italian classics, and more.
1. Garlic Clam Ramen Topped With Whipped Leek Butter
We had you at butter, right? Yeah, thought so. For this easy garlic clam ramen recipe, you'll only need nine ingredients including Manila clams, one leek, four garlic cloves, ginger, plenty of butter, chicken broth, miso paste, a splash of dry sake, and your choice of low-carb noodles. You can also top with a boiled egg if you like for added protein. Let's just say that after one slurp of this ramen bowl creation, you'll be happy as a clam. (Sorry, couldn't resist.)
2. Stir-Fried Spicy Mi Goreng Ramen
If you thought ketchup was only for burgers and french fries, think again. For this spicy, fried noodle dish from Indonesia, the (not-so) secret ingredient is everyone's favorite red-hued condiment. Since many store-bought ketchup brands are loaded with sugar, look for keto-friendly options with no sugar added.
This high-protein recipe calls for chicken, shrimp, eggs, and tofu along with some veggies and seasonings. Once you chop the veggies and protein, stir-fry them together, and sprinkle with green onions, red chili slices, fresh bean sprouts, and a squeeze of lime. Delish!
3. Keto-Friendly Millionaire's Bacon Carbonara Ramen
Treat your taste buds to this keto ramen twist on Italian carbonara that you won't believe is low-carb. (We taste-tested it, so we know what we're talking about.) You'll simply replace the pasta with low-carb ramen noodles, then whip up the deliciously creamy sauce with eggs, pecorino cheese, and just a few seasonings. Top with sizzling uncured thick-cut bacon and you have yourself a meal that tastes like a million bucks.
4. Avocado Miso Ramen Topped With Avocado Tempura
There's almost nothing better than biting into an ultra-fresh, sublimely creamy, and perfectly ripe avocado. Unless, of course, that avocado is fried to crispy perfection in a keto-friendly batter (OMG!). This keto-friendly ramen recipe is a winner not only because avocados taste so great, but because they're loaded with nutrients and healthy fats.
Throw in some keto ramen noodles, top with a soft-boiled egg to amp up the protein content, and you have one yummy meal that won't disappoint. FYI, the recipe calls for soy sauce, but you could also use liquid coconut aminos instead (they're keto-friendly and have a very similar taste). Bonus: This vegetarian recipe also has a vegan version.
5. Bacon Lettuce Tomato Ramen With Mayo Shio Tare Sauce
Missing those BLT sammies you used to love when carbs were no object? Well, this unusual BLT ramen dish is just what you (didn't know) you were waiting for. Instead of piling on bacon, lettuce, and tomato on carb-loaded bread, this unique dish gives it a yummy Asian twist with low-carb ramen, Japanese dashi powder, and bonito flakes.
Sure, it requires a little more effort than an old-school BLT, but it's so worth it. Between the crunchy lettuce, chewy noodles, creamy sauce, and savory flavors, this multi-textured recipe is a keeper.
6. Spicy Almond Tantan Ramen With Chili Bean Ground Pork
Ramen, almond butter, pork, and spice? Yasss, please! When you're craving a comforting bowl of ramen, this spicy tantan dish hits the spot. Even better, you might already have most of the ingredients in your keto-ized kitchen — things like almond butter, ground pork, avocado oil, chicken bone broth, and some immi ramen noodles. We're big fans of almond butter (it has micronutrients, protein, fiber, and tastes great), so it's hard to go wrong when you have that as the base.
Enjoying Keto Ramen Is Possible
Giving up carbs can be a challenge, especially when you're just starting a keto diet. But with a few helpful hacks and some know-how, you can make this lifestyle work for you without feeling like you're sacrificing the joy of eating.
Choosing low-carb ramen options, high-quality protein, healthy fats, and a variety of non-starchy veggies will help you stay keto and still enjoy your favorite foods. For more ideas on low-carb living, be sure to check out this guide to low-carb Chinese food as well as our collection of keto-friendly ramen recipes.