Maybe you're living a low-carb lifestyle and are looking for some fresh inspiration in the kitchen. Or you could be interested in finding a way to revisit some of your favorite Asian foods. If this sounds like you, then you're in the right place.
Whether you're just starting to explore a keto lifestyle or you're already familiar with the ins and outs of a ketogenic diet, we've got a few ideas for reinventing beloved Asian dishes into keto-friendly versions.
In this guide, we'll give you the knowledge you need to make a meal fit into your life with ease. We'll also give you a few starting points with different Asian cuisines so you can have fun experimenting in the kitchen.
Tips for Keeping Asian Recipes Keto-Friendly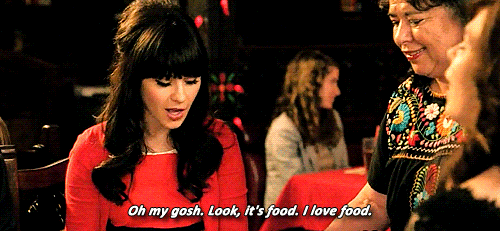 Following a ketogenic diet definitely takes some effort and creativity in the kitchen. Even though some Asian recipes aren't always keto-friendly, you can still find a way to adapt them to your needs. Whether you're paleo, vegan, or somewhere in between, there are always some handy kitchen swaps you can employ.
Here are some pointers for making an Asian meal work for you if you're on a ketogenic diet:
Trade in regular noodles for a low-carb option. Something high in fiber and protein like

immi ramen

noodles is a great alternative without the high carbohydrate count. You could also try using shirataki or zucchini noodles in your ramen, pad thai, or stir fry. And opt for cauliflower in place of rice when you can.

If you enjoy soaking up every last bit of sauce when you're polishing off a dish, be mindful of the hidden carbohydrates from sugars and opt for something made with alternative sweeteners such as erythritol. Sweet and sour sauce might be fantastic, but it's also going to sabotage your efforts if you're following a keto-style meal plan.

When you're dining out with friends or picking up some takeout after a busy day, don't beat yourself up if you can't find the perfect low-carb meal on the go. Just focus on doing the best you can with what's available to you. If your options are limited, ask for any sauces on the side. Instead of having rice or noodles, opt for steamed broccoli or spinach. Both keep your meal low in carbohydrates.
For more ideas on making a ketogenic diet work for you (plus some bonus keto recipes), check out this guide on keto ramen. 
Can't wait to try our keto-friendly instant ramen with delicious Asian flavors? Try our immi Variety Pack today!
Variety Pack
Variety is the spice of life. Get all three flavors including Spicy Beef, Black Garlic Chicken, and Tom Yum Shrimp. You'll be covered for all occasions.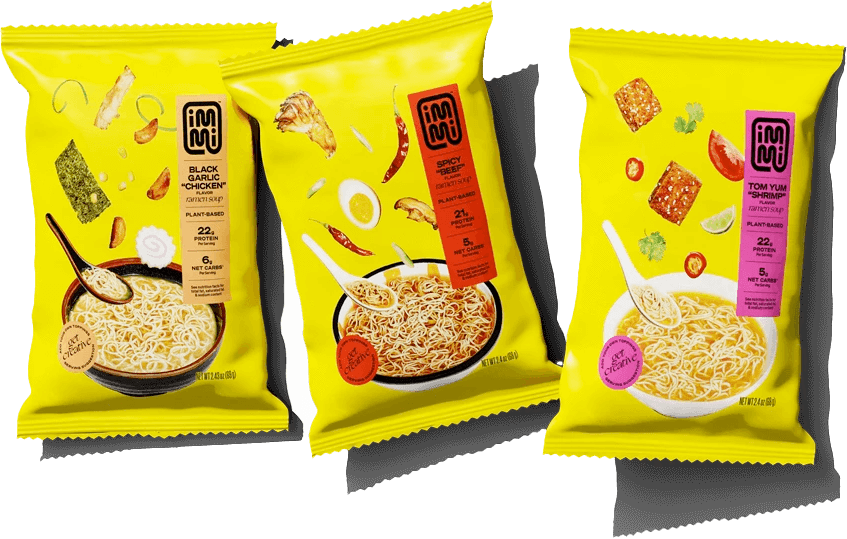 Slurp Now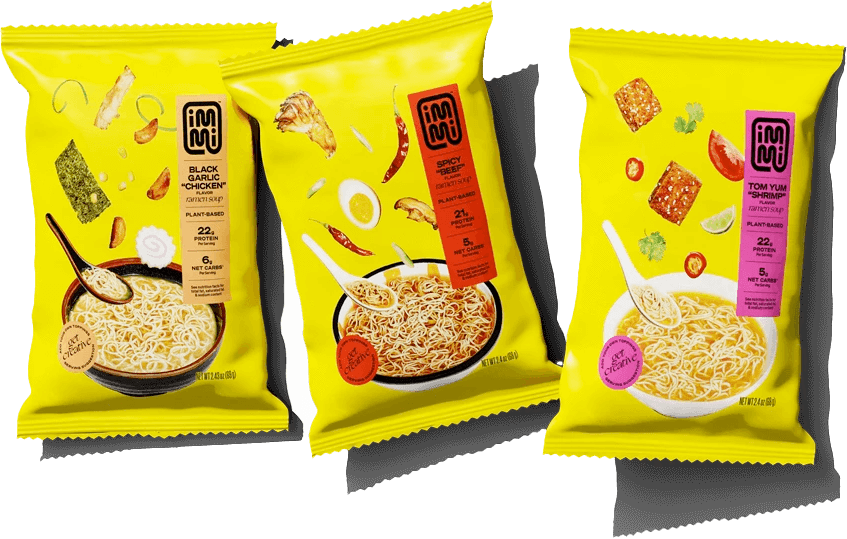 Keto Chinese Food
Who doesn't love hitting up one of their go-to Chinese restaurants for a bite to eat at the end of the day? After you've given these recipes a try, find more in our post on low-carb Chinese food.
1. Keto General Tso's Chicken
Image: The Hungry Elephant
Instead of derailing your low-carb diet next time you get a hankering for Chinese takeout, give this recipe a try. Full disclosure — it does call for hoisin sauce, which isn't ideal for a ketogenic diet. Fortunately, there's a link to a keto version (clocking in at 1 gram of net carbs per tablespoon), a perfect stand-in for the real thing.
With tender chunks of chicken in a delectable garlicky ginger sauce and spiked with red chili flakes, you're sure to enjoy every minute of chowing down on a plateful of keto-friendly General Tso's. If you feel like sneaking in a few more veggies, throw in some cauliflower florets for extra fiber and nutrients.
Top with toasted sesame seeds and some thinly sliced scallions and dish up.
2. Kung Pao Chicken
Here's another classic takeout meal that's a cinch to recreate in your kitchen. This keto version of Kung Pao Chicken is full of veggies and is perfect for any weeknight cravings that strike.
Even though this recipe calls for a bit of cornstarch, feel free to swap in xanthan gum instead. After a quick marinade of soy sauce and rice wine, you'll be ready to get started.
The beauty of this recipe is that you do everything all in one pan. Start by getting a slight char on your vegetables by cooking them over medium-high heat. Add your chicken and stir in your sauce, simmering long enough to create a delicious finished product. Chopped peanuts and chili garlic sauce complete your meal.
For more fiber, serve with cauliflower fried rice on the side.
3. Fresh Chinese Lettuce Wraps
Chinese lettuce wraps are a staple on any appetizer menu. Also known as San Choy Bow, these tasty delights are perfect when you're aiming to keep things low carb. And they offer nearly endless customization, making them an excellent choice for any dietary needs.
While this recipe has a handful of non-keto ingredients, they're easily omitted. If you're concerned about added ingredients in the soy sauce, opt for coconut aminos or feel free to use a mix of both for more variety. For the same crunch without the carbs, choose radish instead of chopped carrots, and zucchini instead of baby corn.
Get an extra hit of high-quality fat by adding some avocado slices to your lettuce wraps. They'll be much more filling, and you'll be checking off the boxes on a well-rounded, keto-friendly meal.
Privy Sign Up form
Want more keto-friendly recipes like these? Sign up for our e-mail list.
You'll also get updates on immi, delicious recipes, exclusive offers, and more. No spam ever.
Keto Thai Food
Thai food is straight-up addictive, and lucky for you, you won't have to give it up. Here are two recipes to get you started in the kitchen. (For more ways to make Thai food work for you while following a ketogenic diet, look at this collection of keto thai food ideas.)
4. Low-Carb Pad Thai
Image: Tasty Yummies
This vegetable-packed pad thai is a winner all the way around. It's an easy keto meal that comes together in under 30 minutes.
All of your authentic pad thai flavors are included in this recipe, from fish sauce to tamarind. You can toss your zucchini noodles in raw, but gently heating them will work too. And they'll get to spend a little more time bathing in the sauce for more flavor.
Napa cabbage and mung bean sprouts add texture, and eggs provide a source of vitamins and protein. Don't forget a squeeze of lime, cilantro, and peanut topping as your final garnishes.
5. Easy Keto Larb
Image: Cast Iron Keto
When you're in search of a light and refreshing yet nourishing meal, head to the store to pick up what you need to recreate this easy keto larb in your own kitchen. Larb is a meat salad and an ideal addition to any keto meal plan. Like the Chinese lettuce wraps and pad thai, it's easy to mix and match ingredients until you find just what you're looking for.
Shallots and garlic come together with fish sauce, lime juice, mint, and cilantro for a savory and delightful medley of flavors in this recipe. Even better? It comes together in less time than it would take you to phone in and pick up your order from your local restaurant.
Keto Japanese Food
Thankfully, many Japanese dishes are easily adapted to fit into a keto focused diet. When it's time to explore another corner of keto Asian food, check out these satisfying recipes.
6. Savory Tantanmen
If you've ever eaten dan dan noodles, you'll definitely enjoy the Japanese version of this dish, tantanmen. This umami-rich bowl is a simpler version of dan dan noodles with an almond butter base.
You're free to use whichever noodles you like, but if you're keeping it keto, go with something low-carb and high-protein. immi ramen is a fantastic choice here and allows you to enjoy the best parts of ramen. With extra protein from chicken bone broth and vital phytonutrients from bok choy, you'll be eager to dish up a second helping.
7. Mouth-Watering Pork Tonkatsu
Image: Low Carbing Asian
Pork tonkatsu is a flavorful Japanese dish and one that only gets better after getting the keto treatment. When you need a meal that impresses your non-keto friends and family, this is the one to cook.
Save this recipe for the weekend or an occasion where you want a more leisurely kitchen experience. It's not labor-intensive, but you'll definitely want to give the pork time to brine without feeling the pressures of getting dinner on the table during the week.
The secret to getting an extra crispy and tasty crust on the pork comes from using pork rinds and almond flour. Served with sliced cabbage and finished with a squirt or two of lemon juice, you'll add pork tonkatsu to your list of all-time faves.
Feast on Your Favorite Keto Asian Food
Whether you're after new recipes for your meal plan or are experimenting with a keto diet, there are loads of delicious Asian dishes to enjoy on your wellness journey.
Choosing a wholesome diet rich in nutrients is always a smart move, especially when you get to enjoy every bite.