When you think of ramen noodles, chances are your mind goes straight to those dried blocks of instant ramen and flavor packets you gulped down throughout your college days. But now that you know the reality of ramen nutrition (or lack thereof), those unhealthy noodles don't have to be your go-to option.
Fortunately, making smarter choices about what you eat doesn't mean you have to give up ramen entirely. You just have to know what kind of ramen to choose. (Hint: It's called immi ramen, and it's the world's first low-carb, high-protein, plant-based instant ramen with the delicious flavors you remember.)
Say hello to the only healthy ramen you need in your life. Try immi today!
Variety Pack
Variety is the spice of life. Get all three flavors including Spicy Beef, Black Garlic Chicken, and Tom Yum Shrimp. You'll be covered for all occasions.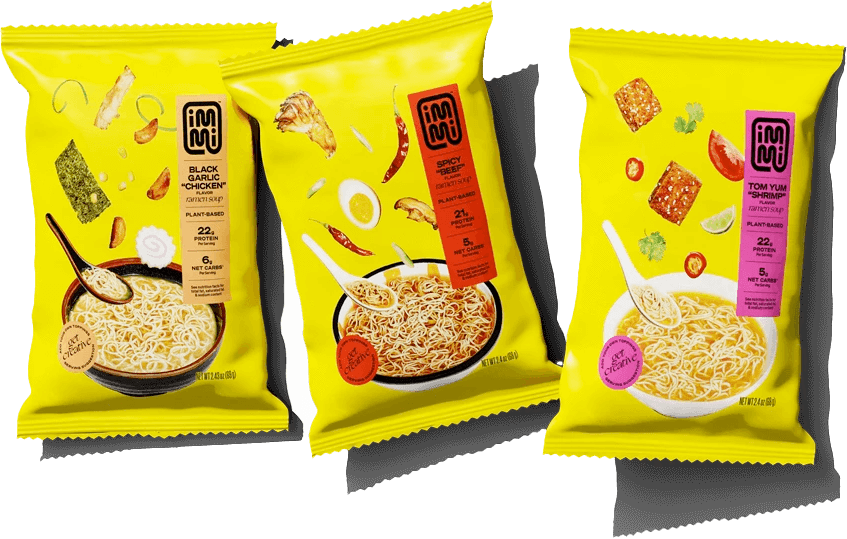 Slurp Now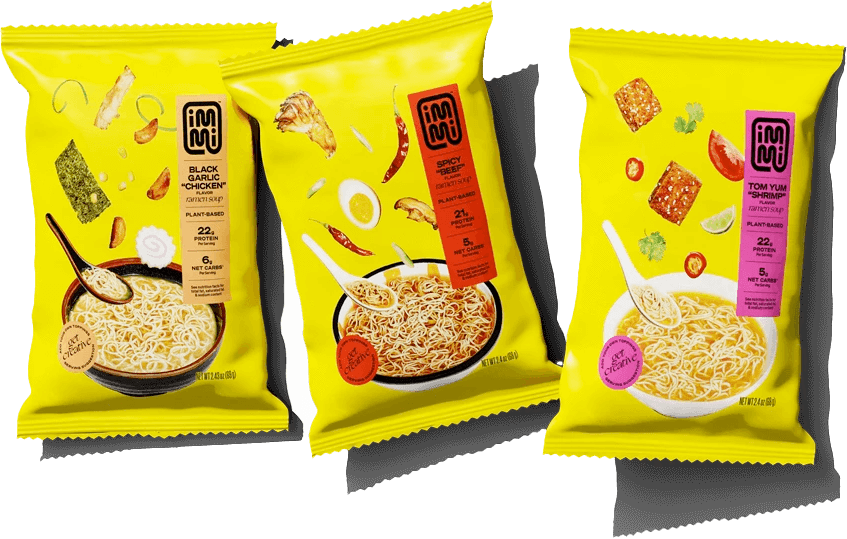 We've rounded up a collection of healthy ramen recipes that are sure to make your mouth water but keep your health goals in check. We categorized these recipes by their main protein source (vegan and vegetarian options are included), so you can easily skim the list. Bon appetit.
Healthy Ramen Recipes With Chicken
The bird is the word with these healthier twists on old-school ramen. Whether you're in the mood for something spicy, savory, or a little bit of both, you can prep, cook, and slurp your way to a delicious time.
Simple Homemade Chicken Ramen
Image: Fork Knife Swoon
There's no need for chemical-filled seasoning packets with this simple, homemade chicken ramen recipe. Instead, you'll use chicken stock, soy sauce, and lots of seasonings and fresh veggies (including shiitake mushrooms) to create a full-flavored noodle soup. Top with a soft-cooked egg and scallions for a Japanese-inspired dish that's ready in less than an hour.
Chicken Ramen
Image: Chelsea's Messy Apron
It doesn't get much easier than this 30-minute chicken ramen that's perfect for busy weeknights. The recipe can work with any ramen noodles of your choice, but for a delicious, nutritious option, use immi instant ramen to punch up the protein and fiber. You can chop whatever veggies you like (we opt for red pepper, zucchini, and broccoli), and throw in some toasted sesame seeds, green onions, and cilantro for extra freshness and flavor.
Tasty Teriyaki Chicken With Ramen Noodles
Image: Taste.com.au
All you need is 20 minutes and eight ingredients to get this teriyaki chicken ramen dish on the table. In a wok (or large fry pan), sauté chicken thighs in sesame oil for a few minutes before tossing in the teriyaki sauce and a dash of chili. Meanwhile, boil your ramen noodles before combining everything with snow peas, julienned carrots, and cilantro. Dinner is served.
Healthy Ramen Recipes With Pork
Pork adds a slightly sweet yet savory flavor to any dish, and these recipes are no exception. Find supplies at your local grocery store, then go hog wild. The result will be healthier and more flavorful versions of the mainstream instant noodles you used to love.
Ginger Scallion Ramen With Chashu Braised Pork Belly
Nothing says comfort food like a piping hot bowl of ramen, and this pork ginger scallion recipe will make you feel right at home. Aside from the pork belly, you'll need some ingredients that you can use for many Asian dishes — ginger, garlic, scallions, onions, sesame seeds, soy sauce, rice vinegar, and just a bit of sake. It's surprisingly simple, fast, and oh-so delectable.
Bacon Lettuce Tomato Ramen With Mayo Shio Tare Sauce
This BLT ramen dish is a creative, low-carb spin on the classic sandwich. Instead of just throwing ingredients between two slices of bread, you'll create a delicious bowl of ramen topped with sizzling bacon, crisp lettuce, and roasted tomatoes. Get ready for a nutritious blast of texture and taste.
Spicy Almond Tantan Ramen With Chili Bean Ground Pork
For a Japanese version of Chinese Dan Dan noodles, it doesn't get better than this spicy almond tantan ramen recipe. What makes this dish particularly unique is the almond butter base (traditionally, sesame paste), which gives it a nutty, less bitter taste. Add the ground pork and a handful of other ingredients for this winning combo.
Healthy Ramen Recipes With Beef
Where's the beef? It's right here. This trio of tasty noodle recipes put beef in the spotlight, so you can create a high-protein, high-flavor, utterly delicious meal.
Taiwanese Spicy Beef Ramen
While chicken noodle soup might be your favorite nostalgic comfort food, ours is this Taiwanese beef noodle bowl. Filling, fragrant, and loaded with flavors, this dish lets the ingredients simmer with a DIY spice sachet — think star anise, Chinese cinnamon, fennel, cumin, five-spice powder, and more. It's an irresistible explosion of aromas.
Marinated Beef and Broccoli Noodles
Image: Inquiring Chef
This marinated beef and broccoli noodle recipe has a fairly simple ingredient list that includes thinly sliced beef sirloin, noodles, vegetable oil, broccoli florets, and black pepper. The key to getting it right is to marinate the beef ahead of time in a sweet and savory Asian-inspired sauce. (Don't worry — there's a recipe for that too.)
One-Pot Easy Beef Drunken Noodles
Image: Sweet C's
For a 30-minute meal that's better than takeout, try these beef drunken noodles. This stir-fry is packed with flavor thanks to the combo of thinly sliced beef, garlic, fish sauce, black pepper, Thai basil, and chili. The recipe suggests rice noodles, but you could easily swap those with immi ramen noodles for a nutritious low-carb, high-protein option.
Healthy Ramen Recipes With Seafood
Your taste buds will be swimming in flavor thanks to these healthy ramen recipes that pair noodles with seafood — the perfect catch.
Jjamppong Spicy Korean Seafood Ramen
For a gourmet upgrade on ramen, consider this spicy seafood ramen soup, which is a Korean-Chinese take on Italian cioppino. Thanks to the pork, clams, mussels, shrimp, squid, veggies, chicken stock, and gochugaru Korean chili flakes, this multi-layered classic is packed with protein and perfect for a weekend feast.
Stir-Fried Spicy Mi Goreng Ramen
A creative update on the popular Indonesian fried noodle dish, this spicy mi goreng ramen recipe is loaded with protein thanks to the shrimp, chicken, eggs, and tofu. Simply prep your ingredients, stir-fry them in a wok or large pan, then top the dish with green onions, fresh bean sprouts, red chili, and a squeeze of lime. It's a quick and full-flavored meal that's sure to become a favorite.
Healthy Vegetarian and Vegan Ramen Recipes
Meat-free and full of flavor. That's what you get with these plant-based recipes that highlight a bounty of veggies and meatless protein. You can find more must-have meatless meal ideas with our roundup of vegan ramen recipes.
Avocado Miso Ramen Topped With Avocado Tempura
For a tasty twist on traditional ramen, give this vegetarian ramen bowl a try. The original recipe calls for eggs to make the crispy avocado breading, but you can easily veganize this step by using aquafaba (chickpea liquid) instead. If you like, top with red pepper flakes before serving for a spicy-licious soup sensation.
Vegan Peanut Noodles
Image: Veggie Society
Think you can only enjoy ramen noodles hot? Think again. This plant-based peanut noodle recipe is also perfect when served cold on a warm day. The refreshing ingredients include red and green cabbage, cucumbers, bell peppers, scallions, cherry tomatoes, cilantro, and basil.
However, you can customize this dish with whatever veggies and herbs are in season. Once you've sliced your ingredients and cooked the ramen noodles and tofu, toss the dish with peanut sauce for a yummy finishing touch.
Be Healthy, Be Happy
Whether you pair it with chicken, pork, seafood, beef, or veggies, ramen goes with just about anything. Even though most mainstream instant noodle brands are terrible for your health, healthier options are available.
That's where immi ramen comes in. As the world's first low-carb, high-protein, high-fiber, and 100% plant-based instant ramen, we are committed to bringing you a nutritious and delicious noodle experience that'll be on the table in minutes. With that in mind, don't forget to check out our list of top ramen recipes for instant culinary inspiration.