When we first started talking about making non-traditional ramen dishes in our kitchen, KLee insisted that we had to make a Taiwanese spicy beef noodle dish using immi ramen noodles.
KLee: I grew up eating this noodle soup and it's still one of my favorite noodle dishes of all time.
Other people may have grown up with chicken noodle soup as their warm comfort meal, but Taiwanese beef noodle soup is my nostalgic bowl of happiness.
My mom often started the day with some beef shank set to a low simmer in this broth base.
All of the wonderful smells of the broth aromatics and five spice powder would waft through the house.
At dinnertime, I would practically skip over to the dinner table. My mom would take off the lid and a huge puff of steam would rise from the pot.
The beef shanks were so tender with little bits of fatty tendon. Each spoonful of soup had my taste buds crying out for mercy.
I'm really happy that we got to make a version of my childhood favorite with immi ramen.
It was the perfect blend of our Asian and American cultures and I'm sure my mom would have been proud of the result.
Craving ramen but no time to cook? Try our immi Spicy Beef flavor. Delicious, healthy, and slurp-worthy all in one.
Spicy "Beef" Ramen
Hearty, rich, and spicy. A broth that takes your tastebuds on a trip across the world. Brimming with notes of Sichuan peppercorns, anise, and fennel.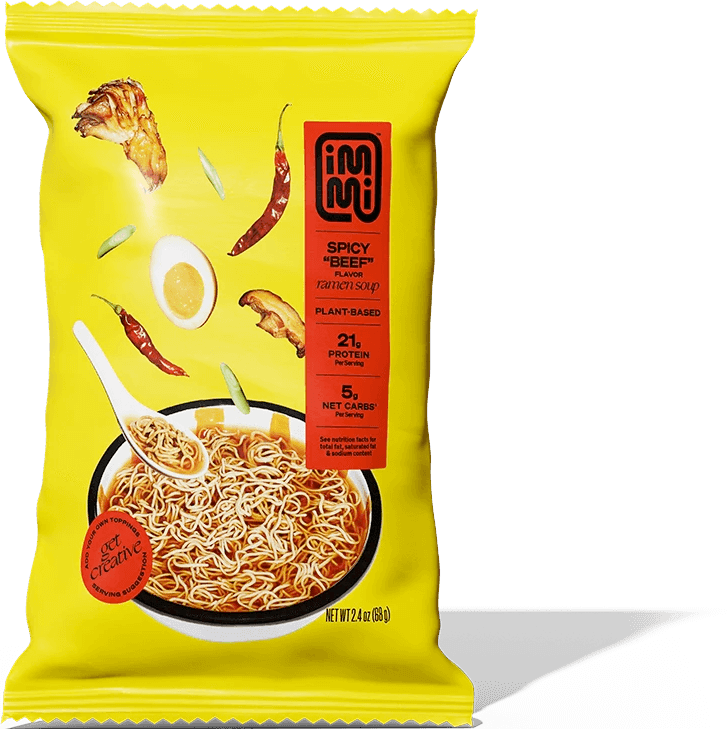 Slurp Now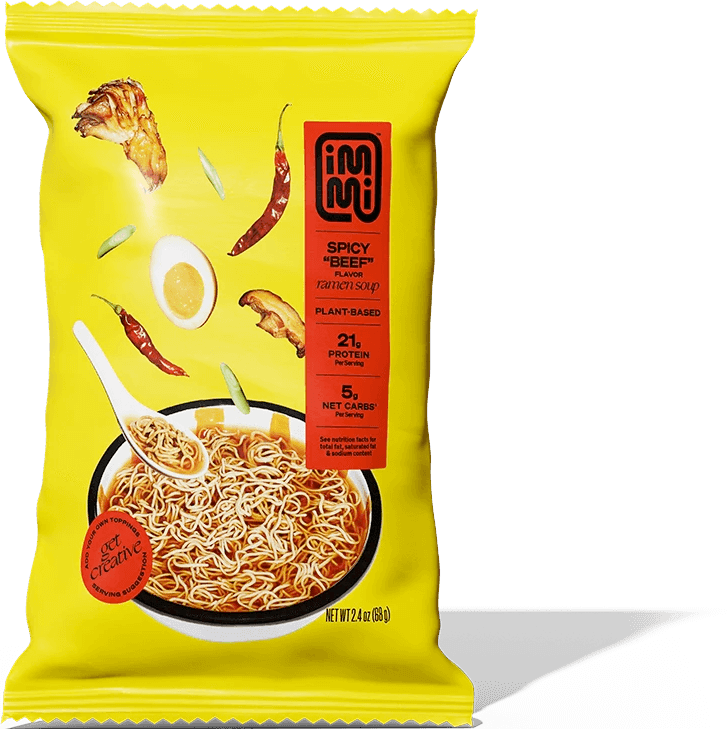 Print
Taiwanese Spicy Beef Ramen
---
1

pound beef shank (cut into 2-inch chunks)

1/2 tablespoons

oil

1

2-inch piece of ginger (smashed)

2

cloves garlic (smashed)

2

scallions (cut into

2

-inch segments)

1/3

onion (cut into wedges)

1/3

tomato (cut into wedges)
Red chili pepper

3/4 teaspoon

tomato paste

1/2 tablespoons

spicy bean paste (doubanjiang)

1/2 teaspoons

sugar

2.5 tablespoon

soy sauce

2.5 tablespoon

Shaoxing wine

4

baby bok choy (

2

for each serving)
Cilantro (finely chopped)
Pickled mustard greens (for topping)

1

serving of immi ramen noodles
Spice Satchet
2

star anise

0.3

Chinese cinnamon stick

1

bay leaf

3/4 teaspoon

fennel seeds

3/4 teaspoon

cumin seeds

1/4 teaspoon

coriander seeds

1/2 tablespoons

Sichuan peppercorns

1/8 teaspoon

five spice powder

1/8 teaspoon

black pepper
---
Instructions
Aromatics Prep
Smash 1 piece of ginger
Smash 2 cloves of garlic
Cut 1 scallion into 2 inch pieces
Cut ⅓ onion into wedges
Cut ⅓ tomato into wedges
Dice red chili pepper into small slices
Spice Packet Prep
Take out cheesecloth and cut out a medium sized square as well as a thin strip of the cheesecloth (that you'll use to tie the cheesecloth later)
In the cheesecloth, place:
2 star anise
0.3 Chinese cinnamon stick
1 bay leaf
3/4 teaspoon fennel seeds
3/4 teaspoon cumin seeds
1/4 teaspoon coriander seeds
1/2 tablespoons Sichuan peppercorns
1/8 teaspoon five spice powder
1/8 teaspoon black pepper
Then tie the cheesecloth with the cheesecloth string
Taiwanese Spicy Beef Broth
Cut 1 lb of beef shank into small 2 inch slices
Boil enough water in a pot to boil all of your beef. Once the water is boiling, add the beef. Let it come back up to a boil, and boil for 1 minute. Strain in a colander and rinse thoroughly with fresh water to remove any impurities.
On a pan, add ½ tablespoon of olive oil and let it heat.
Then add crushed ginger, garlic, scallions, and onions. Stir and let it caramelize. Let the onion turn transluscent.
Next add the tomato wedges and diced red chili pepper
Once the tomatoes have softened, transfer the entire pan mixture to a large pot and put on low-medium heat
Add the beef shank pieces to the pot
Add 3/4 teaspoon tomato paste, 1/2 tablespoons spicy bean paste douban jiang, 1/2 teaspoons sugar, 2.5 tablespoon soy sauce, and 2.5 tablespoon Shaoxing wine to the pot. Stir everything together.
Pour in 2.5 cups of water
Add the spice cheesecloth packet
Close the lid and let the pot simmer on low-medium heat for an hour
Plating
Put in your immi ramen noodles
Lightly boil 4 pieces of baby bok choy
Mince the cilantro
Chop the last scallion
Open the pickled mustard greens packet
Take out serving bowl
Add immi ramen noodles
Ladle in the beef noodle soup broth
Top with the 4 pieces of baby bok choy
Sprinkle the minced cilantro, chopped scallions, and add pickled mustard greens
Enjoy!
Visual Recipe