If you've recently switched up your eating habits and are following a ketogenic diet, you might be wondering how you can still enjoy Korean cuisine. While bowls of rice and flavorful sauces might be at the front of your mind, with a few simple swaps, you can look forward to eating your favorite foods while staying on track with your dietary choices.
We've put together some handy tips for making any dish more keto-friendly as well as some delicious Korean keto recipes so you can have some fun in the kitchen whipping up a nutritious and low-carb dinner. From mouthwatering galbi to a delectable ramen stir fry, get ready to find a new obsession.
Adapting Your Favorite Keto Korean Foods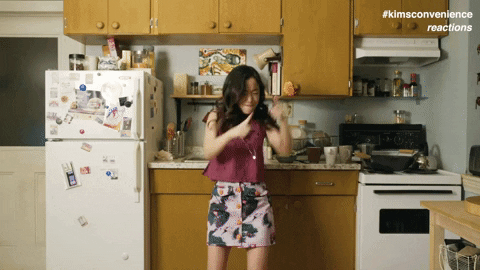 In case you need a quick refresher, a ketogenic diet is high in fat and low in carbohydrates. While it's usually pretty easy to add healthy fats, sometimes it gets tricky navigating the low-carb part. It could seem like a challenge finding the right dish at a Korean restaurant or at home when you need to throw something together at the end of a workday.

Believe it or not, it doesn't take too much kitchen wizardry at home or out with friends to keep a meal high in essential nutrients and low in carbohydrates. Here are a few things to look out for when building your ideal keto meal.
Swap in Low-Carb Options
There are some key aspects of Korean cuisine that aren't exactly low-carb. But they don't have to trip you up when it comes to making a recipe or meal work for you. Instead of passing on rice dishes, substitute cauliflower rice for a low-carb option.

When it comes to noodles, choose something like immi ramen. You won't have to worry about carbohydrates, and it's high in protein, so when a noodle craving strikes, all you'll need is a fork or spoon. 
Try the best low-carb noodle alternative available. Delicious, healthy, and a slurp you'll love.
Variety Pack
Variety is the spice of life. Get all three flavors including Spicy Beef, Black Garlic Chicken, and Tom Yum Shrimp. You'll be covered for all occasions.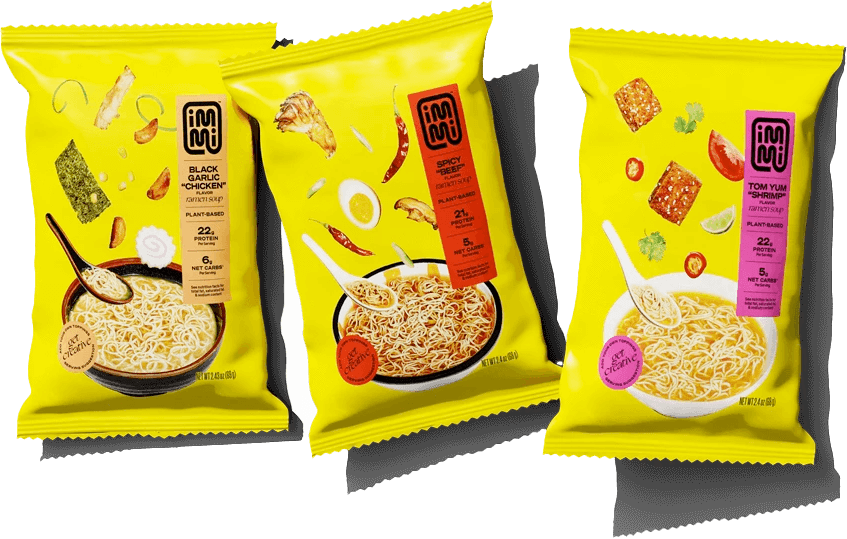 Slurp Now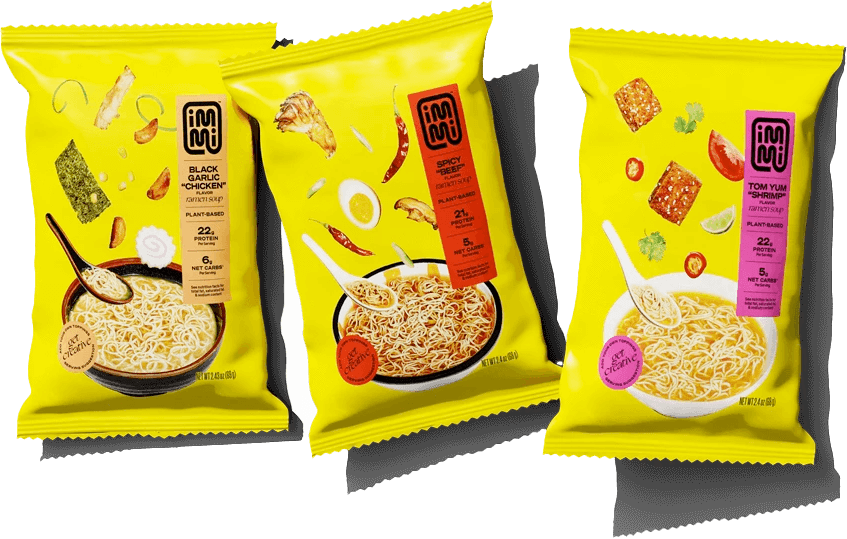 Watch Your Sauces
Sauces and marinades can be the tastiest part of a dish, and if they're loaded with sugar, they'll knock you right out of ketosis. It's a good idea to check the ingredient list on soy sauce to make sure you're not getting hit with extra sugar. Try coconut aminos if you want to steer clear of unwanted ingredients. Even condiments like gochujang (a sweet and spicy chili paste) can have added sugars. Keep your eyes open when you're dining out or browsing the aisles in your supermarket.

You may want to consider making your meals at home. That way, you get to pick and choose each ingredient that winds up on your plate. Exploring an alternative sweetener like monk fruit could be one substitution you make for white sugar in a marinade or sauce.
Choose Keto-Friendly Vegetables
When it comes to keto diets, not all vegetables are created equal. Instead of choosing meals or recipes with high carb vegetables like potatoes, corn, and peas, try rotating in veggies with a lower carbohydrate count. Zucchini, eggplant, and radish keep a dish high in fiber and keep your net carb count low when you need it. Other terrific options include asparagus, spinach, kale, cabbage, and broccoli.
5 Keto Korean Food Recipes to Get You Started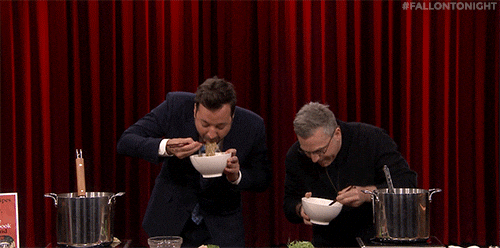 Now that you've got some ideas for turning standbys into fresh keto recipes, you can dig into all of your meals without sacrificing flavor or your goals.

And if you're not sure where to get started or aren't comfortable experimenting in the kitchen without some guidance, here are some low-carb recipes to get you started. We've put together a list of classic Korean dishes for you to pick and choose from. Whether you're itching for a savory Korean BBQ dish or the ease of ramen stir fry, this list has you covered.
1. Keto Galbi
Image: Low Carbing Asian
Galbi is another name for Korean beef short ribs, and this dish checks all the keto boxes. It's high in protein, low in carbohydrates, and big on flavor. This is an excellent weeknight meal if you're game for a little prep the night before as it will need to sit overnight, and ideally for 24 hours.

Jalapenos, sesame oil, garlic, and soy sauce combine to make an umami-rich marinade kissed with a bit of sweetness from monk fruit. After a quick grill or sear on the stove, you've got a keto dinner on the table in less than 20 minutes. Toasted sesame seeds and green onions finish the dish.
2. Spicy Seafood Ramen


When you're craving the ultimate bowl of protein and vegetables, check out this spicy seafood ramen. Jjamppong is a Korean-Chinese noodle soup with a nonstop flavor you're sure to love.

Practice your knife skills by chopping up zucchini, cabbage, and mushrooms. Leave out the carrots to keep the carb count low. Pork belly and octopus or squid, clams, mussels, and shrimp combine with scallions, garlic, ginger, and gochujang to round out the flavor profile.
Choose low-carb ramen noodles for the finishing touch.
3. Low Carb Bibimbap
Image: Simply By Elle
This tasty Korean meal has everything and lends itself to whatever you have on hand. You can easily make bibimbap vegan by swapping out meat for tofu. Its 10-minute cook time makes it perfect for a weeknight, and it's something you can eat while following a keto diet.

Trade in your typical bowl of rice for veggie-forward cauliflower. Now, here's where you get to exercise some creativity. Choose anything from ground beef to a pantry staple such as tuna to get a boost of protein. Extra greens will beef up the fiber while you get a dose of healthy fat when you top your bibimbap with a crispy fried egg. All that's left is to add a drizzle of sesame oil or side of kimchi.
4. Easy Korean Beef Bulgogi
Image: Low Carb with Jennifer
Better suited to the weekend, this main dish can become a keto meal you come back to again and again. With a few substitutions, this beef bulgogi keeps your carb count low when you need it.

Start by thinly slicing ribeye or sirloin steak and allow it to soak up the garlicky marinade for at least two hours. Low-carb sweetener stands in for brown sugar so you can chow down on loads of flavor and come back for seconds.
5. Korean Ramen Noodle Stir Fry
Image: Hangry White Male
It's hard to beat a ramen stir fry. It's equally fantastic for cleaning out the fridge or enjoying a fresh bounty of vegetables from the farmer's market. In this recipe, you'll see how simple it can be to turn a regular dish into something decidedly more keto.
Start by upgrading your packaged ramen noodles to something high in protein and low in carbohydrates. Next, replace the carrots with something keto-friendly like broccoli. Toss in some chopped swiss chard or kale to get an extra hit of greens and fiber.

Keep the shrimp or go the surf and turf route by adding some beef brisket to your stir fry.

Now give yourself a pat on the back as you dish up.
Cook Up Some Delicious Keto Korean Food
Anytime you make a lifestyle change, it might feel like you're having to say "see ya" to some of your favorite foods, but it doesn't have to. Whether you're picking up some takeout from a restaurant or rolling up your sleeves in the kitchen, you can still dine on the foods you did before. You're just doing it in a new way.
Keto-approved Korean food is a tasty and delightful way to nourish your body with nutrient-dense foods and exciting flavor combinations. If you're looking for more inventive ways to create in the kitchen while living the keto life, check out this collection of slurp-worthy keto ramen recipes.