Ramen is just endlessly versatile – that much has been established after years and years of experimentation. You can have it a la carte, or you can add toppings and sauces to upgrade it. Plus, there are tons of instant ramen hacks that can turn a plain bowl of ramen into a bona fide dinner.
Over our years of eating instant ramen since we were children, we've seen all of the variations: from trendy upgrades on Youtube and TikTok, to pro chefs putting their own spin on ramen recipes.
If you're looking for ways to upgrade your ramen bowl, you're in luck. We've compiled some of the best instant ramen hacks that are guaranteed to take your meals to the next level.
Scrambled Eggs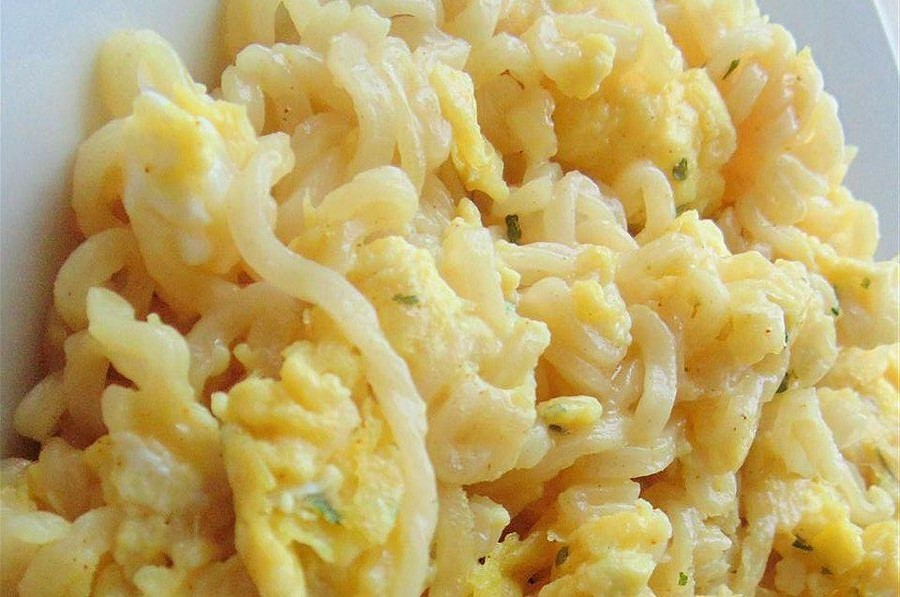 Creamy scrambled eggs are the perfect addition to any ramen with a chicken flavored soup base.
Out of all the dishes that accommodate scrambled eggs, we think ramen noodles are among the top three. This is because the savory soup and chewy noodles are on two ends of the texture spectrum, with eggs right in the middle.
On top of that, the flavor notes of cooked eggs pair well with ramen in chicken flavored soup bases. You don't even need any extra seasonings to make the flavor combination work.
One great way to add in scrambled eggs is to cook them with butter, whisk them lightly, and put them on the ramen soup a minute before serving. If you want a thicker broth, stir the eggs directly into the soup while the soup is cooking.
Recipe Ideas
Our Black Garlic Chicken ramen is ideal to try out the scrambled eggs topping. 
Try these scrambled eggs on our Black Garlic Chicken ramen
Black Garlic "Chicken" Ramen
Classic, savory, and comforting. The perfect cozy companion for an evening at home. Overflowing with notes of garlic, scallions, and umami.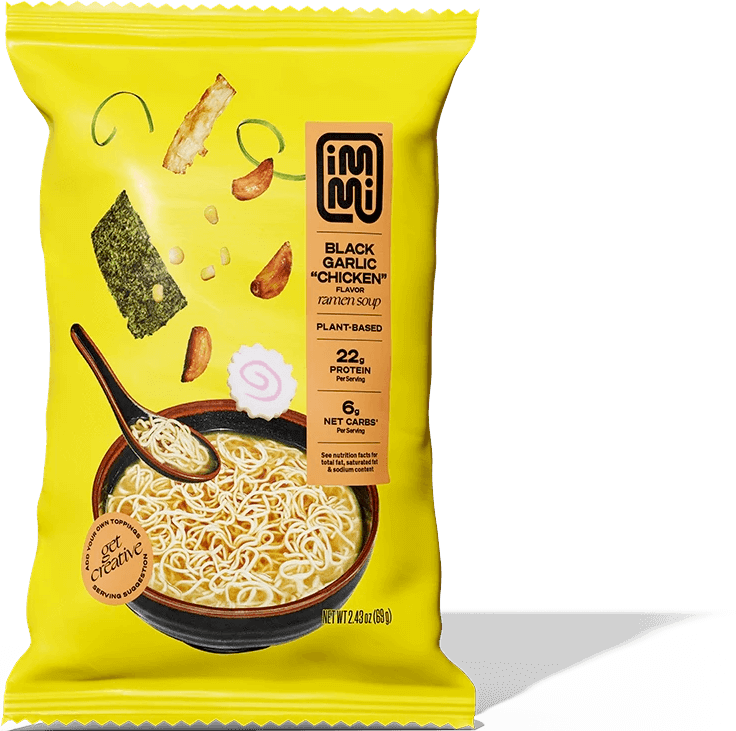 Slurp Now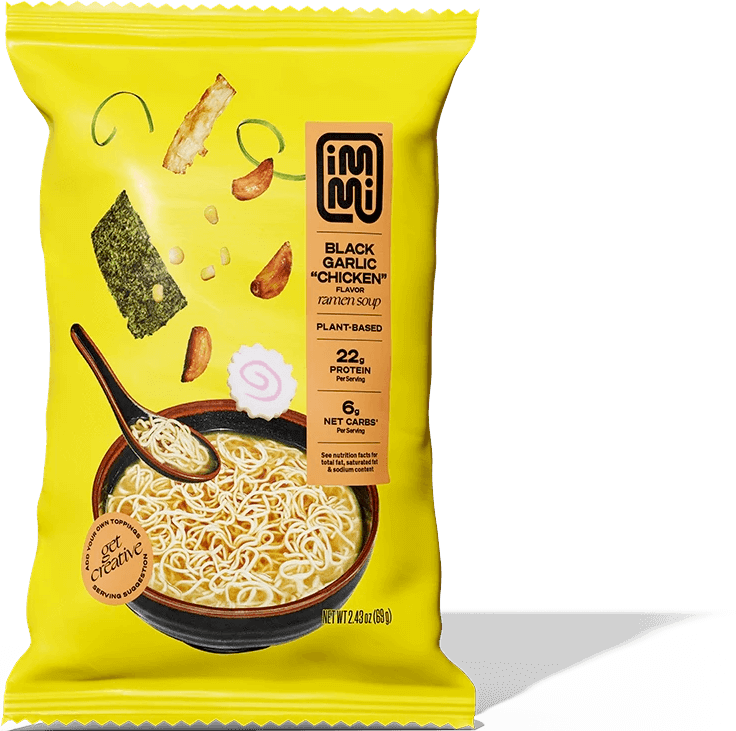 However, if you want to try the bolder sweet and spicy flavor range with eggs, make sure to stay in moderation with the flavor developers. For example, if you want a soy sauce flavor, make sure it doesn't completely overpower the taste of the eggs.
Cured Meats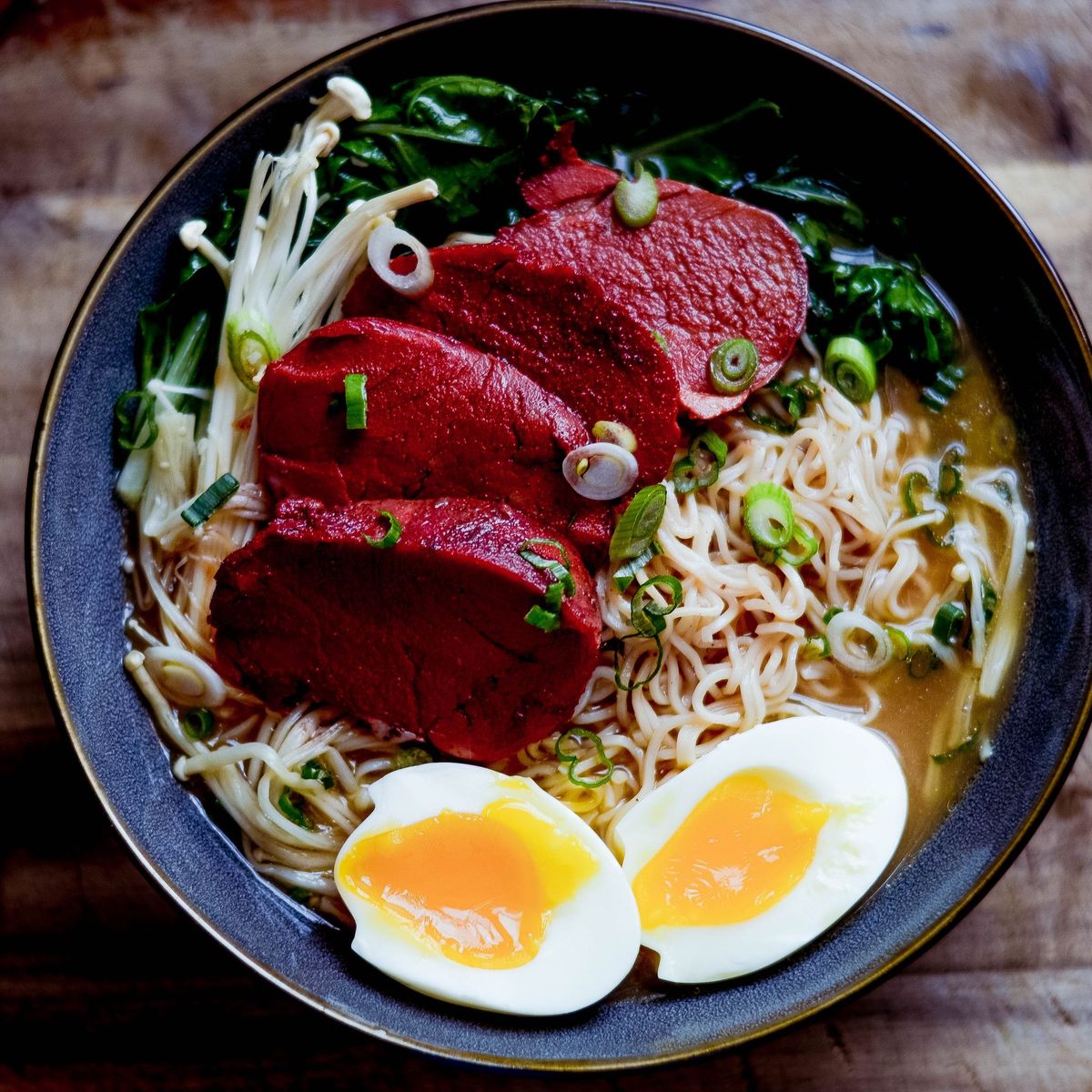 Cold cuts such as salami, pepperoni, mortadella, and other forms of lunch meat are one alternative to traditional ramen toppings like braised pork and beef.
We prefer Asian cured meat varieties such as Char Siu pork (one of KLee's favorites), sliced Lap Yuk (cured pork belly), and Neua Dad Deaw (Thai sun-dried beef), which all make great protein additions to instant ramen. Since most of them don't need additional cooking, you can simply put them in a finished ramen bowl.
Cured meats also come in several flavor types. You have the sweet barbecue variety and the salty dry-cured variety, both of which can add a world of taste to a basic ramen bowl.
Recipe Ideas
If your choice of meat is pre-cooked, add it as a topping to the ramen right before you take it off the stove. This will allow some of the warm broth to soak into the meat, taking the flavor up to an 11/10!
In case you're using dry-cured meat, sear it very lightly on a hot pan before adding it to the ramen.
Mixed Vegetables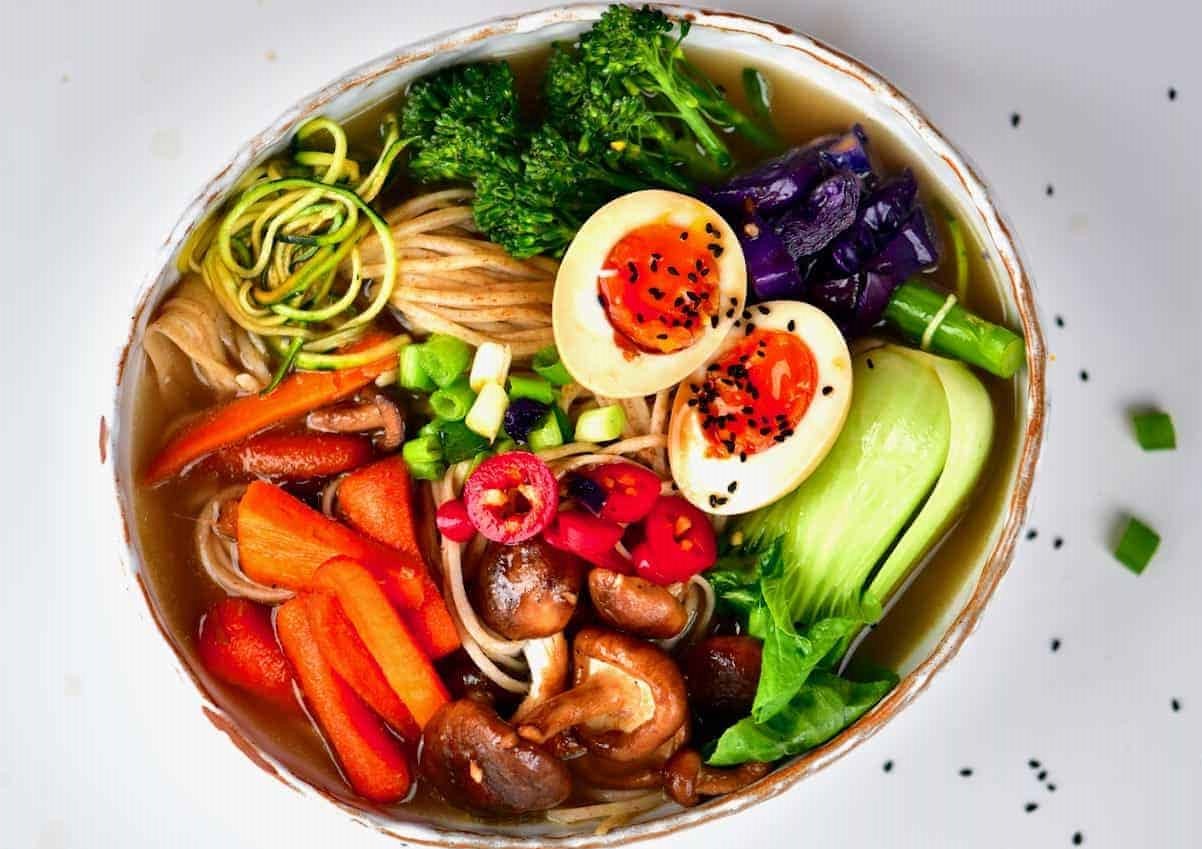 Vegetables are a natural part of the ramen bowl and many traditional packets of instant ramen sometimes have tiny pieces of dehydrated vegetables in them.
In case you're looking for a quicker meal, those bags of chopped frozen vegetables that you find at the supermarket can add volume, nutritional value, and heartiness to your ramen.
These chopped frozen vegetables are also easier to add without a ton of required prep.
Recipe Ideas
Traditional ramen vegetables such as green onion, bok choy, and bean sprouts work great in ramen because they help complete ramen's flavor profile.
For your ramen meal, you can stick to similar root vegetables such as Chinese cabbage and Daikon radish. Alternatively, you can try garlic chives, Japanese eggplant, carrot, lotus root, shallots, or peppers. 
Privy Sign Up form
Want more recipe ideas straight to your inbox? Sign up for our e-mail list.
You'll also get updates on immi, delicious recipes, exclusive offers, and more. No spam ever.
Bok Choy and Lemongrass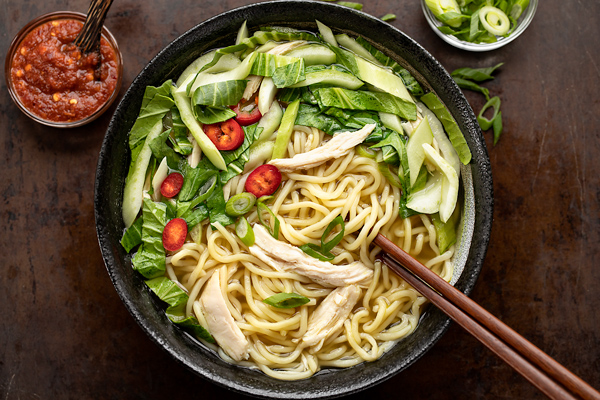 Bok choy and lemongrass work together to add delicious fragrance and volume to a simple ramen bowl.
Bok choy is a great main ingredient simply because of its unique texture and how it holds in ramen broth. It's also not bitter like a lot of leafy vegetables and is a great cabbage alternative.
Lemongrass (one of KChan's favorite toppings) is one of the best aromatics that you can add to any dish. Unlike lemon, lemongrass doesn't lose its fragrance and taste, even after cooking at high heat.
Recipe Ideas
Try using both fresh and dried lemongrass during cooking for a unique taste and aroma. Dried lemongrass absorbs moisture and releases those fragrant oils over time, while fresh lemongrass lends a more refreshing citrusy tinge that you smell immediately.
You can also use baby bok choy instead of the mature kind. Young plants have sweeter and more tender leaves, making them great for light cooking.
Shrimp and Ham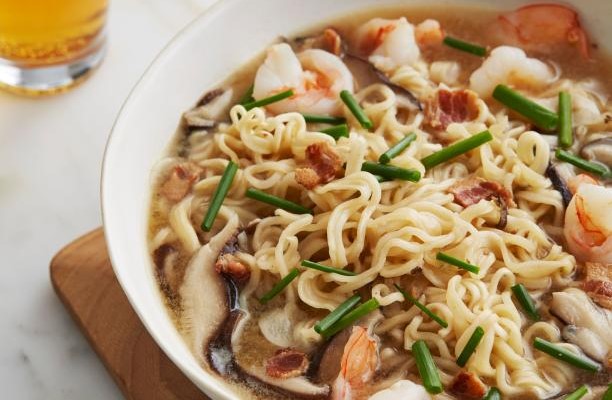 Shrimp and ham, sauteed in a little garlic butter, makes for a super decadent add-on to basic ramen.
This combination works because both ingredients are already popular toppings for ramen. This version is interesting because they're almost never used together in one dish.
Ham is a great instant ramen upgrade because of how tender and flavorful it is.
On top of that, you have shrimp, which goes hand in hand with ramen broth. The saltiness of ramen broth adds an awesome layer of flavor to the sweet shrimp meat.
If you haven't experienced shrimp-flavored ramen broth yet, check out our Tom Yum Shrimp (100% plant-based) ramen.
Recipe Ideas
We would recommend using Chinese Anfu ham for this dish. Anfu ham is different from other varieties in that it's smoked during the dry curing process. The slow smoking approach helps the smoke penetrate deep into the ham, flavoring even the inside of the meat.
Potato and Peppers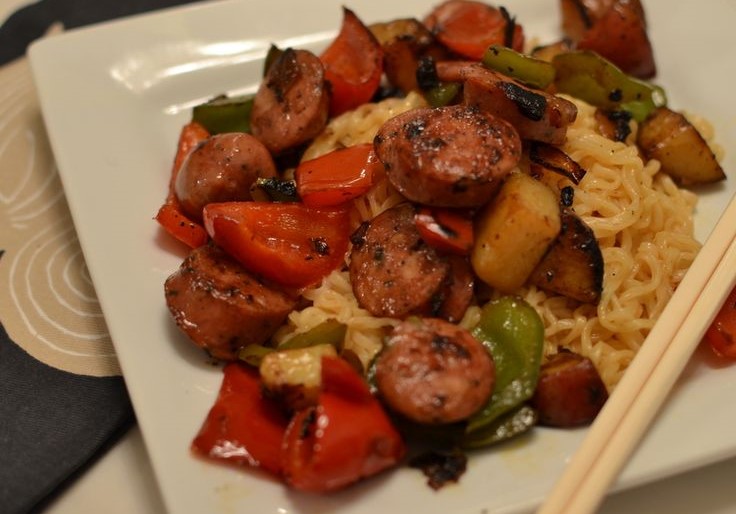 A bowl of instant ramen is one of the easiest and stress-free to make. If you want to upgrade it a little bit without too much additional effort, peppers and potatoes are the way to go.
These simple additions are great because peppers and potatoes are very easy to find.
You can purchase sliced, chopped, sliced, and diced versions of these in most supermarkets.
Mild peppers give the ramen a slight kick and a ton of flavor, and potatoes make the dish richer and more substantial. Plus, if you're vegan or vegetarian, this is the perfect quick meal for any time of the day.
Recipe Ideas
For a bit of color and added taste, try different types of sweet and spicy peppers. While we both love all kinds of peppers (we used to challenge each other with ridiculous Scoville-level hot sauces), we recommend staying within the mild range because hotter peppers can take away from the smoky goodness of the ham.
For the shrimp, you can use small to medium-sized ones. If you're going for bigger shrimp, you can chop them up into bite-sized pieces unless you prefer food styling with whole prawns.
Tuna and Salmon Chunks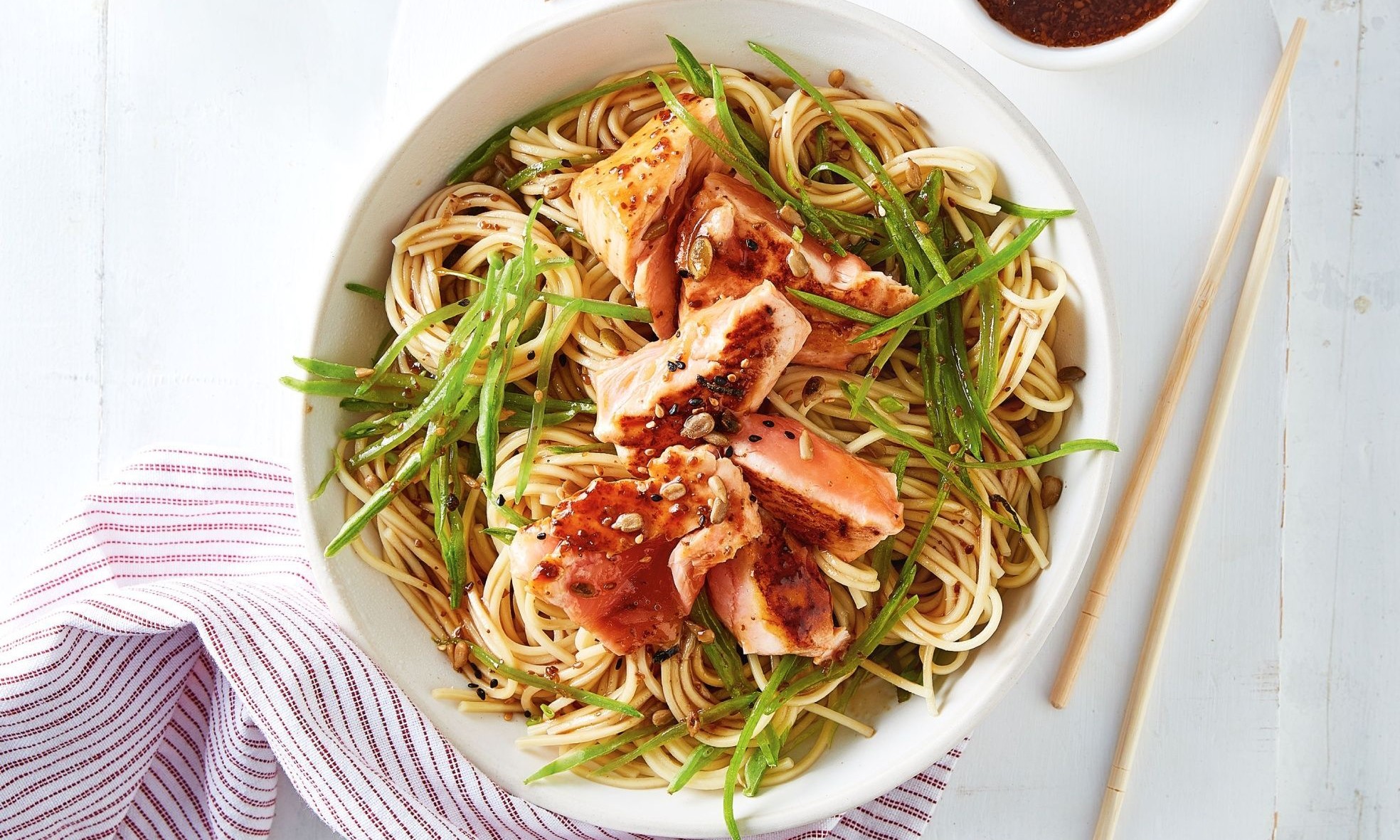 The best seafood ramen hack is to add broken-up chunks of tuna and/or salmon, or your own favorite fish to plain ramen.
Although shrimp, clams, and crab have their own special place in the seafood ramen tier list, you just can't go wrong with rich tuna and flavorful salmon.
Depending on how much effort you're willing to put into the meal, you can buy fresh fish and chop it up. We actually recommend going for high-quality canned fish (preserved in brine). It's nutritious, comes conveniently chopped, and is ready to add to a bowl of ramen.
If you don't like the flavor of either of these fish, you can substitute for any other fish, as long as you have at least two types.
Recipe Ideas
For this recipe, try to stick with fish that doesn't have flaky meat. This is because firmer fish meat doesn't disintegrate when immersed in hot liquid and is easier to eat with a fork.
Smoked Sausage and Anchovies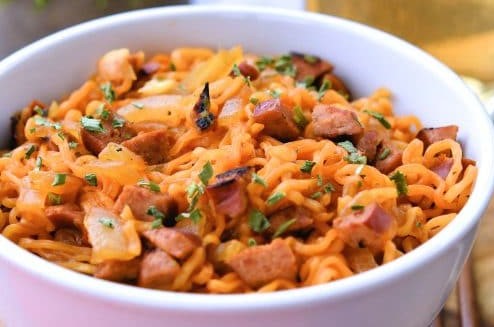 Looking for a Cajun twist to regular instant ramen? Throw in some smoked Andouille sausage and pickled anchovies for a spicy and savory bowl.
Andouille sausage is a Cajun classic that's loaded with a smoky, spicy flavor that turns any broth into a flavor cocktail! Add to that some salty anchovies and you have a dish that's packed with a delicious mix of umami and mild heat.
These ingredients are some of the stronger flavored ones on this list. Both smoked sausage and anchovies have a high glutamate content so you don't need to season the ramen too much once they're in.
Recipe Ideas
For an even better bowl, try our spicy sausage ramen recipe, replacing spicy sausage and green beans with chopped andouille sausage and anchovies. Our spicy beef-flavored immi ramen makes the perfect base for the recipe.
Also, you can add Ikan Teri (Indonesian dried anchovies) as an alternative to wet-preserved fish. You can break them up into smaller pieces for more even distribution in the broth.
Fishcakes and Tofu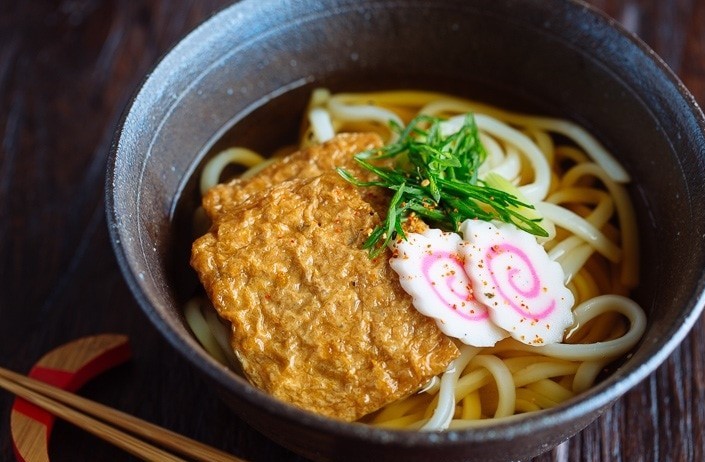 This variation is on the lighter side but it's still worth a mention due to how easily both fishcakes and tofu take on savory flavor.
It's also closer to traditional ramen recipes since tofu and Narutomaki fishcakes are already fundamental toppings for shoyu ramen. They work just as well in instant ramen and depending on how much 'topping' you like in your bowl, they can easily become the star of the dish!
Tofu is known to take the flavor of whatever it's put in, especially if it's cooked in that broth for some time. This means that you'll end up with a flavor sponge that's super delicious.
For the fishcakes, we would recommend using traditional Japanese narutomaki. However, you can also use fried fishcakes for this recipe.
Recipe Ideas
Add the tofu to the hot broth along with the noodles and allow it to absorb the hot juices. For even better results, poke holes in the sliced or diced tofu with a toothpick right before adding it to the broth.
Kimchi and Tomatoes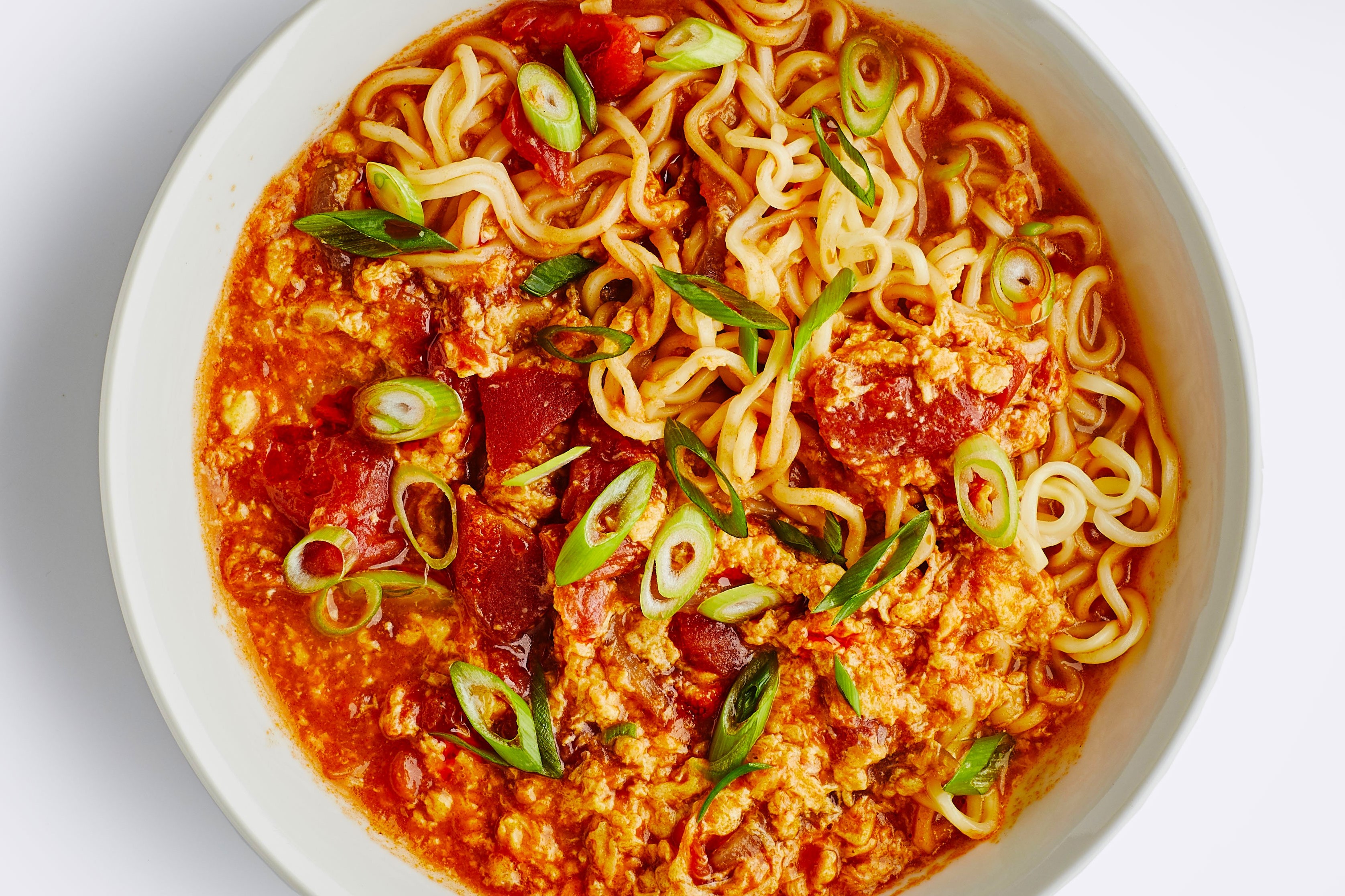 For a distinctly Korean flavor, add some spicy kimchi and lightly fried tomatoes to your instant ramen for a tart and tangy meal you'll want to have repeatedly.
Kimchi is one of the most flavorful toppings and ingredients you can have in Asian cuisine. Tomatoes already develop and impart a lot of flavor in a dish, especially if they're fried and allowed to caramelize before serving.
Together, the two ingredients create a tangy, umami situation that is guaranteed to get slurped up in no time!
The combination is also great as a delicious plant-based ramen dish. It doesn't skimp on the spice either, making it great for those who prefer a spicy noodle dish.
Recipe Ideas
There are several variations of kimchi available. You can get some that're spicier than tangy, and vice versa. Basically, you have a whole flavor intensity scale that you can play with, and we definitely encourage experimentation with your instant ramen hacks!