Instant ramen holds a special place in our collective hearts as a staple meal, comfort food, quick snack, quick carry-out, office lunch, college meal, and so much more!
When we were children, instant ramen was the first food we learned how to cook on a stovetop by ourselves and we'd always add any leftover ingredients or toppings from the refrigerator.
Armed with the best instant ramen recipes, you can turn it into a delicious daily meal.
The food is so versatile and there are hundreds of ways to jazz up your bowl.
Plus, in case you're watching your carb-intake, you can always substitute the standard pack of ramen for some delicious immi ramen. 
If you want a real ramen upgrade, try immi ramen. Low-carb, high-protein, and fully plant-based. There's no other ramen like us in the market.
Variety Pack
Variety is the spice of life. Get all three flavors including Spicy Beef, Black Garlic Chicken, and Tom Yum Shrimp. You'll be covered for all occasions.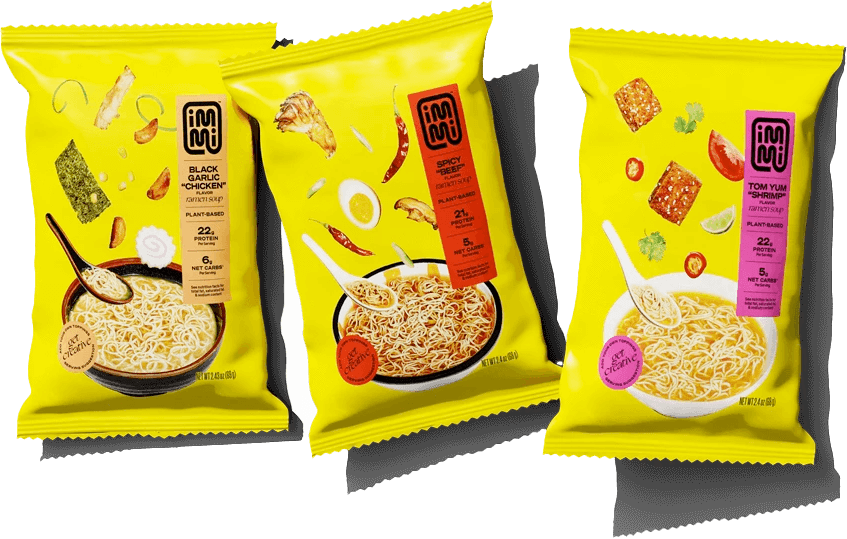 Slurp Now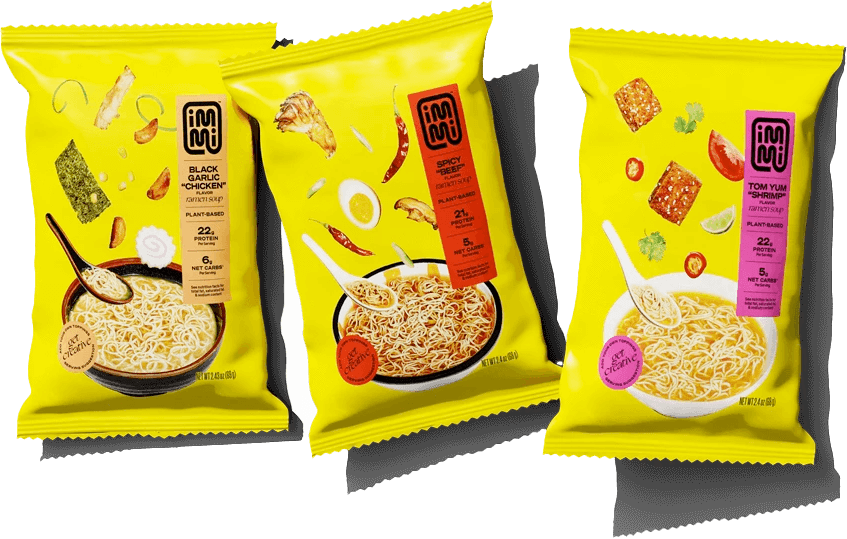 After a bunch of experimentation with dozens of life recipes, here are our top 10 instant ramen recipe upgrade ideas for everyday meals.
Beef Steak Ramen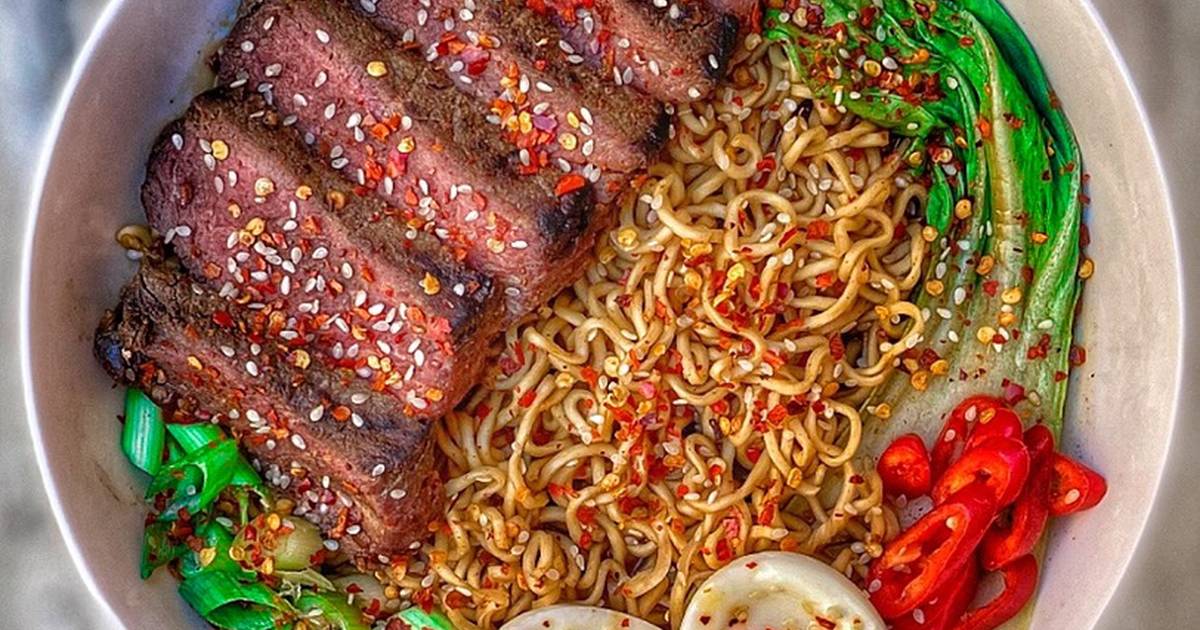 Lean beef is the prime choice for people on a high-protein diet. This is because of the higher protein content in beef compared to other meats with a higher fat ratio.
Beef goes really well with ramen since it tends to lend a natural umami to whichever dish you put it in. You can cook it to your choice of doneness and slice it thin for a balanced bite.
Be careful though, because not all beef is the same. Make sure to ask your butcher for the leaner cuts that you can either pan-fry as is or pound thinner first (in case of a tougher cut).
Tender beef sirloin slices in a tangy shoyu broth with the familiar chew of ramen – what's not to like in this dish!
PRO TIP: Before cooking the steak, dry it with paper towels until it's fairly dry, then rub Miso paste on the steak and leave for 2-3 hours. Sprinkle crushed MSG and pat down so that it sticks to the steak surface. Leave on for an additional 15 minutes and then cook.
Grilled Chicken and Daikon Radish Ramen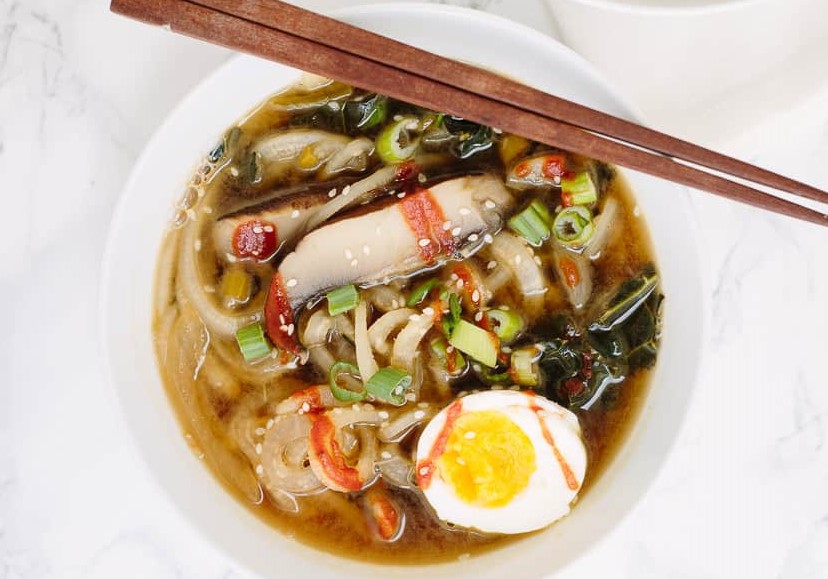 Daikon Radish is traditionally not the main protein source in ramen, but when paired with succulent grilled chicken, it becomes the star of the ramen bowl.
Grilled chicken, on the other hand, is an excellent type of meat to add to salty broths. You also have the choice of using the leaner but drier chicken breast, or the more moist chicken thighs.
Tender chicken with a smoky crust mixes well with the peppery flavor of Daikon radish in a lighter ramen broth such as with shio ramen.
You can use them in other flavors as well, however, lighter broths bring out more of the chicken and radish flavor.
RECIPE TIP: If you want to make your own grilled chicken, marinate whole chicken thighs in a tablespoon each of Japanese soy sauce, oyster sauce, vinegar, and water, and half a teaspoon of MSG. You can do the same for the radish slices as well, but make sure to marinate the meat and radish separately.
Breakfast (Bacon and Eggs) Ramen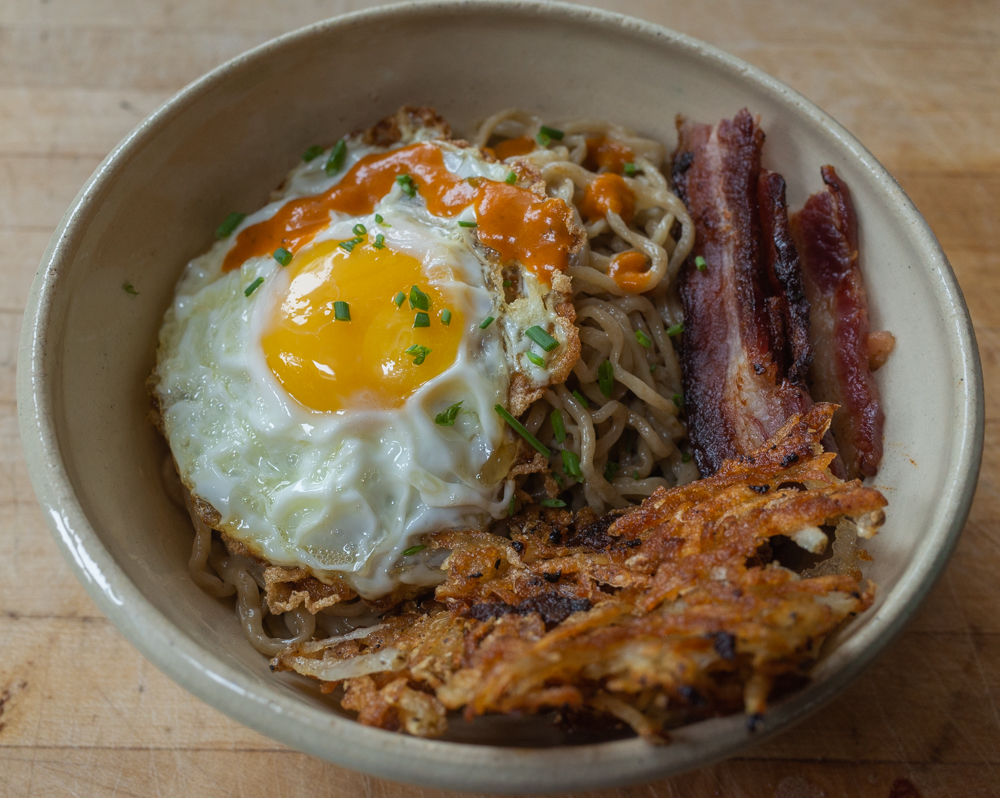 Ramen is the ideal base for the perfect breakfast combination of bacon and eggs, and for some reason, the dish tastes like all the ingredients are meant to go together.
What makes this combo great is the layers of texture that you get with the ingredients. You have the soft and creamy eggs, then the slightly chewy ramen, and finally the crispy bacon to round off the texture collection.
On top of that, you don't need too many seasonings since bacon is already well seasoned. If you get a smokier type of bacon, you can add another layer of delicious aroma on the already loaded dish.
Combining crispy bacon and a perfectly runny egg in rich ramen broth results in a breakfast meal we wouldn't mind having for lunch and dinner too!
RECIPE TIP: You can substitute standard bacon for thinly sliced Jinhua ham. This slightly leaner type of ham has a deeper flavor that's more intense than other dry-cured meats.
Privy Sign Up form
Want more instant ramen upgrade ideas? Sign up for our e-mail list.
You'll also get updates on immi, delicious recipes, exclusive offers, and more. No spam ever.
Maca-ramen and Cheese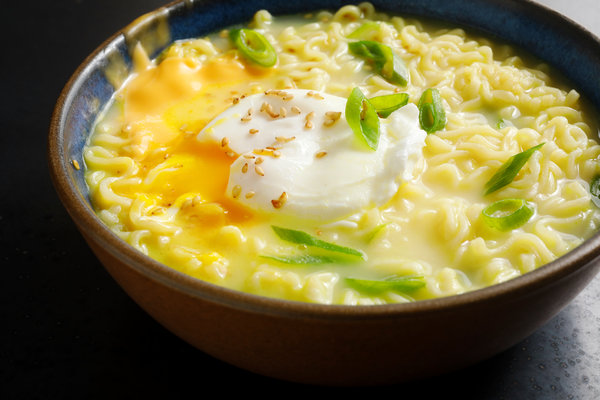 This recipe is the best of three worlds, comfort, convenience, and taste. In fact, you could argue that it beats out the original in terms of how easy it is to eat.
Ramen goes so well with cheese sauce since it's close to pasta in texture and holds the sauce better. Plus, noodles are easier to eat with a fork.
Since this is already a modification on the original dish, you can choose the kind of cheese you want to make the sauce with, or create your favorite combination.
A creamy bowl of maca-ramen and cheese with some crispy pieces of toasted garlic bread makes for a dinner that could quickly become your favorite meal.
RECIPE TIP: Try to keep the cheese sauce thinner than usual and have more of it to make it similar to a thicker ramen broth such as Tonkotsu. You can also add some classic Asian spices such as Shichimi Togarashi for a more complex flavor.
Lap Cheong (Chinese Sausage) and Egg Ramen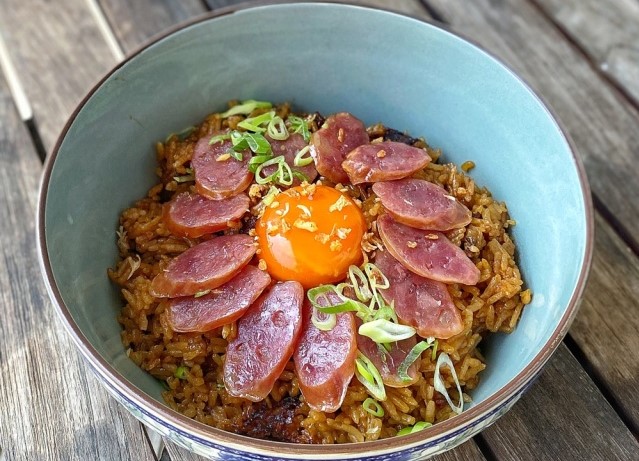 Lap Cheong is a Cantonese pork sausage that's salty and slightly sweet, making it the perfect protein for a bowl of ramen.
Couple that with a perfectly runny egg, and you have a meal that's both rich and super-flavorful.
Chinese cuisine has several cured meat varieties, all of which are delicious in their own right. In our opinion, Lap Cheong is one of the top choices because of its unique salty and sweet flavor.
Chop the sausages or break them up into small chunks – either way, your instant ramen broth is guaranteed to transform into something that tastes complex and intricate while being super-simple.
RECIPE TIP: Ideally you should go for a fried egg on top, but you can also have a marinated boiled egg like ramen traditionally has.
Chanko Nabe Ramen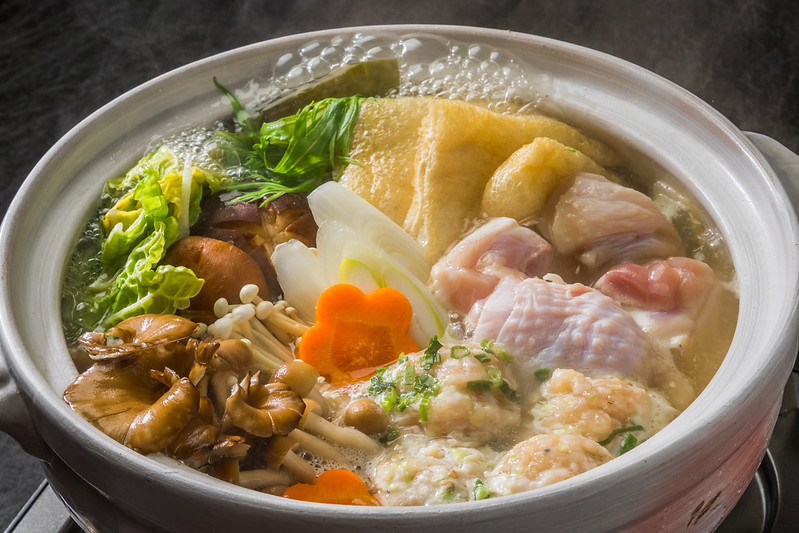 Chanko Nabe is a traditional sumo wrestler's primary dish for maintaining size and strength. It's a hotpot with lots of meat and vegetables, as well as wheat noodles that you can substitute with immi ramen if you're cutting carbs.
The main ingredients in this hot pot are pork or chicken meatballs, bok choy, shrimp, green onion, mushrooms, tofu, and noodles. A typical hotpot will contain around a dozen secondary ingredients too, but these are the basic ones.
Once you have the basics in, you can really play around and make the recipe your own. Plus, you'll also have instant ramen seasoning so you don't have to worry about flavor.
RECIPE TIP: Chanko Nabe is one of those recipes in which you can create your own combo, as long as it has a few base ingredients (meat, seafood, vegetables, and soup base). If you want to make a bigger bowl with more broth, try using miso paste to flavor the extra liquid.
Kewpie Mayo, Egg, and Garlic Ramen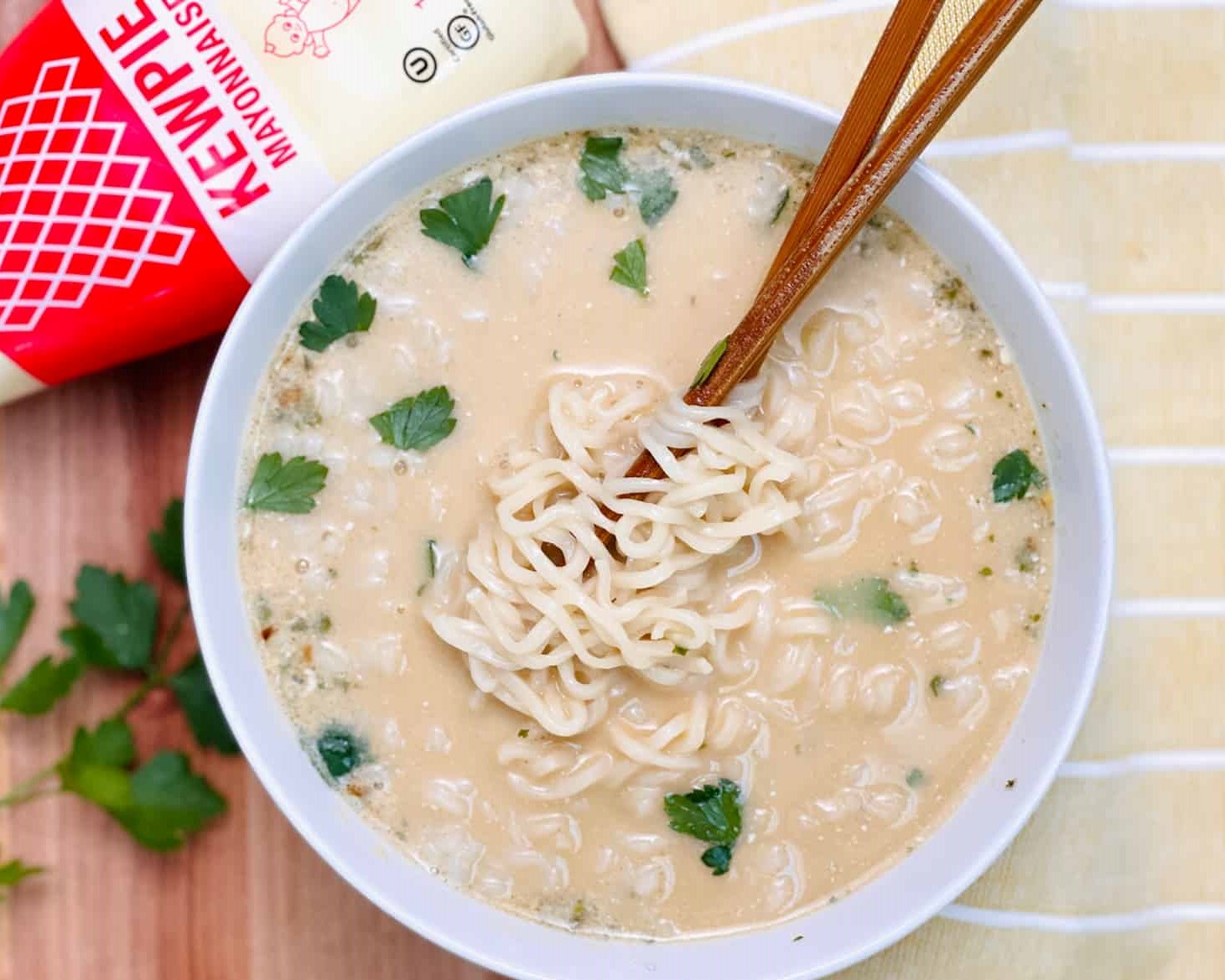 As strange as it sounds, these ingredients work amazingly well with each other, enough to have the recipe become a viral sensation on TikTok.
The mayo and egg give it a creamy quality similar to tonkotsu ramen and the garlic adds a delicious aroma that rounds off the experience.
The famous dish came out of Japan and is made by whisking in Kewpie mayo and egg in the ramen broth to make a creamy soup. Since the Japanese mayo already has a deeper flavor than regular mayo, it adds a rich umami to the soup that you don't get with typical thickeners.
This is one of those recipes that sound like they'd never work, but somehow they do really well!
RECIPE TIP: Sprinkle a pinch of crushed MSG and dried Tien Tsin pepper flakes on the noodles for a more intense flavor. For a less pungent garlic flavor, lightly caramelize the minced garlic before adding it to the ramen.
Spicy Pork and Mushroom Ramen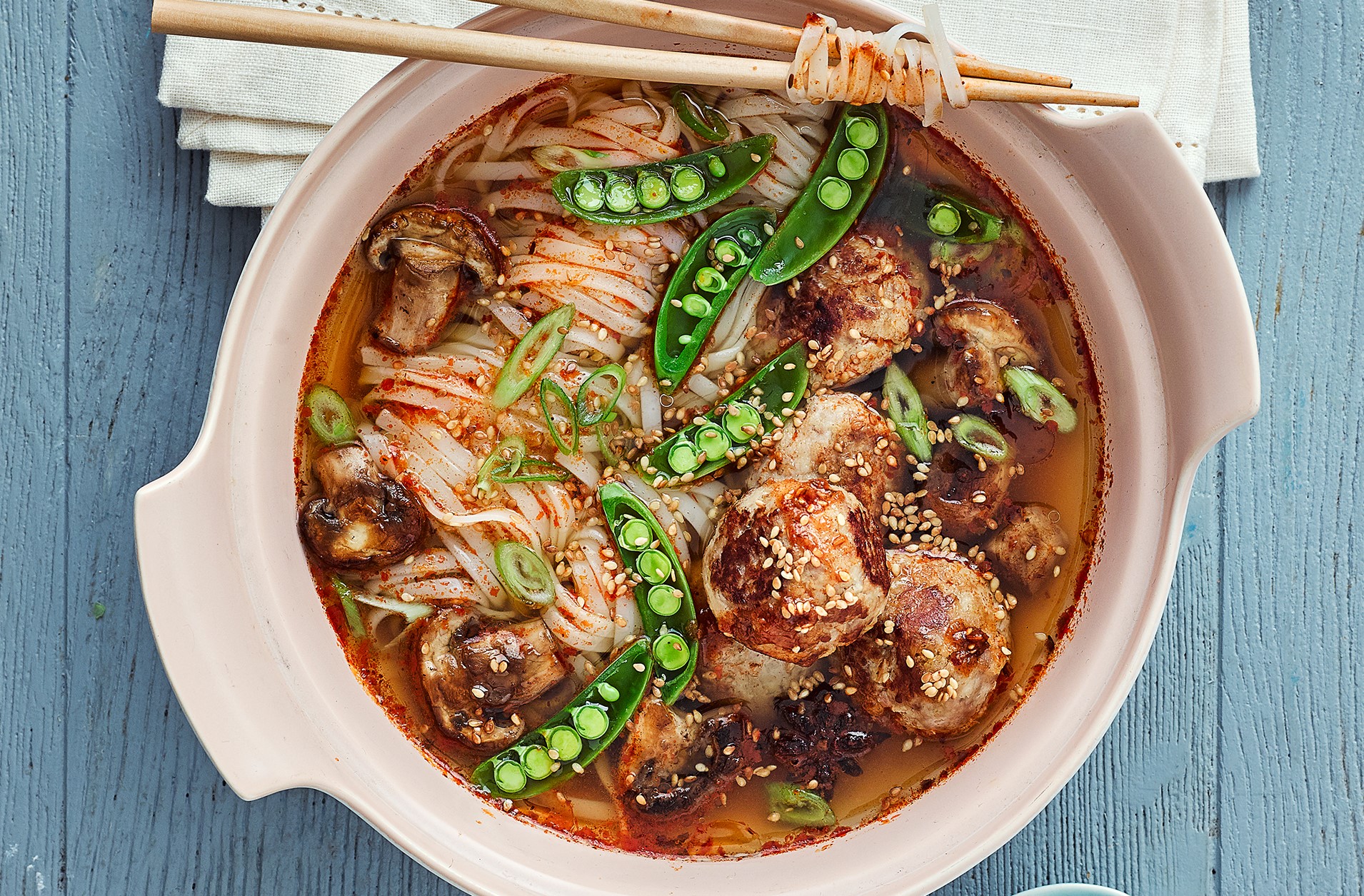 Take a bowl of thick ramen and broth, and top it with spicy grilled pork for an instant ramen upgrade that's surprisingly upscale for a home meal.
Grilled pork is one of the most delicious meats. Coupled with the natural umami nature of mushrooms, it makes for a topping combo that can upgrade any meal, especially instant ramen.
What's awesome about this specific combo is that it goes well with just about any flavor of ramen, even the creamier ones. This is because the Japanese mushroom varieties are higher in glutamate, the same thing that gives MSG its flavor-enhancing qualities.
This means that you have not just a topping, but ingredients that also work as seasonings.
RECIPE TIP: You can use both pork belly and pork chops for this recipe. However, we would suggest chops because pork belly doesn't hold spice as well as the leaner chops do.
Chicken Fried Rice and Ramen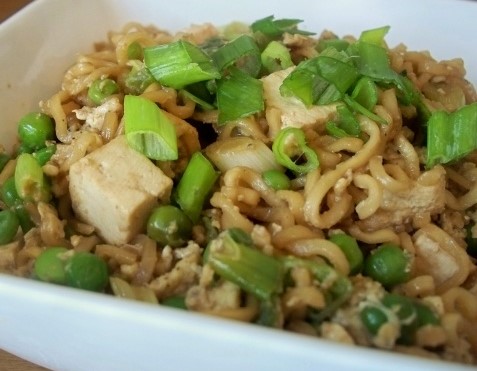 This is actually two separate meals that are combined during the cooking process, making for a quick and easy recipe that's surprisingly filling and ideal for a quick afternoon meal.
The recipe works because instant ramen tastes just as good in a drier consistency or without the broth.
Since fried rice is the same in that respect, rice and ramen feel like they're meant to be together.
What's great about this meal is that fried rice is made with pre-cooked leftover rice, and instant ramen just needs to be cooked for a few minutes. You already have both bases ready – all you have to do is add the seasonings and toppings and stir till ready.
RECIPE TIP: Add a teaspoon of sambal and rendang paste to your fried rice to give it an Indonesian Nasi Goreng flavor. You can also add toppings such as crispy fried onions and coconut flakes for some added crunch.
Tonkotsu Ramen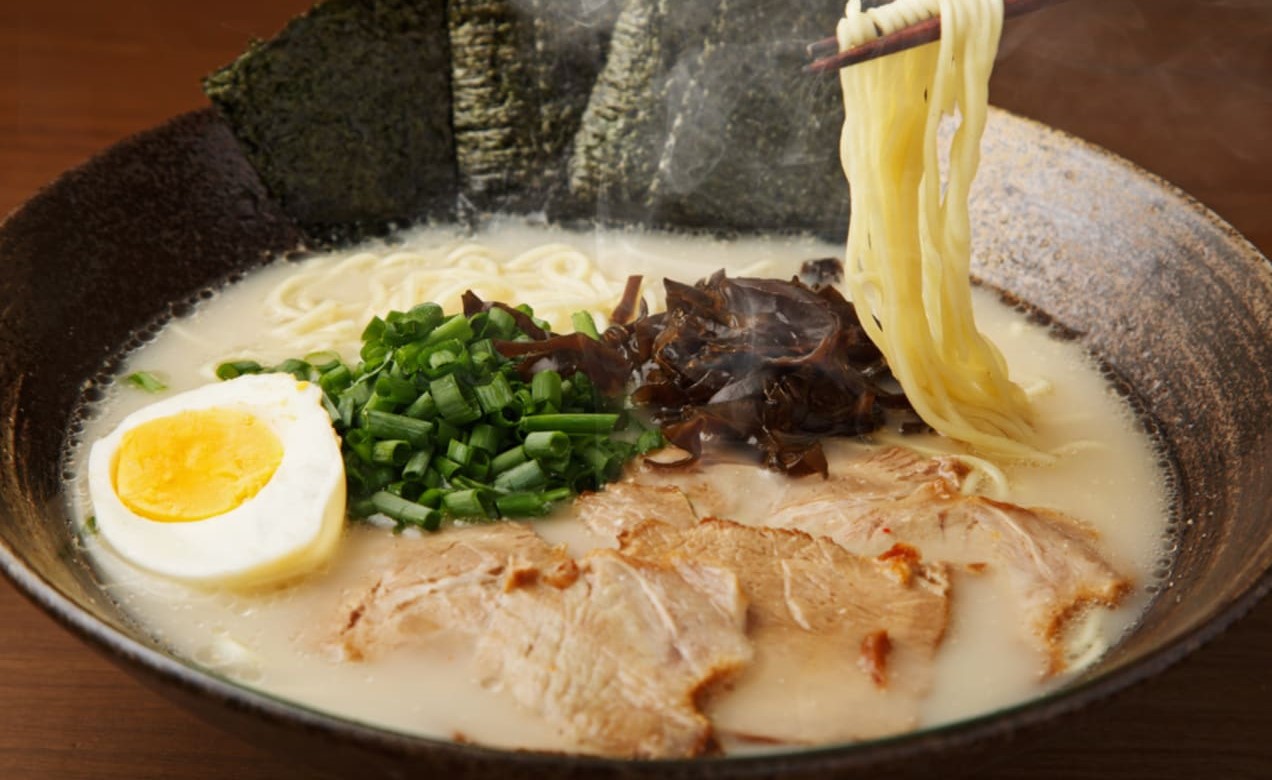 Yes, the classic pork bone broth ramen makes the cut due to how rich and creamy the broth already is and all the toppings you can add to it for an even bigger meal.
Tonkotsu ramen is known for its more milky and dense consistency, which makes for a hearty meal even in smaller amounts. It's a fuller dish, with thicker broth that you can treat as a proper soup.
Although all the primary ramen flavors are great as a full meal, tonkotsu has a comforting quality that you get with thicker soups. Plus, the flavor is less striking and more velvety (when cooked right!) and you have instant ramen for quicker preparation.
With summer almost over, this is the perfect time to chill with a hot bowl of tonkotsu ramen, topped with either the usual chashu pork or sliced Japanese katsu. Either way, it's super-delicious in our opinion!
RECIPE TIP: If you're looking for a plant-based alternative to standard tonkotsu ramen, you can make a vegan tonkotsu broth and use delicious immi ramen for a bowl just as good!