While Asian cuisine has quite a few important dishes, the soups have always been a family favorite. Many of the gravy or curry-based Asian dishes we see in the West, all have their roots in Asian soup recipes.
Plus, they all have something special about them, whether it's the fact that they were a common meal for us growing up, or that even today our families have those same recipes regularly.
We believe everyone should have a couple of delicious soup recipes in their arsenal for the coming seasons. With that in mind, we've made a list of our top 5 Asian soup recipes that you should definitely try.
Tom Kha Gai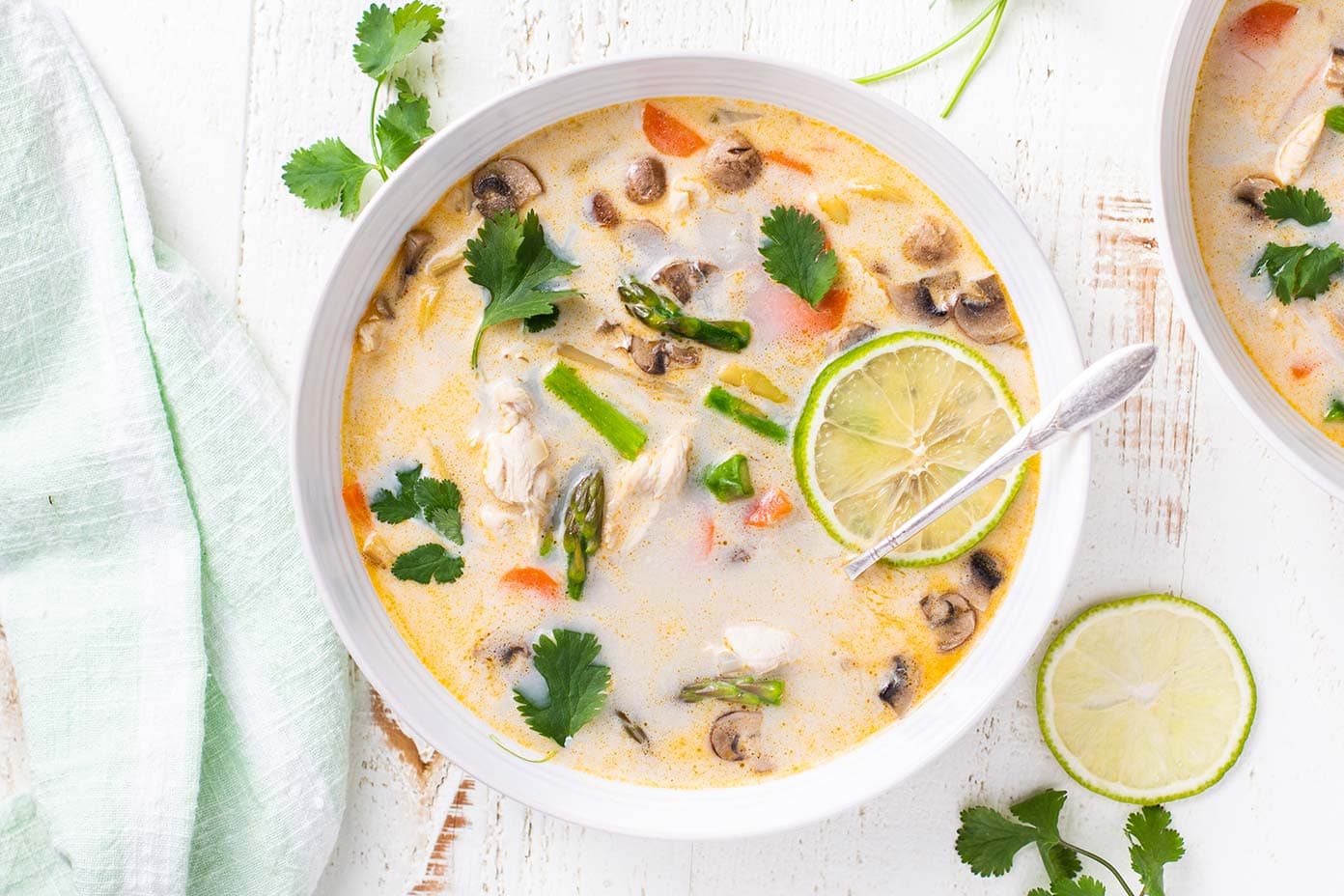 Tom Kha Gai is a creamy Thai chicken soup with a unique tangy and creamy taste blend.
Made with coconut milk and galangal, this richly flavored soup has the earthy but sharp taste of galangal that offsets the creamy milk and mushroom combo.
Galangal has a more subdued flavor than ginger. However, it's also not as pungent. This adds to the creaminess of the soup, especially when you have it with lightly seasoned noodles such as our Black Garlic 'Chicken' flavored immi ramen.
Try our Black Garlic Chicken flavor if you like creamy soups!
Black Garlic "Chicken" Ramen
Classic, savory, and comforting. The perfect cozy companion for an evening at home. Overflowing with notes of garlic, scallions, and umami.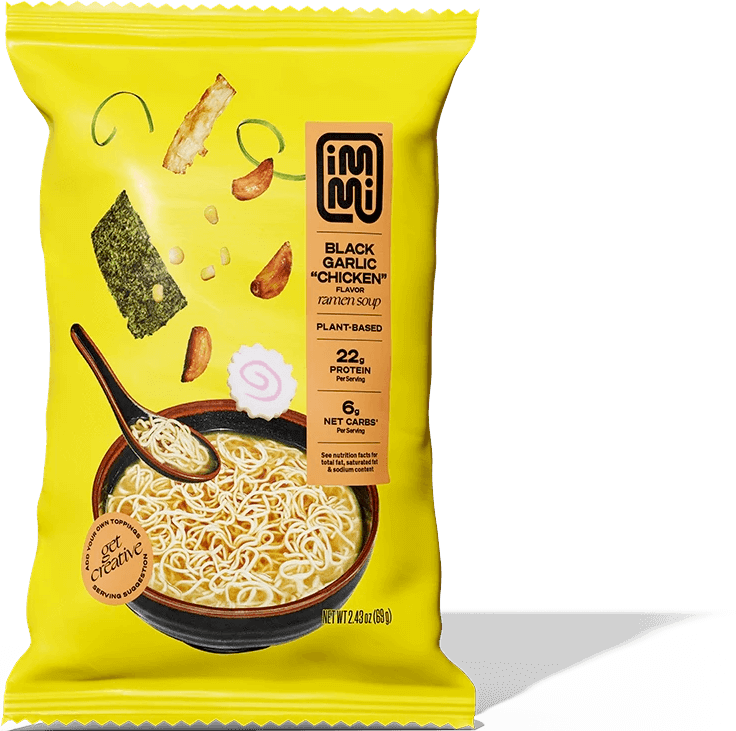 Slurp Now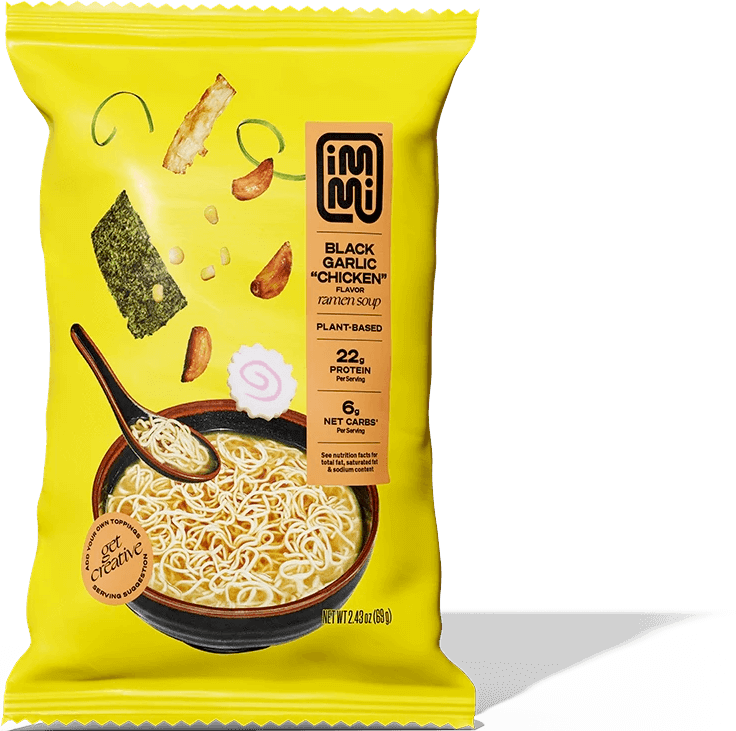 Ingredients
*These amounts are for 2 large bowls of soup*
Chicken Breast: 2, medium-sized (diced)
Coconut Milk: 5-6 cups (depending on thickness)
Galangal: 1 teaspoon (crushed)
Lemongrass: 3 stalks (roughly chopped)
White Onion: 1, large (cut into wedges)
Oyster Mushroom: 200 g
Kaffir Lime Leaves: 6
Tomatoes: 2
Cilantro: 2 tablespoons
Lime Juice: 4 tablespoons
Thai Bird's Eye Chili: 5-10 (roughly chopped)
Preparation
Put half the coconut milk in a saucepan on medium heat
Add in the remaining coconut milk and chicken just before the milk in the pan comes to the boil
Turn the heat down and add in the chopped chilies
Stir for 30 seconds and add the mushrooms
Stir again till the soup just starts to boil, and then add the tomatoes
Crush the lime leaves in your hand and toss them into the soup
Cook the soup till the chicken is fully cooked and the thickness is to your liking
Take the soup off the heat and immediately stir in the cilantro
Wait for 2-3 minutes before serving
You can adjust the seasoning to your preference.
Unique Recipe Tips
To make the dish even more substantial, add some chopped shiitake mushrooms and seasoned ramen noodles in the pot right before you take it off the heat.
You can also add uncooked noodles. For that, just add them in 3-5 minutes before taking the soup off the heat.
Bao Luo Noodle Soup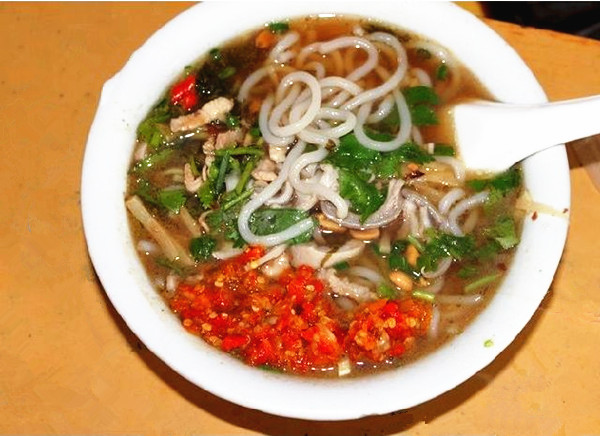 Bao Luo Noodle Soup is common in the Chinese Hainan region, where it's a frequent mainstay of restaurant menus.
While it's more similar to a ramen noodle dish, it works as a soup due to the amount and consistency of the broth. It's thinner than other soups but still helps the seasoning absorb nicely in the other ingredients.
The recipe typically uses the thicker luglug noodle which absorbs more broth. Plus, it's a whiter color so you have the Instagram aesthetic down as well!
Ingredients
*Makes 2 large bowls*
Pork Shoulder: 120 g (cut into strips)
Beef Jerky: ¼ cup (minced)
Peanuts: ½ cup
Vegetable Oil: 3 tablespoons
Garlic: 2 cloves (minced)
White Pepper: 2 teaspoons
Toasted Sesame Oil: 1 tablespoons
Soy Sauce: 2 tablespoons
Luglug noodles: 280 g
Scallion: 1 (finely chopped)
Bamboo Shoots in Chili Oil: ½ cup
Pickled Mustard Greens: ½ cup
Chicken Broth: 4 cups
Preparation
Toss the pork with the sesame oil, soy sauce, garlic, and half of the white paper to create a marinade
Let the pork marinate for 20-30 minutes
Fry the peanuts in vegetable oil until golden brown, scrape them out and set aside
Fry the marinated pork with the beef jerky on high heat until the jerky is soft and the pork is cooked through
Take the pork off the heat and mix in the remaining white pepper
Separately cook the noodles until very close to done
Heat the chicken broth until hot and divide into two bowls
Add the cooked noodles to each bowl and top with the pork, mustard greens, scallion, and cilantro
Crush the peanuts and sprinkle on top before serving
Unique Recipe Tips
Although the dish calls for rice noodles, you can substitute for immi ramen for an easier-to-prepare recipe.
One interesting twist to this recipe is adding braised bamboo shoots instead of pickled ones. This is great if you want a softer consistency without the sharp bite of pickled bamboo shoots.
We also recommend using chili oil in place of the toasted sesame oil. It'll have the nutty toasted flavor with a delicious heat that's simply addictive! We have several awesome chili oil recipes you can use in this recipe.
Privy Sign Up form
Sign up to our e-mail list to get more recipes straight to your inbox
You'll also get updates on immi, delicious recipes, exclusive offers, and more.
Miso Mushroom Soup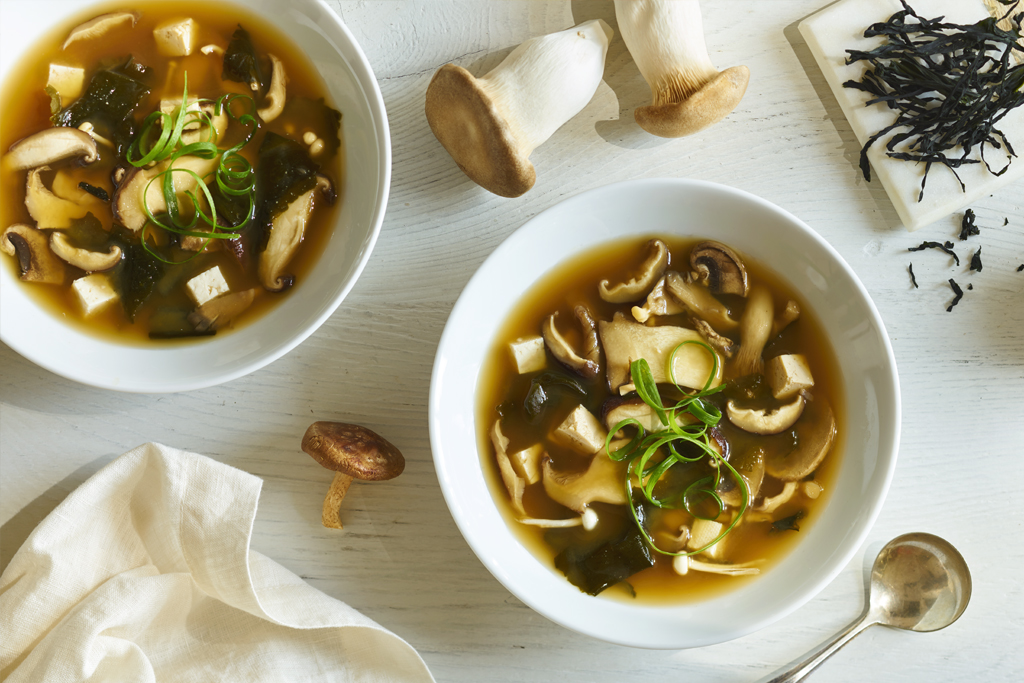 Miso soup is a true Japanese staple with a delicious savory flavor and a silky consistency that's ideal for the fall and winter seasons.
Miso paste is the flavor base for this soup that often contains up to half a dozen types of mushrooms. It's also the flavor base for miso ramen, which is one of the four traditional ramen flavors.
Mushrooms and miso go together really well because of the naturally meaty, umami flavor in most mushrooms. The longer they cook, the more they release that delicious umami into an already savory broth, taking the overall flavor to another level!
Ingredients
Vegetable Broth: 4 cups
Green Onions: ¼ cup (chopped)
Garlic: 2-3 cloves (thinly sliced)
Ginger Root: 1 teaspoon (grated)
Raw Kale: 2 cups (thinly sliced)
Portobello and Shiitake Mushrooms: 1.5 cups each (thinly sliced)
Red Miso Paste: 3 tablespoons
Preparation
Heat the broth over medium heat till steam starts to rise
In a separate bowl, mix the miso paste with half a cup of broth to make a thick liquid
Add the miso liquid back into the broth while whisking to completely dissolve it
Add the sliced mushrooms and cook for 8-10 minutes or until mushrooms are soft
Add the remaining ingredients to the broth and take it off the heat
Let the greens wilt for a few minutes in the hot broth before serving
You can substitute the red miso with a yellow miso paste for a less salty alternative.
Unique Recipe Tips
Use a combination of Shiitake, Eryngii, Enoki, and Nameko mushrooms for the soup. Nameko, in particular, acts as a natural thickener, in case you prefer less of a brothy consistency.
You can also use mushroom broth in place of vegetable broth. Because of their own glutamate content, mushrooms don't really need extra seasoning when releasing their flavors. Although we prefer using Japanese varieties, you can use whichever you like the taste of.
Naengi-guk (Shepherd's Purse Soup)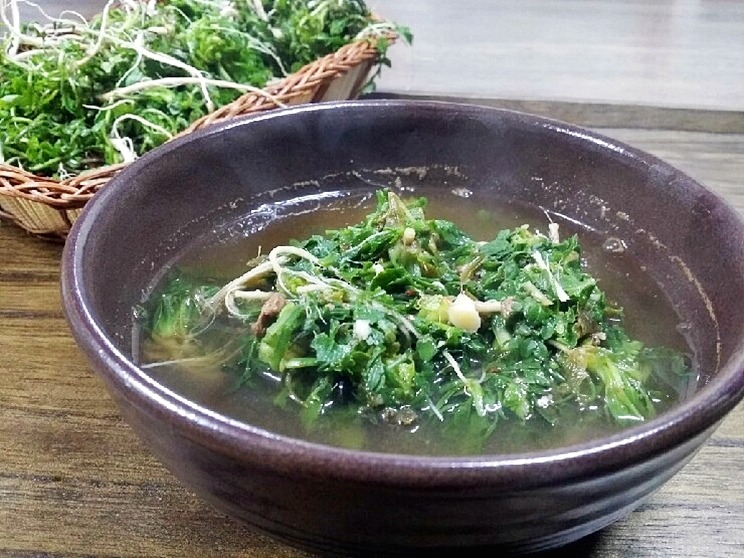 Naengi-guk is a unique Korean vegetable soup that features Naengi, a peppery and smoky flavored green that's the first to bloom as soon as spring arrives.
The flavor is compounded by Dallae, which is a Korean wild chive with a flavor that's hard to describe. It's got a garlicky taste layer that's covered with a pungency you get with spring onions. Overall, it's a great addition to a soup dish due to its complex flavors.
Ingredients
Naengi: 80 g
Dashima (Dried Kelp): 1 small piece
Dried Anchovies: 8-10
Doenjang: 3 tablespoons
Dallae: ½ cup or bundle (chopped)
Bajirak (Littleneck Clam): 20-22 (small)
Garlic: 2 cloves (thinly sliced)
Water: 1 liter
Preparation
Clean the dallae, bajirak, and naengi by soaking them in water
Put the water, dashima, and anchovies in a small pot and bring to a boil
Once it starts boiling, turn the heat down and let it simmer for 15-18 minutes
Blanch the naengi in separate pot of boiling water for 10-15 seconds
Chop the blanched naengi into bite-sized pieces
Take the dried kelp and anchovies out of their broth and dissolve the doenjang completely
Add the naengi, bajirak, and garlic to the broth
When the soup starts boiling, add the chopped dallae into it and take off the heat
Let it rest for 5 minutes before serving
Unique Recipe Tips
Instead of the dried anchovies, you can use mackerel or crab chunks for a meatier-tasting soup. You can also add in some MSG to balance the glutamate level. Just make sure the seafood isn't overly seasoned or stored in a stronger-tasting oil/brine.
The dish is usually served with rice, although we've discovered that rice noodles work just as well, if not better.
Ching Po Leung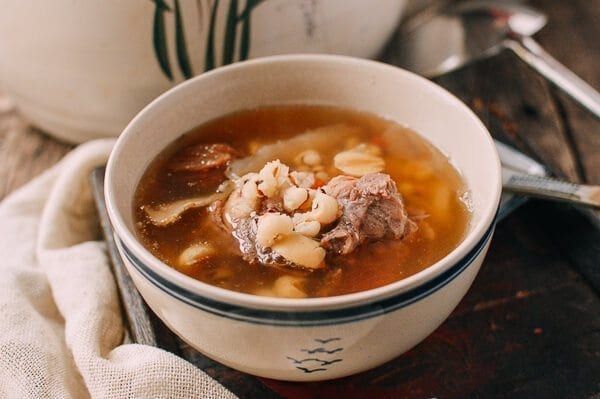 Ching Po Leung is a Cantonese pork bone soup with a sweet, multi-layered flavor that's unique, even among the regional cuisine.
What really defines good Ching po leung is how the richness of the pork bone broth carries the savoriness, while being mild enough to not offset it. There is a very faint sweet edge in this otherwise sweet dish. This comes from the delicious dried fruits.
Overall, this is a great soup for family dinners and celebrations, or just to kick back with on chilly winter evenings.
Ingredients
Pork Bones: 1.5 lbs (buy bones with more meat on them)
Cold Water: 3 quarts
Dried Honey Dates: 2
Dried Longan: 10 g
Solomon's Seal: 15 g
Dried Goji Berries: 10 g
Fox Nut Barley: 20 g
Dried Lotus Seeds: 25 g
Chinese Pearl Barley: 60g
Dried Chinese Yam: 45 g
Ginger: 4 slices
Preparation
Soak the pork bones for up to an hour, take the bones out, and discard the water
Rinse thoroughly, put in a large pot, and add water till the bones are submerged
Bring the water to a boil
Turn the heat off, take out the bones and rinse once again to ensure a clear soup
Put the pork bones in a pot with all of the dried ingredients and ginger, and the three quarts of cold water
Bring to a boil, turn the heat down, and them simmer for 3-4 hours
Skim the fat off the top of the soup and serve
Unique Recipe Tips
This is one of those recipes that have slightly different versions in different households, so you'll still have a true-to-source recipe, even if you explore the ingredients a bit.
You can try adding various dried seafood for a more umami flavor. Dried squid, abalone, and scallops taste great in this role.