If you're anything like us, slurping on instant ramen noodles was practically a sport for most of your life. But now that you're older and taking this adulting thing pretty seriously, you're starting to think about things like, oh you know, nutrition. And along with those thoughts, you might be reconsidering your eating habits and doing your best to make decisions that benefit your overall well-being.
For some, that commitment to health could take the form of a keto or low-carb lifestyle. For others, it might mean cutting out meat and following a plant-based diet. Whatever your choice, the good news is that you don't have to compromise on taste.
Sure, you'll want to stay away from conventional instant ramen noodles, which are horrible for your health. (Get the lowdown on the truth about instant noodles to see what science has to say about it.) But you don't have to totally give up this beloved comfort food — as long as you know where to look. (Hello, immi ramen!) 
Want the best vegan ramen available with a delicious slurp you'll crave? Try immi ramen!
Variety Pack
Variety is the spice of life. Get all three flavors including Spicy Beef, Black Garlic Chicken, and Tom Yum Shrimp. You'll be covered for all occasions.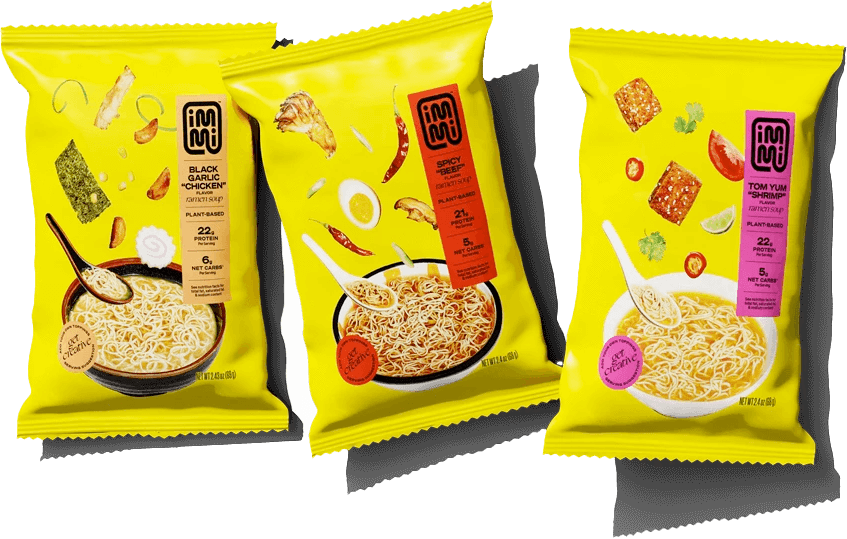 Slurp Now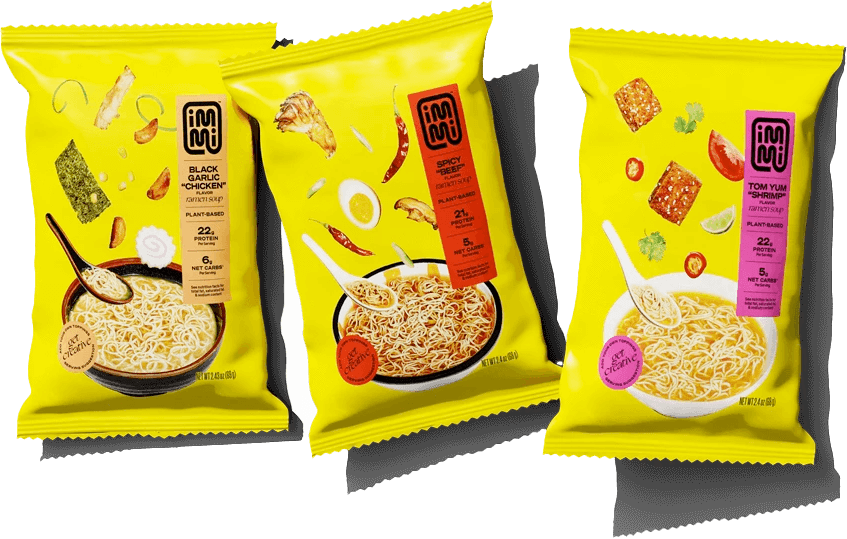 Join us as we share some delicious vegan ramen recipe ideas that'll satisfy both your taste buds and your health goals.
How to Make Easy Vegan Ramen
Before we dig into our curated list of delicious vegan ramen recipes, let's review some of the basics of this classic dish so you can set yourself up for success.
Go for bone-free ramen broth:

Although traditional ramen is made with pork, chicken, or beef broth, you can just as easily swap those out with miso or vegetable broth.

Opt for low-carb, high-protein noodles:

Even if you're not following a keto diet, maintaining a low-carb lifestyle can offer a variety of

health benefits

. We admit most low-carb noodles don't always have the most appealing texture or taste, but that's where immi ramen comes in. It's the world's first low-carb, high-protein, 100% plant-based instant ramen that has a similar texture to the old-school noodles you loved growing up.
Choose a plant-based protein:

When

looking for meatless

protein sources for your ramen, consider tofu, edamame, lentils, and beans.

Get creative with veggie toppings: You can't go wrong with traditional ramen toppings like leeks, green onions, bok choy, nori, kombu, bean sprouts, and shiitake mushrooms, but don't be afraid to experiment. Throw in whatever floats your ramen boat — we won't judge. In fact, we're constantly trying out new things. Just take a look at some of our ramen recipes and you'll see what we mean!
7 Vegan Recipes You Can Whip Up Without a Cookbook
Even if you're no pro in the kitchen, you can follow these easy recipes for a delicious bowl of ramen soup when the craving strikes. You can find most of the ingredients in your local grocery store, Asian market, or online.
Also, keep in mind that these recipes feature a variety of noodles, from instant versions to fresh ramen noodles. If you're trying to keep it plant-based and low-carb, immi's low-carb, high-protein noodles are delicious, nutritious, and perfect for any of these recipes.
1. Avocado Miso Ramen Topped With Avocado Tempura
While this yummy ramen recipe was originally a vegetarian ramen recipe, it just goes to show how easily you can veganize it with a few simple tweaks. Instead of eggs, you'll use aquafaba, which is the leftover liquid from cooked chickpeas. (Time-saving tip: Rather than cooking the beans yourself, simply crack open a can of chickpeas and save the fluid.)
Aside from handling that situation, you'll need some avo, seltzer water, almond flour, miso paste, and a few other essentials to make a delish bowl of ramen. Drizzle some olive oil on that bad boy and you're good to go.
2. Vegan Peanut Noodles
A departure from your typical ramen noodle soup, this meatless Thai twist on ramen is a melange of tastes and textures thanks to air-fried tofu, cucumbers, bell peppers, red and green cabbage, sesame seeds, lime, cilantro, and basil that are all tossed in a tasty vegan peanut sauce. It's a deliciously cool salad that's perfect for a warm day.
3. Super Simple Vegan Miso Ramen
Ready in 20 minutes with just a dozen or so ingredients, this back-to-basics ramen is ideal when you're short on time and supplies. The recipe calls for go-to ingredients including soft cubed tofu (although you can use firm tofu if you prefer a sturdier texture), onion, garlic cloves, veggie broth, soy sauce, ginger, mirin, scallions, and some seasonings. Once you boil the ramen in a large pot of water and drain it, the hardest part is done. Before you know it, you'll be ready to serve.
4. Vegan Ramen With Creamy Sesame Broth
Image: Cilantro and Citronella
A plant-based version of Japanese tantanmen ramen, this spicy and creamy vegan ramen gets its incredible creaminess thanks to the secret ingredient — tahini sauce. Topped with fresh bok choy, crispy fried tofu, and sautéed scallions, this is one dish you don't want to miss. Best of all, the total time to get this ready to eat is just 30 minutes.
5. Miso Shiitake Ramen
With this low-calorie vegan miso shiitake ramen, all you need is 20 minutes and 12 ingredients to get a home-cooked meal in front of your face. While the recipe says you should saute fresh shiitake mushrooms, you can also simply add dried shiitake mushrooms to the vegetable stock, which will expand in the liquid.
6. Easy Coconut Curry Ramen
This plant-based ramen recipe is perfect when you feel like curry in a hurry. Using coconut milk in addition to vegetable broth, sesame oil, and coconut oil is what gives this soup its creamy texture. Meanwhile, the green curry paste, minced ginger, garlic cloves, and turmeric pack a flavorful punch.
The recipe encourages you to use whatever veggies you have on hand including napa cabbage, carrots, zucchini, green onions, red or yellow bell pepper, leeks, snow peas, and halved cherry tomatoes. To crank up the heat, add a squeeze of sriracha.
7. Crunchy Ramen Noodle Salad
It's crunch time with this creative Thai-style ramen noodle salad! Made with green cabbage, red cabbage, carrots, bell peppers, and cucumbers all dressed in a spicy red curry sauce, this plant-based dish is a zesty and crispy treat for lunch or dinner.
What sets this ramen recipe apart from the others is the crunchy ramen, which comes from sauteeing the noodles in a little oil. Another unexpected twist is the candied cashews. But if you don't have time to caramelize these nuts as suggested in the recipe (or you simply want to cut back on the sugar), raw cashews will work just fine.
Embrace Plant-Based With Vegan Ramen Recipe Options
Indulging in instant ramen noodles might be one of your fondest memories of childhood (or college-hood). But now that you have a clearer understanding of how your food choices affect your health, you've begun looking for alternatives that can still keep the good times going while keeping the bad stuff out.
Whether you're low-carb, plant-based, or both, you want options. Fortunately, you got 'em. All of the vegan ramen recipes shared in this guide can be made with immi ramen, which tastes just like the OG noodles you love but with nutritious and delicious ingredients. So, what are you waiting for? Get cooking and check out our tips for more healthy ramen hacks, tips, and recipes.