It's true that Tokyo is a ramen mecca. But not every ramen restaurant is made the same, even when the standard for excellence is so high. Here, we've outlined 5 of the very best ramen restaurants in the city, from the birthplace of tsukemen, to unforgettable shoyu- and tonkotsu-style ramen joints. Even if these are the only restaurants you get to try, you'll leave the Japanese capital with nary a regret!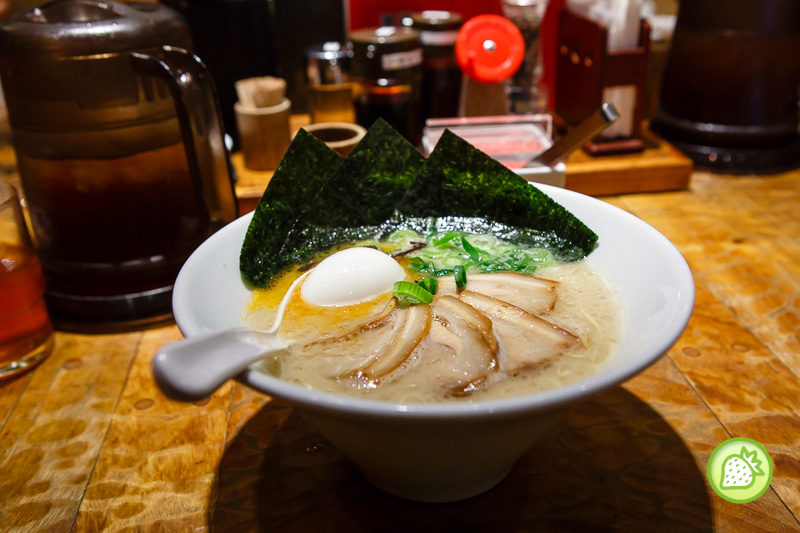 Hakata Ippudo
Having branched out to 14 countries around the world, Hakata Ippudo is a global noodle powerhouse that initially reached notoriety as the best tonkotsu-style ramen in the Japanese city of Kitakyushu. Today, it's known for its milk-white bone broth, which is simmered for 18 straight hours, then brought to an even lower temperature and left to simmer for yet another day.
People from all over the world travel to their original Daimyo Honten location to slurp on their Ganso Shiromaru Motoaji (Shiromaru Classic) and Ganso Akamaru Shinaji (Akamaru Modern) — dishes only offered at this original location. Even at their NYC outlet, prospective diners wait in hours-long queues for the chance to taste exactly what a broth that's been riskily left on an open fire for two whole days tastes like! (Turns out, patience always rewards palettes.) 
But even places like Ippudo are adapting to the times: in 2021, the chain restaurant experimented with a plant-based version of its world-famous 'Akamaru' ramen, replacing their egg-based noodles with something fiber-rich and vegan, and recreating its pork marrow-based broth with a soy milk-based version that somehow manages to retain the creamy, umami flavor.
Ready to taste another slurp-worthy, plant-based ramen? Try immi!
Variety Pack
Variety is the spice of life. Get all three flavors including Spicy Beef, Black Garlic Chicken, and Tom Yum Shrimp. You'll be covered for all occasions.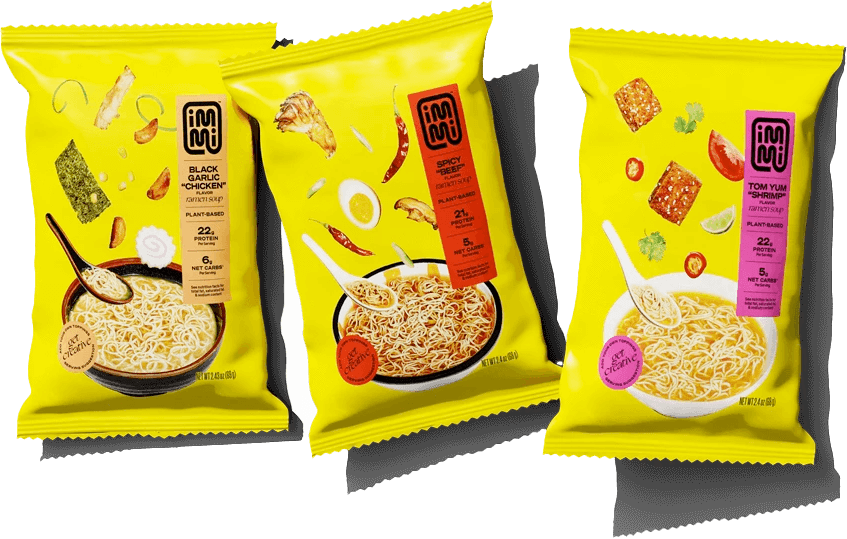 Slurp Now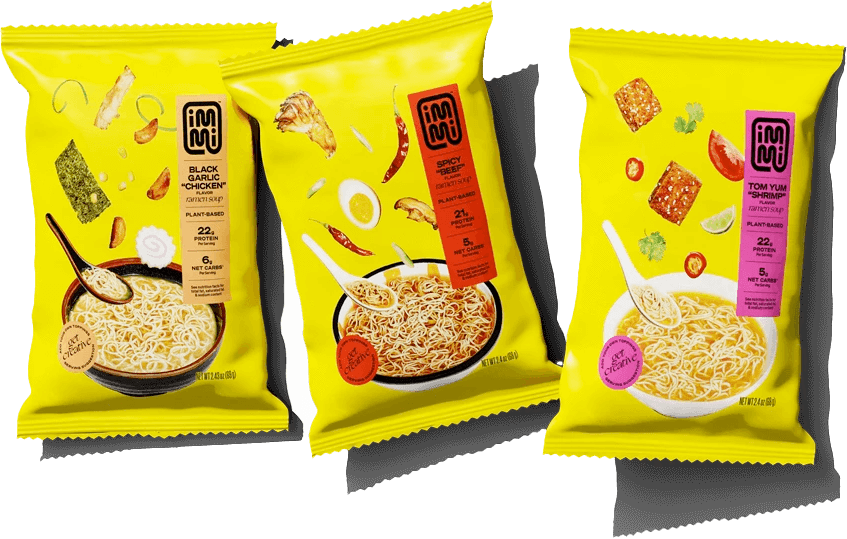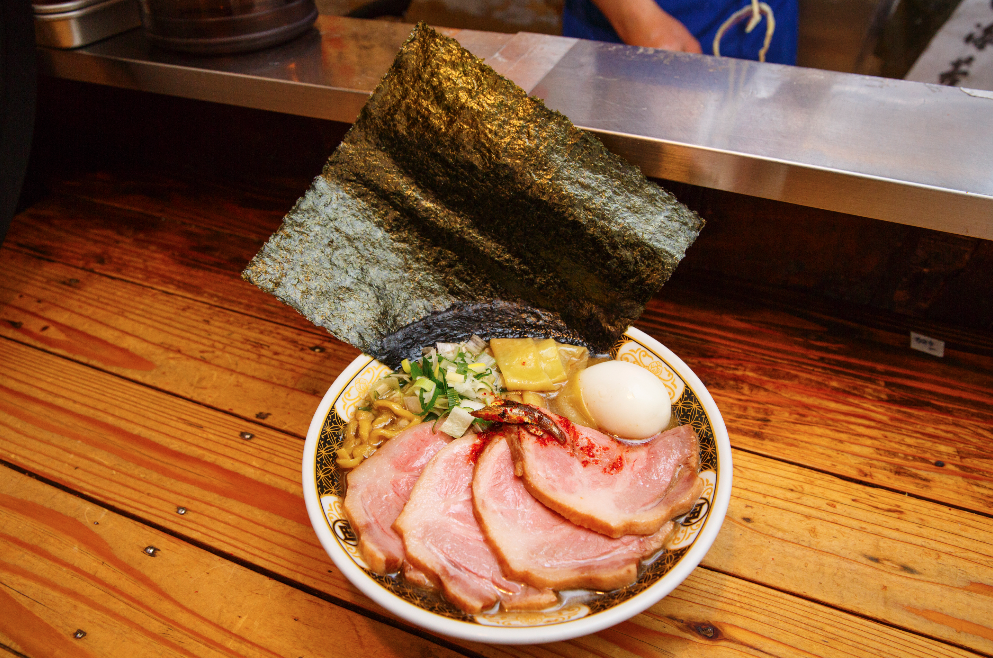 Ramen Nagi
Sometimes, a grand culinary challenge feels like a publicity stunt, and other times it really is the only way to display a chef's range of talents. The latter was the case for Chef Ikuta Satoshi, who drew widespread acclaim after he succeeded in serving up a different ramen, every day, for 365 consecutive days. He was crowned the champion of Tokyo Ramen of the Year for three consecutive years and went on to open 22 branches of this ramen restaurant in Japan, as well as 28 locations overseas. To no one's surprise, Ramen Nagi is open 365 days a year, 24 hours a day — perhaps the chef really can't resist a challenge, not even a logistical one of how to keep a restaurant smoothly running without a day of rest.
People who come here dive straight into the niboshi ramen that's a specialty here — broth that's made by boiling vast amounts of dried sardines for long hours. The result is a bold, slightly gritty and cloudy broth that holds millions of deconstructed, delicious fish particles in every spoonful. Trust me, it's pure deliciousness.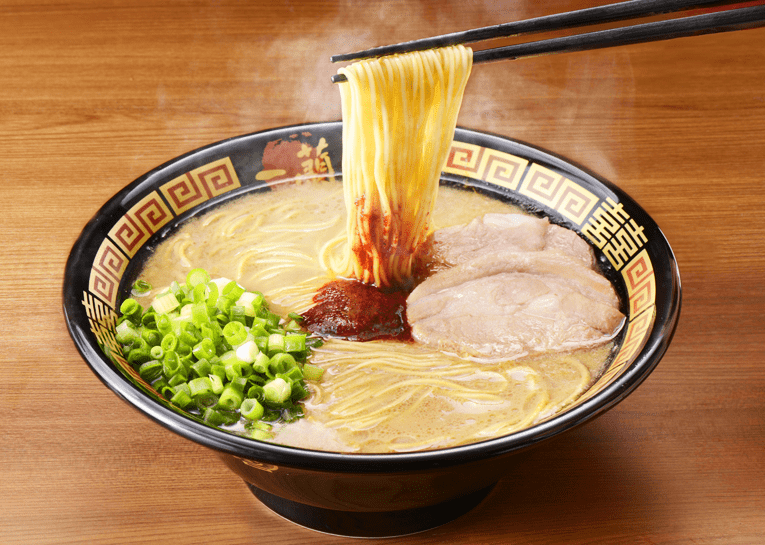 Ichiran Ramen
If you're ever wanted to enjoy ramen and try out one of Tokyo's infamous ramen ticket machines, then Ichiran is your restaurant. Every diner here is guided to a vending machine where they're encouraged to select their preferences, from the amount of garlic you'd like (where one clove is the maximum you can enjoy, to many garlic fiends' disappointment), to the spice level and preferred firmness of your noodles. Extra firm noodles are recommended for people who'd like to spend the first few minutes of their meal snapping a few photos.
When you're done filling out your ticket, you're guided to your seat, which is partitioned on both sides, unless you're enjoying your meal with a group. For solo diners who enjoy their privacy and some alone them with their long-awaited bowl of ramen, this is truly the ideal set-up. When you're done with your meal, you can even buy a few packs of instant ichiran ramen, so you can relish the meal over and over again when you're back home. 
It's true that Tonkotsu-style ramen is all the rage in the Fukuoka City neighborhood where the shop is located, but Ichiran distinguishes itself with a broth made from 100% natural Hakata pork bone that's become something of an industry standard. Each bowl is a potpourri of savory smells and tastes perfectly rich without being greasy.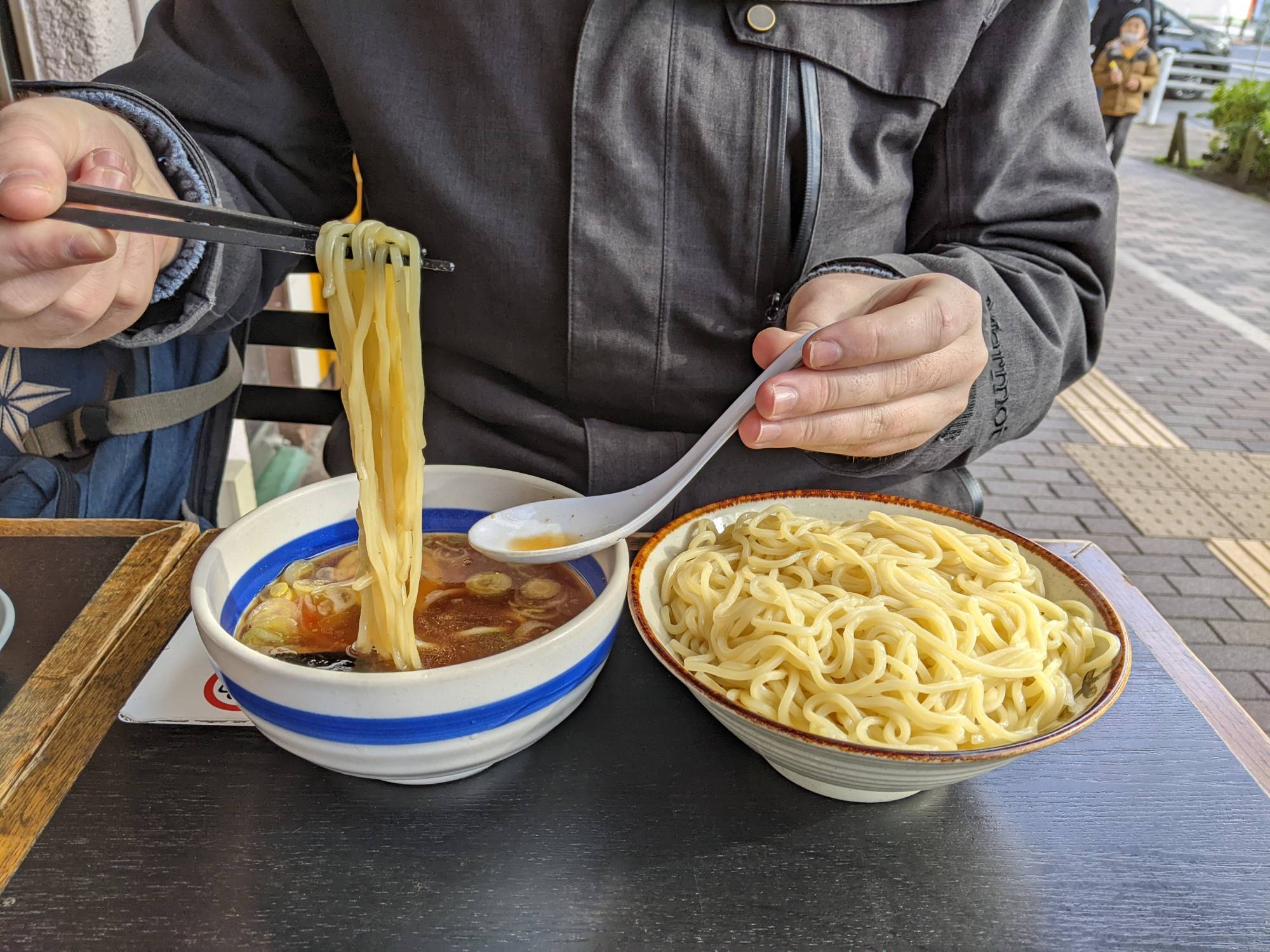 Taishoken
It seems like every other ramen restaurant in Tokyo these days is claiming to be the inventor of at least one style of ramen, or the most popular purveyor of ramen in its respective area. While I can't debunk some of these claims, I can confirm that Taishoken is indeed the birthplace of Tokyo's famous tsukemen, or dipping ramen.
Unlike the other traditional ramen, tsukemen is enjoyed by dipping a chopstickful of noodles — which are served in a separate dish — in a separate bowl of thicker broth. It solves the ever-relatable problem of noodles that disintegrate in bowls of broth, and the paradoxical question of how to enjoy cold noodles and a hot broth. (It's also a win for the minority of picky eaters who don't like when their food touches.) As an added bonus: It's said that tsukemen is served with a greater volume of noodles.
If you pop into Taishoken today, you'll taste a broth that's cooked over two days and layered with pork, chicken, dried anchovy, and dried bonito.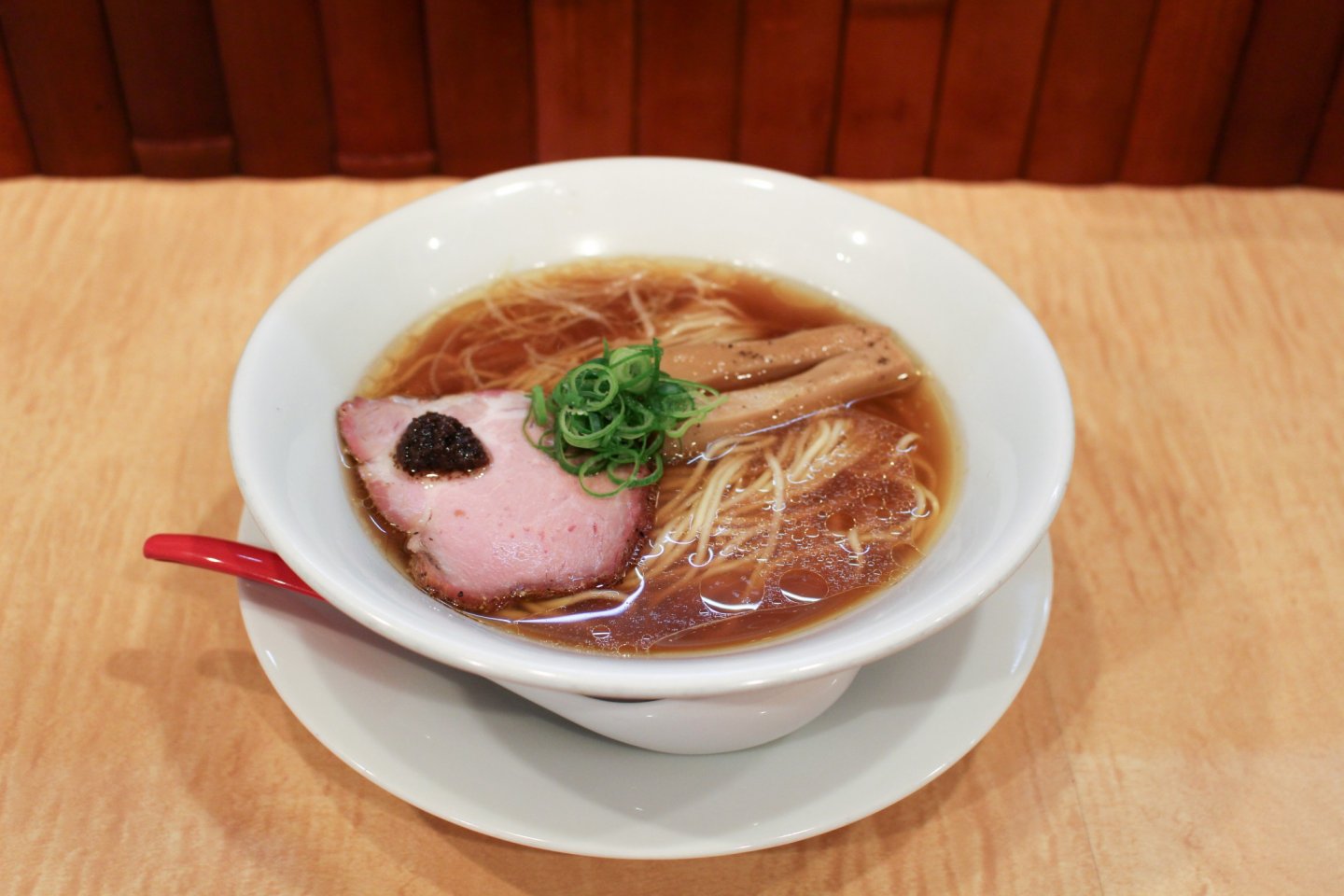 Tsuta
As the first ever ramen restaurant to be awarded a Michelin star, Nakiryu holds a special place in the ramen multiverse. And it's not just flashy accolades and labels; the shoyu soba here, or soy sauce ramen, is actually a meal to write home about.
The broth is based on a Marudaizu natural soy sauce from Wakayama aged for two years in cedar casks, blended together with two other soy sauces — a Nagano soy sauce and a white soy sauce. The noodles themselves are stonemilled each morning using 100% local Japanese wheat. Oh, and did I mention that every bowl of shoyu ramen is topped with a black truffle sauce? If you ever wondered what meal made with the utmost tender loving care actually tasted like, you should probably try out Tsuta shoyu soba. 

The only thing that I think could possibly make your meal better? An ice-cold glass of beer.