Whenever we talk about comfort food that's quick and easy for us to prep, chicken ramen almost always comes up in the conversation. It tastes great, saves a ton of mealtime stress, and we love how we can add more of whichever ingredient we're craving more, whether it's the soup, the chicken, or the ramen.
However, despite all that's good about it, basic chicken ramen can be a bit, well, basic, especially if you eat it regularly. To help you make your ramen more exciting, we've come up with five interesting ways to upgrade your chicken ramen.
Chicken Marinated in Char Siu Sauce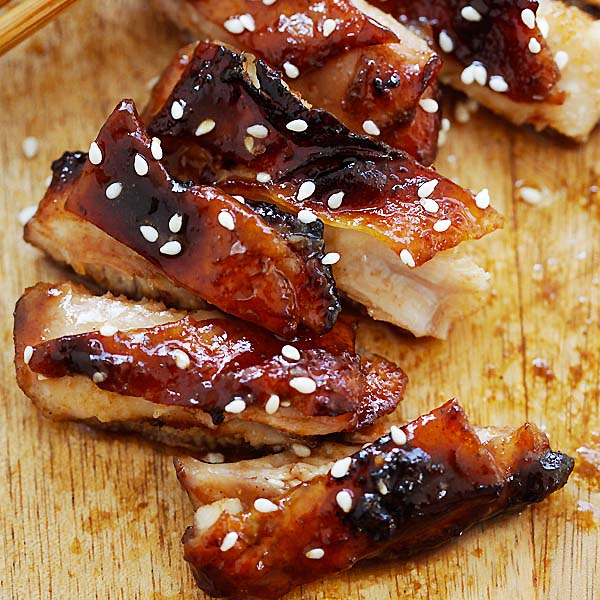 Char Siu is traditional Chinese roast pork that's been marinated in and glazed with delicious Char Siu sauce.
The sauce is an awesome ingredient because it's savory, sweet, and spicy in the perfect order. It's also super versatile. You can dip fried chicken in it, drizzle it over cutlets, use it as a flavor base for ramen, and even as a sauce base for fried rice.
Nutrition
*All nutritional values are for a single serving*
Total Calories: 103 (chicken thigh)
Protein: 13 g
Carbohydrate: 11 g
Total Fat: 6 g
Ingredients
*These amounts are for one large bowl of ramen*
Boneless Chicken Thighs: 1 (medium-sized)
Honey: ¼ cup
Soy Sauce: ¼ cup
Hoisin Sauce: ⅓ cup
Chinese Five Spice: 1 tablespoon
Shaoxing Wine: 3 tablespoons
Preparation
Mix the Hoisin sauce, honey, and five spice till it forms a thin paste
Slowly mix in the soy sauce and Shaoxing wine till the mix emulsifies
Marinade the chicken in the sauce for a minimum of 5-6 hours 
Grill the chicken for 10-12 minutes or till it gets a light char
Slice the chicken into bite-size pieces and serve on top of a bowl of chicken ramen
Starting to get hungry? Try these chicken recipes with our Black Garlic Chicken ramen!
Black Garlic "Chicken" Ramen
Classic, savory, and comforting. The perfect cozy companion for an evening at home. Overflowing with notes of garlic, scallions, and umami.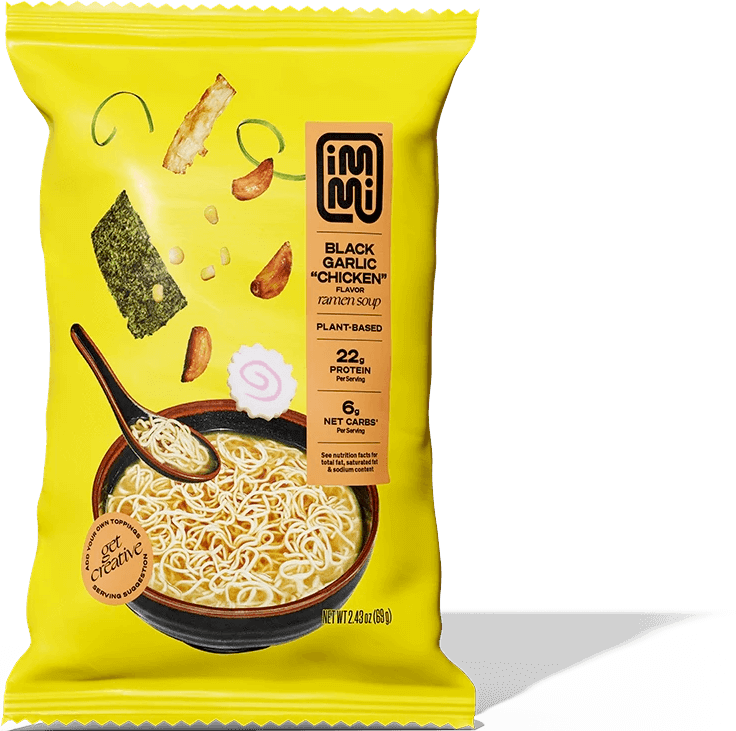 Slurp Now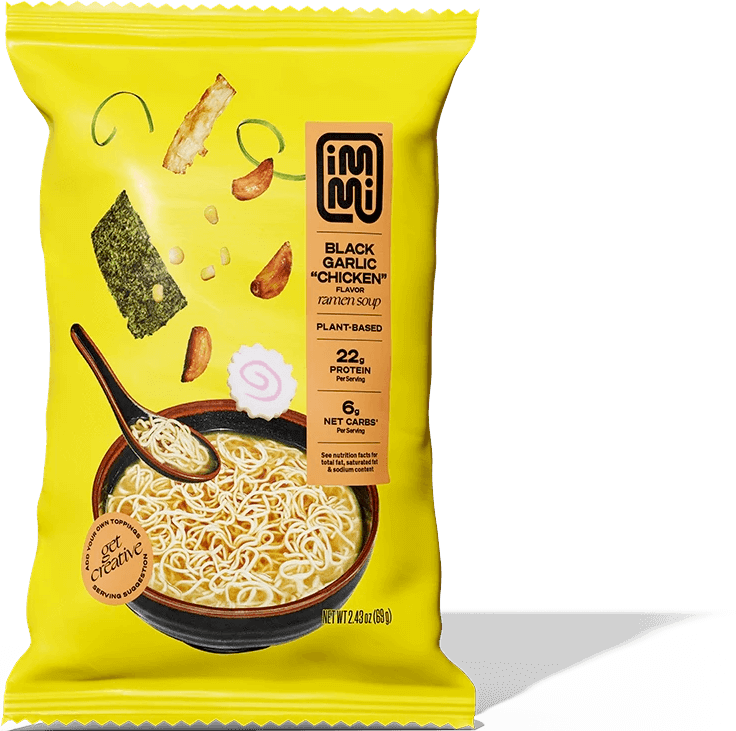 Chicken Braised with Mirin
Mirin is a rice wine that's a common cooking liquor in Japan. It's sweeter than other cooking wines and creates a great flavor balance in otherwise salty dishes.
The best part about mirin is that you can use it as an ingredient or a complete marinade. In case you're worried about your chicken turning out sweet, don't be! The flavor turns neutral once you add aromatics such as garlic and parsley.
Nutrition
*These values are for one chicken breast and one ounce of mirin*
Total Calories: 148
Protein: 37 g
Carbohydrate: 11 g
Total Fat: 4 g
Ingredients
Skinless Chicken Breast: ½ (large)
Ramen noodles: 65-70 grams
Mirin (cooking wine): 1 cup
Garlic: 1 clove (large)
Parsley: 3-4 sprigs
Preparation
Crush the garlic and mix with mirin in a bowl
Marinate the chicken in the mirin mix for 1-2 hours
Sear the chicken in a pan till both sides are golden brown
Turn the heat down, and add the parsley and mirin mix to the pan
Baste the chicken with the mirin till the chicken cooks completely
Let the chicken rest before slicing and topping on the ramen
Optional: You can make a delicious pan sauce with the leftover mirin in the pan. Simply add a teaspoon of butter, a pinch of MSG and white pepper, and half a teaspoon of miso.
Garlic Roasted Chicken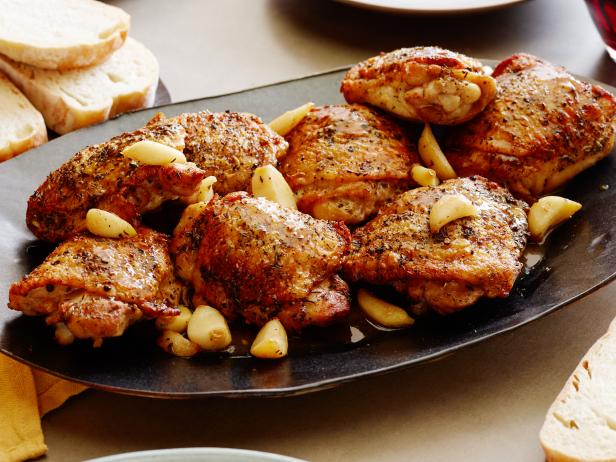 Juicy roasted chicken with a garlicky crust is one of our favorite meats, especially with ramen.
This method works best with our delicious black garlic chicken-flavored immi ramen. It already has all the seasonings, which makes this a super-easy meal to prep.
We love garlic because of that rich, nutty flavor it takes on when roasted. If you like your garlic a bit more intense, use fresh garlic instead of garlic powder.
Nutrition
Total Calories: 228
Protein: 22 g
Carbohydrate: 2 g
Total Fat: 15 g
Ingredients
Skin-on Chicken Thigh or Whole Leg: 1 (large)
Ramen noodles: 65-70 grams
Garlic Powder: 1 teaspoon
White Pepper: ½ teaspoon
MSG: ¼ teaspoon (large pinch)
Chicken Stock: 4 tablespoons
Preparation
Mix the dry ingredients with the chicken stock to make a paste
Apply the garlic paste on the chicken and marinate for 1-2 hours
Grill the chicken for till the skin turns brown and crispy
Slice the chicken against the grain and top the ramen with it
Try to avoid using table salt in this recipe because regular salt will make the dish too salty for already-seasoned ramen.
Privy Sign Up form
Want more delicious recipes like these? Sign up for our e-mail list
You'll also get updates on immi, delicious recipes, exclusive offers, and more.
Chicken Katsu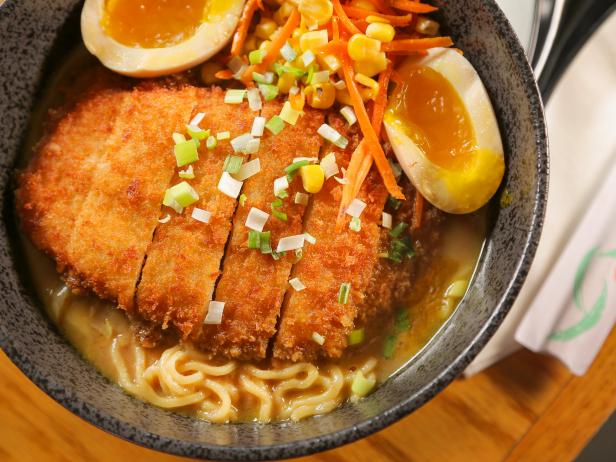 Chicken Katsu is a deep-fried chicken cutlet that's crispy on the outside and juicy on the inside. However, what makes this dish so amazing is the crunch it adds to ramen noodles.
Depending on your taste and texture preference, you can go with a thin cutlet or a thicker one. We prefer a thinner cutlet since that brings more crunch to the dish, without compromising too much on the flavor.
Nutrition
Total Calories: 332
Protein: 32 g
Carbohydrate: 23 g
Total Fat: 11 g
Ingredients
Chicken Breast: 1 (large)
Ramen noodles: 65-70 grams
Panko Breadcrumbs: 1 cup
Eggs: 1 (beaten)
All-Purpose Flour: 1 cup
Oil: As needed (for frying)
Preparation
Dredge the chicken in the flour
Dip the floured chicken in the egg till it's fully covered
Coat the egged chicken with the panko breadcrumbs
Fry the cutlet till golden brown, take it out of the oil, and let it rest for 5 minutes
Slice the cutlet into thick strips and serve
You can serve cutlet topped with katsu sauce with a side of thinly sliced green cabbage for a more traditional taste.
Stir-Fried Sichuan Chicken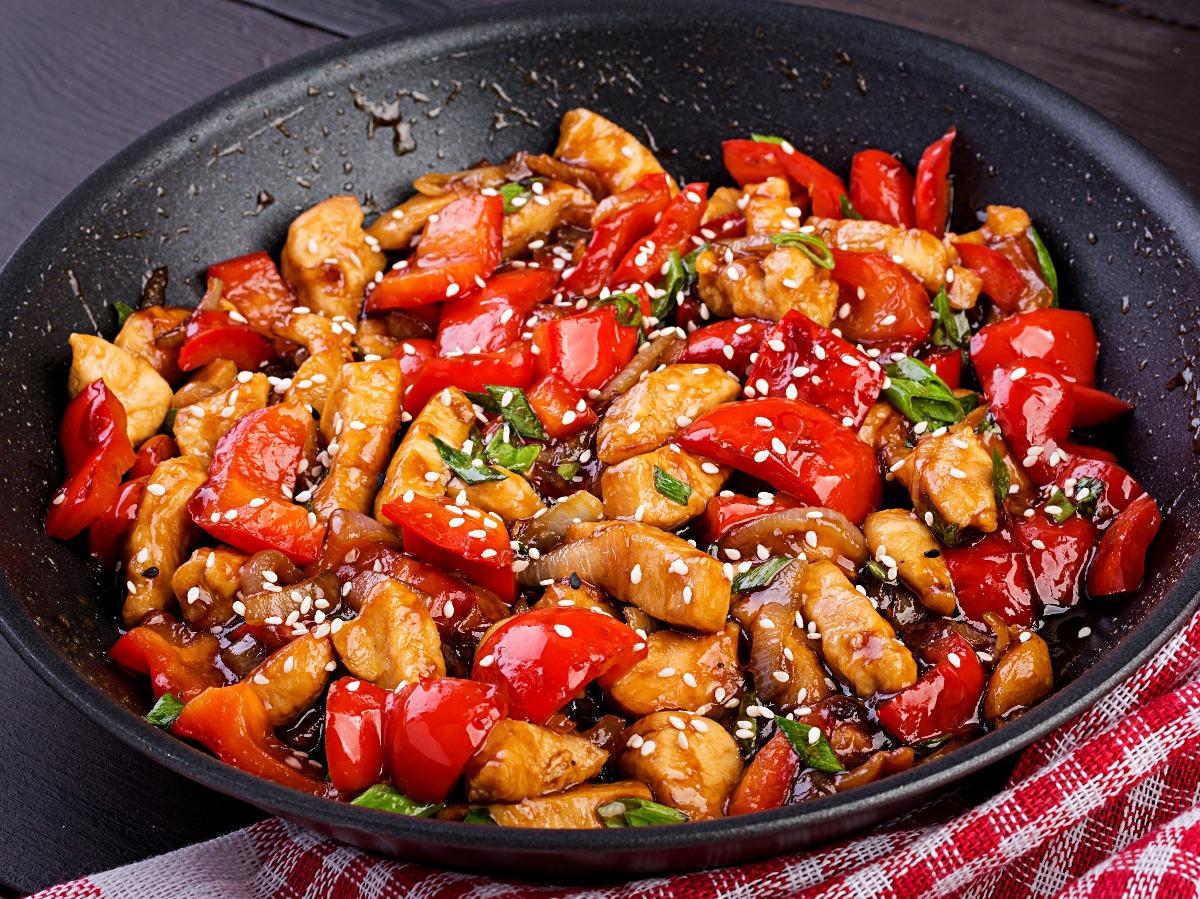 Sichuan chicken is a well-known savory dish that we believe makes the perfect addition to chicken ramen because of its spicy flavor profile.
There are several noodle dishes such as the traditional Dandanmian and Sichuan peanut sauce noodles that use Sichuan peppercorns as a central ingredient.
This version has a thick, spicy sauce that we grew up with and can recognize anywhere!
Nutrition
Total Calories: 420
Protein: 32 g
Carbohydrate: 36 g
Total Fat: 17 g
Ingredients
Chicken Breast: 1 (large, diced)
Ramen noodles: 65-70 grams
Chicken Broth: ½ cup
Soy Sauce: 2 tablespoons
Rice Vinegar: 1 tablespoon
Sichuan Pepper Paste: 2 teaspoons
Corn Starch: 1 tablespoon
Dark Sesame Oil: 1 tablespoon
Ginger: 1 tablespoon (grated)
Garlic: 1 tablespoon (minced)
Preparation
Combine the sesame oil, chicken broth, soy sauce, vinegar, and Sichuan paste, and corn starch in a bowl to make a thick sauce
Heat a wok and swirl some oil around it
Stir-fry the sauce with the diced chicken
Halfway through the cooking process, add the ginger and garlic
Take the chicken off the wok
Toss the chicken in the ramen before serving
You can also drizzle some Sichuan chili sauce on top for an even spicier and tastier kick!