Thai food has it all. It combines spicy, sweet, sour, and salty flavors into an irresistible cuisine. Although Thai food may involve ingredients that don't fit a plant-based diet, we're going to tell you all about vegan Thai food so you can still enjoy these amazing flavors.
What would life be without a spicy bowl of Thai curry or a tangy plate of pad thai? It's a world we wouldn't like to imagine. So instead, let's go over some vegan options for one of your favorite cuisines.
We'll first tell you all about authentic ingredients from Thailand so you can have a thorough understanding of the cuisine. Then we'll discuss some vegan substitutes, how you can order at a Thai restaurant, and some recipes you can use in the kitchen.
What Are the Main Ingredients of Thai Food?
Thai cuisine is built on fresh ingredients that pack a punch. Some of the core players are curry paste, coconut milk, and fish sauce, however, there are many more ingredients that are layered in to build complex flavors.
You'll find curry paste in all sorts of Thai dishes, like curries, stir-fries, and fried rice. Curry paste comes in many different forms. Different pastes are used to make red curry, green curry, yellow curry, massaman curry, and Panang curry. These are layered into coconut milk to create the spicy and creamy dish you love.
Fish sauce is what gives Thai dishes the funky, salty, and pungent kick. It's a liquid derived from tiny fish — like anchovies — that are coated with salt and fermented. It has a strong but delicious aroma and is incredibly salty. It's used in most dishes, but we'll cover some ways to work around this ingredient below.
You'll also find plenty of other ingredients like veggies, herbs, and sauces that help balance every dish. Here are some of the most common ingredients in Thai dishes.
Sauces, pastes, and condiments:
Curry paste

Coconut milk

Fish sauce

Shrimp paste

Oyster sauce

Palm sugar

Tamarind

Peanuts
Vegetables:
Shallots

Galangal (similar to ginger)

Coriander

Eggplant

Garlic

Chiles

Thai basil and holy basil

Lime

Lemongrass

Bean sprouts

Bell pepper
As you can tell, some of these will obviously not fit with your vegan diet — we're looking at you fish sauce, shrimp paste, and oyster sauce. That shouldn't be a problem with our tips below.
Getting hungry for vegan flavors? Try our 100% vegan immi ramen with flavors like Tom Yum Shrimp!
Tom Yum "Shrimp" Ramen
Fresh, bright, and zesty. A vibrant bowl to slurp under the cool shade on a warm afternoon. Abundant with notes of lemongrass, citrus, and chili.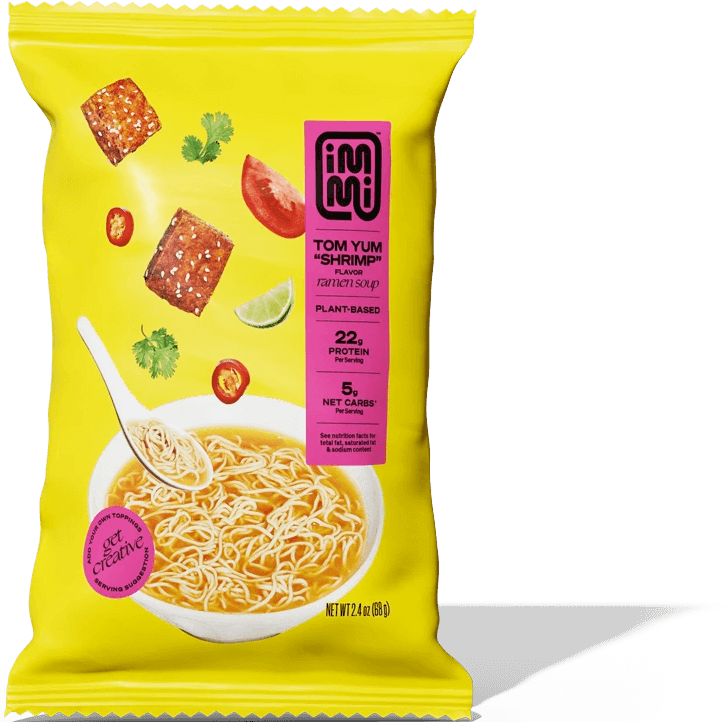 Slurp Now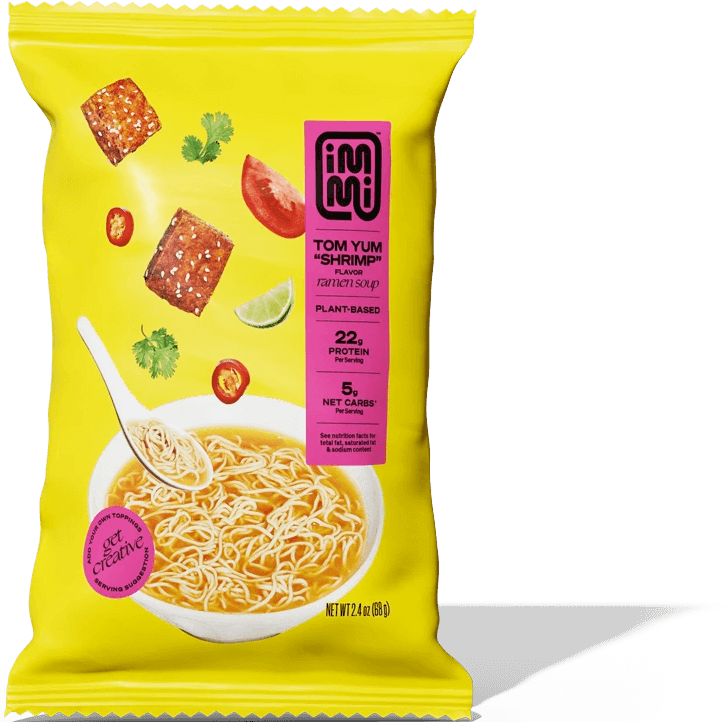 Vegan Substitutes for Thai Ingredients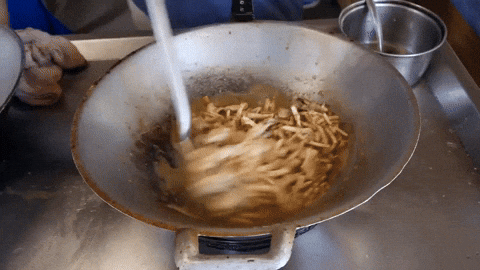 There are a few ingredients that you'll need to find a vegan substitute for. The proteins, curry paste, fish sauce, and oyster sauce all have components that conflict with a vegan diet. Let's take a look at how you can replace them with plant-based alternatives.
Meats
Finding meat substitutes will be the easy part. You can simply replace any meats with a heap of vegetables or other protein alternatives.
If you're looking for something with more protein, add some tofu for an extra boost. You can also use tempeh or any other meat alternative you typically use.
Curry Paste
What would a Thai curry or a spicy stir fry be without its most important ingredient? Since curry paste contains shrimp paste, you'll need to find an alternative. Luckily, you can find a vegan substitute in most grocery stores.
You can also make your own curry paste at home if you want to venture off on a Thai cuisine journey. Making curry paste is a fun process, however, it may be challenging to track down all the ingredients needed. You can follow this Thai green curry paste recipe for a flavor-packed paste sure to knock you off your seat.
Privy Sign Up form
Interested in learning more about Thai and other Asian ingredients? Sign up for our e-mail list!
You'll also get updates on immi, delicious recipes, exclusive offers, and more. No spam ever.
Fish Sauce
Fish sauce provides a delicious, salty flavor that makes Thai food so unique. It's like liquid umami added to most Thai entrees that make you salivate and leave you wanting more.
With a name like fish sauce, you can bet your lunch money it's loaded with fishy ingredients. But there are other plant-based options you can use to reach a comparable flavor profile.
The easy way is to add soy sauce instead. This will provide the saltiness but will be lacking in certain flavor departments. You can opt for tamari, which has more of a rich and fermented flavor. Tamari is like soy sauce, but with miso and some extra fungus to help with fermentation.
Your best bet is to seek out a vegan fish sauce at an Asian grocer or online. This will give you a more comparable flavor profile and help your recipes taste as authentic as possible.
Oyster Sauce
Oyster sauce is made from oyster extracts and creates a thick brown sauce. Finding a replacement for oyster sauce may not be as hard as you think.
Mushroom-based oyster sauce is quite common and can be found in the international aisle at many grocery stores. This will be the closest you'll come to the real thing.
You can also use hoisin sauce which is a slightly thinner sauce. It comes close to matching the taste of oyster sauce but with a little less kick. Hoisin is quite popular, so you shouldn't have a problem tracking it down.
Noodles
Thai dishes will feature different types of noodles like rice noodles and egg noodles. Rice noodles don't have any meat products, but they will have quite a few carbs. Not-so-great news if you're trying to limit your carb intake. Egg noodles will also have some animal products — you guessed it, eggs.
A great alternative in the noodle department can be immi ramen noodles. Not only are they vegan, but they're also low in carbs, high in protein, and high in fiber. They can complement any Thai dish that needs the addition of noodles.
Now that you know what you need to look out for, let's give you a few tips on ordering at a Thai restaurant.
Ordering Vegan Thai Food at a Restaurant
As veganism continues to grow in popularity, most Thai restaurants have dedicated one or more vegan dishes to those who follow plant-based diets. That makes your life easy if it's clearly stated on the menu. But this won't always be the case.
Sometimes you'll come across Thai cuisine purists or restaurants that don't offer vegan options. If that's the case, you'll need to adjust your order or find a dish that you know doesn't include any animal products.
Most curries and soups will have a splash of fish sauce and potentially some shrimp paste which is part of the curry. Ask if they can leave out the fish sauce as it's usually added at the end. Also, remember that curry paste includes shrimp paste. If you're strictly vegan, then you may have to pass on curries from restaurants.
If you're ordering any stir-fries with a darker sauce, there's a chance it will include oyster sauce. Ask to substitute soy sauce instead of oyster sauce and you can still enjoy your dish.
An easy go-to is pad thai — potentially one of the most popular Thai dishes around. Pad thai is nearly vegan, except for the eggs and fish sauce that are added into the noodles. Ask for no eggs and fish and you'll have a vegan pad thai on your table in no time.
If you'd rather not deal with the hassle of trying to substitute everything under the sun at a restaurant, you can easily make Thai food at home.
3 Delicious Vegan Thai Food Recipes
You can try your hand at concocting some Thai dishes at home if you'd rather not go out. Making vegan Thai food at home is fun and delicious. Here are a few go-to vegan recipes we love.
Vegan Pad Thai
This Vegan Pad Thai recipe can be made in only 30 minutes with the help of a vegan fish sauce alternative. It's quite simple and uses only a few ingredients to create a noodle dish that's fresh and full of protein. You can even up your protein intake and cut the carbs by adding immi noodles instead of rice noodles.
Vegan Thai Curry Ramen
Sure, ramen isn't a Thai creation. We'll give credit to China and Japan for mastering that dish. But who's to say you can't make a Thai version with a curry soup base? This Vegan Thai Curry Ramen relies on a vegan red curry and skips the fish sauce to create a full-bodied curry broth.
Speaking of ramen, you can also check out this vegan ramen recipe that we absolutely drool over.
Vegan Thai Spring Rolls
If you like variety, this Vegan Thai Spring Roll recipe is for you. It's packed with crispy fresh vegetables and herbs and is accompanied by an amazing Thai peanut sauce. It's a great choice as an appetizer or even a healthy snack for lunch.
Thai Food Made Your Way
We don't know about you, but we would struggle to live without Thai food. Luckily, finding vegan alternatives to Thai ingredients is quite easy. You can still enjoy the same great flavors without compromising your dietary preferences.
If you follow a keto diet, you can explore some of our favorite keto-friendly Thai recipes.