In an earlier article, we talked about Shoyu and Shio ramen and did a comparison of both types. However, we realized even though we love both flavors, we can't end the comparison without mentioning the other major ramen types, namely Tonkotsu ramen and Miso ramen.
If you go to a ramen restaurant, chances are you'll see some version of either tonkotsu or miso ramen featured prominently on the menu.
This is because both are very prolific and important to the spread of ramen around the world.
To complete the circle, we've decided to now compare tonkotsu and miso, and figure out which one we'd rather eat every day.
Tonkotsu Ramen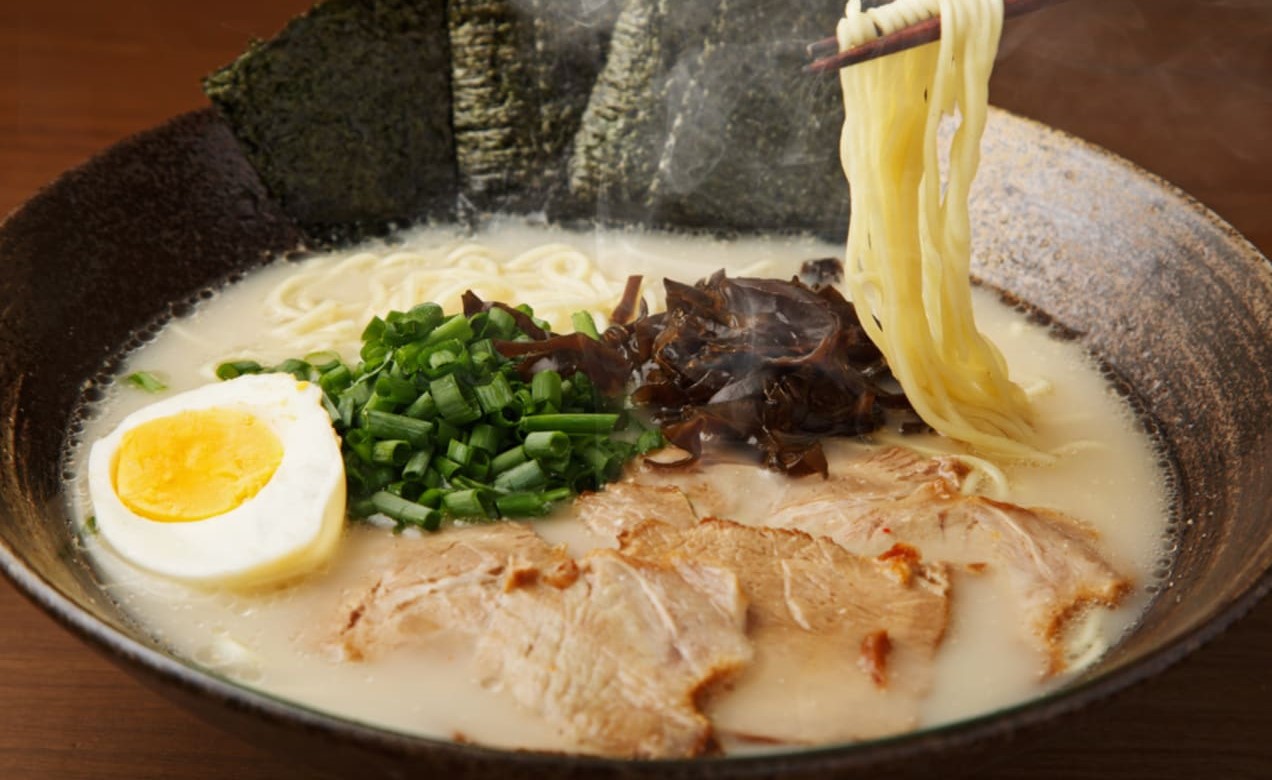 Tonkotsu is a unique version of ramen because it's technically not a flavor but a type of broth. The word tonkotsu means 'pork bone' and it points to the broth that's made by boiling pork bones along with some herbs for a long time to get a creamy, milky white soup.
This makes for a super filling meal that's also super healthy and great for when you're craving a heavier meal.
If you're choosing to make it from scratch, Tonkotsu ramen has the longest prep time among the ramen varieties.
However, it's also convenient because you can make a large quantity at one time and reheat it whenever you crave some ramen.
Place of Origin
This version of ramen comes from the city of Kurume, in the Fukuoka prefecture of Japan. Kurume Tonkotsu ramen is the original version and although other regions have slowly picked up the technique, the Kurume pork bone broth remains a global favorite.
Defining Ingredients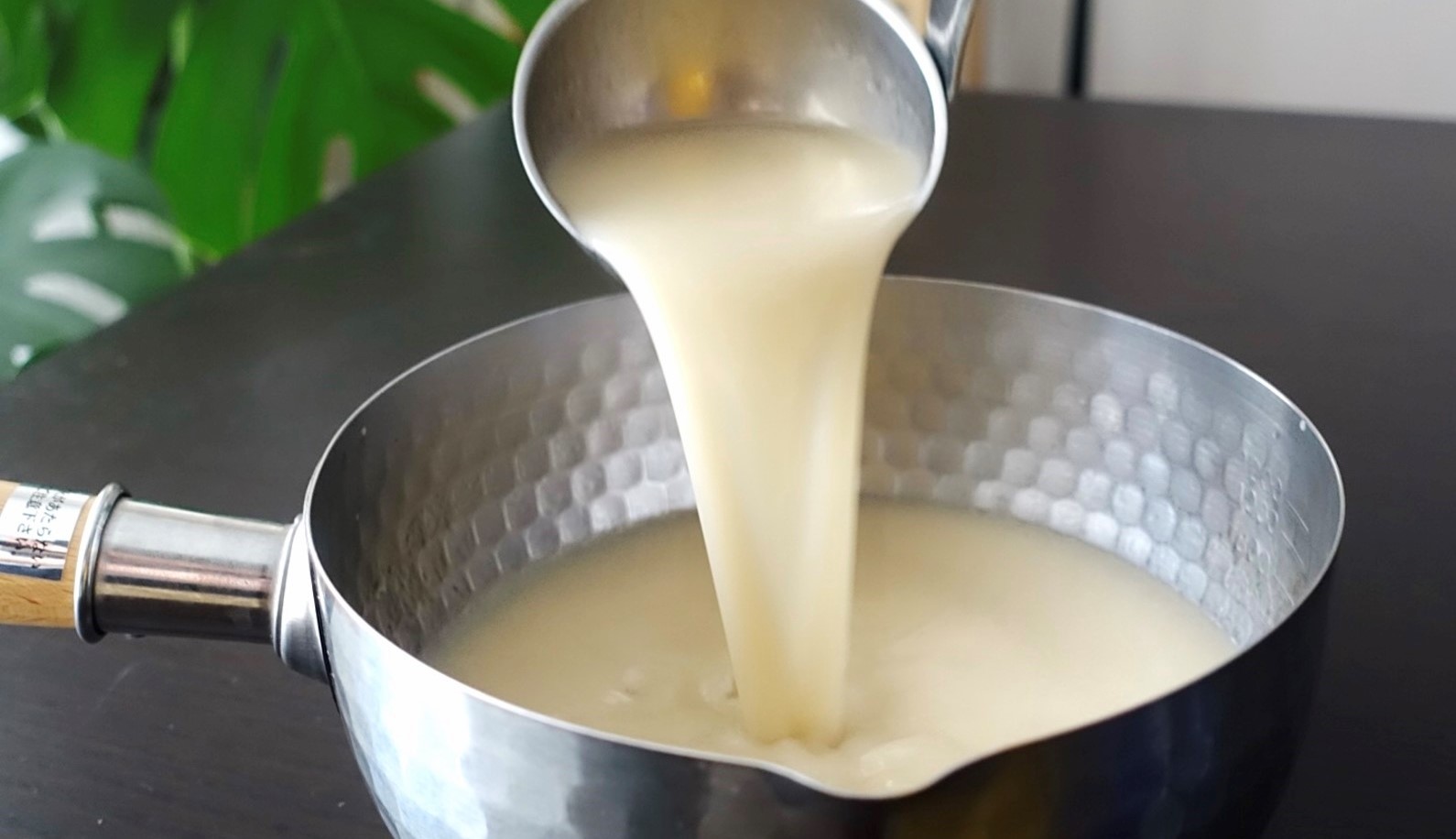 The defining ingredients of the Tonkotsu Ramen recipe are:
Fresh or dried ramen noodles (immi ramen is an ideal low-carb alternative)
Tonkotsu broth
Miso or Shoyu tare
Now you might be thinking why the tare consists of Miso or Shoyu. The thing is, tonkotsu broth doesn't have a strong enough flavor on its own and you still need tare to complete the flavor puzzle.
You can also use sea salt by adding it directly to the broth. That will be closer to the traditional Kurume Tonkotsu. 
Try immi ramen noodles for a low-carb, high-protein alternative!
Variety Pack
Variety is the spice of life. Get all three flavors including Spicy Beef, Black Garlic Chicken, and Tom Yum Shrimp. You'll be covered for all occasions.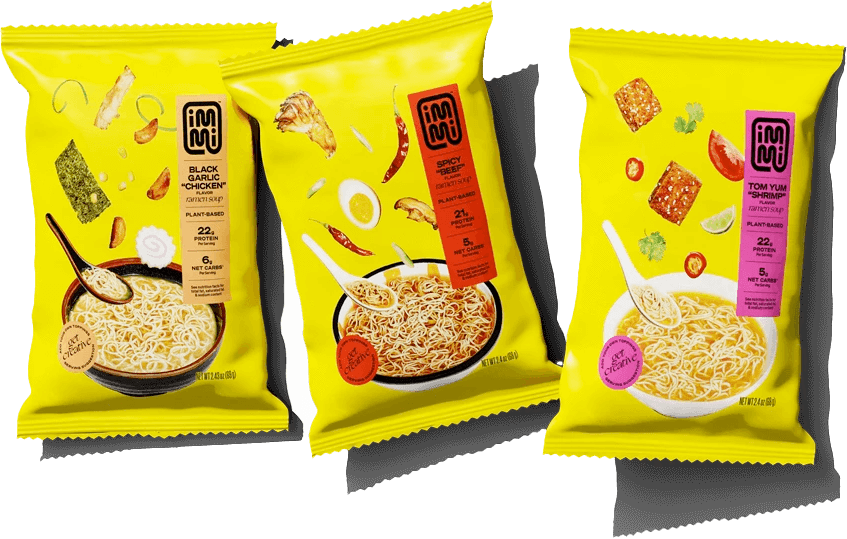 Slurp Now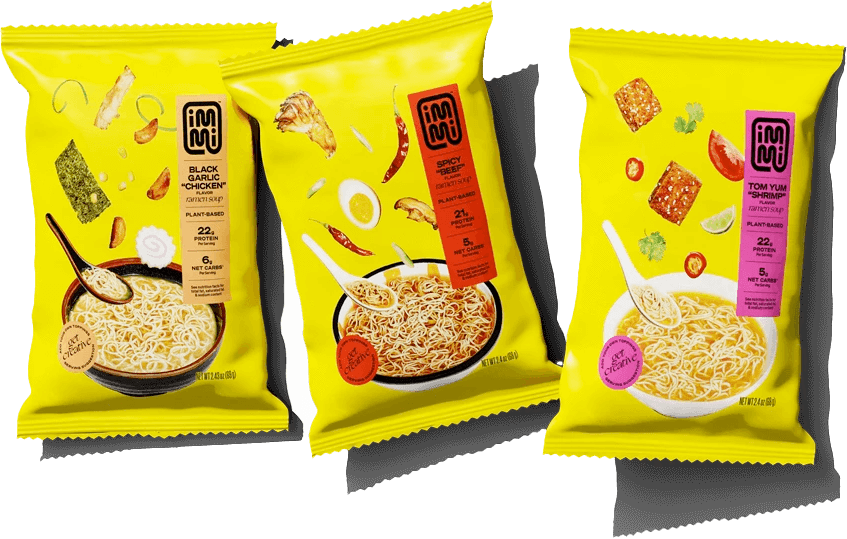 Typical Toppings
Tonkotsu ramen has far fewer toppings, partly because the broth itself is so thick, and partly because that's just how it's been made in the original region.
However, over time, the toppings have increased in number to include:
Chashu pork (pork shoulder or pork belly braised in mirin and soy sauce)
Takenoko (marinated bamboo shoots)
You might also see some chefs top their ramen with sweet corn, thinly sliced duck breast, or julienned carrot and daikon radish.
Nutrition
Here's the health information for a standard bowl of Tonkotsu ramen:
Total Calories: 656
Fat: 32 grams
Carbohydrate: 62 grams
Protein: 49 grams
NOTE: These nutrition facts are for basic tonkotsu ramen with just chashu pork and some scallions as topping.
Because this is a thicker broth, you don't need the fattier cuts of meat to make the dish more filling. Instead, you can try to make chashu out of leaner cuts and you'll still get the same rich, velvety taste.
If you're looking for a healthier alternative to Tonkotsu, check out our immi Black Garlic Chicken flavor which has a rich, creamy, and thicker broth.
What Makes it Great
Although it's so different from the other three primary ramen types, tonkotsu ramen holds a special place in our hearts because of how full it used to make us and how consistently we've enjoyed it over the years.
The thick broth feels like a proper soup and has a delicious richness that coats the mouth as soon as you take a bite of the noodle or slurp the broth.
Add to that some meaty toppings and you have a recipe that's great for the daily bowl and even special occasions.
Miso Ramen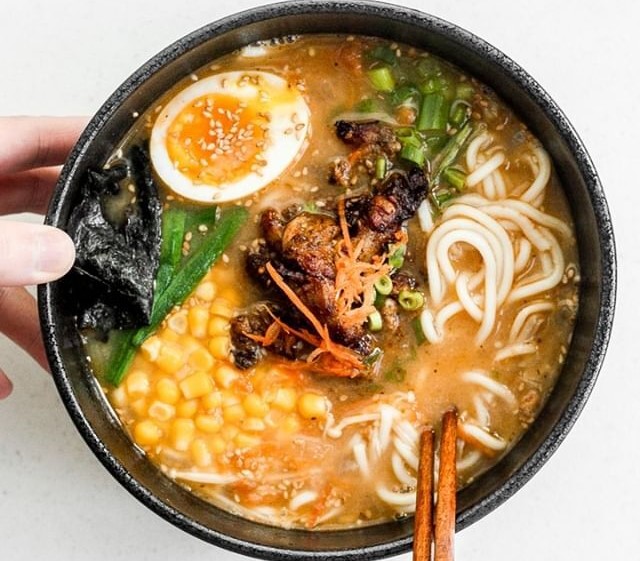 And finally, we have a flavor that's got maybe the most versatile broth base of all – Miso ramen.
The dish has several regional and international variations, but the original version is still flavored using Miso. This is a paste made from fermented soybeans and has a salty, almost meaty flavor.
The best thing about miso is that you can easily find it in your local supermarket or Asian food store, or even make it yourself.
Miso ramen has a rich, silky mouthfeel with the classic tangy saltiness of fermented soybeans. Because it's a paste, miso also thickens the broth slightly, making it a bit more filling than the thinner Shio ramen broth, for example.
Place of Origin
This ramen flavor comes from the Hokkaido region, in Northern Japan. The dish is popular in Sapporo, the capital city of Hokkaido. Today, chefs throughout Sapporo have their own signature spin on the classic recipe, although the base dish is very much the same.
Defining Ingredients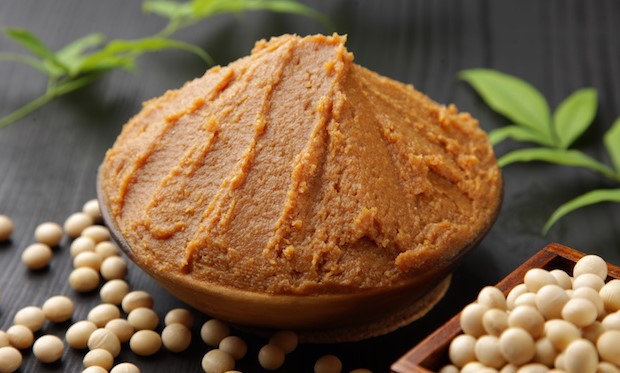 The defining ingredients of the Miso Ramen recipe are:
Wheat noodles or chuka soba noodles (Our low-carb immi ramen is a healthier alternative)
Nameko or Shiitake mushrooms
Shiro (light, sweeter miso) or Shinsu (yellow, saltier miso)
Modern chefs use many different varieties of miso paste, such as the aforementioned shiro and shinsu, as well as aka (red, strong miso), and hatcho (dark, stronger miso). They all create awesome tasting broths and we definitely recommend trying each one.
Typical Toppings
Miso Ramen has all the typical ramen toppings, although we prefer to mix and match depending on how we want our ramen to taste.
However, the basic toppings for the recipe are:
Chashu pork
Napa cabbage
Green onions
Sliced daikon radish
Chili oil (optional)
Nori seaweed
Additionally, you'll see bean sprouts and sweet corn as toppings.
Nutrition
Here's the health information for a bowl of Shoyu ramen:
Total Calories: 596
Fat: 16 grams
Carbohydrate: 69 grams
Protein: 53 grams
Most of the calories in this dish come from the chashu pork, the chilli oil, and the ramen noodles themselves. Miso paste is surprisingly low in calories and healthy too. Plus, it's a pretty strong flavor so you don't need too much of it either.
What Makes it Great
Miso ramen is one of the top Asian comfort foods because of its hearty, salty nature, as well as the kotteri (thick-style) broth. It was made within the colder region of Japan but that doesn't stop us from having it at any time of the day!
Unlike the thinner assari (thin-style) broth of Shio or Shoyu ramen, miso broth feels more like a soup. It also lets the noodle retain its chewy texture for longer and doesn't turn it mushy as quickly as thinner broths do. Plus, miso is an amazing flavor base overall, with several variations for you to choose from.
The toppings are the icing on the (noodle) cake! We suggest using thinly sliced vegetables as a topping. They'll feel more like a natural part of the broth and will absorb the salty flavor better.
In terms of meat topping, you have plenty of choices. Aside from the basic chashu pork, you can have kakuni which is a simmered pork belly made with the traditional red cooking method, or even chunks of steamed chicken.
All in all, Miso ramen is a dish you can trust to warm you up (and fill you up!) every time you have it.
The Verdict
Once again, both miso and tonkotsu are extremely important to ramen culture and indeed Asian food.
However, if we were to pick one, KLee loves tonkotsu ramen while KChan is a fan of the Miso flavor.
The thicker, creamy consistency of the tonkotsu broth really appeals to KLee's taste, while KChan likes the flavor diversity that comes with the various miso paste varieties.
That said, again, we could slurp down a bowl of each, any day!