When it comes to Asian TikTok food trends, the internet can't seem to get enough of them. Some seem like perfect pairings of things we already love (lookin' at you, birria ramen), while others sound so simple we're surprised we didn't add it to our lunch rotation a long time ago (salmon rice, for instance). Ahead, we've rounded up the top 10 Asian TikTok food trends that we've discovered recently and that we can't wait to try.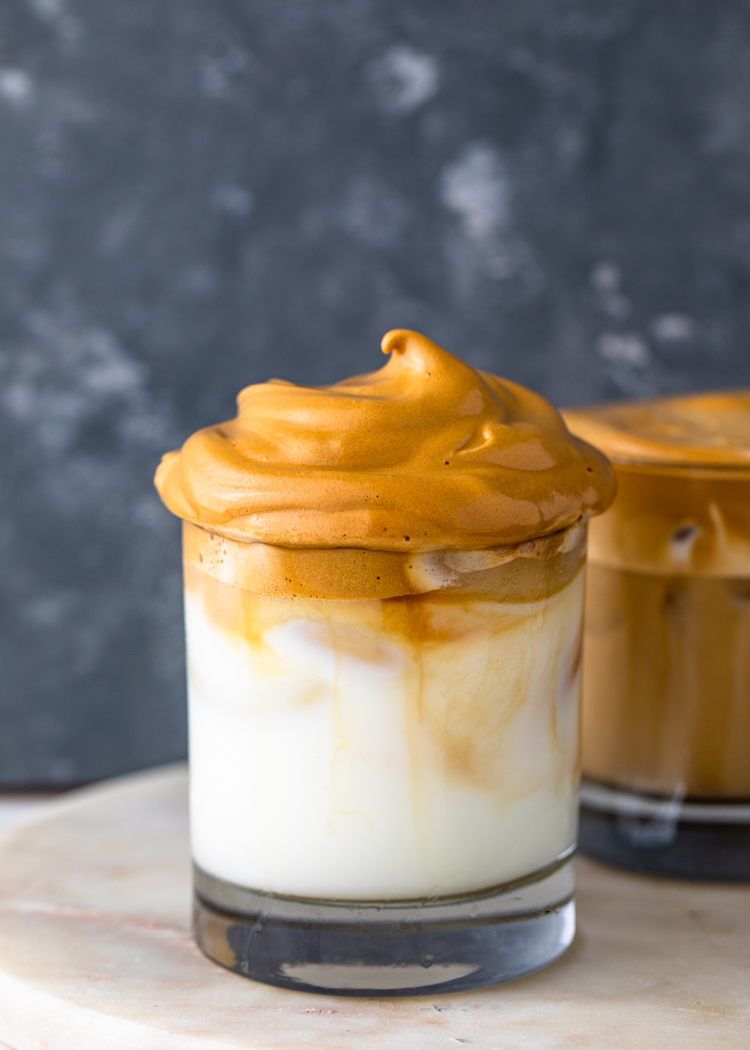 Dalgona Whipped Coffee
This whipped take on coffee gets its name from Dalgona, a Korean toffee made with melted sugar and baking soda. You might also be familiar with it from watching Squid Game, where contestants were tasked with carefully cutting out a shape from a slab of dalgona. Thankfully, making the coffee itself is much less tedious, and requires just five ingredients: instant coffee, white sugar, milk, whole cream, and hot water. You can create the coffee's iconic fluff by mixing just instant coffee, sugar, and hot water with a whisk or hand mixer until you get stiff peaks. Add the whipped coffee cream to a glass of milk, and you're ready to enjoy your Dalgona whipped coffee.
Try it yourself: Dalgona Whipped Coffee TikTok Recipe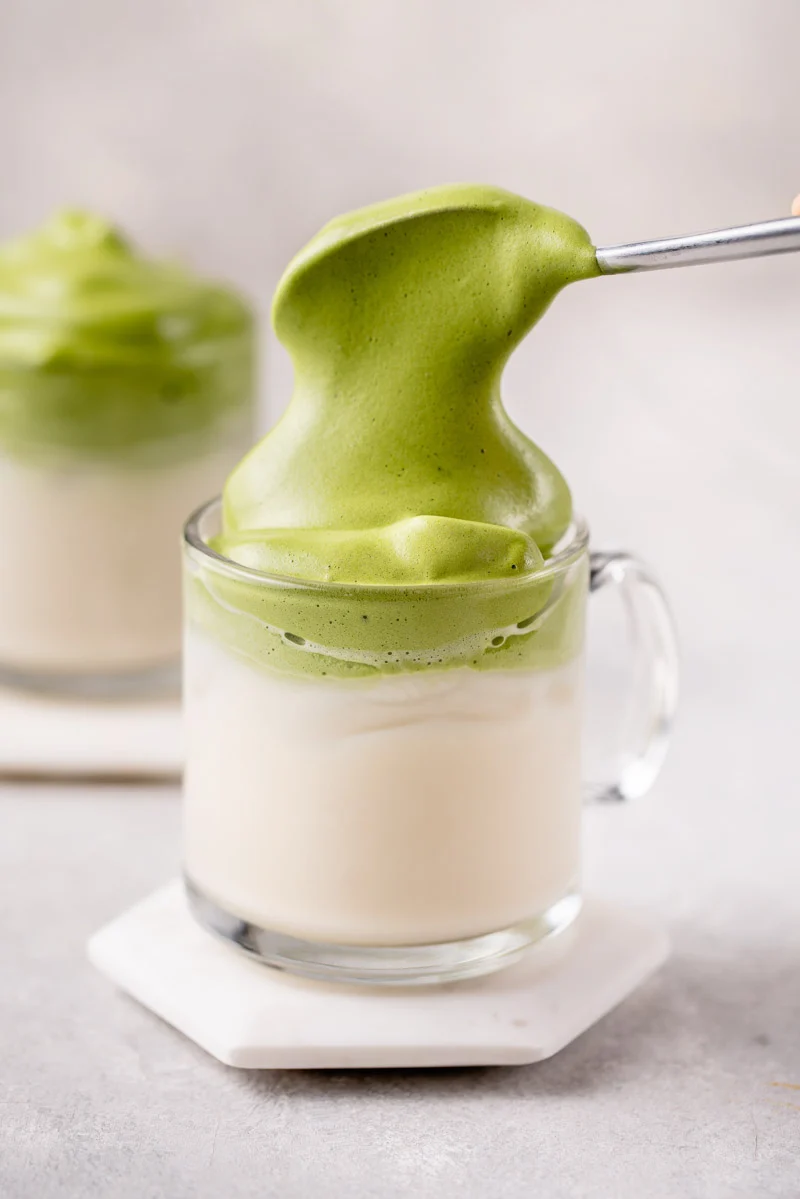 Dalgona Matcha
If it works for coffee, why not try it with matcha? This recipe marries two "trends": people's renewed love for matcha and a well-known coffee trend. As we all know, matcha is a nutty, slightly earthy and bitter green tea powder that's high in caffeine and pairs beautifully with any creamy milk. By whipping it into a fluffy cream, matcha turns into an even milder version of itself and makes for a visually stunning beverage.
Try it yourself: Dalgona Matcha TikTok Recipe
Feeling a sudden pang of hunger? Immi noodles can take care of that!
Variety Pack
Variety is the spice of life. Get all three flavors including Spicy Beef, Black Garlic Chicken, and Tom Yum Shrimp. You'll be covered for all occasions.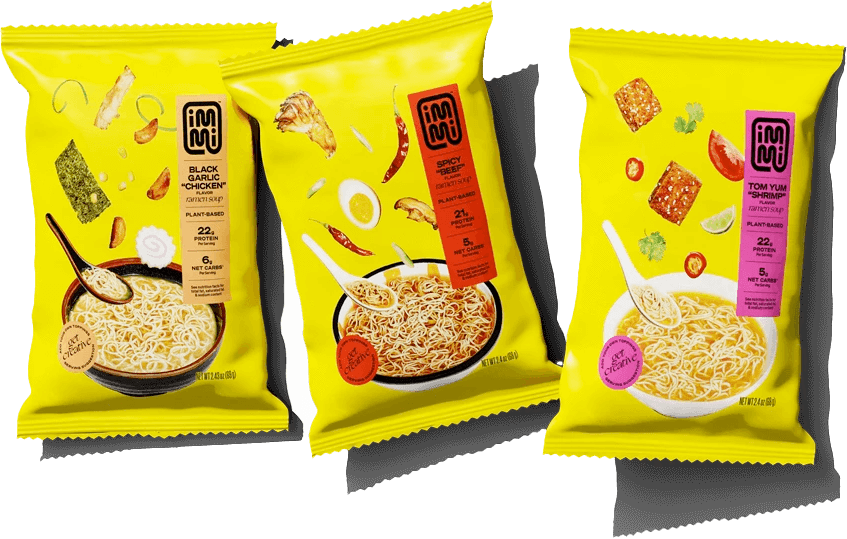 Slurp Now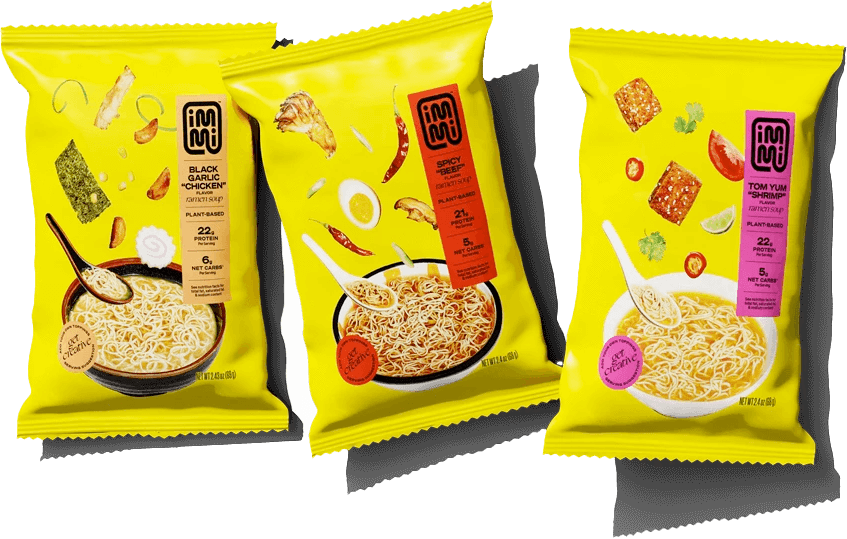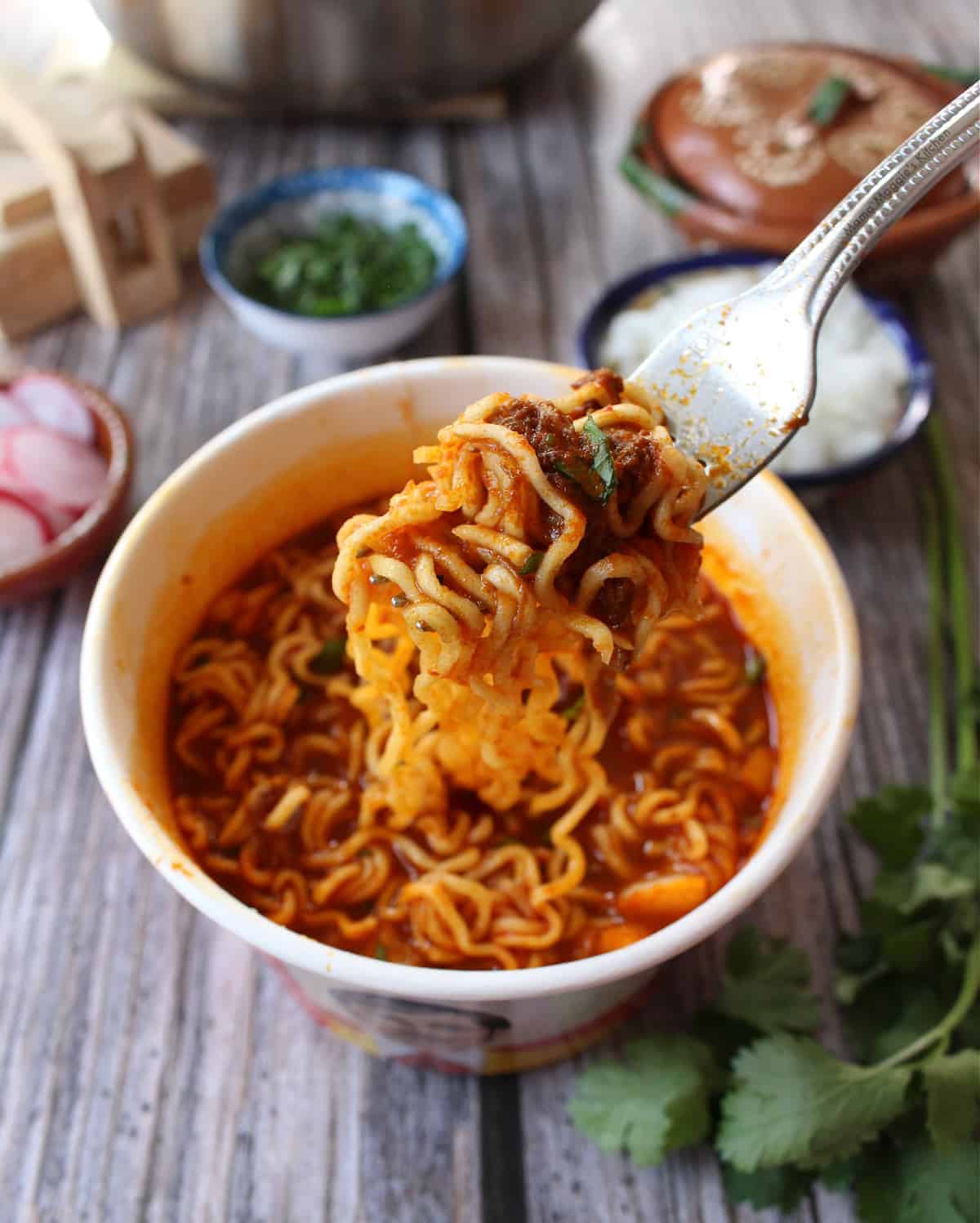 Birria Ramen
I love this recipe because it illustrates just how well Mexican and East Asian food can combine. Birria is a traditional Mexican spicy stew, made by slow-cooking goat meat along with various spices and herbs, including ancho chilies, cinnamon, oregano, and cumin. The result is a thick, red stew filled with chili seeds and loads of layers of spicy, savory, fragrant taste. I'm hungry just looking at its deep red color. All to say, birria by itself will always hit the spot — but add ramen noodles to it? It's absolute perfection.
Try it yourself: Birria Ramen TikTok Recipe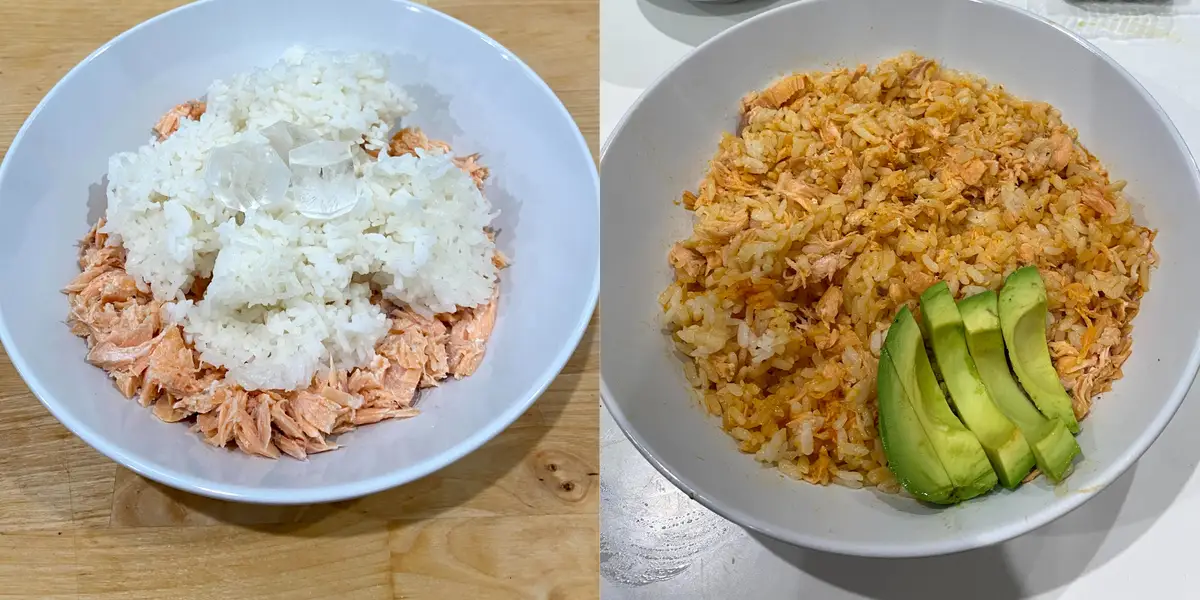 Emily Mariko's Salmon Rice
Look, combining salmon and rice is nothing new. But discovering that adding just a few ingredients will elevate it to new, mouth-watering levels? That's probably what catapulted this recipe into such hyped-up levels. To put together your own salmon rice, you just need a salmon filet and leftover white rice as a base, then some soy sauce, sriracha, kewpie mayo, and half an avocado to garnish. If you want to follow the recipe down to a T, do like Emily does and microwave your leftover rice by placing an ice cube and a piece of parchment paper over your rice bowl so the rice steams and doesn't dry out in the microwave. If you want, you can even use seaweed to wrap your rice.
Try it yourself: Emily Mariko's Salmon Rice TikTok Recipe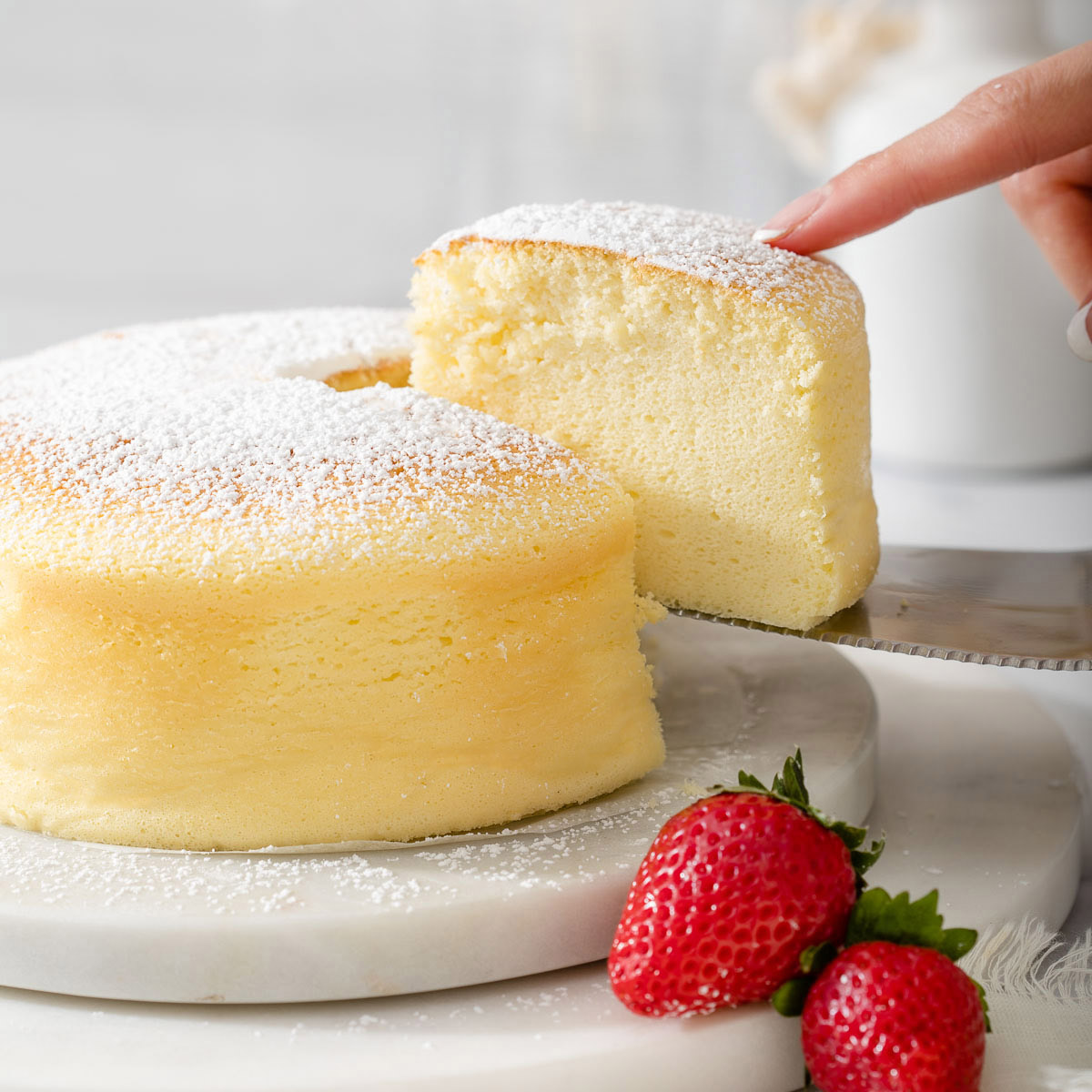 Jiggly Japanese Cheesecake
This Japanese version of cheesecake is another recipe that's received renewed attention via TikTok. It's a tall, fluffy, and most importantly, jiggly, version of cheesecake that's surprisingly easy to make so long as you have a hand mixer (seriously, don't attempt this by hand). To achieve this cake's well-known jiggle, you'll have to make sure that the egg whites are beat into stiff peaks, then folded gently into the rest of the mix before being baked.
Try it yourself: Jiggly Japanese Cheesecake TikTok Recipe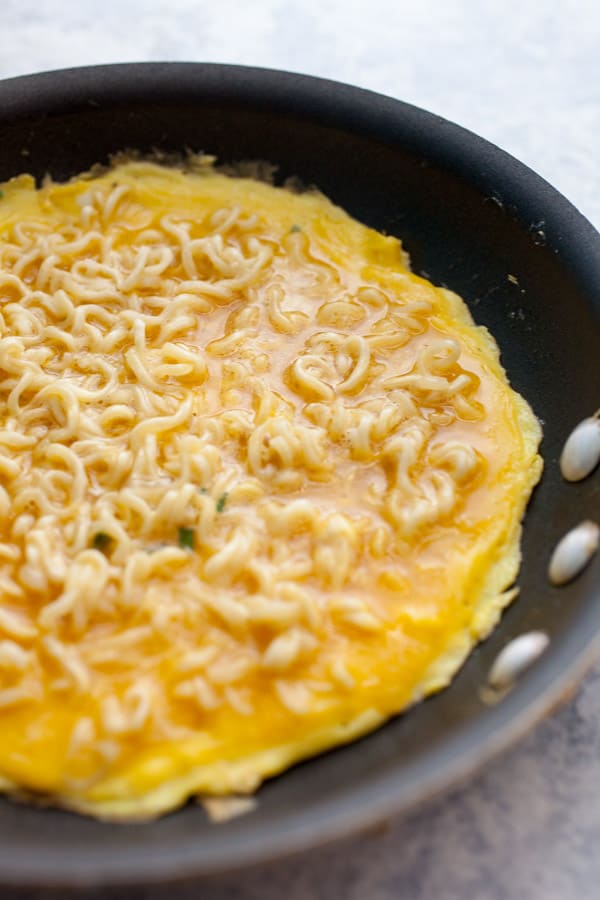 Noodle Omelet
In the same way that eggs are great for any meal — breakfast, lunch, or dinner — this noodle omelet can similarly be readily enjoyed any time of day. And just like all the other viral TikTok trends out there, this one also takes a beloved food (ramen) and adds one other basic ingredient (eggs) to it to transform it into a new dish: A noodle omelet! We even tried it with immi noodles and the results are in: It's perfect!
Try it yourself: Noodle Omelet Tik Tok Recipe
Try your hand at a noodle omelet using immi noodles!
Variety Pack
Variety is the spice of life. Get all three flavors including Spicy Beef, Black Garlic Chicken, and Tom Yum Shrimp. You'll be covered for all occasions.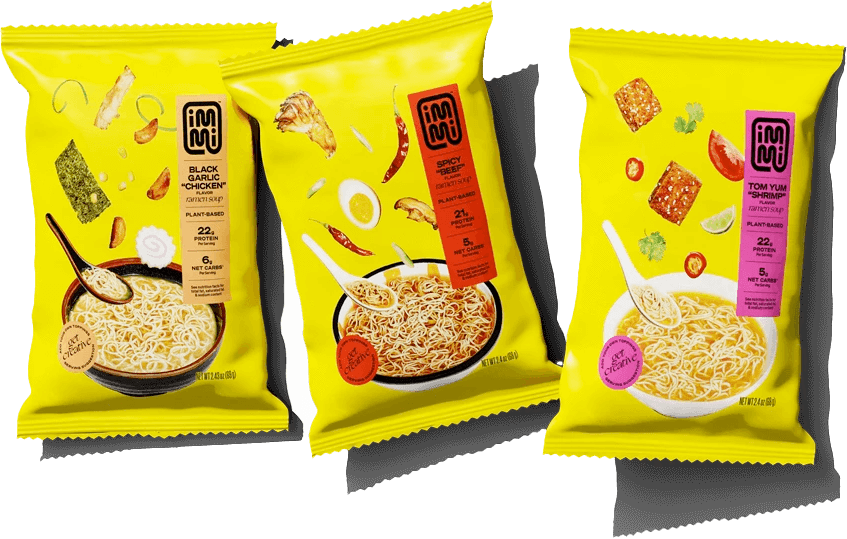 Slurp Now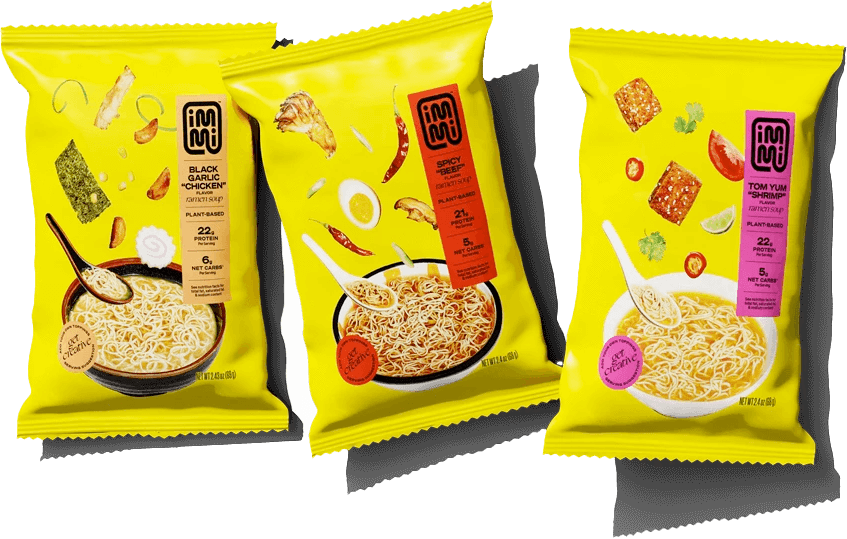 Meal-prepped Tiffins
A tiffin is a classic Indian lunch box that's stacked and insulated. It's practical, but also the inspiring factor for @RootedinSpice, who takes this nostalgic receptacle to create various recipes that are easy to prepare and that maintain their flavor well over time. For the creator Chaheti, these recipes include Tajin Makhane, overnight oats, and Paneer Bhurji, which she uses in a wrap. I especially love these recipes because she calls out the uncomfortable memories she has of showing up to grade school with such "smelly" immigrant foods that her classmates made fun of. I can't think of a better way to prove those haters wrong than by reaching virality and growing your business with those very foods.
Try it yourself: Meal-prepped Tiffins TikTok Recipe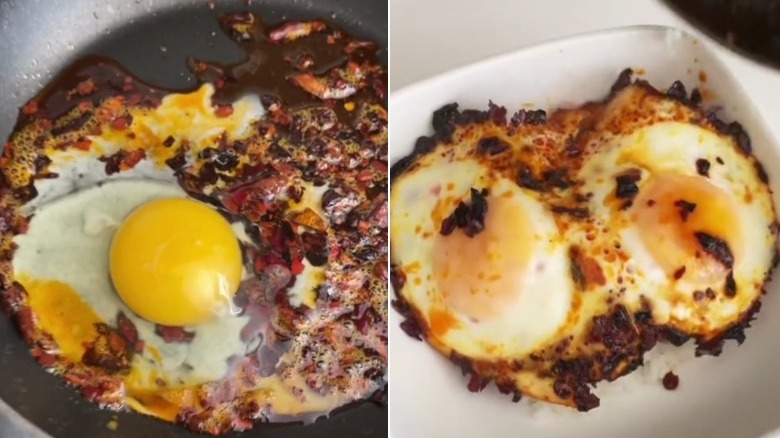 Chili Oil Eggs
I love breakfast food and this TikTok trend is just more proof that it really is the best meal of the day. Based on the equally popular recipe for pesto eggs in which eggs are cooked in a pan with pesto as a frying oil, this chili oil eggs recipe is for everyone who puts Lao Gan Ma Spicy Chili Crisp on everything. To make it, simply place a serving of chili crisp on a hot pan, then crack two eggs on top. Cover your pan with a lid to make sure the whites are cooked through. Then, for even more crispiness, top the eggs with some more chili oil. Serve on a piece of crusty bread, a bed of rice, or enjoy on its own.
Try it yourself: Chili Oil Eggs TikTok Recipe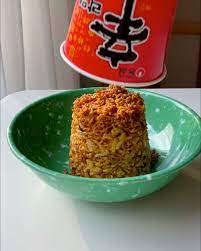 Cup Noodle Fried Rice
Noodles are more versatile than you think. If you've tried immi noodles, you probably already know that. But have you also tried the recipe for cup noodle fried rice? By crushing up the ramen noodles into tiny bite size ringlets and combining them with rice and egg, the recipe transforms a soupy dish into a full-on rice meal. It goes great with spam, cut-up sausage, or just by itself. Check out how we make fried rice with immi noodles on our TikTok page.
Try it yourself: Cup Noodle Fried Rice TikTok Recipe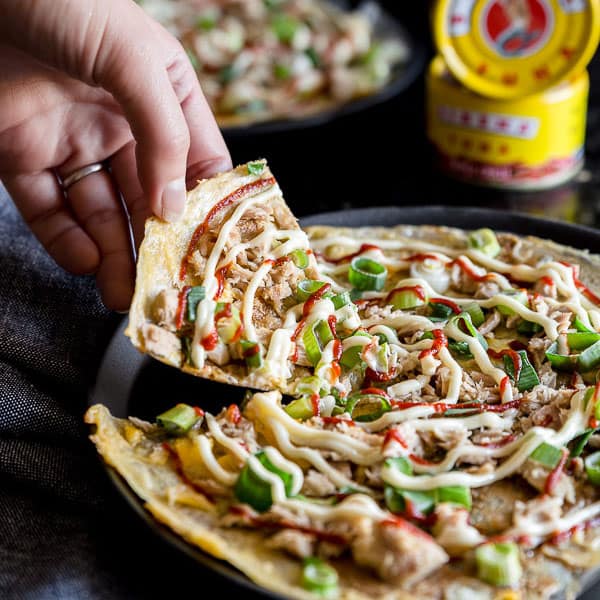 Vietnamese Pizza (bánh tráng nướng)
What is pizza if not a flat, load-bearing carb vehicle, topped with tasty ingredients? That's exactly what bánh tráng nướng is, and it's actually enjoyed popularity as a Vietnamese street food for a long time. In this TikTok video, creator @Jasmineandtea shows us an easy way to make this popular dish that starts with rice paper and is finished with eggs, meat, veggies, and cheese. Yum, yum, yum, yum!
Try it yourself: Vietnamese Pizza TikTok Recipe