Thai cuisine is extremely diverse and varied, even among all unique Asian cuisines. With plenty of signature ingredients, dishes, and snacks to sate even the biggest of foodies, Thai food never disappoints in terms of color, aroma, and flavor.
KChan grew up spending time in Thailand helping his grandmother with her egg noodle hawker stall. After a day of work, he'd get to explore the markets and enjoy Thai dishes from different Thailand regions. In this article, he takes you on a mini food tour around Thailand to share signature dishes he remembers from each region.
Gaeng Tai Pla: Southern Thailand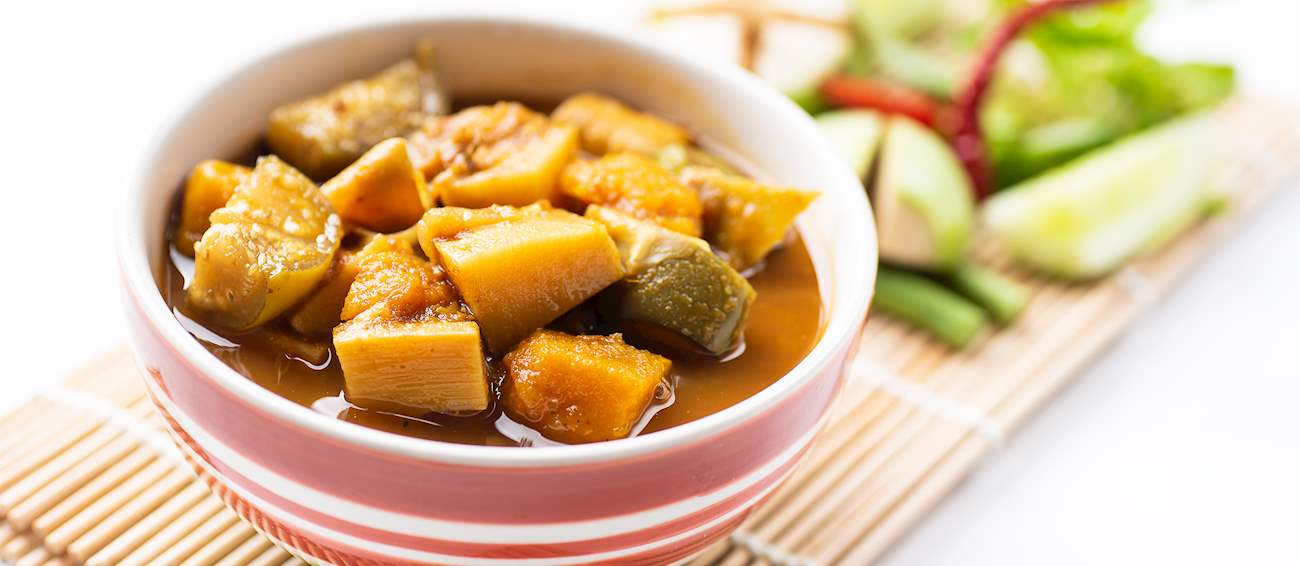 The food in this region shares several ingredient similarities with the food of the Indian subcontinent.
This is because Muslims from that region gradually migrated there over the course of two millennia, bringing their cuisine with them.
Gaeng Tai Pla is known best by people from the fishing communities of Southern Thailand. Instead of tossing out traditionally unused parts of the fish like guts or bladder, they wanted to make the most of their resources.
The locals created a pickling process with the fish bladder (Tai Pla) and used it to make soup with a chili curry paste including some local spices and some dried fish chunks.
A few vegetables are added to the stew apart from fermented fish entrails. Some chunks of carrots and long beans are also added.
Gaeng Tai Pla is mostly served with steamed rice or southern-style vermicelli. They can also be served with rice noodles which most people prefer.
For a super-delicious and healthy Tai Pla, you can substitute the rice noodles with immi ramen for a low-carb alternative.
Below we're going to speak about the ingredients and how to make Gaeng Tai Pla.
For those on a low-carb diet, you can substitute the rice noodles with delicious immi ramen.
Below we're going to speak about the ingredients and how to make Gaeng Tai Pla:
Ingredients:
Tai Pla (fermented fish entrails and organs)
Pumpkin, cut into bite-size pieces
Winged beans, cut into bite-size pieces
Long beans, cut into bite-size pieces
Bamboo shoot, cut into bite-size pieces
Kaffir lime leaves
Thai mackerel meat
Water
Sugar
Ingredients for curry paste:
Dried chilies
Galangal (thinly sliced)
Sliced lemongrass (tender portions)
Garlic cloves
Black pepper
Turmeric (2-inches long)
Kaffir lime zest
Shrimp paste
Thai mackerels
Instructions:
Blend all the spices thoroughly.
Add the shrimp paste and mackerel meat and pound until well blended.
Heat the water to a boil with high heat, then add Tai Pla.
Wait until it boils and skim the air bubbles off.
Add the spices, and stir for a few minutes.
When the liquid returns to a boil again, add the bamboo shoots, pumpkin, and mackerel meat.
Wait for a few minutes and add the winged beans and long beans.
Season with sugar and the kaffir lime leaves. Remove from the heat and serve.
PRO TIP: You can substitute mackerel with any other oily fish such as sardines or even non-seasoned anchovies.
Pad Thai: Central Thailand (Bangkok)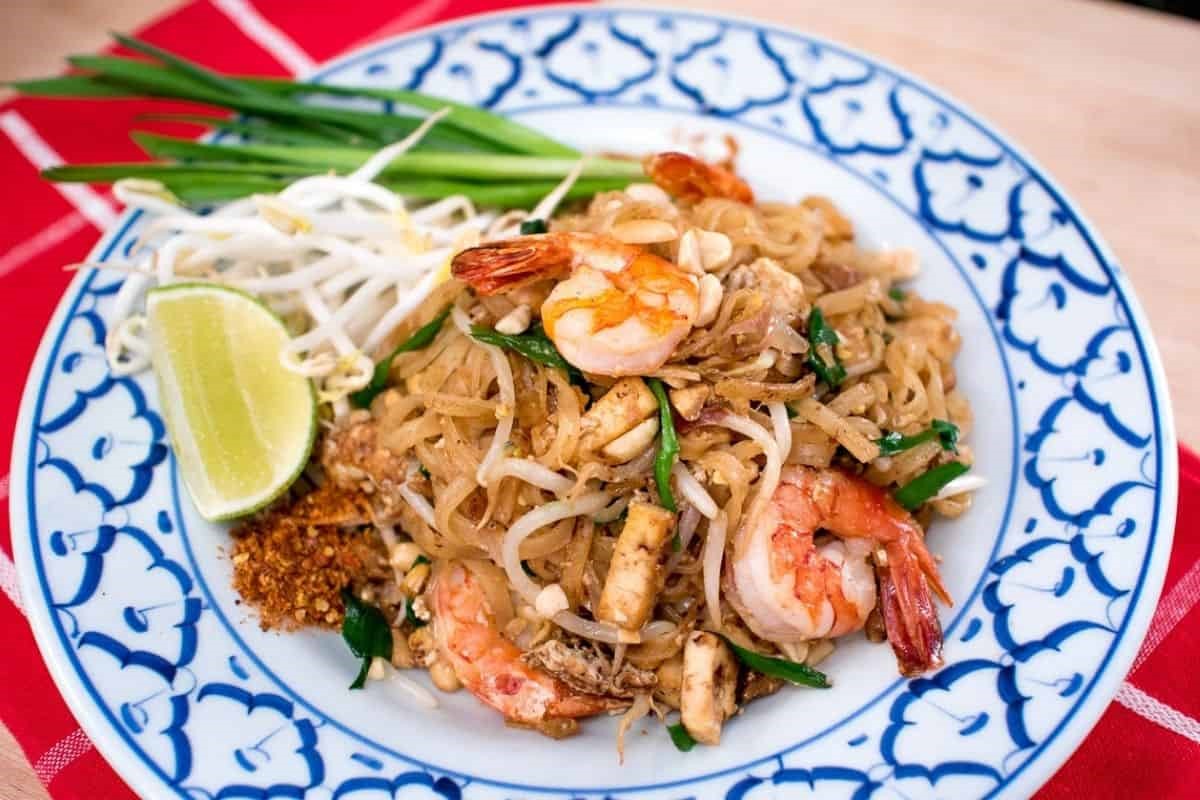 Central Thailand is a mix of all the regions. It allows people to taste and appreciate the cuisines from every part of Thailand.
There are some very famous curries that are made in this particular region — often eaten with jasmine rice.
Pad Thai is the region's most well-known dish throughout the world. The Southwestern Chinese brought the Pad Thai (rice noodles) into the region.
This dish consists of Chinese style stir-fried rice noodles and has a bold savory flavor with a hint of sharp sweetness to it.
The main basic foundation of this dish is condiments, noodles, protein, and veggies.
Ingredients:
Kosher salt
wide rice noodles
lime juice
brown sugar
fish sauce
low-sodium soy sauce
cayenne pepper
vegetable oil
bell pepper, thinly sliced
cloves garlic, minced
eggs, lightly whisked
shrimp, peeled and deveined
freshly ground black pepper
green onions, thinly sliced
roasted peanuts, chopped
Instructions:
Cook noodles in a large pot of salted boiling water. Drain when done.
In a small bowl, whisk together lime juice, brown sugar, fish sauce, soy sauce, and cayenne pepper (Set aside).
Heat some oil In a large nonstick pan over medium-high heat, add bell pepper and cook until tender (about 4 minutes).
Stir in garlic and cook until fragrant (about 1 more minute).
Add the shrimp and season with salt and pepper. Cook until it changes color (about 2 minutes per side).
Push the shrimp and vegetables to one side of the pan and pour in the egg. Scramble until just set. Then mix with the shrimp mixture.
Add the cooked noodles and toss until combined.
Pour in the lime juice mixture and toss until the noodles are completely coated.
Garnish it with green onions and roasted peanuts before serving.
This dish is best served with soaked dried rice noodles. If you're limiting carbs from your diet, you can switch out the rice noodles for delicious immi ramen.
Pork Larb: Northeastern Thailand (Isan Region)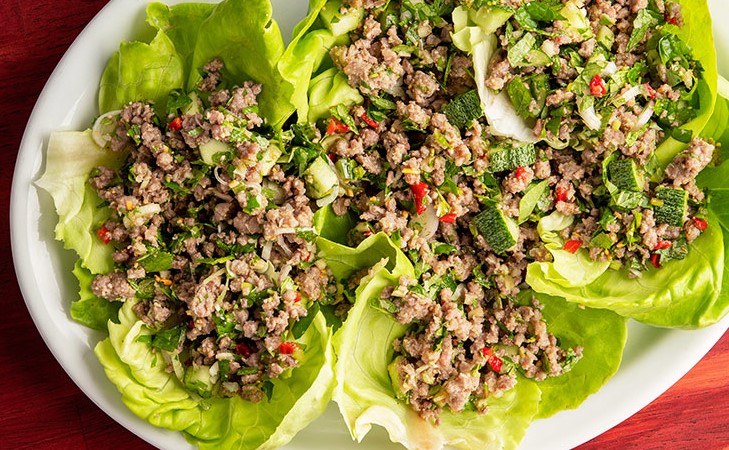 Isan cuisine consists of more pickled and cured foods, including vegetables and herbs. Rice or other crops don't grow much in this region. This is because the Northeast or Isaan region of Thailand has a very wide plateau.
Raw vegetables are usually served with fresh and spicy dips. The region's food is quite spicy and flavored with pungent herbs and seasoning.
Larb is a famous salad served with pork. It's basically a spicy meat salad with a combination of several bold flavors.
Larb requires almost little to no cooking and can be whipped up very quickly.
The pork is cooked with numerous spices and ingredients to improve the flavor profile.
The main ingredient would be Khao Kua (toasted sticky rice), which gives the Thai larb a crunchy texture.
Ingredients for Pork Larb:
Minced pork (You can substitute with chicken, turkey, or tofu)
Coriander including stalks (roughly chopped)
Sprigs Mint Leaves
Thai red (chopped into small slivers)
Large spring onions finely sliced
Dried red chili
Fish sauce
Sugar
Limes (juiced)
Toasted glutinous rice
How to Make Pork Larb:
Cook the pork – crumble with your fingers into a pan set over medium heat.
Stir as it begins to cook, further breaking it up with your spoon. Eventually, the meat will turn opaque and juices will begin to be produced.
As soon as you can see no more uncooked meat, turn off the heat. You should be left with some of the juices.
If you are using the toasted glutinous rice, you can stir directly into the pan at this point.
Stir in the prepared onion, spring onion, coriander, and mint.
Make the dressing by adding the dried chili, fish sauce, sugar, and lime juice. Mix it straight into the salad rather than a separate bowl.
Start by adding half of each ingredient and tasting. You can then gradually work your way up to the full amounts (or more if you desire).
The final salad should be predominantly sour and spicy, with decent sweetness and saltiness to round it off.
Serve whilst still lukewarm with plain white rice, or even better, Thai sticky rice.
Larb is mostly eaten with a ball of fresh sticky rice to give the dish some more body and to balance out the spice.
Gaeng Hung Lay: Northern Thailand (Lanna Region)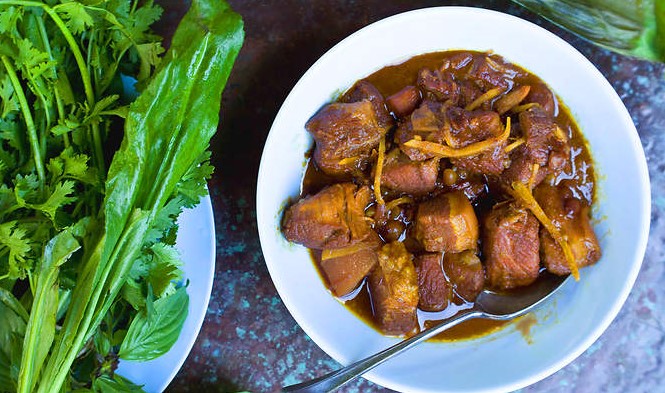 Northern Thai cuisine has lots of pork and meat dishes. This is due to the more temperate and cooler climate.
Food in the Lanna region is comparatively less spicy or sweet in flavor and there is a mix of Indian influence in their curry powders, like garam masala.
Gaeng Hanglah is known for the traditional Thai sweet coconut curry, along with a mildly spicy sweet and sour flavor.
This dish also takes a longer time to prepare, as you have to cook the stew and curry paste separately. But this dish will lure you in after your taste buds get the first mouthful.
It's a mix of curry and stew that's made with the more fatty cuts of pork, such as pork belly.
If you like thick curries, you will definitely enjoy this one.
Ingredients for Gaeng Hung Lay
Pork meat, shoulder or collar
Pork belly, sliced bacon
Pineapple, roughly chopped
Dark soy sauce
Shallots, peeled and cut into halves
Ginger, peeled and cut into julienne
Pickled garlic
Pickled garlic brine
Unsalted roasted shelled peanuts
Ingredients for Hung Lay Curry Paste
Hanglay spice mix or curry powder
Tamarind paste
Fish sauce
Palm sugar
Water
Neutral tasting cooking oil
Hang Lay Curry Paste Ingredients
Dried red long chili
Sea salt
Lemongrass, finely chopped
Galangal – finely chopped
Shallots – finely chopped
Chinese garlic – finely chopped
Fresh turmeric – finely chopped
Gabpi fermented shrimp paste
Hanglay spice mix or curry powder
Instructions
For the Curry Paste
Clean, peel, chop, and prepare all the ingredients for the curry paste.
Soak the chilies in water until soft.
In a mortar and pestle, start pounding the chilies with salt as an abrasive.
Add lemongrass and pound it finely.
Add galangal and pound it finely.
Add shallots, garlic, and fresh turmeric, and pound everything into a fine paste.
Add hang lay masala spice mix.
Add Gabpi and mix well. Set aside.
For the curry
In a mixing bowl mix, add the two kinds of pork cut cubes with the pineapple and all the amount of curry paste.
Add thick dark soy sauce and mix well.
Leave the pork mixture to marinate for at least 1 hour.
Heat oil in a pan.
Fry the pork mixture on low heat until the fat renders out.
Add shallots and ginger and mix well.
Add pickled garlic and its brine.
Add roasted peanuts.
Add hang lay masala spice mix.
Mix everything well together
Season with tamarind paste, fish sauce, and palm sugar.
Add water to cover.
Simmer on low heat for about 1 hour until pork is soft and sauce is thick.
This is a great dish for winter or fall dinners. We'd recommend having this with fragrant rice, although it works well enough on its own too.