Ask anybody on a vegan or plant based diet what their favorite easy comfort meal is, chances are, it'll be plant based noodles dishes. If they say something else, they're probably lying!
However, let's say you're not on a plant based diet but love comfort food such as some good old ramen. Well then, here are 5 reasons why you should be eating more plant based noodle dishes right now.
Easy to Digest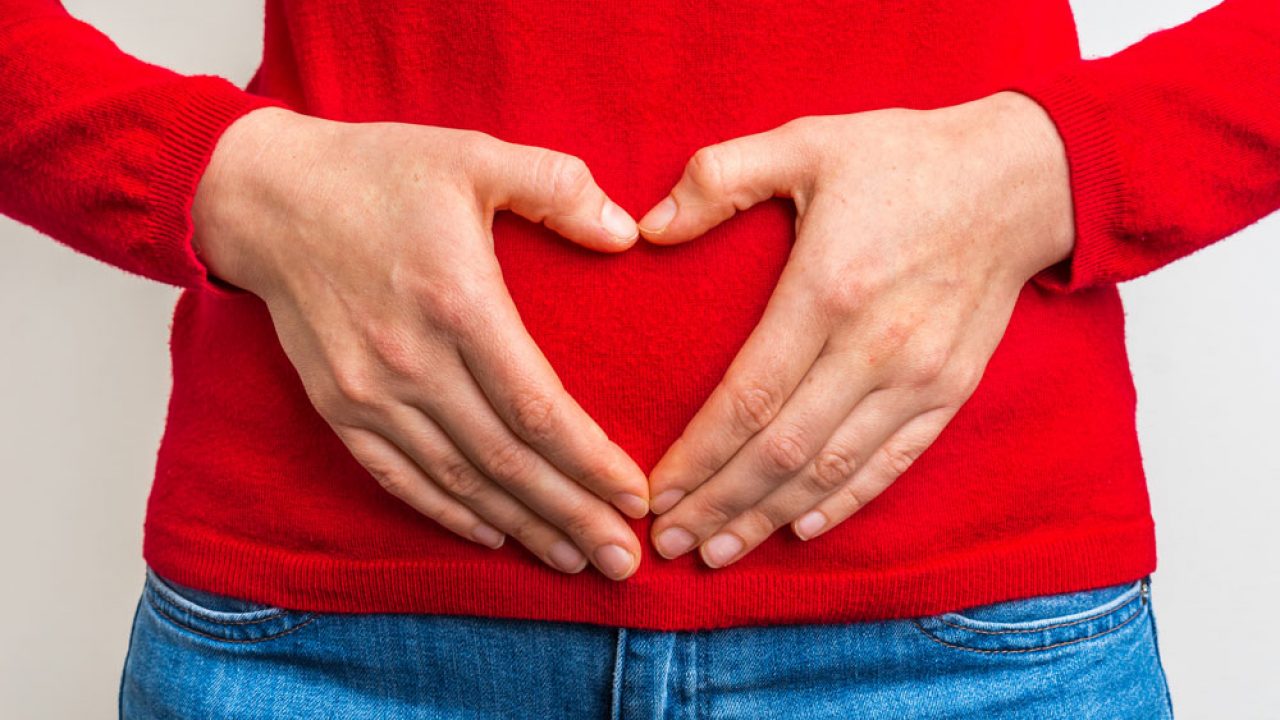 Most plant based foods (including noodles) are super easy for your stomach to break down and process. This is due to an evolutionary process that primed our bodies for less complex, easily available foods that come from plants.
The main source of the digestive effect is all the fiber you get with a primarily plant-based diet. For example, one bowl of 100 percent plant-based immi ramen has up to nine times the fiber of other well-known noodle brands. There are tons of other high-fiber options too, all of which present a massive advantage for anyone concerned about stomach health in particular.
Great OMEGA Ratio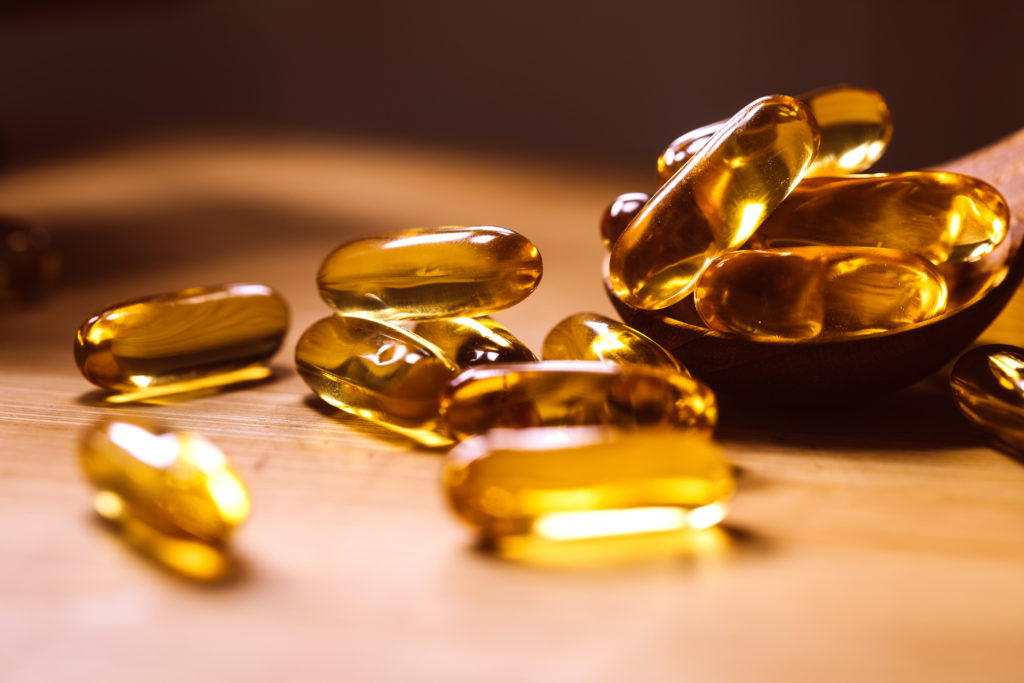 Plant based foods generally have a better Omega 3 profile as compared to food that contains animal-based starches and fats. It's a common misconception that you absolutely need to consume meat to get Omega 3s. A plant-based diet has some convenient solutions for the Omega issue
According to the Cleveland Clinic, both chia seeds and flax are rich in ALA, a fatty acid that our body requires and that we can only get from food. While other foods such as walnuts and pumpkin seeds also have some ALA, chia seeds and flax are ideal ingredients for a diet rich in protein, healthy fats, and the ideal ratio of Omega 3 fatty acids.
Promote Heart Health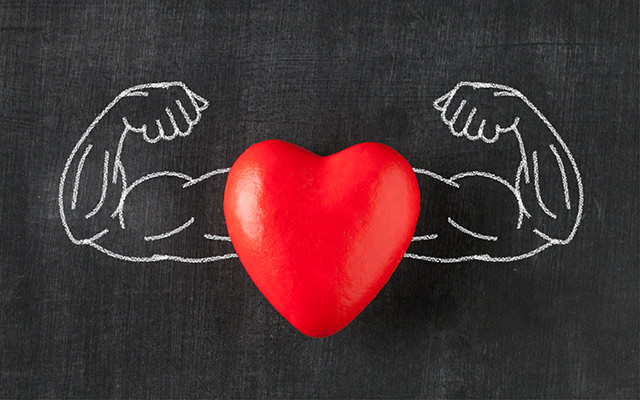 Plant based meals help the body cut down on clogged arteries and other things that are bad for the heart. A plant-based diet that's rich in fiber such as our delicious immi ramen is, can promote overall heart health in the long term.
In fact, according to the Physicians Committee for Responsible Medicine, plant-based diets have been shown to reduce the chances of harmful cardiac events. Additionally, this is with no additional medication, just a lifestyle change with a plant-based diet at the center.
Improve Stomach Health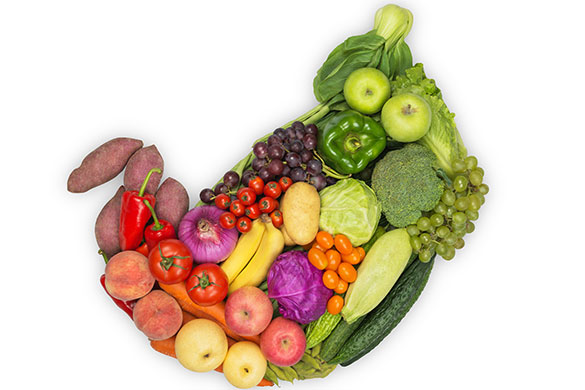 Most plant based noodles are great for the stomach and help regulate good bacteria and enzymes. Stomach bacteria need plenty of diverse food items such as vegetables, legumes, fruit, and whole grains to feed properly and stay within the stomach in a good amount.
Although there is no single diet that's the best for the stomach, a plant-based diet simply contains more of the ingredients needed to keep the stomach in good shape. Fermented beans and vegetables also have prebiotics that improve the environment within the stomach for good bacteria to grow.
Suited to Exercise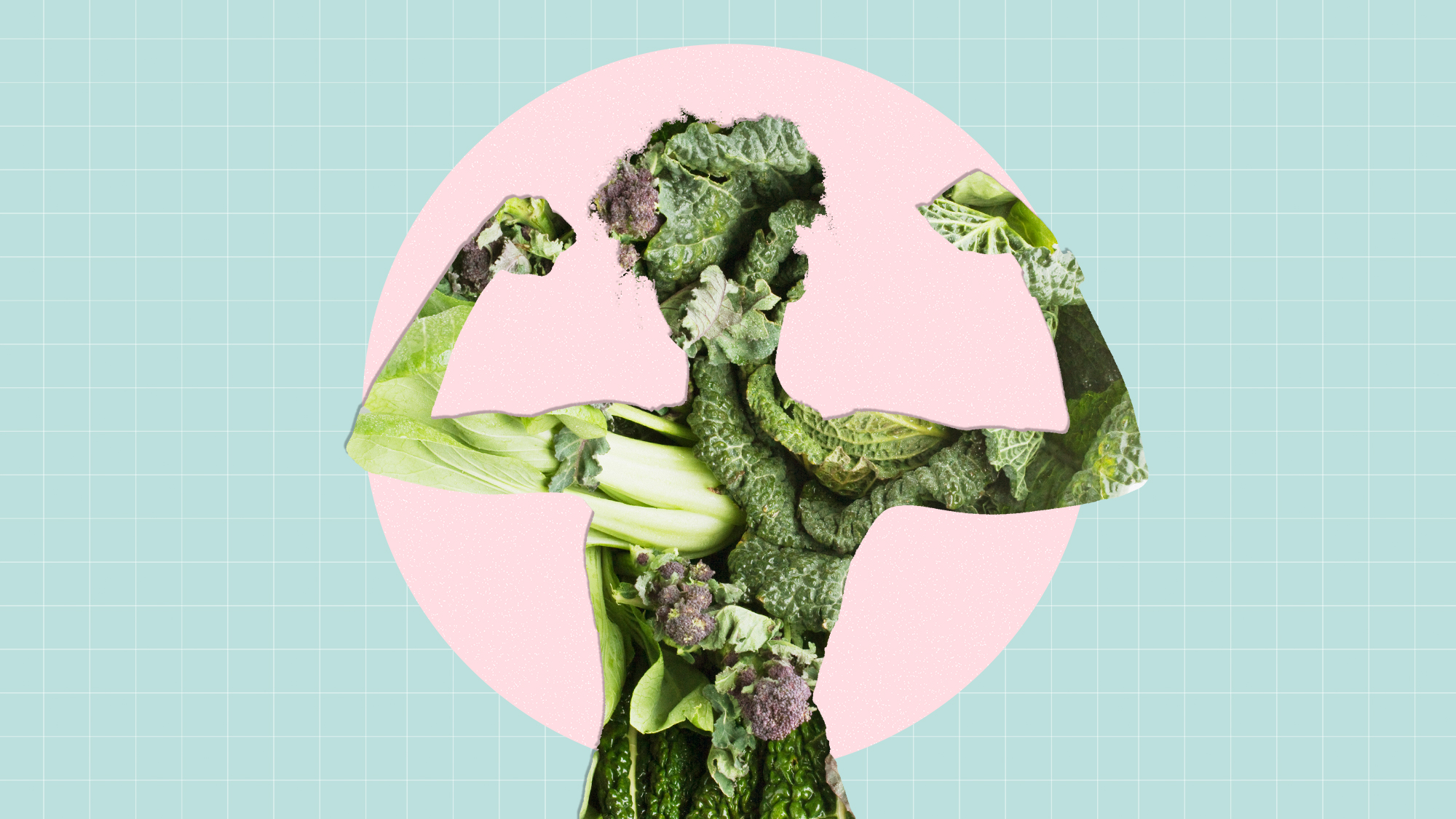 If you're into fitness or exercise daily, plant based noodles and other similar foods are actually better for you due to their lack of inflammation-causing ingredients. The fiber also plays a role in this but plant-based proteins, in general, are beneficial since they're digested with lower insulin response.
Recent research has shown that a plant-based diet that consists of high-protein foods can have better overall effects on stamina and athletic performance. In other words, you can get all the nutrients you need for better workouts without resorting to non-plant nutrient sources. Plus, you get all the benefits of a quicker digesting culinary profile which helps absorb the nutrients better.
5 Delicious Recipes with Plant Based Noodles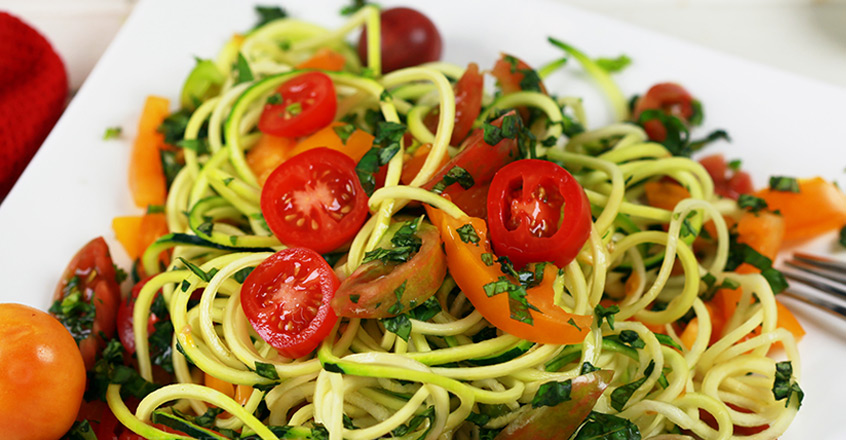 Here are some amazing recipes that you can make with our 100% plant based and vegan friendly immi ramen:
Ramen Rainbow Salad
This colorful salad is as pretty as it is delicious, with all the nutrients you need for two healthy full meals.
Try all of these delicious plant-based noodle recipes with our immi Variety Pack!
Variety Pack
Variety is the spice of life. Get all three flavors including Spicy Beef, Black Garlic Chicken, and Tom Yum Shrimp. You'll be covered for all occasions.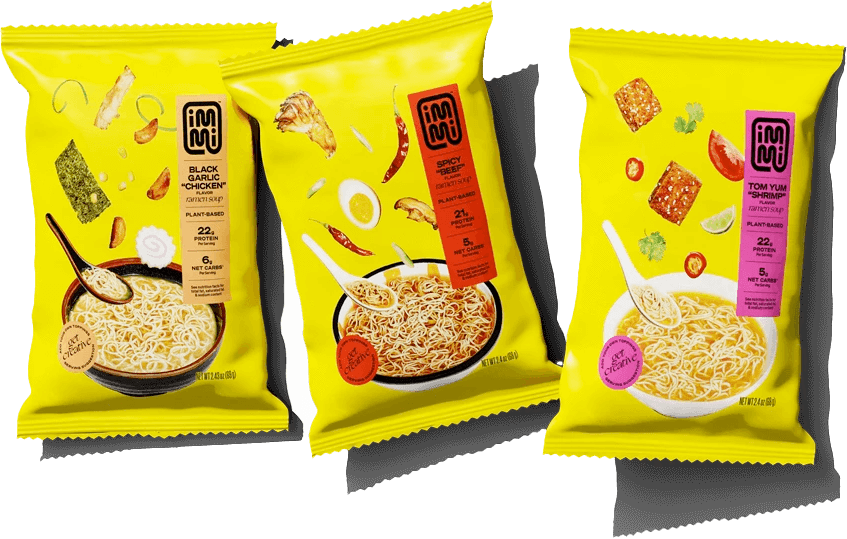 Slurp Now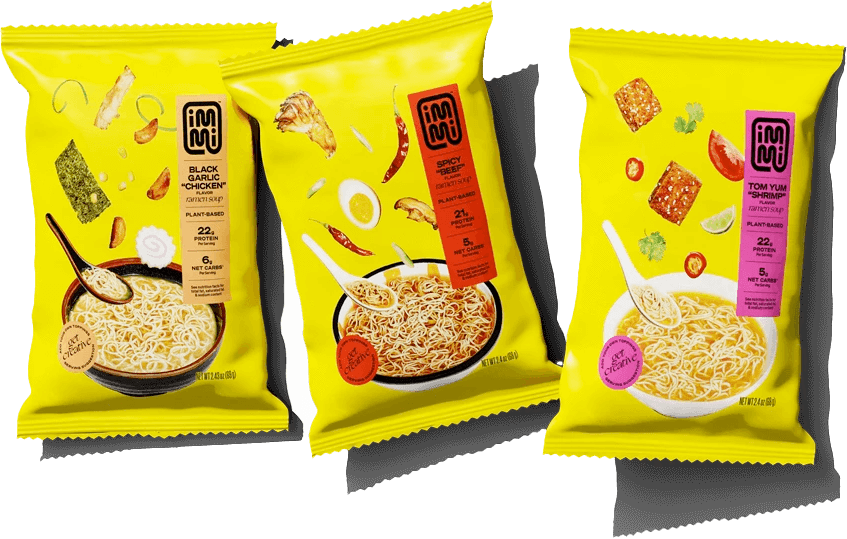 Ingredients
Any flavor of immi ramen: 1 pack
Bell Peppers: One each of red and yellow
Purple Cabbage: ½ cup
Romaine Lettuce: ½ cup
Cherry Tomato: 6-8 pieces, quartered
Worcestershire Sauce: 1 tbsp
Coarse Spicy Mustard: 1 tbsp
Lime Juice: 3 tbsp
Salt and Pepper: To taste
Instructions
Thinly slice the peppers, cabbage, and lettuce
Toss them along with the tomatoes in the liquid ingredients
Prepare the noodles in half the recommended water amount (to make drier noodles)
Once the noodles the done, let them cool
Mix all the ingredients together, tossing well before serving
Tempeh' Garlic Ramen
This healthy and filling ramen meal has tempeh, which is the perfect meat replacement.
Ingredients
Tempeh: 8 oz, cut into bite-sized pieces
Black Garlic 'Chicken' flavored immi ramen: One pack
Garlic: 4 cloves, finely chopped
Vegetable or Mushroom Stock: 1 cup
Crispy Onions: 2 tbsp (pre-fried)
Instructions
Cook the noodles according to package ingredients
Add the stock to the noodles halfway through cooking
In a separate pan, lightly fry the garlic in a tablespoon of olive oil until fragrant, and set aside
Add the tempeh to the noodles broth right before getting ready to serve and mix it in well
Put the fried garlic in the serving bowl first and top with the ramen
Sprinkle the fried onions on top right before serving
Veggie Noodle Burger
Veggie burgers are not a new thing. However, a veggie burger with a plant-based noodle element is sure to taste great and provide a healthy kick along with it.
Ingredients
Spicy 'Beef' Flavored immi ramen: 1 pack
Chanterelle Mushrooms: 4 oz, finely chopped
Garlic Cloves: 2, medium
Cauliflower Florets: ½ cup
Walnuts: 1 tbsp, finely chopped
Mixed Herbs (Italian or Mediterranean): 1 tsp
Smoked Paprika: ½ tsp
Garlic Powder: ½ tsp
Instructions
Pulse the mushrooms, cauliflower, walnuts, and garlic until they are a coarse grainy texture, almost like rice
Bake the veggie mix in an oven at 400 degrees until they release their moisture and it evaporates
Cook the noodles according to package instructions
Take the noodles out of the soup and reduce it to a thick sauce
Roughly chop the noodles into half-inch strands
Mix all the ingredients together in a bowl and form into burger patties
Store in a refrigerator until needed
Vegan Miso Ramen
Miso ramen is an easy recipe to make with all plant-based ingredients. Simply swap out the egg and other meat-based stock ingredients for a 100 percent vegan bowl.
Ingredients
Black Garlic 'Chicken' Flavored immi ramen: 1 pack
Tofu or Tempeh: 1 cup
Miso Paste: 1 tbsp
Doubanjiang: 1 tbsp
Grated Ginger: ½ tsp
Toasted Sesame Seeds: 1 tbsp
Toasted Sesame Oil: 1 tbsp
Sake: 1 tbsp
Sugar: 1 tbsp
Shallot: 1, medium
Nori Seaweed: 1 sheet
Spring Onion: 1 tbsp, for garnishing
Instructions
Mince the garlic and shallots finely and grind the sesame seeds
Fry the minced garlic, shallot, and ginger in the sesame oil until fragrant
Add the tofu and fry until it develops a crust
Add the miso and doubanjiang and quickly blend with the other ingredients before they burn
Add the sugar and ground sesame seeds, and mix well
Add the chicken stock and sake, and bring to a boil
Cover and keep simmering lightly until the noodles are cooked
Cook the noodles three quarters of the way through with half the water as mentioned on the pack
Transfer the noodles to a bowl and pour in the soup
Top with the green onion or any of your favorite vegetable and herb toppings before serving
No-Meat Mi Goreng
Mi Goreng is a hearty and spicy dish that's super easy to make with just plant-based ingredients.
We actually have an awesome stir fried mi goreng ramen recipe that you can use for your vegan version. Simply swap out the chicken for tempeh, the shrimp for tofu cubes, and the eggs for sauteed mushrooms, and you're good to go!