"So did you two work in kitchens as cooks?"

"Have you two been to culinary school?"

"Did you grow up making noodles with your families?"

"How are you going to make instant ramen? You know nothing about this industry." …Thanks mom and dad. We know 🤣.

In the past year and half of building immi, strangers, friends, and family barraged us with these types of questions.
It Always Starts with a Dream
We've grown up eating noodles our entire lives.
As Taiwanese and Thai/Chinese Americans, we've eaten almost every kind of noodle under the sun.
KChan grew up eating at his grandmother's egg noodle hawker stall in Thailand. KLee grew up eating noodle soup for breakfast at his grandparent's rose apple farm in Taiwan.
Instant ramen was the first meal our parents made for us, and the first meal we learned to make ourselves.
Our dream was to re-invent instant ramen to be nutritious and still taste as delicious as we remembered.
Unfortunately, we had no experience making noodles.
This is a story about how two friends with no professional background in the food industry reimagined instant ramen.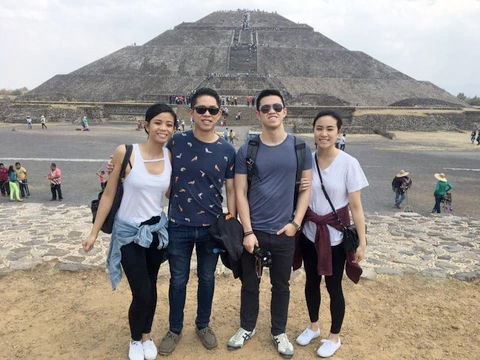 The Story of Instant Ramen
We'd always loved instant ramen and the legendary story behind the meal.
Momofuku Ando saw first hand the food shortage in Japan after World War II.
While taking a walk in postwar Osaka, he saw a crowd of people huddled around a ramen stall.
Despite their terrible situation, these people still came outside to wait in line for a warm bowl of noodles.
For Momofuku, this was a revelation. Noodles would be the universal comfort food that could cure world hunger.
He spent a year working in his backyard shed, and at the humble age of 48, he invented instant ramen.

Momofuku's belief? "Peace will come to the world when all its people have enough to eat."

60 years passed and instant ramen companies today sell over a hundred billion servings per year.

Unfortunately, not much has changed about the industry.

These food conglomerates still sell the same deep fried, high carb, high sodium, and nutrition-less packets of instant ramen.

None have adapted to changing consumer demands and healthier lifestyles.

We want to honor Momofuku's legacy and take it one step further.

Momofuku Ando fed the world. We want to nourish the world and enrich lives through our food.

Starting The Learning Process
To start learning about instant ramen and the food industry, we immersed ourselves in the scene.
We read books about pasta and noodles.
Pored through cookbooks and research papers.
Met with and learned from various food & beverage founders.
Attended every food conference and tradeshow that we could afford.
Tasting some whiskey aged shoyu sauces
Walking through one of these food tradeshows is exhilarating. You learn how the food industry is innovating, where consumer taste and health trends are moving, and get bags full of sample products to try!

After spending a few months immersing ourselves in the food industry, we began to evaluate all the paths to creating a low carb ramen noodle.
The Failed Direction
Years ago, the Japanese introduced a zero calorie, zero carb shirataki noodle to Americans.
Shirataki, which is made from konjac yam root, isn't novel to us.
Japanese people use it as a standard ingredient and we've eaten it many times in soup-based dishes.
Most people have qualms with the shirataki noodle due to several of its unfamiliar attributes.
It has a jellyfish-like texture, transparent appearance (like a Korean glass noodle that you'd find in a stir fried Japchae dish), and fishier odor from a pickling lime solution that it's soaked in.
We were interested in its nutritional profile, and spent several months researching ways to make a "better" version of the shirataki noodle that might improve its attributes.
Every kitchen session felt like a wild science experiment. A shirataki noodle isn't difficult to make but we were adding in various ingredients and compounds to alter the texture and taste.

People often ask, "where did you even get all these ingredients to test with? Did you have access to a science lab or research facility?"
Surprisingly, you can buy most of the ingredients you need off of Amazon. If you're buying some stranger stuff, i.e. food-grade acids, then you will have to go through a stricter account registration process on certain websites.
For the first few months, we mixed, microwaved, boiled, and extruded one too many strange shirataki noodle combinations.

After creating over 50 variations of the shirataki noodle, we realized that this wasn't a noodle we loved.

No matter how hard we tried, we couldn't get over the shirataki texture. Neither of us were eager to eat leftover batches from our formulation experiments.

A few months into this first direction, we had an honest conversation in KLee's living room.

We admitted to each other that we weren't in love with this type of noodle.

And if we didn't love it ourselves, how could we genuinely want to evangelize it to others?
The New Direction
Scrapping our progress and making a pivot was a difficult decision.
There's no worse feeling than scrapping all your notes, research, and formulations that you've spent months working on.
Nevertheless, we were grateful for the learnings and we went straight back to the drawing board.
This time, our first step was to study history.
We researched traditional noodle making techniques from different parts of the world.
We traveled to various noodle shops and watched noodle masters of all kinds practice their craft.

KChan pulled research papers around ramen noodle making techniques and formulations that we hadn't tried before.

We even had to translate many of these papers from their original languages into English.

We created a new list of ingredients and tested many of these noodle-making techniques in our formulation workflows.

After a month of unlearning and re-learning, we found ourselves hitting roadblocks in our formulation.

While we were learning rapidly, we had hit a local maximum in our food science knowledge.
Adding Experts to the Team
Innovation doesn't happen in a vacuum.
We knew we needed more ideas and we needed outside help.
KLee reached out to a close friend, W, who was an early employee at a leading health and wellness food brand.
His friend connected us to their company's product development chef, D, and we scheduled a call.
After the call, D surfaced our project to a close friend of his, J.
J is a veteran in the food industry with 20+ years experience in food innovation, product development, manufacturing, and supply chain.
He has a masters and PhD in food microbiology, worked at some of the largest and most reputable food brands in the industry, and has published over 30 peer-reviewed journals.
D and J loved our product concept, our mission to enrich lives through food, and were eager to see how they could get involved in working with us.
A few weeks later, we flew up to Seattle to meet both of them for the first time.

It was one of the funnest weekends of our lives.

We spent the entire weekend getting to know each other better while experimenting in a test kitchen together and jamming out to house music.

J and D were instrumental in improving our formulation process and they really brought us to the next level.

They weren't noodle specialists, but they had years of product innovation experience and countless insights to share.

In one weekend, we learned how they would approach the development process themselves.

We were able to speed up our formulation iterations by 3x, which has saved us months of work.

They also introduced us to new ingredients that we would never think of ourselves. J and D had an encyclopedia-like database of ingredients stored in their heads.

We all had so much fun working together that they ended up joining as extended members of our team.

In the subsequent months, we visited both of them many more times.
Each time, we made groundbreaking discoveries that made our ramen noodle even better.
A Blessing in Disguise
Ironically, on one of our later visits, the biggest breakthrough came by mistake.
Before flying out of SF, we forgot to buy enough supply of a specific type of plant protein.
When we arrived at their test kitchen, we realized that we wouldn't have enough of the ingredient to last the weekend.
After calling 3-4 different groceries, we found a local grocer that claimed they had the ingredient we needed in stock.
When we arrived, we realized that the employee we spoke to had made a mistake and they didn't actually have the protein we needed.
We got ready to drive home but on the way to the cash register, KChan happened to notice a carton of another protein in a section that we hadn't considered.
For fun, he picked up the carton and we bought it on a whim.
We can't disclose too much about our ingredients until we launch later this year, but that particular protein ended up working so well in our formulation that it is now a primary ingredient on our nutrition label.
People often ask us how we came to our current formulation, and the honest truth is that sometimes, the best innovations come from mistakes in the kitchen!
It's been a long time since that Seattle trip, but we remember it like it was yesterday.
KChan and I still ask ourselves today how we got so lucky in meeting these two guys. (W, if you're reading this, we owe you a lifetime of immi ramen for the initial introduction).
J and D aren't just members of our team, they're lifelong friends.
Where We Are Today
Since then, we've made 250 versions of our ramen noodles by hand.

We've evaluated trade-offs in taste, texture, and nutrition, and we've come to a low carb and high protein ramen noodle that we're proud of.

Like most better-for-you food products, not everything is perfect.

We've had to trade a bit of the traditional slimy texture that you'd expect in a standard wheat-based, ramen noodle. By reducing starch, our noodle will have a slightly harder time picking up soup broth.

But with that trade-off, comes a huge leap in nutrition.

Each serving of our immi ramen comes out to 9g of net carbs, 31g of protein, 9g of fiber, and 850mg of sodium.

It's been designed to be as delicious as you remember without all the extra carbs, keep you full for hours, and promote a healthy gut. We've also kept the sodium up to 40% lower than traditional ramen brands with a crave-worthy broth that will blow you away.

Countless strangers and friends have had a chance to try immi ramen with great reception.


If you've read this far, thank you for being a part of our journey already.
We hope you're as excited as we are about unveiling immi ramen to the world.

If you want to read more stories like this and stay up to date with what's going on behind the scenes, please subscribe to our e-mail list!