Traditional soup ramen is super-delicious, that's a fact everyone abides by! There are hundreds of recipes and even more flavors to explore, all around the world. However, some types of ramen are sometimes overlooked in favor of the more traditional ones. Dry ramen recipes are an example.
Over the years that we've been experimenting with ramen, we've found that dry ramen is a whole different world, in terms of both taste and texture. To bring you some of our awesome recipe experiences, we've compiled our top five dry ramen recipes that you can have as daily meals.
Kimchi Bibim Guksu
Kimchi Bibim Guksu is a Korean spicy kimchi noodle dish that's common in the local street food scene.
It's a noodle recipe that's made with fully aged spicy kimchi that's thinly sliced, almost to the thickness of a noodle strand. Although the traditional version of the dish is served cold, it's adaptable enough to where you can have it as a warm meal too.
What's great about this recipe is that you can make it with any kind of kimchi. However, we're partial towards the spicy kind. You can also make this with delicious immi ramen for a low-carb alternative that tastes amazing.
Use immi for a perfect low-carb noodle alternative!
Variety Pack
Variety is the spice of life. Get all three flavors including Spicy Beef, Black Garlic Chicken, and Tom Yum Shrimp. You'll be covered for all occasions.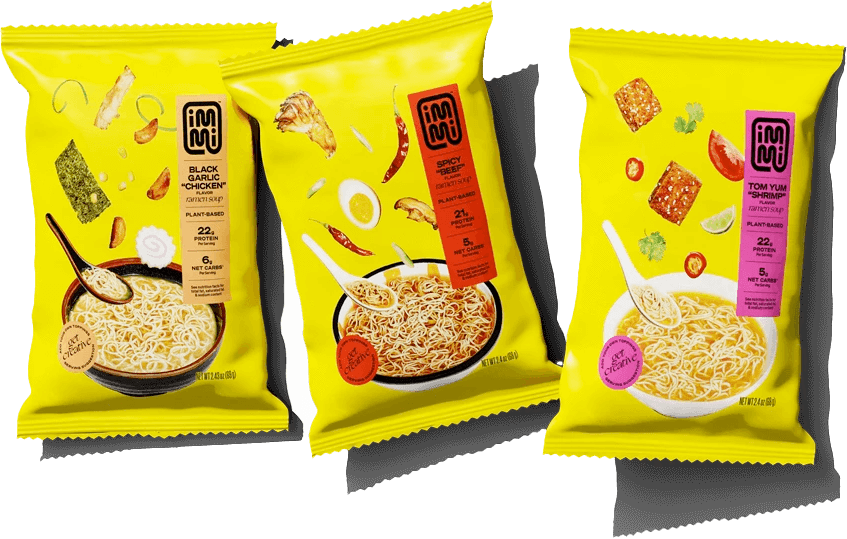 Slurp Now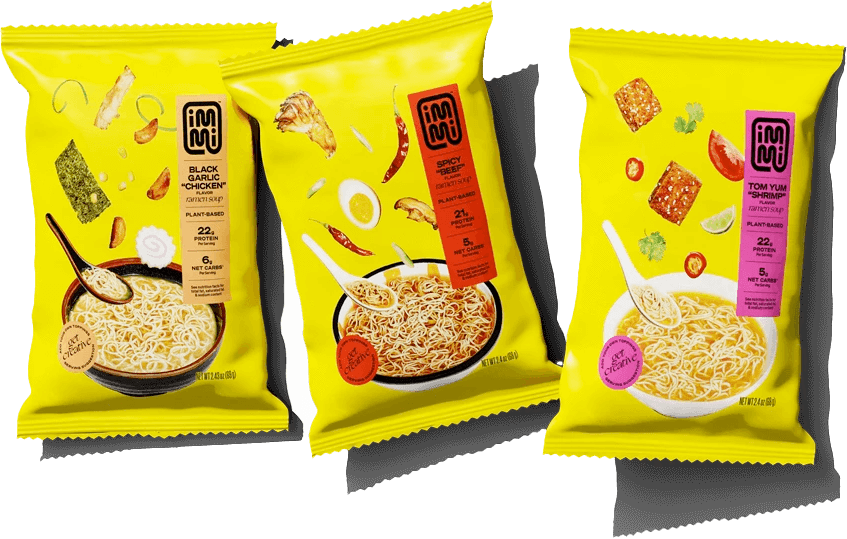 Ingredients
*These amounts are for two large bowls*
Ramen Noodles: 280-300 g
Kimchi (fully fermented): 1 cup
Kimchi Juice (from the fermentation bowl/jar): ¼ cup
Gochujang: 1 tablespoon
Soy Sauce: 1 tablespoon
Rice Vinegar: 2 tablespoons
Sesame Oil: 1 tablespoon
Corn Syrup: 1 tablespoon
Brown Sugar: 1 tablespoon
Egg: 1 (hard-boiled)
Instructions
Bring a pot of water to boil
Put the noodles in the boiling water and cook for 2 minutes
Mix together the remaining ingredients to create a sauce
(For a hot meal) pull the noodles out, add to the sauce and toss well to mix. (For a cold meal) put the noodles in ice cold water and let them cool for 5 minutes. Pull them out and then mix into the sauce
Sprinkle some sesame seeds on top (optional) and serve
Sauteed Chili Ramen
Ask any South Asian person, they'll tell you how delicious lightly fried chilies can be! This was the idea behind this savory and spicy recipe.
To keep a more manageable heat, we use less intense ingredients such as Thai sweet peppers, Fresno chilies, and Sichuan peppercorns. We also remove the seeds so that the most flavorful part of the chili remains. You can add the seeds if you want more heat.
Our Spicy 'Beef' flavored immi ramen works great for this recipe because it already has the ideal flavor base for you to add on with your choice of chilies.
Ingredients
*These amounts are for two large bowls*
Ramen Noodles: 250 g
Thai Sweet Peppers: 3, large
Fresno Chilies: 3, large
Poblano Peppers: 2, medium
Oyster Sauce: 1 tablespoon
Sweet Soy Sauce: 1 tablespoon
Dark Soy Sauce: 1 tablespoon
MSG: ¼ teaspoon
Instructions
De-seed the chilies and chop them into slivers
Lightly saute the chili slivers until soft and fragrant
Combine the sauces and MSG till they are mixed well
Add the sauces to the sauteing chilies, cook for 3-4 minutes
Cook the noodles according to package directions (pull them out of the water 30 seconds before recommended)
Toss the noodles in with the chili sauce and mix well on very low heat
Take off the heat, garnish with finely chopped scallions (optional) before serving
If you really want to explore different chili varieties in this dish, here's a list of chilies along with their hotness levels.
Garlic Tofu Ramen
Garlic is one of our top aromatic ingredients because of the deep, sweet flavor it develops when you cook it. We love tofu because it absorbs flavor so well. Put the two together and you have the perfect recipe to create with noodles.
The amount of garlic used here might sound a little scary at first, but it's the exact opposite once you cook it. Fried in a little butter, tofu begins to take on the garlic flavor while also developing a crust on the outside.
If you want just a tiny bit more tang, make it with delicious Tom Yum 'Shrimp' flavored immi ramen.
Ingredients
*These amounts are for two bowls*
Ramen Noodles: 250 g
Tofu: 1 cup (diced)
Garlic: 1 cup (finely chopped)
Green Onion: ¼ cup (finely chopped)
Soy Sauce: 3 tablespoons
MSG: ¼ teaspoon
Brown Sugar: 1 teaspoon
Instructions
Saute the garlic and tofu with the soy sauce, brown sugar, and MSG for 3 minutes
Cook the noodles according to package instructions
Take the noodles out of the pot and add to the garlic tofu alongside the green onion
Cook the noodles while tossing with the garlic for 30-40 seconds or until all the liquid dries
Drizzle with some Hoisin sauce (optional) and serve
Maple Soy Noodles
Dark soy sauce and maple syrup are a superb combination because of their deep, rich flavors that develop over time. Cook them in with ramen and you have a delicious savory and sweet combo.
This meal is inspired by the happy mealtime accidents that happened when we were young and tried to cook something for the first time! Even as children though, we realized that mixing soy and maple creates an awesome cooking and pouring sauce.
Depending on your taste, you can try different maple-to-soy ratios to see which one you like best.
Ingredients
*These amounts are for two large bowls*
Ramen Noodles: 250 g
Dark Maple Syrup: 2 tablespoons
Dark Soy Sauce: 3 tablespoons
Sesame Oil: 1 tablespoon
Garlic: 2-3 cloves (minced)
Green Onion: For garnishing
Instructions
Saute the garlic in the sauces and oil for 30 seconds or until just fragrant
Cook the noodles according to the package instructions
Take the noodles out and toss in the sauce mix
Stir fry till the liquid evaporates and the ramen is coated with the sauce
Top with the green onion before serving
Abura Soba
This recipe is on the fancy side when it comes to dry ramen recipes. However, the classic Tokyo Abura Soba is definitely one of our favorite ramen recipes, let alone in the dry realm.
Also known as Mazesoba, this recipe has toppings that you'd commonly see in soup ramen. These include boiled egg, tofu, green onion, and meat (chashu pork being the most common).
Because it's much closer to a traditional ramen dish, you can use savory Black Garlic 'Chicken' flavored immi ramen as a substitute for the ramen base, without any modifications to the recipe. 
Try using our Black Garlic Chicken immi as the perfect low-carb ramen base substitute!
Black Garlic "Chicken" Ramen
Classic, savory, and comforting. The perfect cozy companion for an evening at home. Overflowing with notes of garlic, scallions, and umami.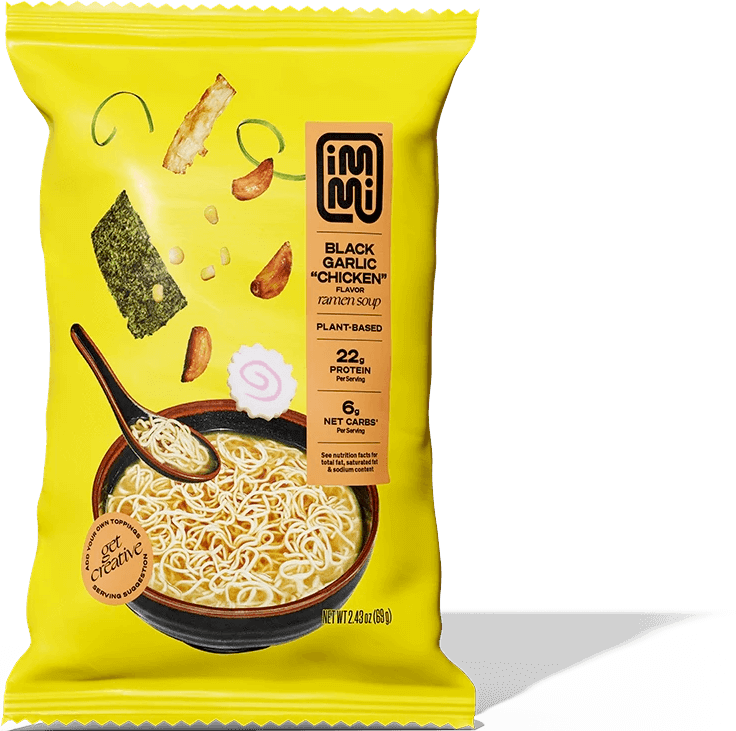 Slurp Now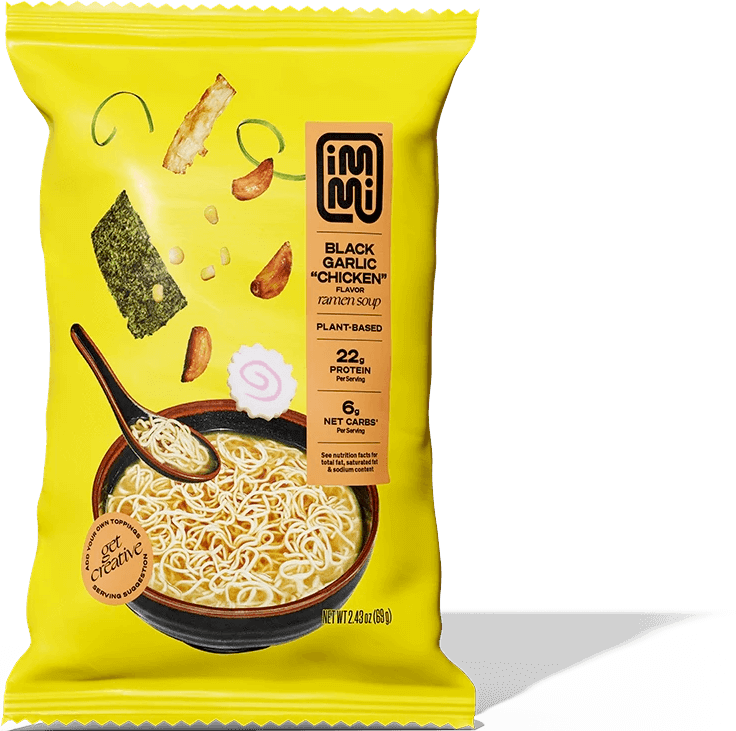 Ingredients
*These amounts are for three large bowls*
Ramen Noodles: 2 packets
Thin Soy Sauce: 5 tablespoons
Oyster Sauce: 4 tablespoons
Sesame Oil: 4 tablespoons
Water: 2 tablespoons
Rice Vinegar: 4 tablespoons
Lard: 1 teaspoon
Miso: ½ teaspoon
Chashu Pork: 3 slices (medium thickness)
Marinated Eggs: 3 (halved)
Green Onion: For Garnishing
Instructions
Mix all the sauce ingredients together and spoon the mix into three separate bowls
Cook the noodles according to the package instructions
Take the noodles out and divide among the three bowls
Toss the noodles in the sauce till evenly coated
Top each bowl with a slice of pork and two egg halves
Sprinkle the green onion on top before serving