One of the best parts of growing up in an Asian household was, no doubt, the snacks! There were so many of them, in so many variations and flavors. The diversity of Asian snacks that's now become famous in the West was luckily a norm for us.
Over the past decade, we've seen awareness of Asian snacks in the US grow considerably and we're excited that now everybody can buy and enjoy most of our favorite childhood Asian snacks!
We recently went for a walk down a few different Asian supermarket aisles to reminisce about our childhood and we pulled together this list of 20 of our favorite childhood Asian snacks that you need to try for yourself.
Looking for the best Asian snack ever? Try immi ramen. Low carb, high protein, plant based, and delicious as you remember.
Variety Pack
Variety is the spice of life. Get all three flavors including Spicy Beef, Black Garlic Chicken, and Tom Yum Shrimp. You'll be covered for all occasions.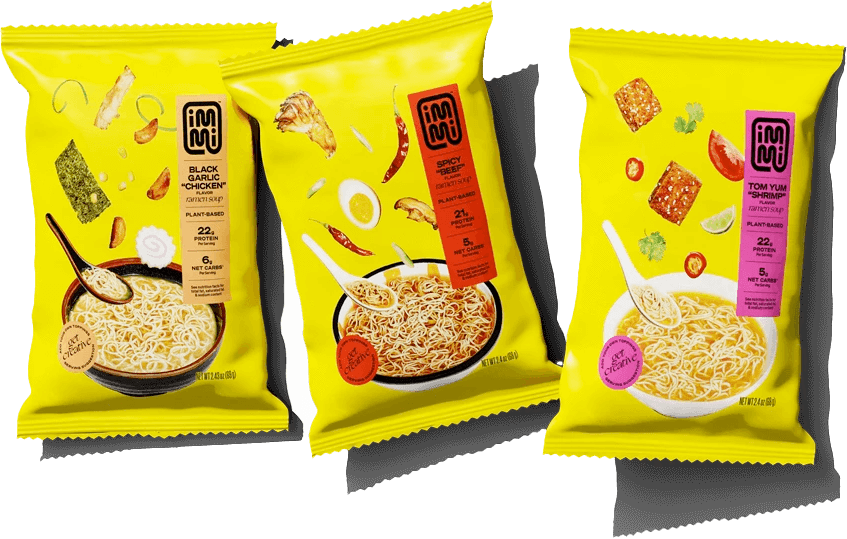 Slurp Now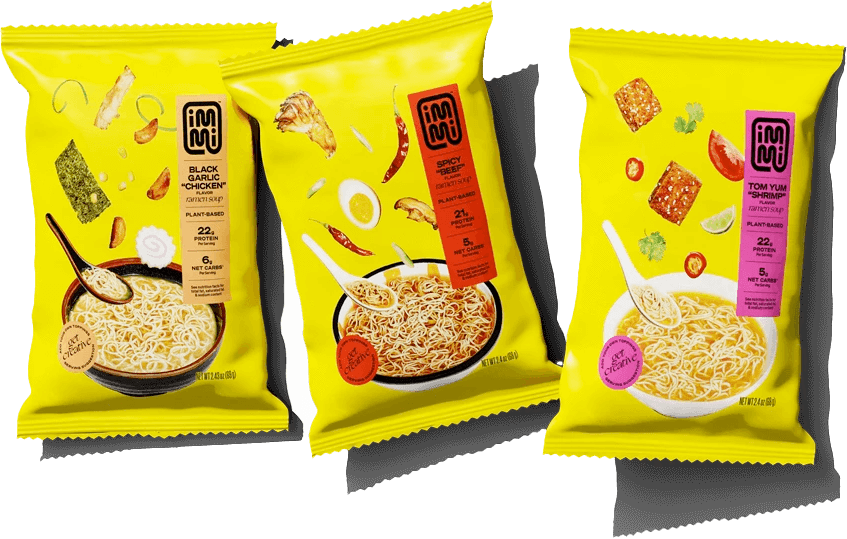 Top 20 Asian Snacks From Our Childhood
Just to be clear, we're not saying other Asian snacks don't make the cut. It's just that these hold a special place in our hearts, and we hope they'll do the same for your tastebuds!
Note: You can find these and a ton of other Asian snacks from your local Asian market or food store. You can also find most of these snacks available on Amazon.
1) Fishnacks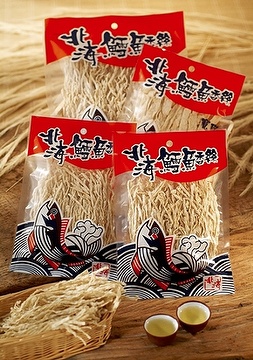 Starting off with a Chinese and Taiwanese favorite, Fishnacks are a staple snack among both young children and adults alike.
Light, chewy, and packed with a tasty seafood flavor, Fishnacks always reminded me of a sort of fish jerky (at least that's how we always thought of it!)
Fishnacks are also low in preservatives and on the healthier end when it comes to snacks. They're also very light to carry, which makes them an ideal travel snack for road trips.
2) Bin-Bin Rice Crackers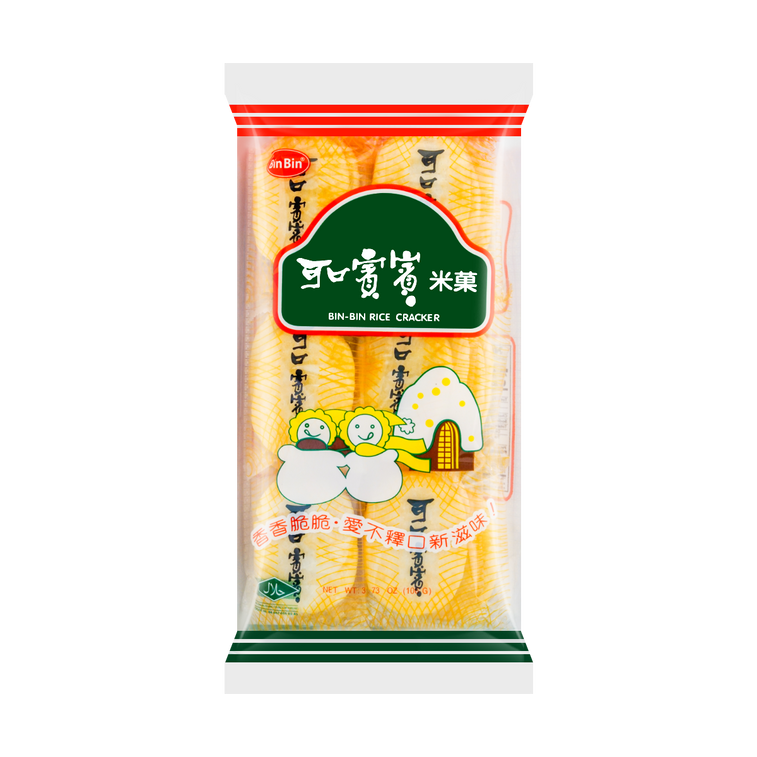 One of the most well-known Asian snacks around the world, Bin-Bin Rice Crackers are known for their crunchy texture and delicious seasoning (thanks to soy sauce powder and delicious MSG!).
We all have our favorite way to eat them. Ours was to lick the seasoning off of them then bite into them before the flavor disappeared.
A popular snack for school children, the original Bin-Bin rice crackers have a sweet and salty flavor, with other flavor varieties such as seaweed and coconut milk (we never had these variations growing up and only ate the original but we've been dying to try the coconut milk version), available as well.
3) Pop-Pan Crackers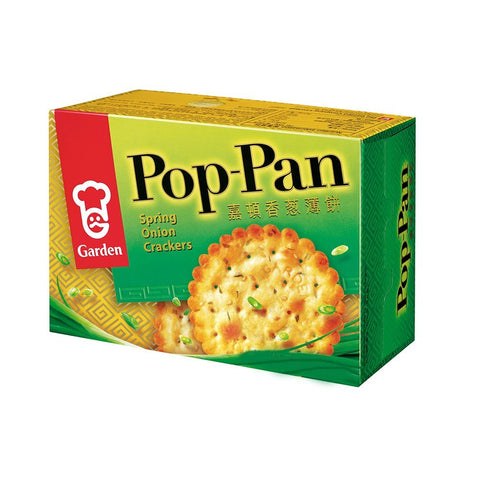 These are an interesting savory snack because of their spring onion flavor, which many people might consider strange for a cracker.
However, that's what made these crackers great for us as kids. They have a flavor that we associate with food, so although we enjoyed them as snacks, they could very well have been a meal!
The flavor is definitely worth trying. Truthfully, we always thought they tasted way better than Ritz!
4) Shrimp Chips (Calbee)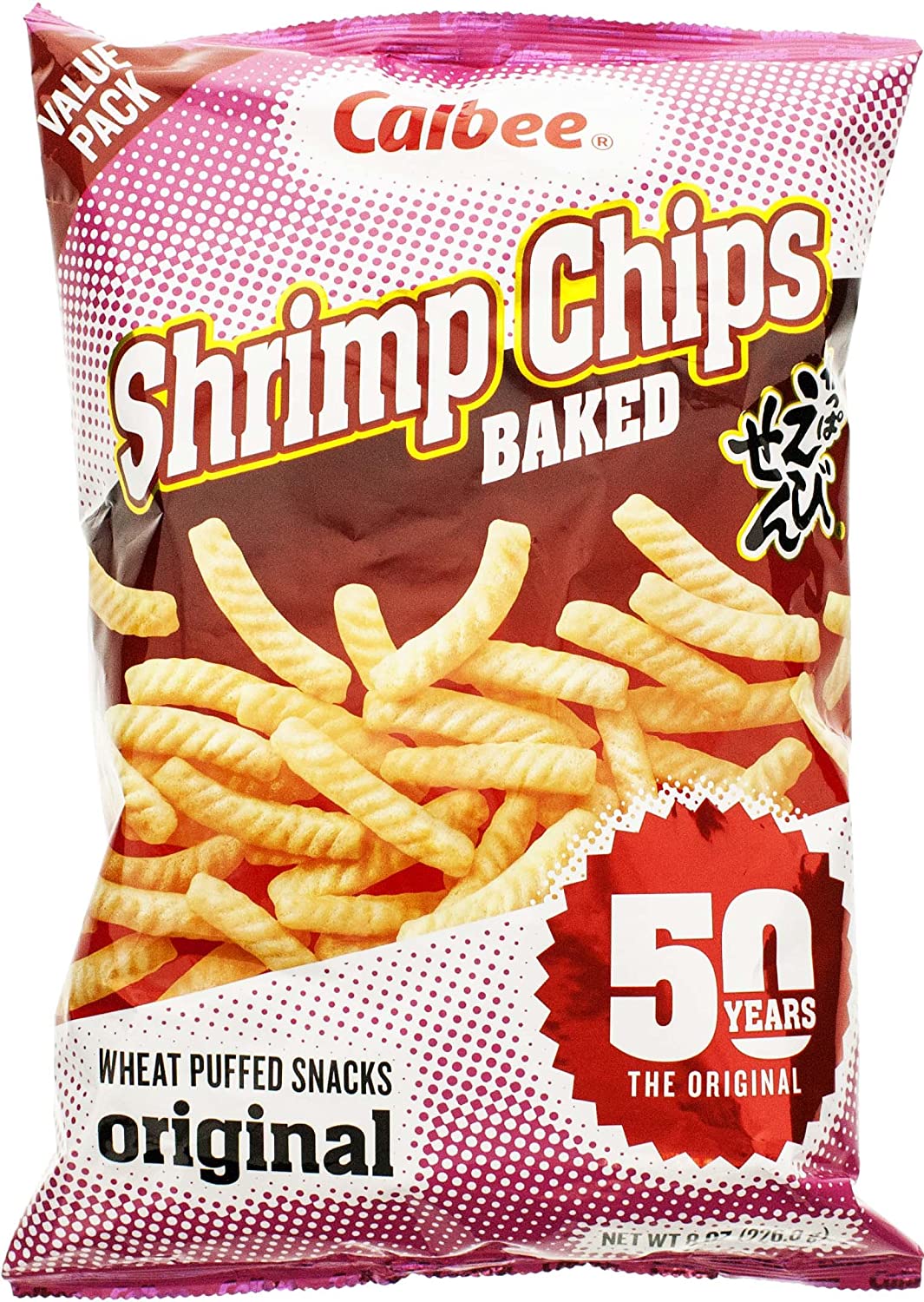 A hearty Japanese snack, Shrimp Chips are baked, crunchy sticks that have an amazing shrimp flavor and a slightly fishy smell that adds to the experience (trust us, you'll grow to love and even crave that smell!).
These sticks had a slightly denser consistency than your average snack chips. This is because they are baked, which makes them a slightly healthier option as well.
You might need to be careful with these, though. They're super addictive and just like that Pringles slogan, once you pop open the bag, you won't be able to stop!
Fan of shrimp flavors? Try our Tom Yum Shrimp ramen flavor!
Tom Yum "Shrimp" Ramen
Fresh, bright, and zesty. A vibrant bowl to slurp under the cool shade on a warm afternoon. Abundant with notes of lemongrass, citrus, and chili.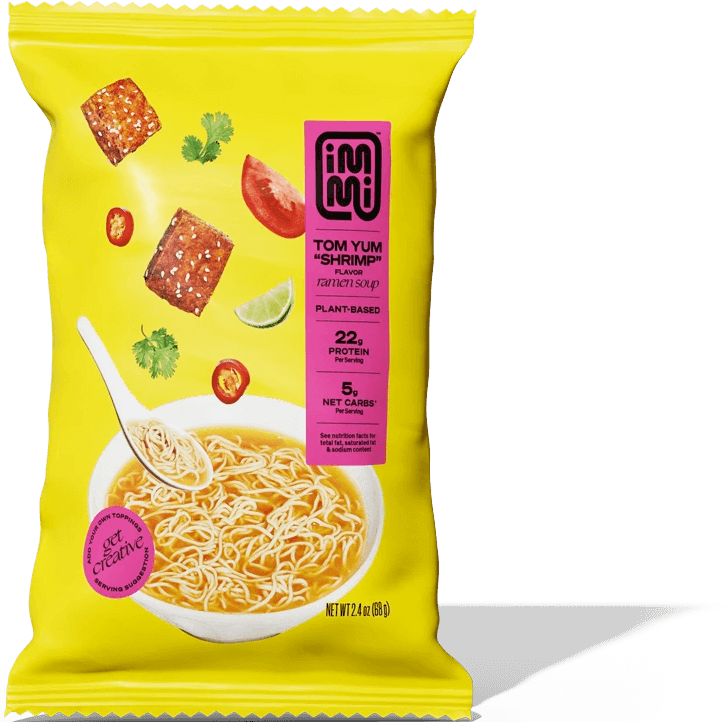 Slurp Now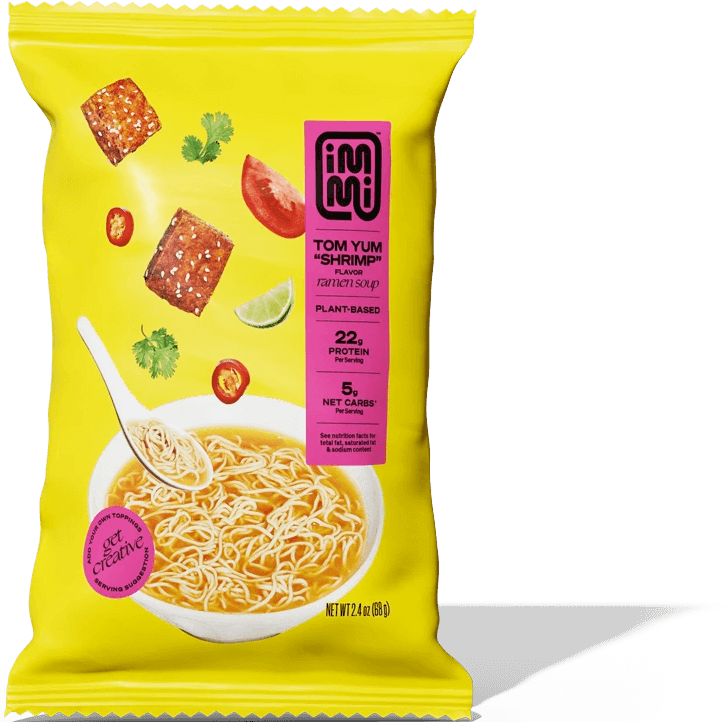 5) Haw Flakes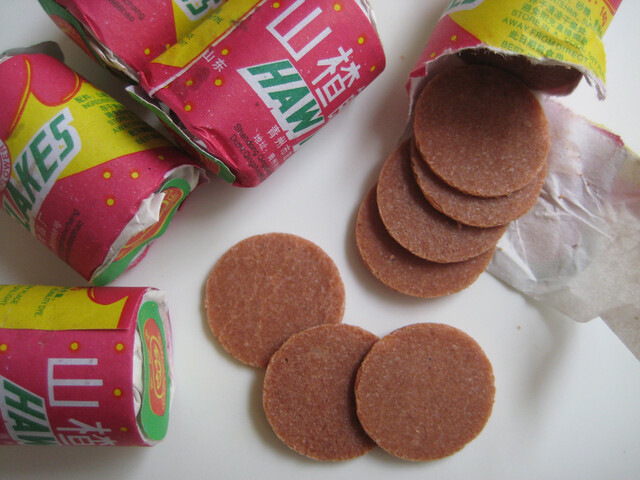 A fruity and delicious Chinese snack, Haw flakes are full of a fresh berry taste that no Asian child could resist.
Sweet and tangy, this candy is made with the delicious and medicinal Chinese Hawthorn berry (a kind of Asian cranberry) and has a very unique flavor that's unlike any typical berry you might have had in candy form.
Compressed into thin discs, these Asian snacks are perfect for popping a few after a meal or just to refresh your taste buds during the day.
6) Kasu gai Roasted Hot Peas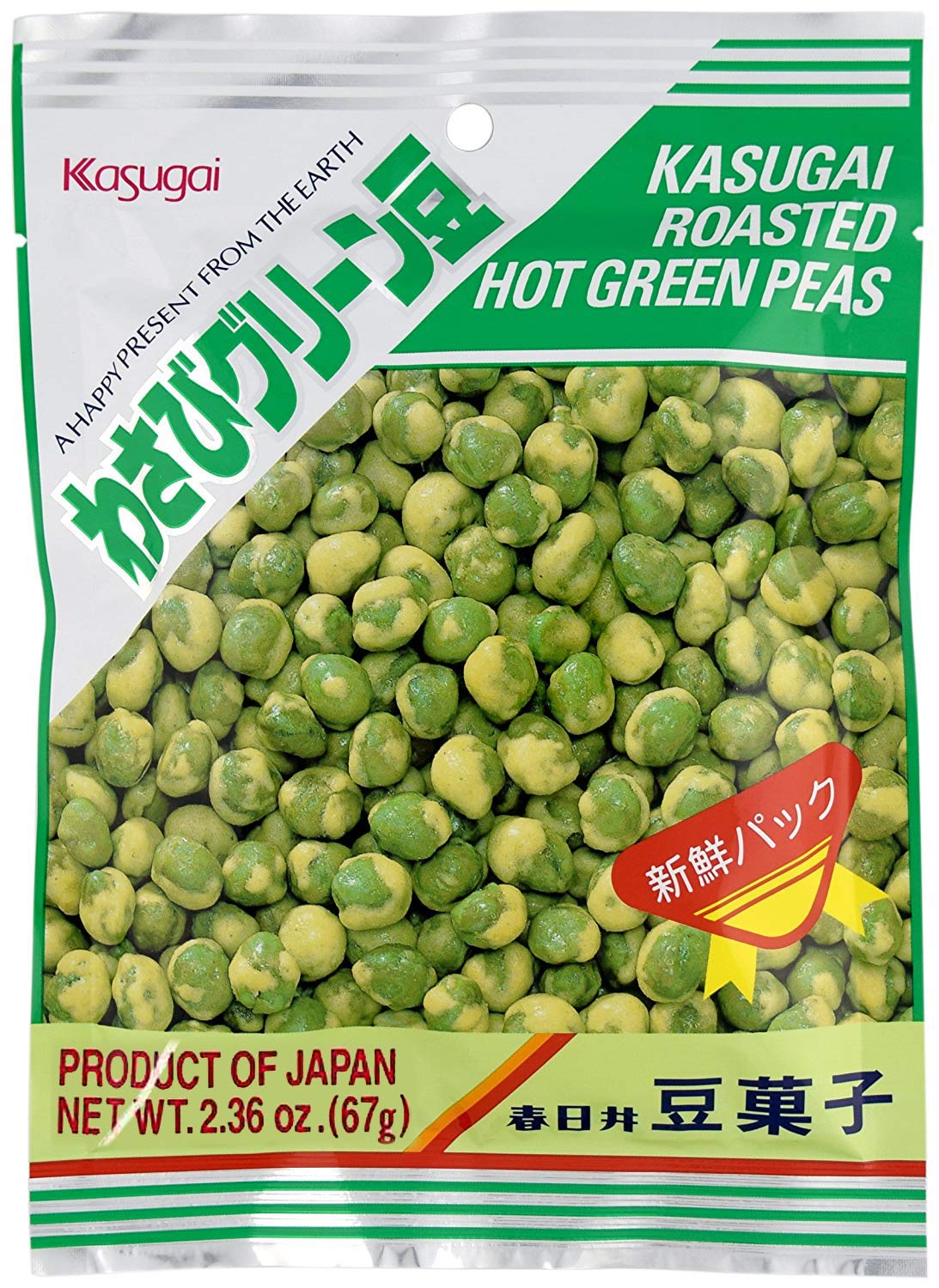 These go down as some of the best nut and pea-based snacks in the world, with their perfect roasted goodness, as well as a variety of wasabi and different flavors such as bbq.
Several brands make some variety of these roasted green peas. However, the Kasugai hot peas were always our favorite with just the right amount of wasabi spice level.
Our personal favorite were the roasted peas, although the company also makes roasted nuts. We would suggest trying them all, albeit with a drink to cool off the hot wasabi heat!
7) Wang Wang Snow Cookies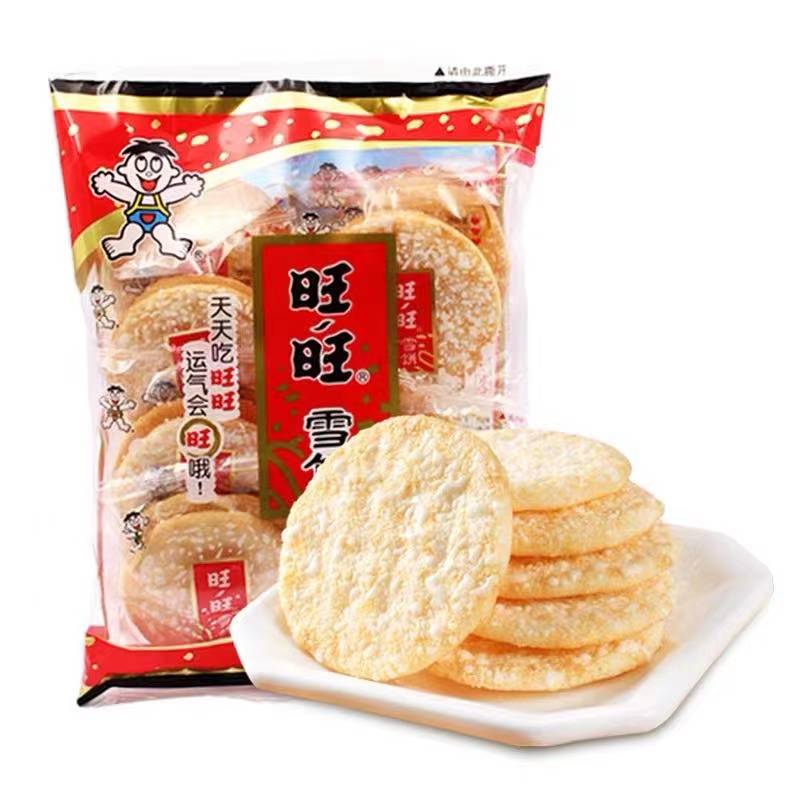 Another rice-based snack, these puffy crackers are dusted with powdered sugar and can be eaten as a snack with tea, as well as on their own.
Their name literally translates to 'Want Want' cookies, and you can bet we wanted as many of these as we could get our hands on!
They work best as a light snack although you can definitely indulge in a sugar overload by having some with boba tea or even hot chocolate.
8) White Rabbit Candy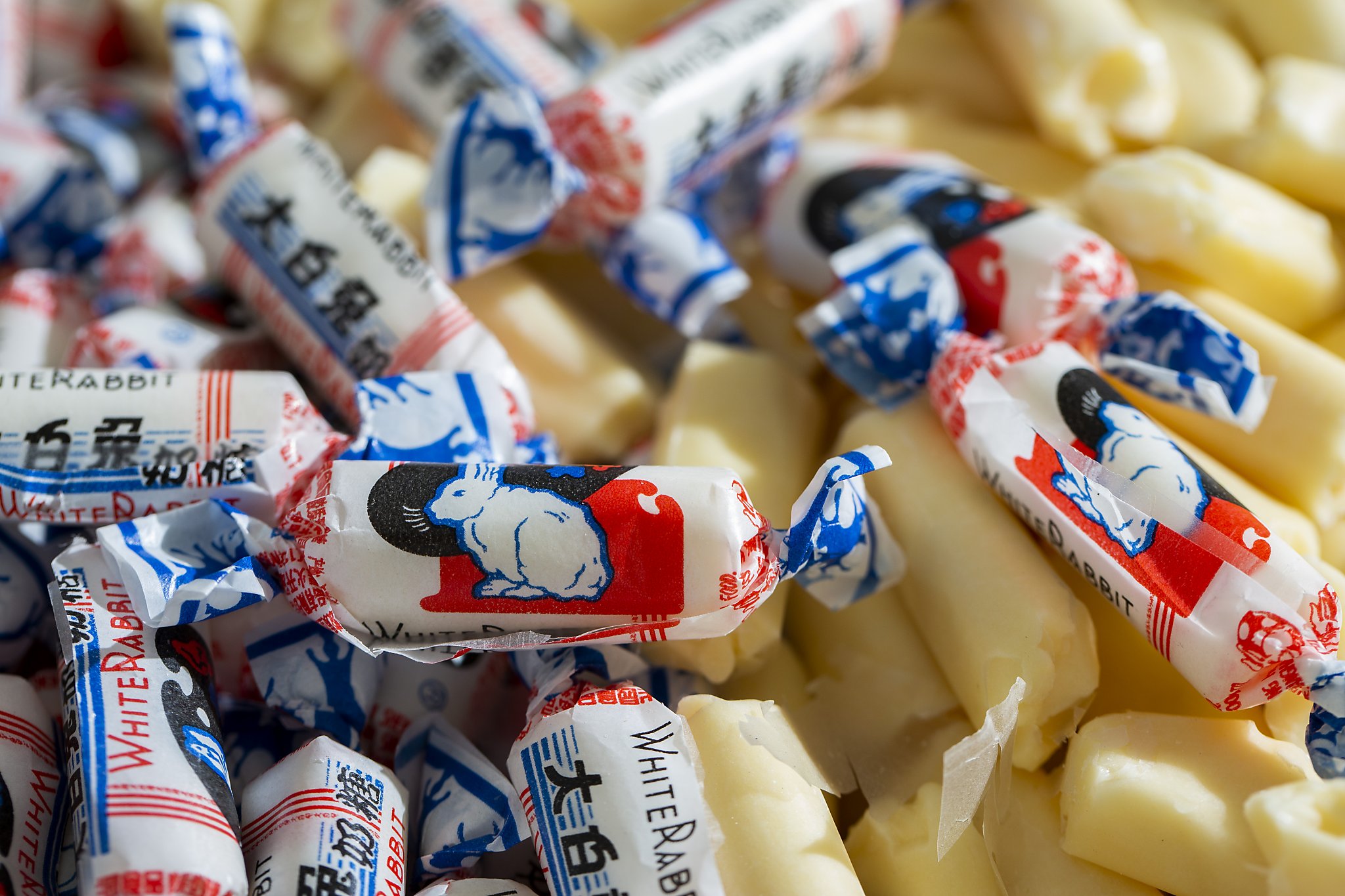 A soft, chewy, milky gummy candy similar to a Hi-Chew, White Rabbit is dangerous because we often lost count of how many we had eaten!
Perfect after a meal, or as a movie snack, White Rabbit candies come in two flavors, the regular milky one and matcha (green tea). We recommend trying the milk-flavored one first, since that's the one we remember fondly.
One of the coolest parts of this snack is that you don't need to take off the paper inside each wrapper that covers the candy. That translucent white paper is actually made of rice so it melts on the tongue and is edible!
9) Pocky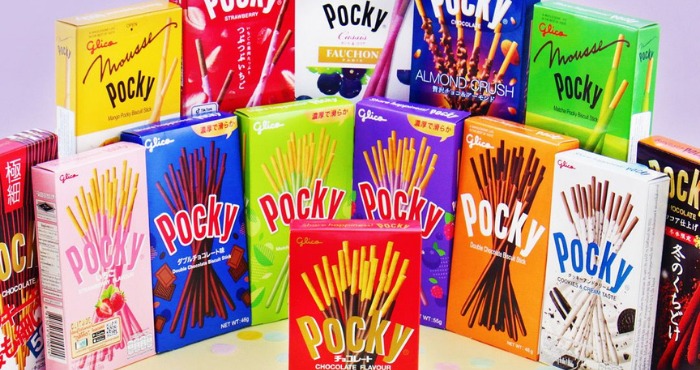 Another now-famous snack in the West, Pocky is a fun snack to eat because of the creative ways we found to eat them.
You can dip these in milk tea (or frankly any drink) and bite, or you can lick the chocolate cream off first. We used to scrape off the layer of cream using our teeth because we were too impatient to lick the cream slowly. Either way, you're in for a good time with these delicious coated biscuit sticks.
The best thing about Pocky is that you have a ton of variety to choose from. Bored with the standard chocolate flavor? Grab a cookie and cream-flavored box. Or chocolate almond crush, or strawberry! There are dozens of different flavors and it's always exciting to come across a brand new flavor in stores.
10) Senbei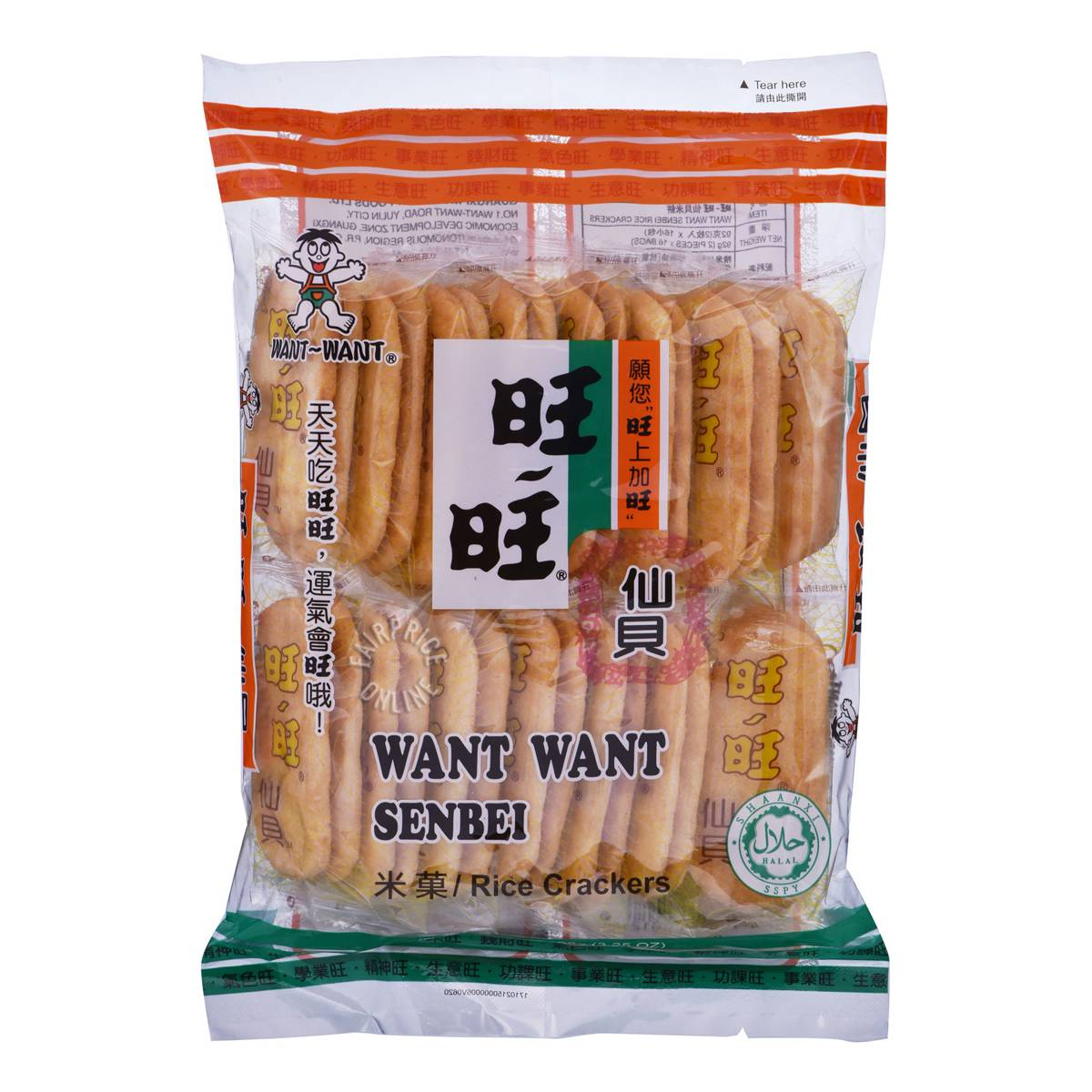 This Japanese rice cracker is originally a homemade snack that's now available in the market as well. They can be eaten as a stand-alone snack, or served with tea to guests.
Coming in both sweet and salty options, Senbei crackers are thicker than the crackers we have here, but with a deeper flavor.
You can also get some wrapped in nori seaweed for a more savory twist. Surprisingly enough, both sweet and salty versions are equally good with tea and coffee.
11) Hello Panda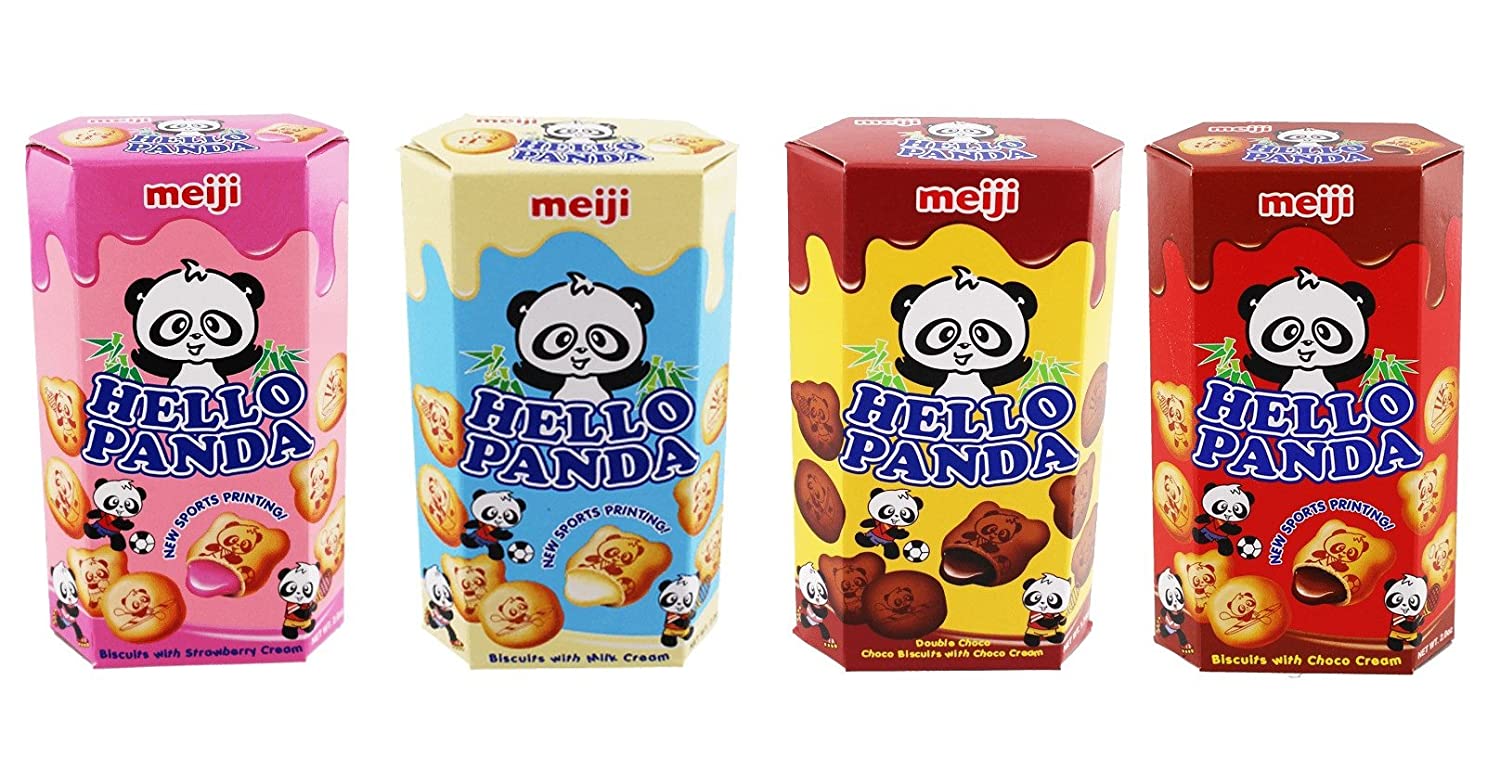 This cream-filled biscuit is the perfect snack for little kids, since it has two snacks in one – a fun round biscuit ball and a molten filling.
It's also one of the best party snacks when mixed with some of the other snacks on this list on a large platter.
You can get these in a chocolate as well as a strawberry filling. We recommend buying a box of both and mixing them up in a bowl so that each bite is a surprise.
12) Yan Yan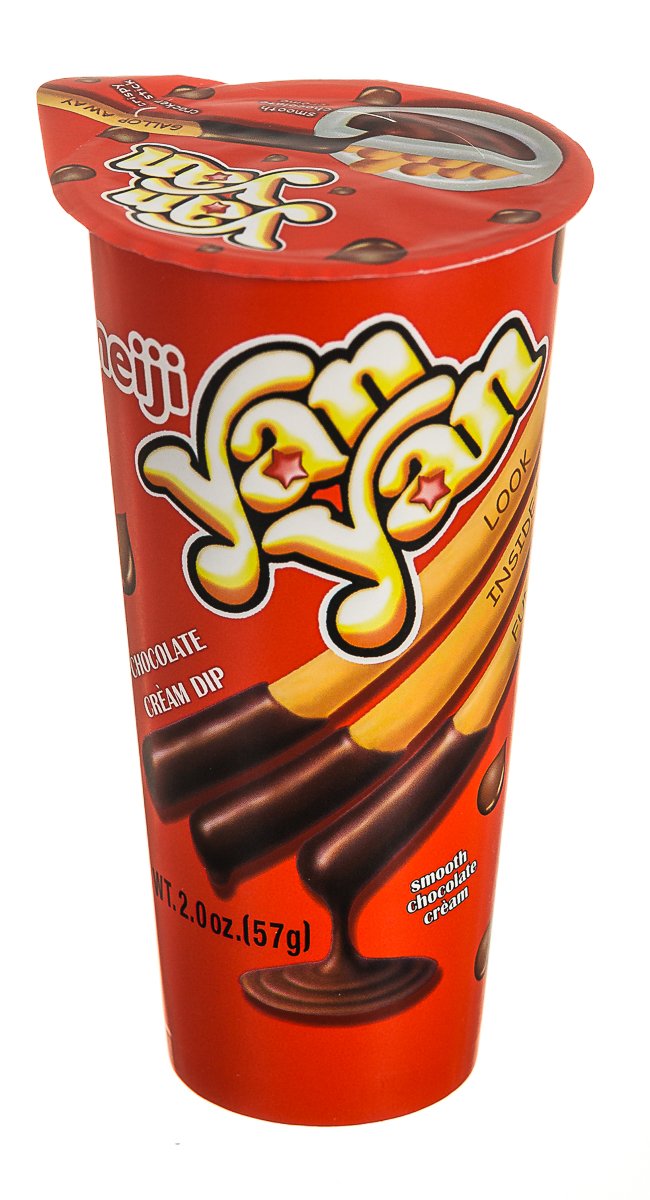 These sweet cracker sticks are another fun snack that we found innovative ways of eating, just like Pocky.
The awesome part of Yan Yan is actually the packaging it comes in. When you rip open the top flap, you'll see a container that holds the Yan Yan cracker sticks, and a smaller container filled with cream that you can dip the sticks into.
Yan Yan is delicious but it was one of the most enjoyable & toy-like experiences to snacks that we got to savor as children.
13) Kacang Puteh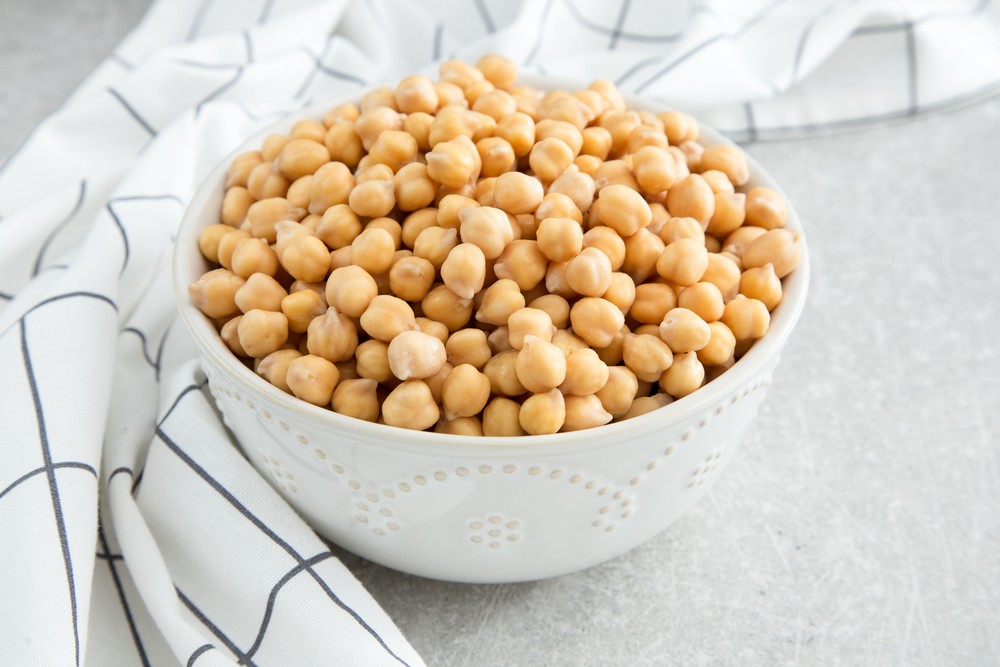 An old Malaysian and Thai movie snack (before the popcorn invasion), these roasted chickpeas are still popular today among kids and adults.
There's no one specific brand that makes these. You can instead find them in a supermarket or at your local Asian market.
What's great about these is the consistency, which was crunchy and crumbly, instead of the rock-hard state that chickpeas usually come in.
They're fantastic, and a great alternative to buttery popcorn.
14) Wheel Crackers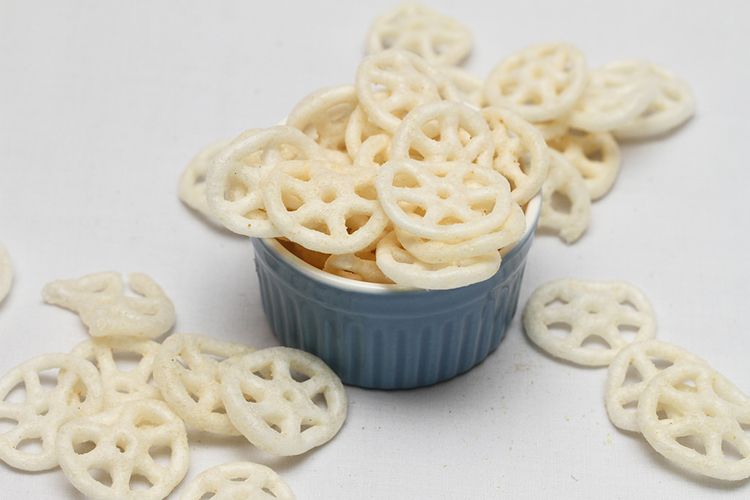 There was no one brand that made the best version of these snacks, and to be honest, we didn't even care! They are almost all the same – crunchy.
The best wheel crackers were the ones with a slightly salty taste (without any seasoning on top).
Since there was no one brand that made the best crackers, you have a wide variety to choose from. Visit your local supermarket or Asian food store to grab a bag (or 6!).
15) Lemon Tablets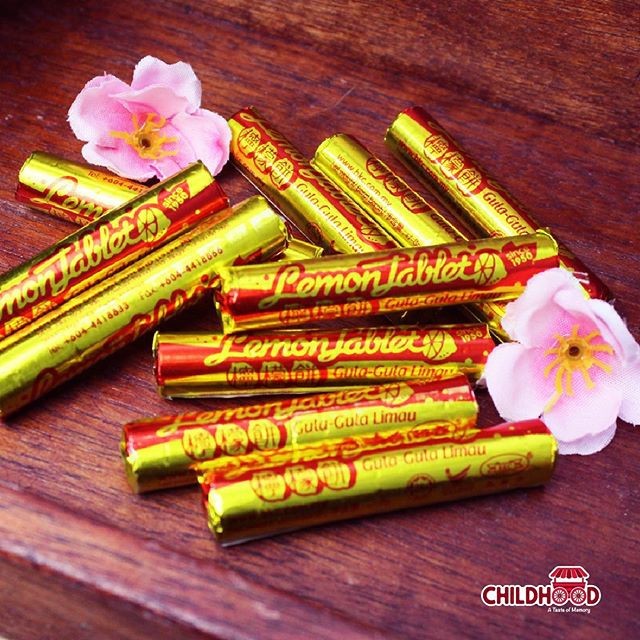 Lemon Tablets for us are definitely in the top 5 among fruit-flavored candies. They melt in your mouth and have an intense, sweet, and citrusy lemon flavor.
These are one of those candies that rarely went outside of their Malaysian domain. However, they're definitely worth the effort of finding them.
You can probably find them in your local Asian supermarket's candy section.
16) Popo Muruku Ikan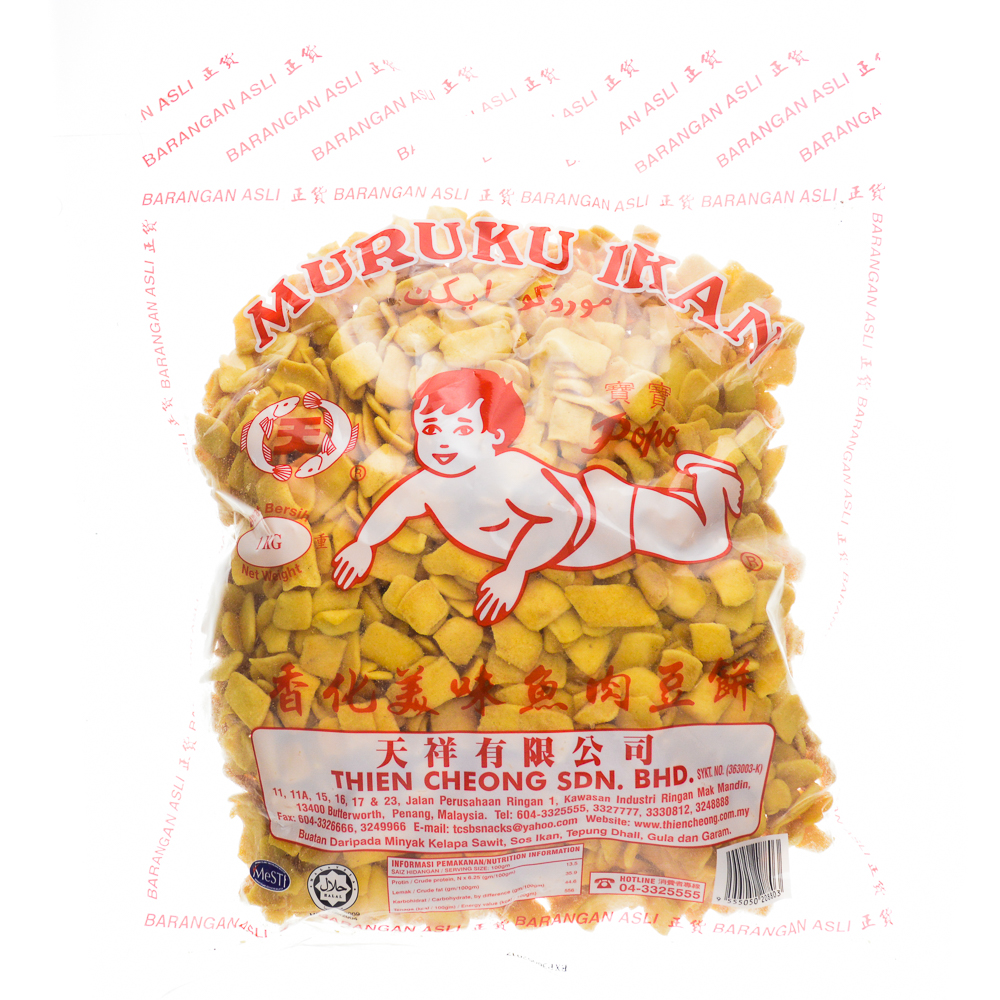 These fish crackers have been a staple of the Malaysian community since the 70s. Very popular among children, they're perfectly crispy and the ideal casual snack.
Made of powdered lentils and peas, these bite-sized crackers have an interesting flavor that's a combination of sweet and savory (more on the savory side).
When we talk about snacks that are synonymous with childhood fun, these definitely come to mind. Everything about them, from the packaging, to the distinct salty smell, all of it reminds us of home.
17) Choki Choki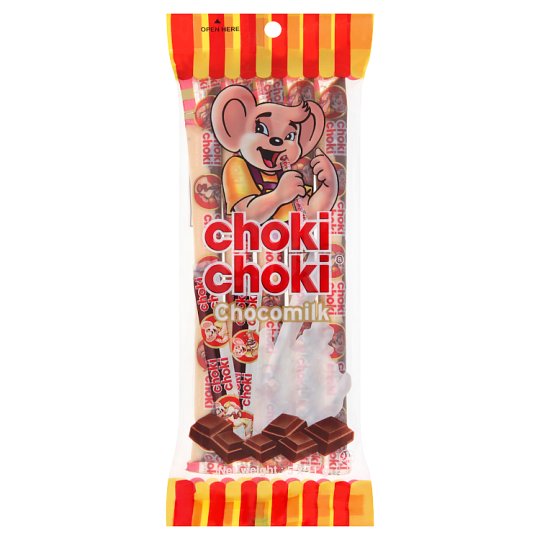 Available around the world from a number of brands, the original Thailand Choki Choki was the ultimate dessert for kids. Today, they're more of a party favor but that doesn't mean you can't enjoy these on your own.
These long tubes of chocolate are quite sweet and can be easily squeezed out. We used to carry them in our pockets as kids, and squeeze them out bit by bit to prolong the fun.
For an even better experience, squeeze them out over cupcakes or marshmallow bowls, or swirl over mochi ice cream!
18) Dried Squid Snack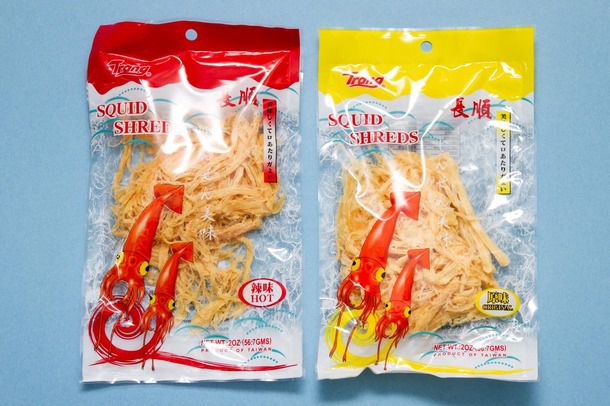 This snack was always in competition with other dried fish and shrimp snacks for which is the best Asian seafood snack.
While we won't definitely say this is the best one, it's up there in the snack pantheon.
Delightfully fishy, these dried squid flakes are basically umami in a bag. Other than popping them straight out of the bag, you can also sprinkle them on soup or seafood curry. If you like spice, you can find these in spicy versions too.
19) Mammee Noodle Snack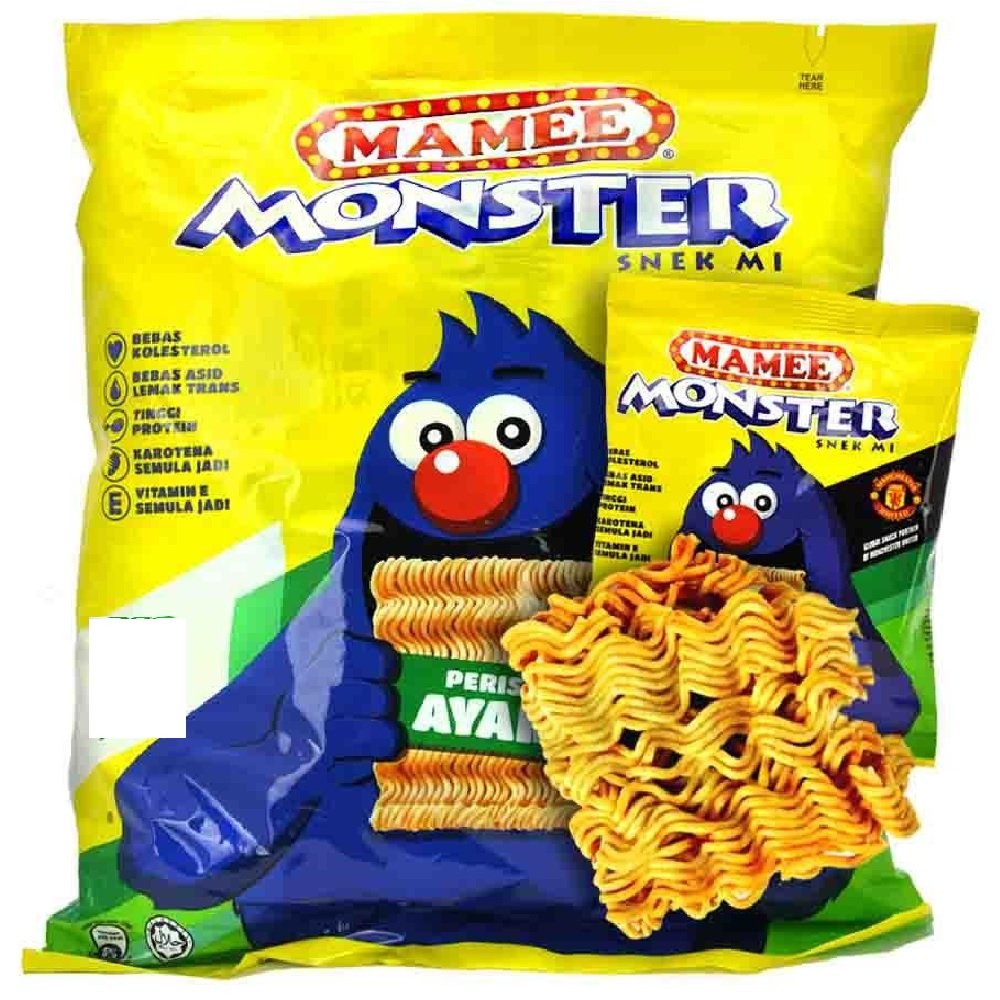 Typically eaten right out of the bag, Mammee noodle snacks were a favorite in Japan among both schoolchildren and their parents (since it made for an easy school lunchtime snack).
This one might sound strange since everyone in the West is used to boiled instant noodles vs. dry ones. This is definitely one that needs to be experienced to be believed.
What sets them apart from regular instant noodles is their crispy, crunchy consistency. Just imagine these as crushed up instant ramen.
20) Ramen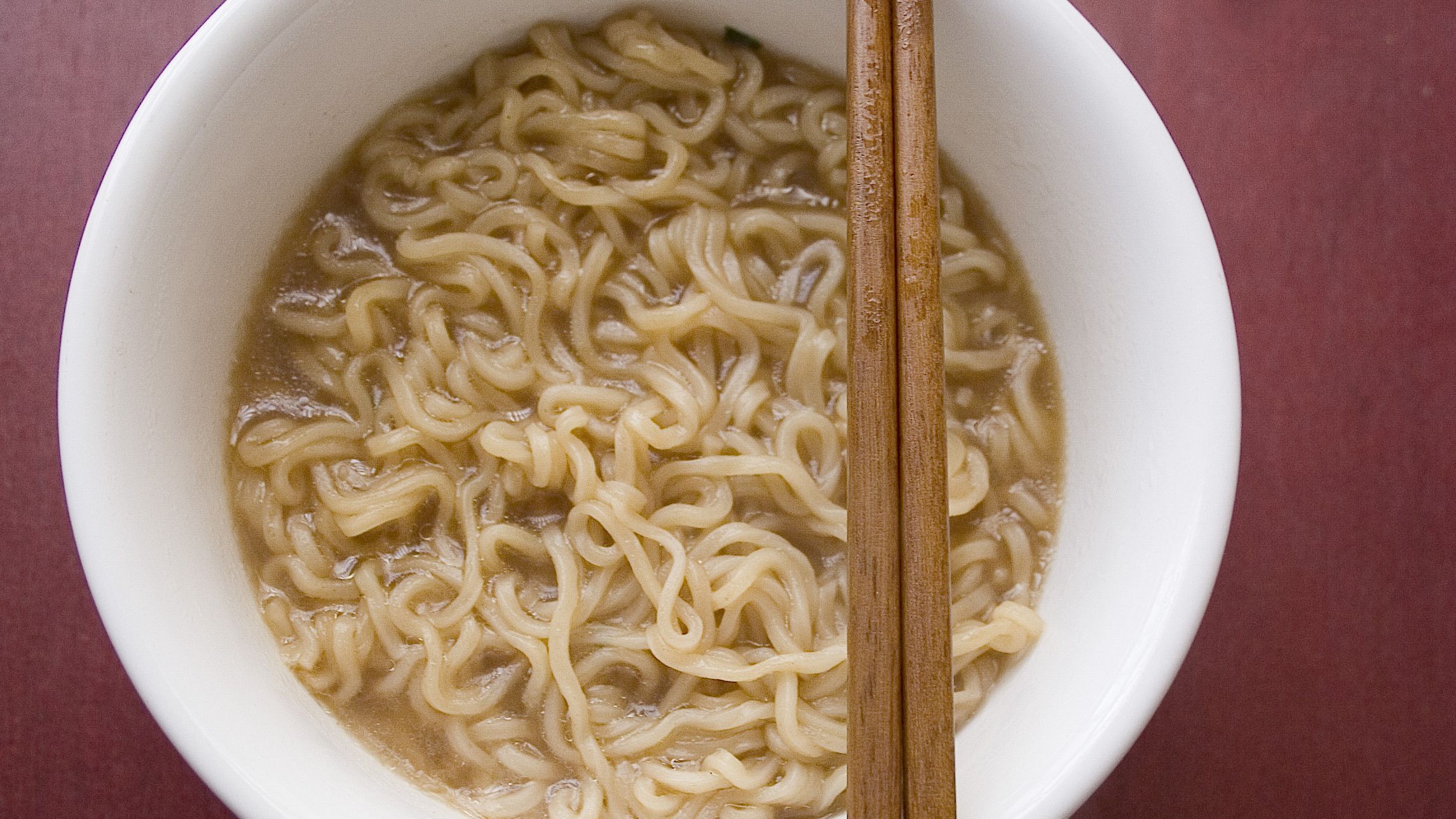 Yes, this qualifies as a snack for two reasons. Number one, it is delicious, and number two, it is delicious!
It's the one snack that's known around the world, and almost every global region has its signature favorite. This alone is enough to cement their status among the ultimate Asian snacks.
Ramen is surprisingly easy to prepare. Even recipes that look complex, usually have a few key ingredients that you can buy ready-made.
In this day and age, you can even have healthier alternatives to the standard wheat noodle. Healthy options such as immi ramen can be enjoyed any time, guilt-free.Happy snacking!