If you ask any Asian person what their favorite Asian food was growing up, chances are many of the answers might be some delicious dessert! Asian desserts are super diverse with various textures and flavors, ranging from sweet soups and soft cakes to flaky tarts and crunchy bars.
We both didn't grow up with huge sweet tooths, but when we did get the chance to eat them, we loved desserts such as tang yuan and khanom chan. In this article, we've listed the top Asian desserts that we believe can satisfy anybody's cravings.
Tang Yuan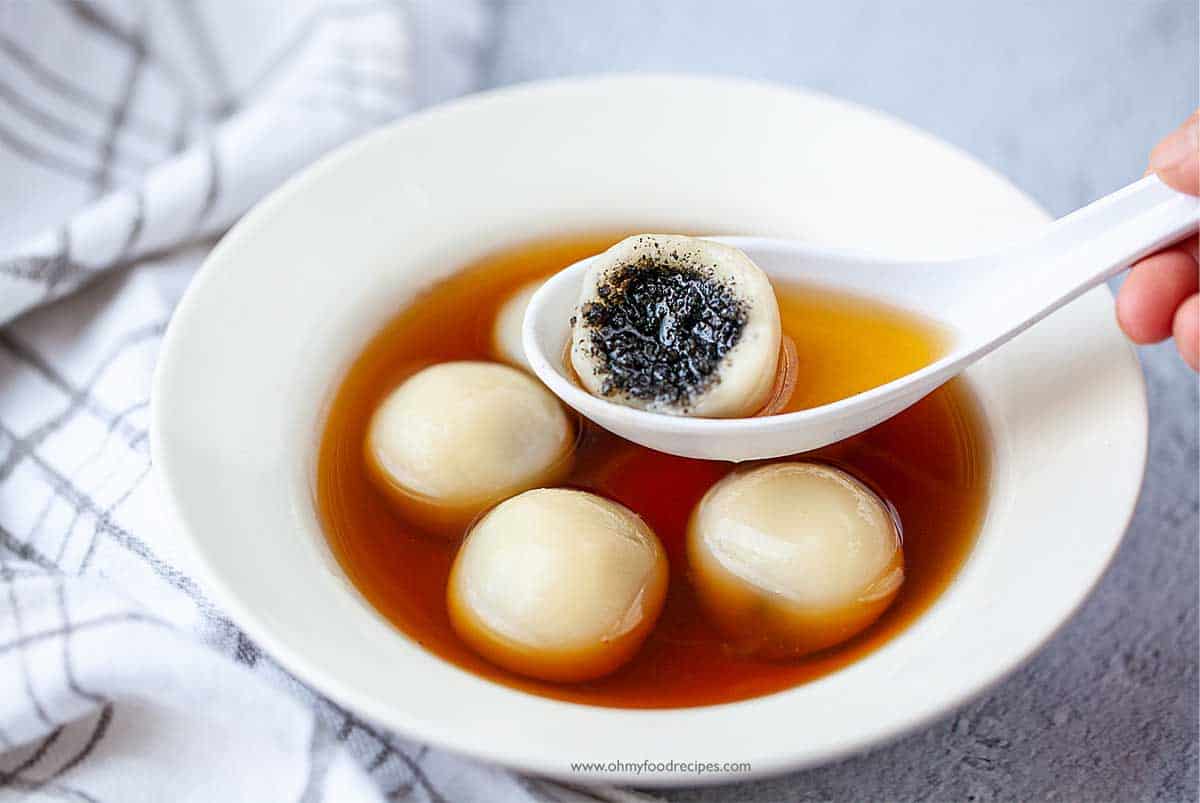 Tang Yuan is an important and celebrated dish that's made during the Lantern Festival that falls on the 15th day of Chinese New Year.
The dish consists of a rice dough ball or dumpling with a sweet roasted sesame filling, that's boiled in water before serving. The fat in the filling melts to create a smooth paste that's super delicious when you bite into it.
Although it's simpler to make with modern appliances, making Tang Yuan was a very labor-intensive process in the old days. That actually was one of the reasons why this dish was so special for everyone to have on that special day.
Breaking tradition a bit, we think it's perfectly ok to have delicious Tang Yuan with a bowl of hearty Spicy 'Beef' flavored immi ramen.
How It's Made
Yang Yuan is made by making dough out of the sweet rice flour and making small dough balls to fill in. The sweet sesame paste is made by roasted black sesame seeds mixed with castor sugar and either pork suet or some similar fat.
The paste is cooled and then wrapped with the flattened rice dough balls, which are then boiled until the water comes up to a boil.
Here's a simple recipe that provides some room for adjustment in case some ingredients are not available.
What Makes it Great
This is one of those dishes that we all think of having every day as kids, partly because it's made so rarely, and partly because we associate it with a happy occasion.
Trust us when we tell you, it's all the more special when had on cozy fall and winter nights after a large dinner.
Darsaan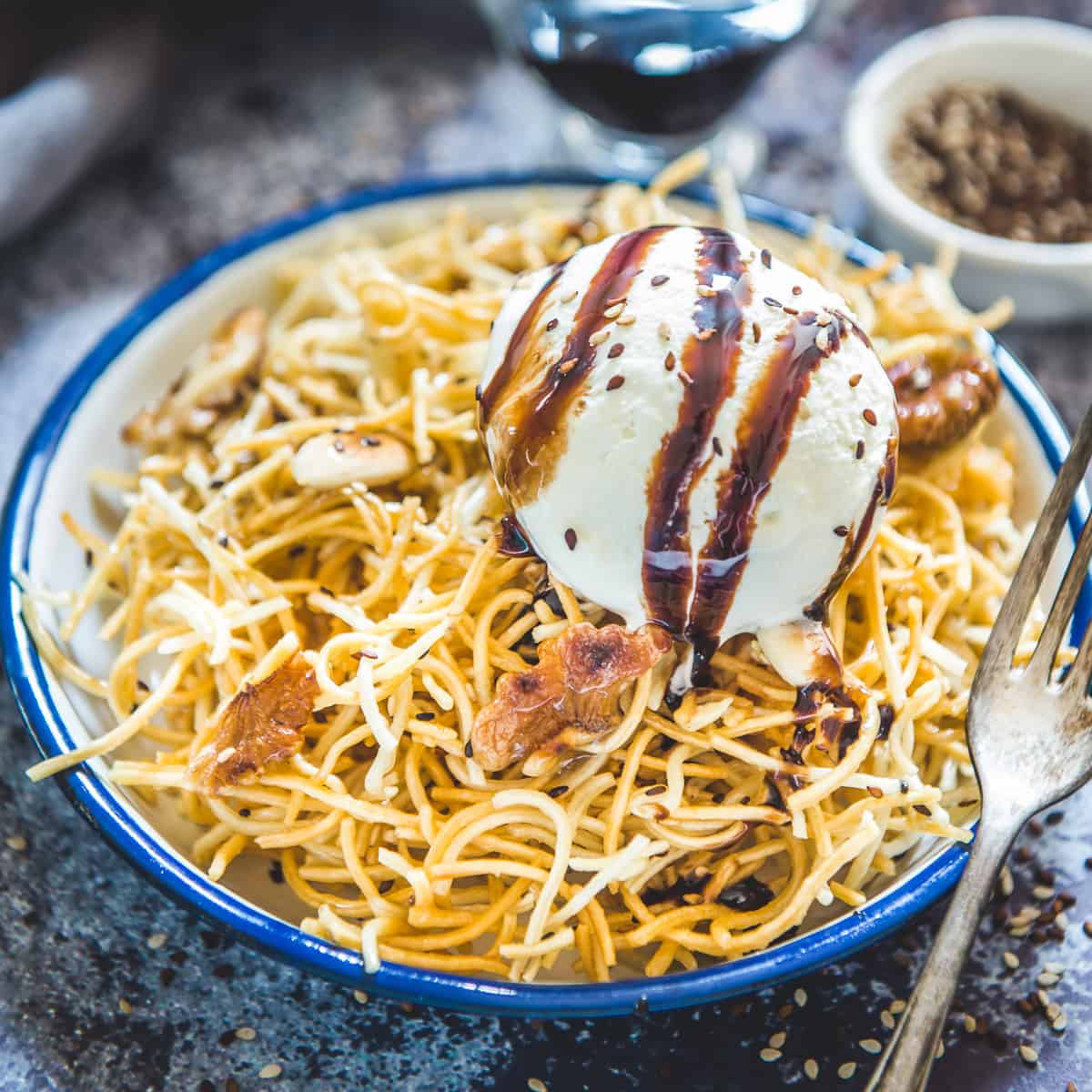 Darsaan is a traditional Chinese dessert consisting of honey-coated fried noodles with a scoop of either vanilla or vanilla-chocolate swirl ice cream on top.
It's one of those versatile deserts that make sense in both a fancy restaurant and when made at home.
The recipe varies from region to region but in our opinion, they're all great because they all have that rich, caramelly sweetness of the honey with the chew of the noodles, all enveloped by soft, silky ice cream.
If you're looking for a recipe that's less of a carb overload, try substituting regular ramen noodles with delicious immi ramen.
Try substituting regular noodles with immi ramen from our Variety Pack!
Variety Pack
Variety is the spice of life. Get all three flavors including Spicy Beef, Black Garlic Chicken, and Tom Yum Shrimp. You'll be covered for all occasions.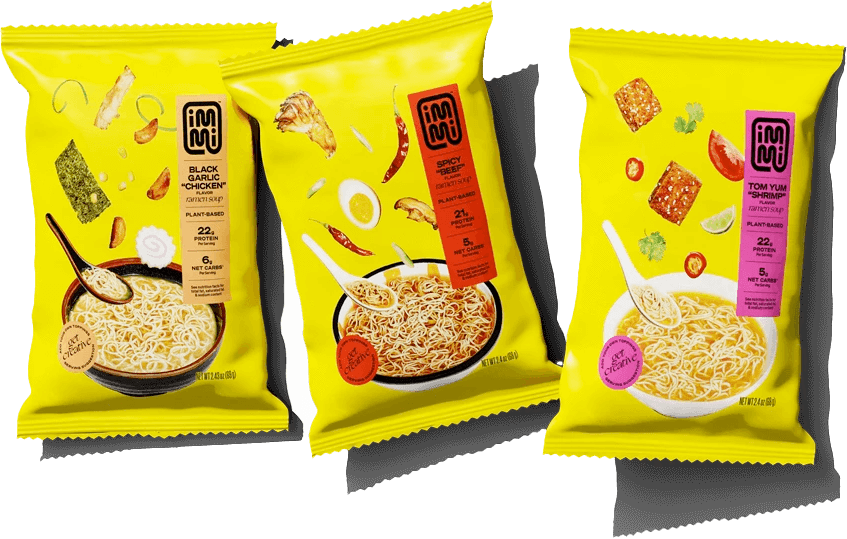 Slurp Now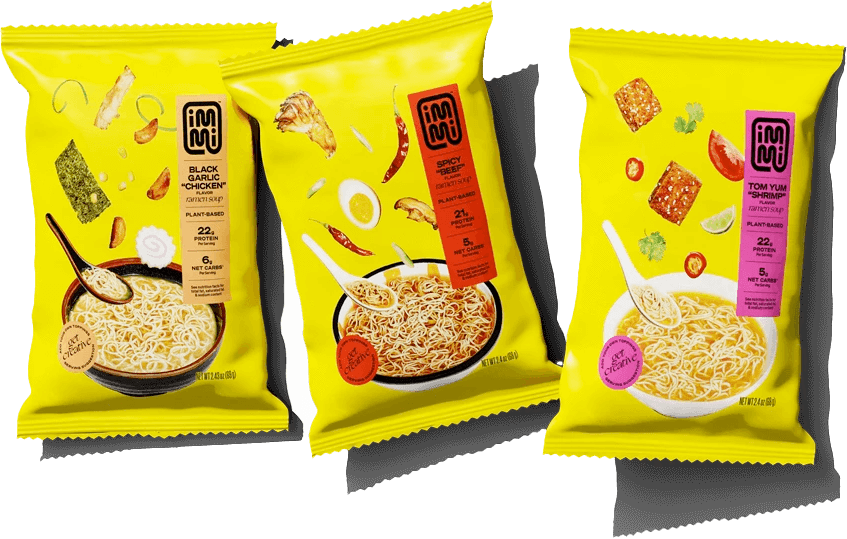 How It's Made
Darsaan is made by deep-frying noodles so that they're crispy but not overly crunchy. Then, they're coated with honey, butter, and sugar syrup until they absorb it.
The noodles are then coated with either vanilla or nutty ice cream that immediately starts melting into the hot noodles.
Here's a simple recipe for Darsaan (with added nuts and seeds).
What Makes it Great
Darsaan is not complicated or layered. Anyone with basic knowledge of cooking can prep an awesome plate of darsaan.
Our favorite thing about the dessert is that it contains noodles which are naturally easy to eat. Plus, they carry that deep richness of the honey sauce which is not overly sweet. Overall, it's a dish we can easily have every day.
Cendol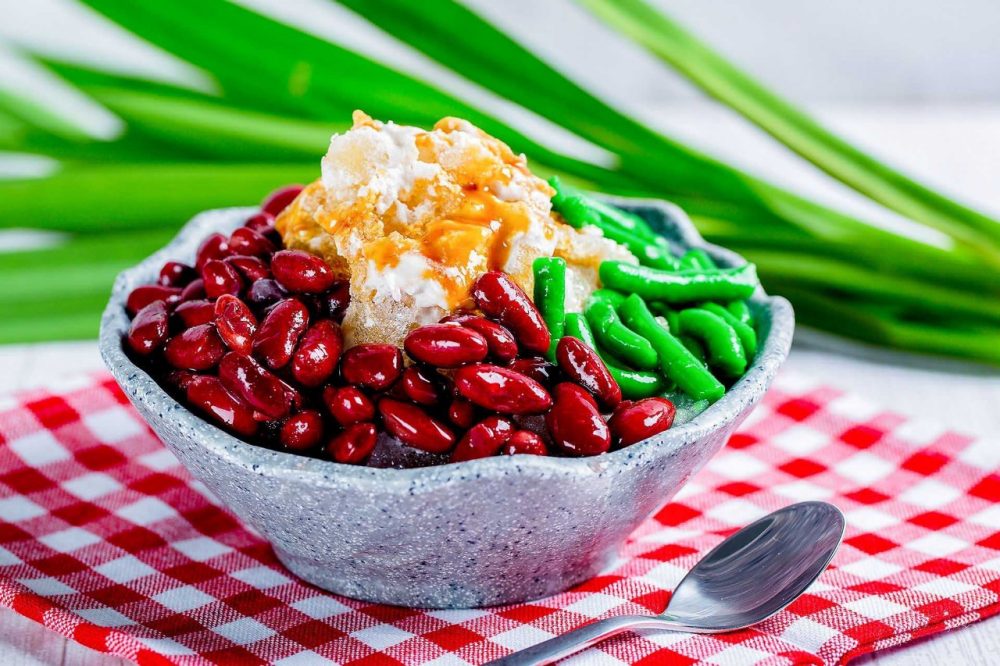 Cendol is a colorful dessert made with coconut milk, rice flour jelly droplets, and palm sugar syrup, all held together by glutinous rice and soft kidney beans.
It's a common dessert in Southeast Asia, especially in Malaysia, Singapore, and Indonesia. The version we're talking about here is the one you'll find in Malaysian food streets and centers.
The thick and heavy nature of the dish makes it great to have with the creamy texture of jellied rice and beans. It also makes for a great afternoon or evening snack during hot days.
How It's Made
Traditional cendol is made with coconut milk as a base for jelly-like rice flour strands and glutinous rice. The strands are made with a blend of pandan leaves and sugar syrup, to create what looks like stick noodle strands.
The dish is put together by adding the rice, beans, cream corn, and some optional rice flour jelly to the mix.
Here's a simple recipe that explains how to make a basic but super delicious version of the dessert.
What Makes it Great
This is one of those desserts in which you can experiment with topping amounts.
For example, if you prefer more rice for a less molten texture, simply add more of them and slightly less of coconut milk. Similarly, you can top it with sweet bean paste instead of solid beans. It's really a build-your-own type of dish that you'll have fun making and eating!
Banh Da Lon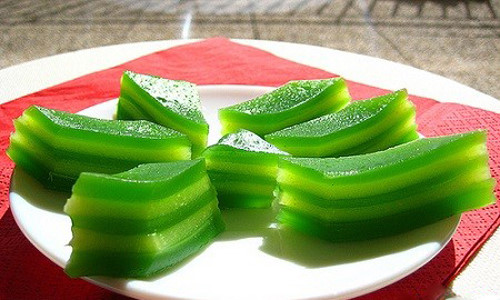 Banh Da Lon is a steamed layer cake from Vietnam, where it's typically made with coconut milk, mashed mung beans, tapioca starch, rice flour, and sugar.
It's one of our top dessert recipes because of its soft, delicate appearance but amazing taste. It's also great as a party favor that you can make beforehand and store for when you need it.
Although we've had a few versions of the dish, our favorite is the one with a clear green layer and a cloudy yellow layer, which is the traditional method.
How It's Made
The cake is made by piling a layer of tapioca starch and rice flour jelly onto a mung bean and tapioca flour layer.
Both layers are then steamed on the lowest steamer settings that allow it to set perfectly.
Here's a simple recipe that provides a step-by-step layering and steaming process for the cake.
What Makes it Great
When it comes to cakes and other layered desserts, we like a bit of variety and uniqueness. Banh da lon fits the bill perfectly because of its uniquely creamy but gelatinous consistency.
Plus, it's got the sweet factor covered with a mild but delicious sweetness. We guarantee it'll quickly become one of your top desserts too. 
Privy Sign Up form
Want more delicious recipes like this straight to your inbox? Sign up for our e-mail list.
You'll also get updates on immi, recipes, exclusive offers, and more.
Taho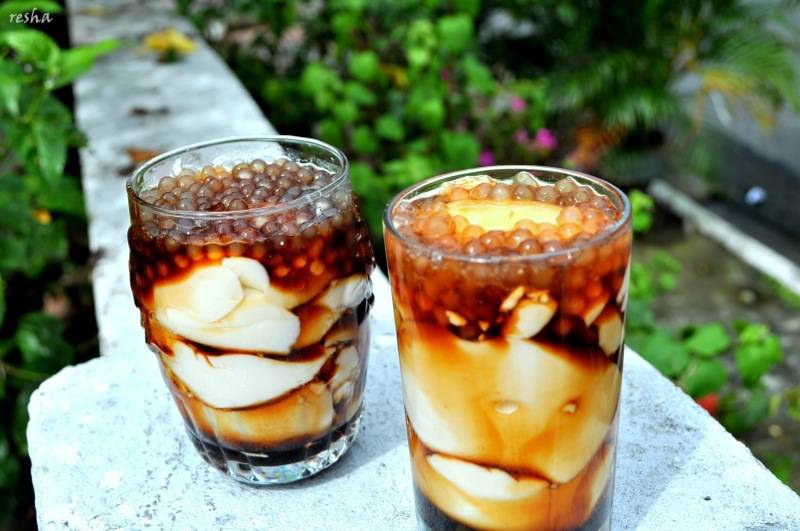 Taho is a Filipino dessert of soft tofu served with dark caramelized syrup and tapioca pearls. It's popular as street food in the region, where it's served at both stalls and walking street carts.
It's very simple to make and literally has just three ingredients, namely simple syrup, tapioca pearls, and silken tofu.
Although it's primarily a dessert dish, taho works great for breakfast as well.
How It's Made
The dish is made by slicing silken tofu into thin strips, then layering the strips with the syrup and the tapioca pearls.
You can also try freezing the pearls for a while before adding them to the recipe for some added texture. In case you're looking for a deeper sweetness, try layering with thinned caramel syrup or honey.
What Makes it Great
One word – simplicity! It's a simple and delicious dessert that you can have at any time of the day. It works great as a movie snack too, especially after a bowl of savory immi ramen.
Just prep some beforehand and put it in the refrigerator for even better results. You can also add some ice cream on top to upgrade the dessert.
Red Bean Soup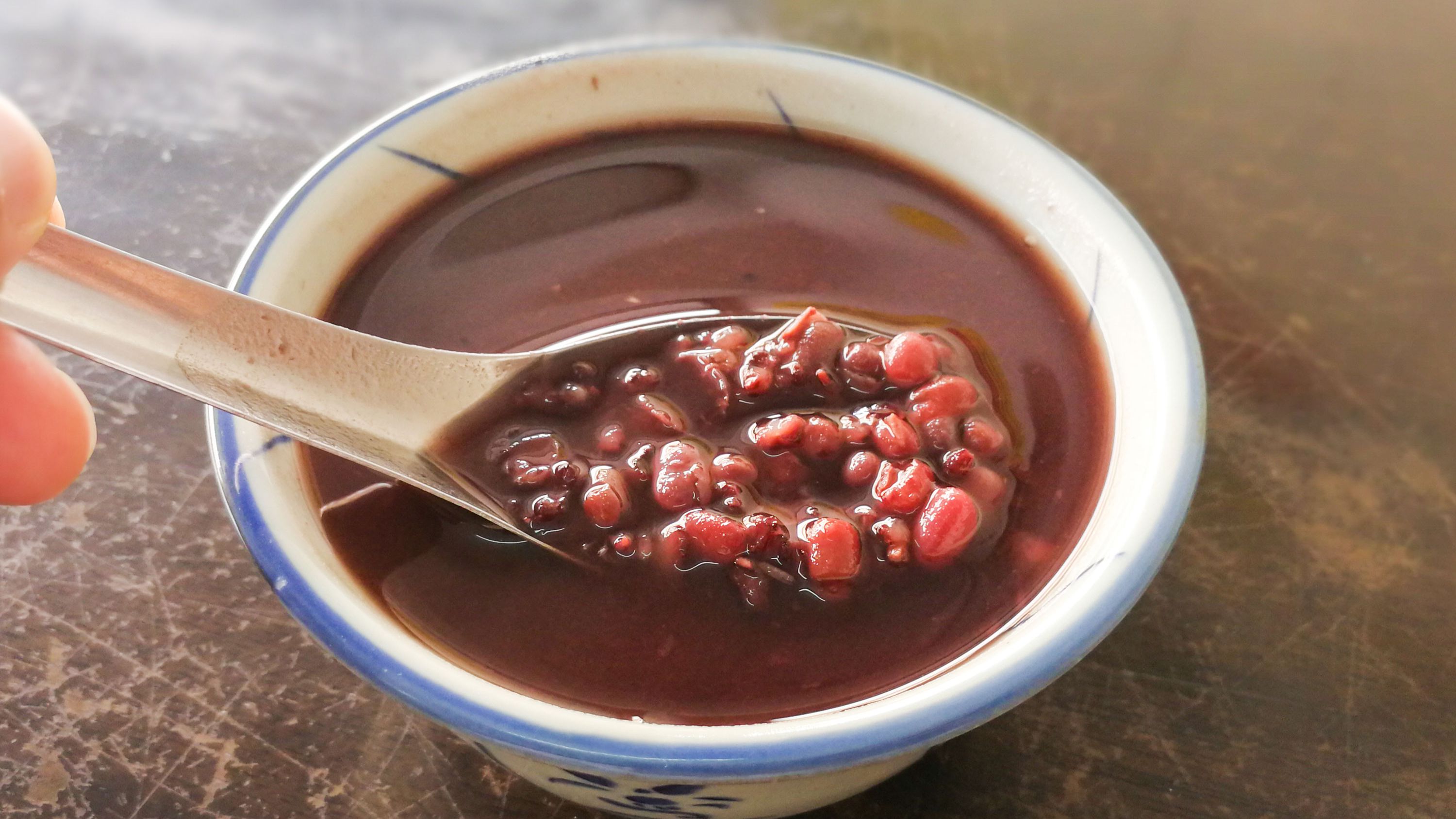 Red bean soup is a simple Chinese dessert soup that's often eaten throughout the year, usually after meals.
It's another simple dish that has a complex flavor profile due to the beans and tangerine peel. The citrus is not too heavy either. There are delicate notes of it that you can detect in this very common dessert.
We highly recommend this soup for anyone looking to try the traditional Chinese dining experience. This soup is used as a meal closer, or the last dish to have.
How It's Made
The soup is made by pre-soaking and then boiling the red beans till they're soft and mushy. The tangerine eels are chopped up and boiled in water till they disintegrate. Both ingredients are then boiled together until they form a soup.
Here's a basic recipe for red bean soup that you can make for daily meals.
What Makes it Great
Again, this is a simple and hearty soup that you can have as a quick dessert or to complete a meal.
It's got tons of flavor if you use aged tangerine peels, plus you can freeze the been paste to use later, making it super convenient too.
Khao Niao Mamuang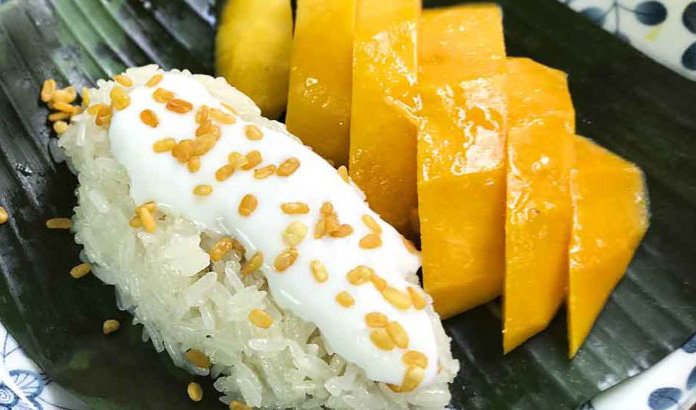 Khao Niao Mamuang is a Southeast Asian dessert of sticky rice cooked and coated with reduced coconut milk, that's eaten with fresh mango slices.
This flavor combo is so good, you can actually have it as a meal! It definitely has all the nutritional value to be a complete meal, especially if you're using good, fresh mangoes.
Some versions of this dish have coconut gravy poured on the rice, and some have the rice cooked in milk. We believe all versions are delicious and worth a try.
How It's Made
This dish can be assembled on the spot if you have ingredients already prepped in the refrigerator.
You can cook a batch of rice and reheat it when you need it. The same goes for the coconut sauce.
Here's a common regional recipe for khao niao mamuang that you'll find in most Thai homes and dessert places.
What Makes it Great
Because you have two very different components in this dish, you can really explore some of the flavor types of each.
For example, you can have a slightly more tart mango with more sweetened coconut milk or a sweeter mango with completely unsweetened milk. It's really up to you to make your ideal flavor mix.
Ruam Mit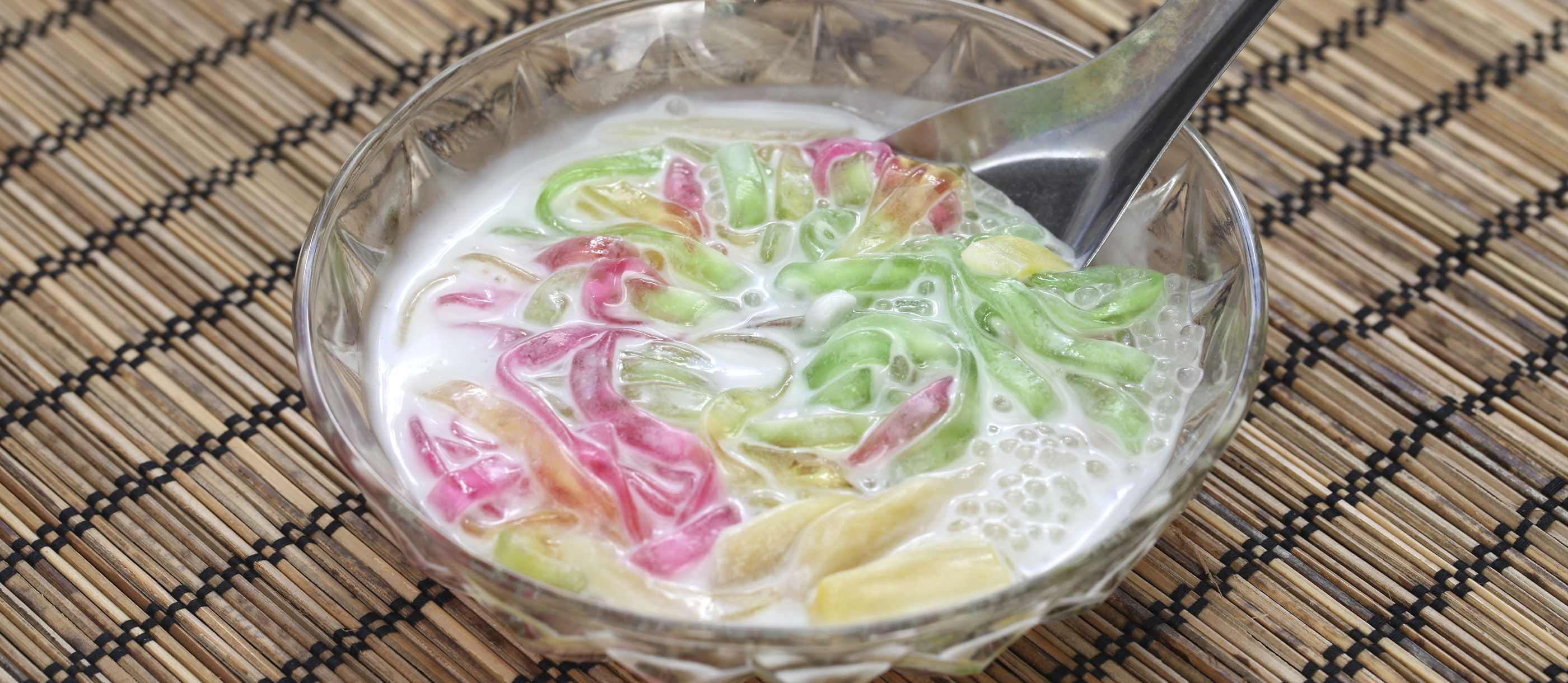 Ruam Mit is a vibrant Thai dessert with jackfruit, sweet potato, lotus root, coconut milk, and beans.
The term 'Ruam Mit' literally means 'all mixed together', which is a pretty accurate way of describing this flavor rainbow of a dish!
Even though it has several prominent flavors, somehow they all work together to create the ideal mix for a post-meal dessert or even a celebration dish.
How It's Made
Just as the name suggests, this recipe is a hotpot of several individual dessert items mixed together. There is some cooking involved though, as this classic recipe shows.
Ruam Mit is on the slightly complicated side in terms of preparation. However, if you can prep the ingredients beforehand, you can keep them in the freezer ready for your next dessert craving.
What Makes it Great
We've always maintained that bold flavors are the best. That's what keeps us so tied to our Asian culinary roots. Recipes such as ruam mit are an example of why we like the big, bold flavors of Asian recipes so much.
What's even better about the dish is that you have any combination of fruits you want in it, as long as you follow the cooking procedure. With a world of fruity flavors out there, the options are endless with this one.
Longan Tong Sui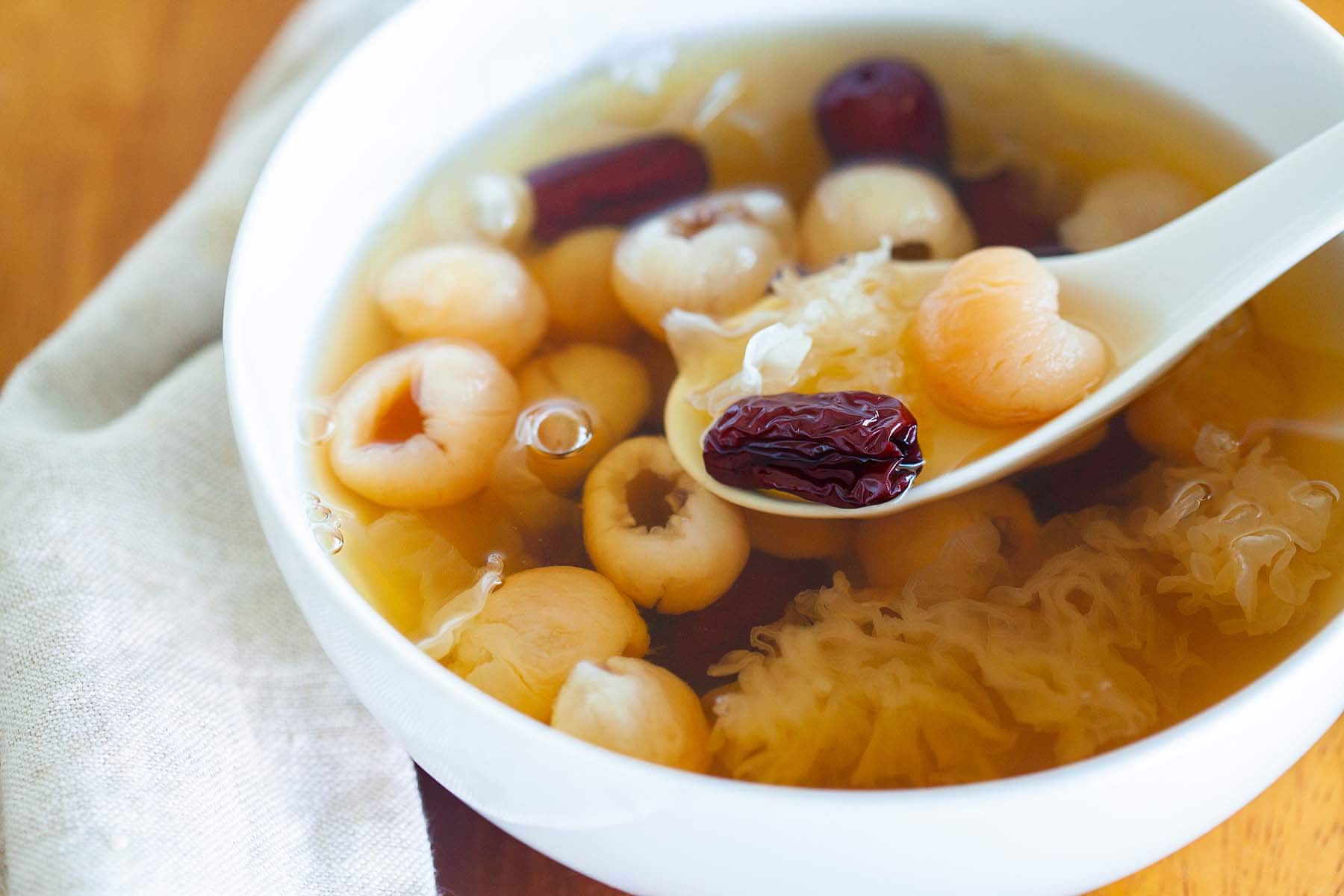 Longan tong sui is a sweet dessert soup that's made with edible Chinese snow fungus, red dates, dried longan, and sugar water.
It's more of a sweet broth with the dates and snow fungus steeped in it. The subtle sweetness of the dates and the tartness of the dried longan fruit really complement what's otherwise a simple sweet broth.
They add another layer of sweetness after you've drunk the broth, making it the perfect post-dinner serving.
How It's Made
Simply boil all the ingredients in a pot of water with sugar added. Keep boiling till the water turns brown like caramel. Serve warm or cold. That's really all there is to it.
Here's a recipe that has ginkgo nuts added, do give it a try.
What Makes it Great
It's a great all-season dessert soup because you can have it both hot and cold (with ice added).
It also works great as a thirst quencher during the summer months when you need something sweet but are thirsty too. Overall, a great dessert that we highly recommend.