We're huge fans of plant-based Asian foods here at immi, whether they're simply vegetarian versions of traditionally meat-inclusive recipes or authentic vegetarian dishes. In terms of flavor, there's nothing that plant-based ingredients can't do or surpass. And this list of delicious vegetarian Asian dishes will remind any devoted Asian foods lover that the range of yum crosses generously into meat-free dishes.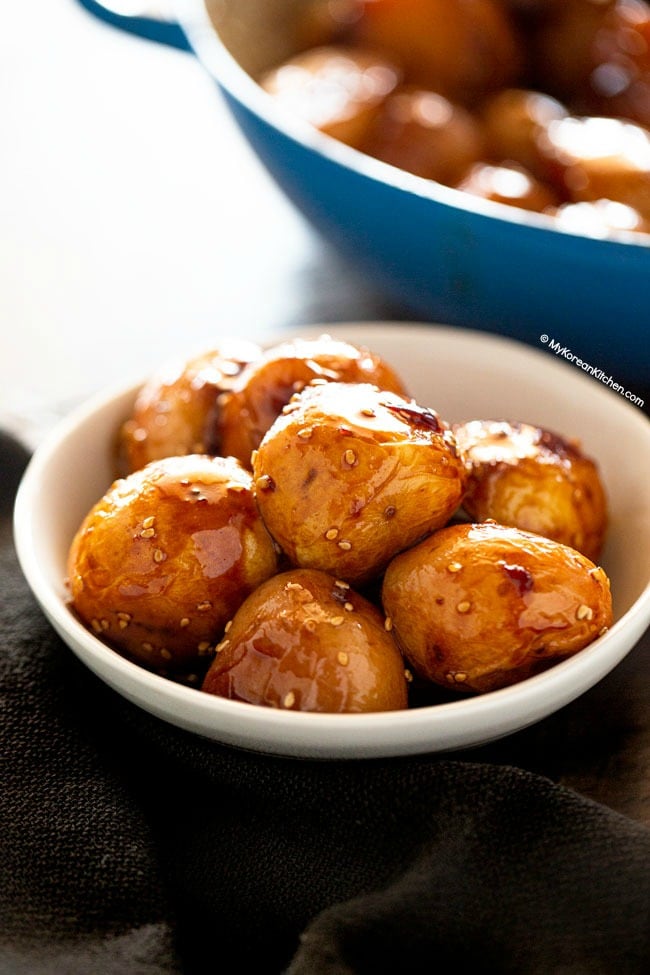 It seems that every culture has their town take on the humble potato, and this might be one of my favorite Korean ones. Essentially, gamja jorim is a braised potato dish that combines sliced potatoes, carrots, onions, and chili peppers, and tosses them in a delectable, slightly sweet soy sauce. It may sound like an underwhelming meal, but we all know what happens when we combine soy sauce with literally any other sweet ingredient: An irresistible flavor combination. Many other food classics we love lean on this sweet and savory pairing, from PB&Js to chicken and waffles. If those food comparisons aren't enough to convince you to try this vegetarian Korean recipe tonight, just consider that you probably already have all the ingredients you need to make it right in your fridge.
Craving more delicious, plant-based food options? Try immi!
Variety Pack
Variety is the spice of life. Get all three flavors including Spicy Beef, Black Garlic Chicken, and Tom Yum Shrimp. You'll be covered for all occasions.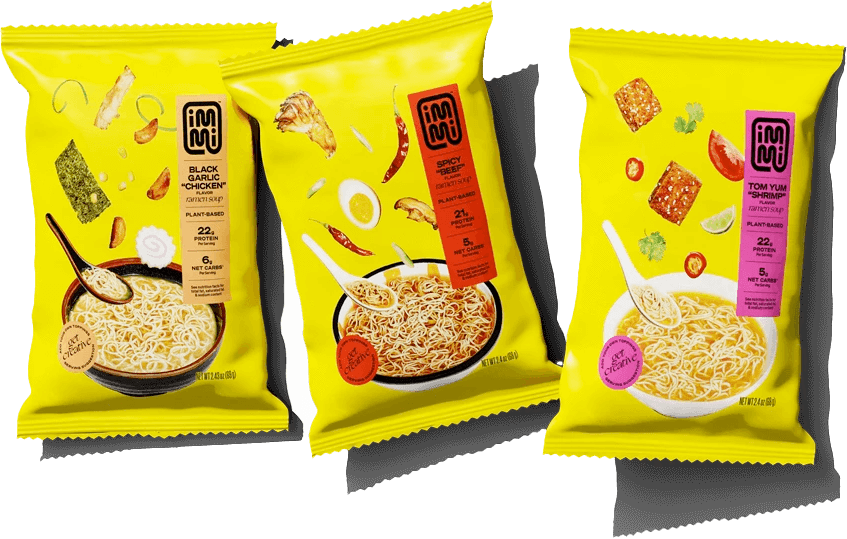 Slurp Now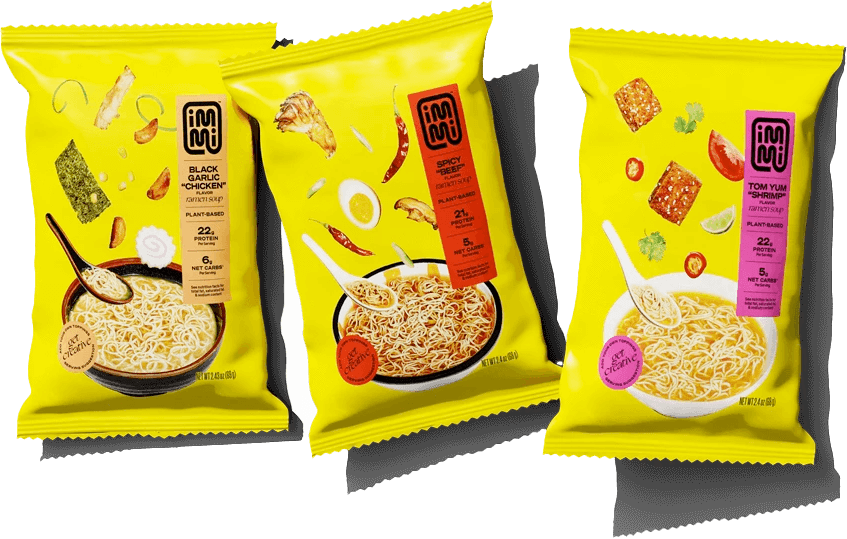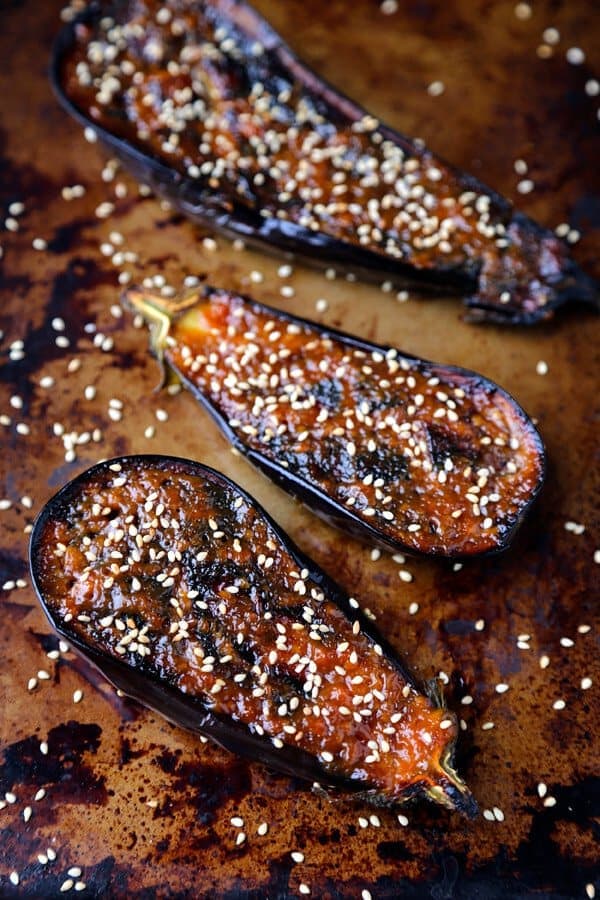 Eggplant is one of the most versatile vegetables out there — in one dish, it can be crunchy and smoky, and in another it's soft and pasta-like (eggplant parmigiana, anyone?). In this Japanese iteration, eggplant is traditionally sliced in half, scored, and cooked over a fire. More often, though, it's panfried, deep fried, or oven roasted. It's then brushed with a sweet and savory miso glaze that lends the whole dish a smoky, sweet, and nutty flavor. You'd be surprised by how much eggplant you can consume in one sitting when prepared in this way. This vegetarian dish is often served as a side dish at an izakaya, but who's to say you can't make it your main meal by just pairing with a steaming bowl of rice?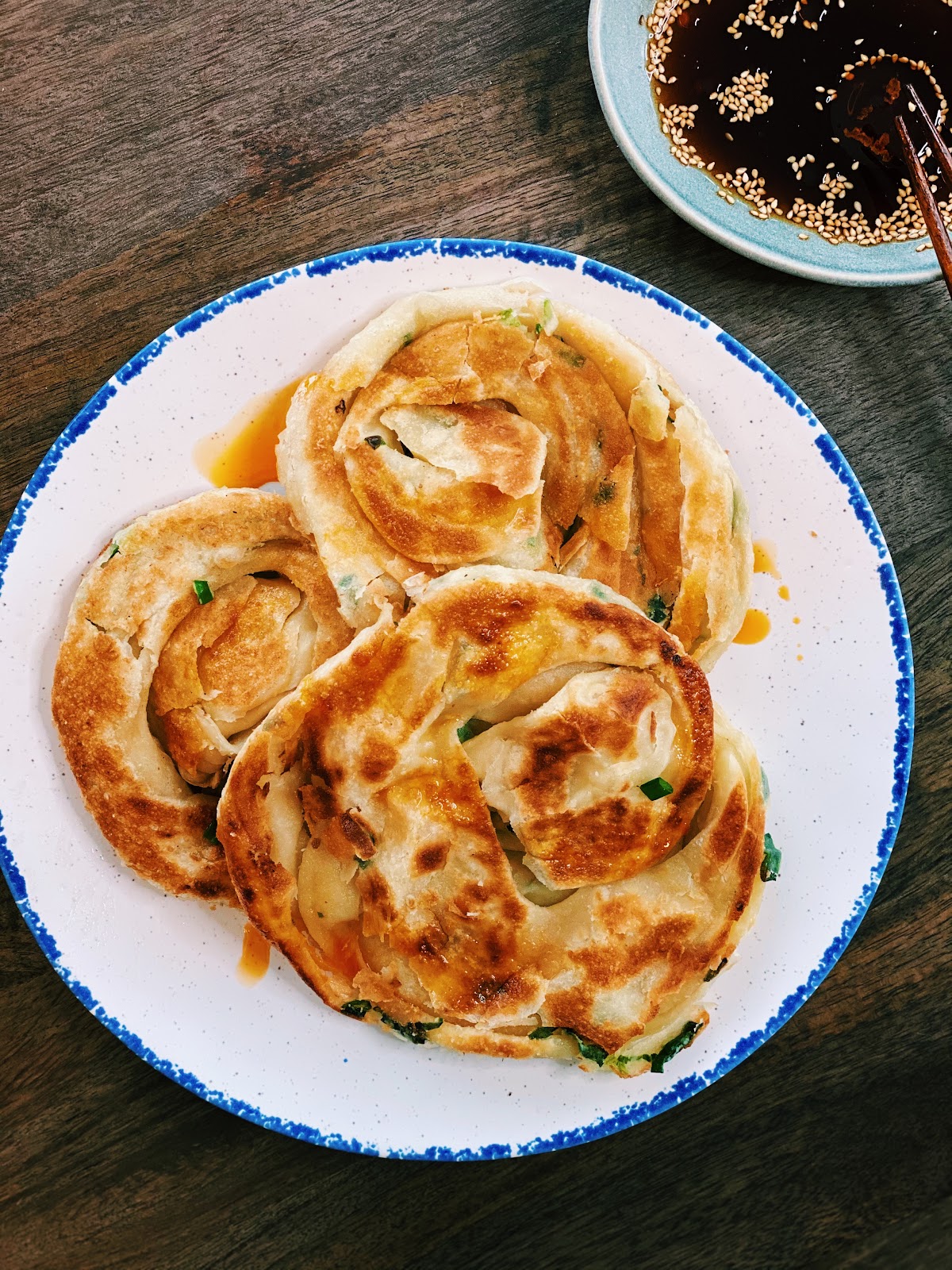 These crispy, flaky scallion pancakes are ideally savored from any one of Taiwan's street vendors, but they're easy enough to make them at home. The dough comes together with just flour, water, and cooking oil, and later, an addition of a lard-ey, scallion-filled flour paste that eventually lends the pancake its flaky and savory texture. You can eat it with a dipping sauce, or even wrapped around cheese, eggs, or other ingredients. If you want to go crazy, try it with any one of the other crazy delicious Asian sauces we love.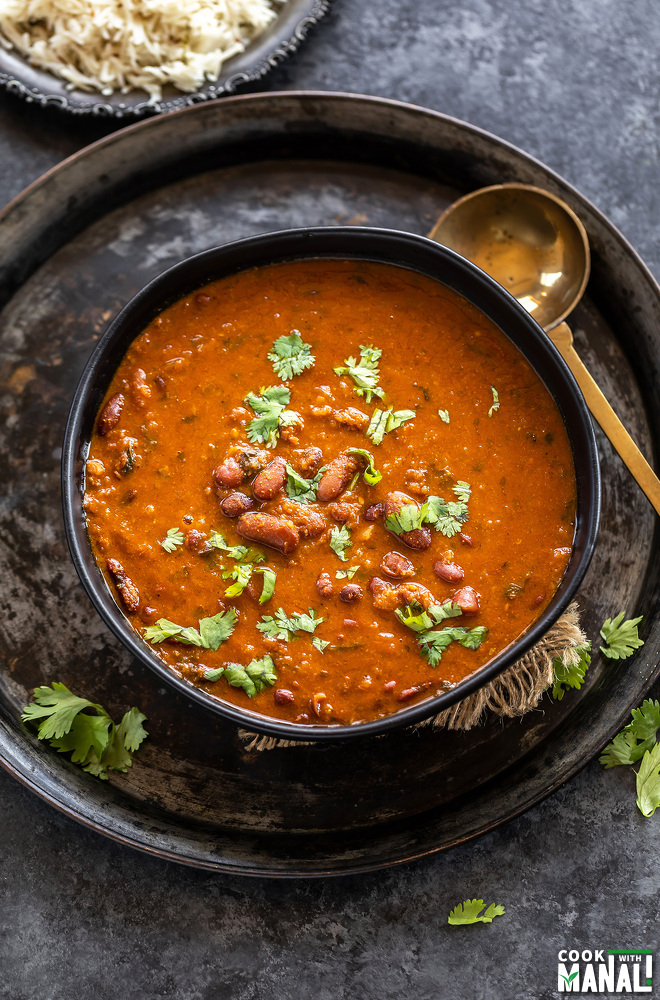 Every time I think I'm done discovering new recipes based on tomatoes and onions, the internet reminds me of another dish that tops the last. Enter: Rajma Masala, a kidney beans curry hugely popular in North India and Nepal that's made with a generous helping of kidney beans, tomatoes, onions, and various spices that create a deep and layered flavor. A well-prepared curry will have beans that seem to melt in your mouth. Fun fact: Though popular in Asian, rajma masala is actually a product of colonial trade. Kidney bears were first brought to India by Portuguese traders from Mexico. Their extremely nutrient-dense properties — which make them an excellent choice of dinner food — also made them ideal for long journeys across the sea.
Try 100% plant-based and low-carb immi noodles!
Variety Pack
Variety is the spice of life. Get all three flavors including Spicy Beef, Black Garlic Chicken, and Tom Yum Shrimp. You'll be covered for all occasions.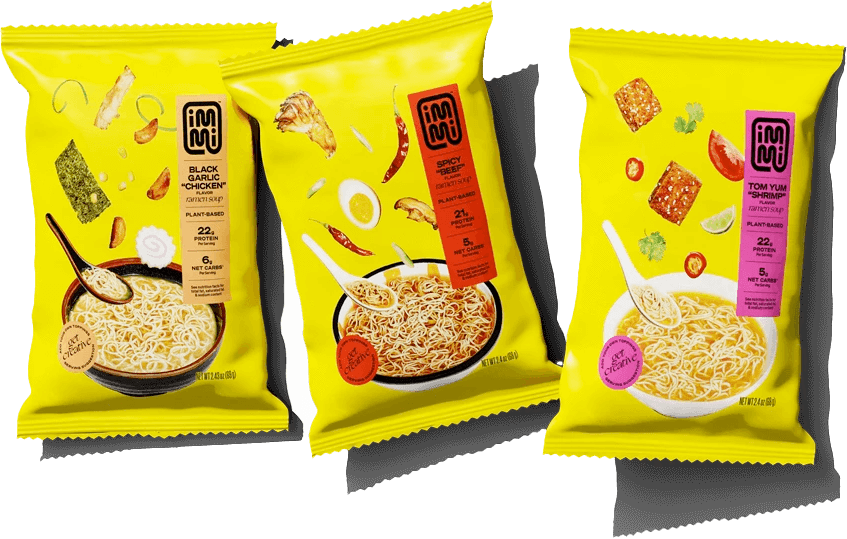 Slurp Now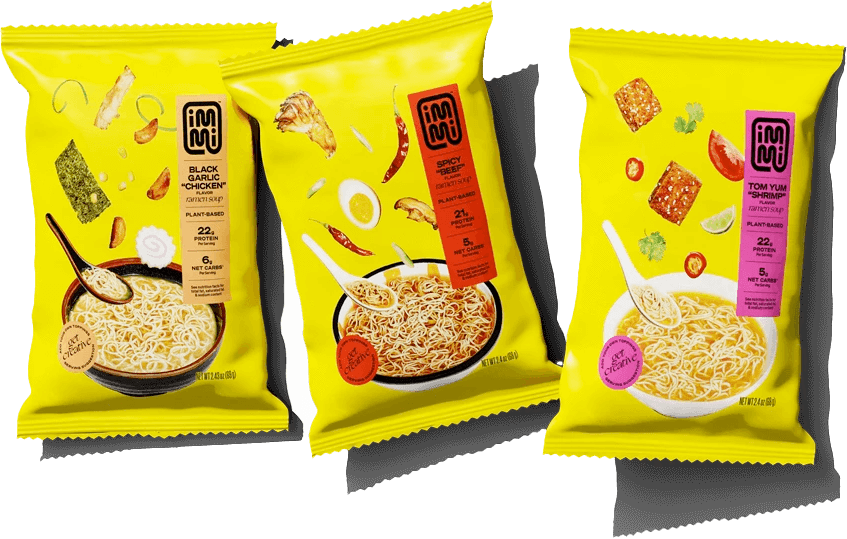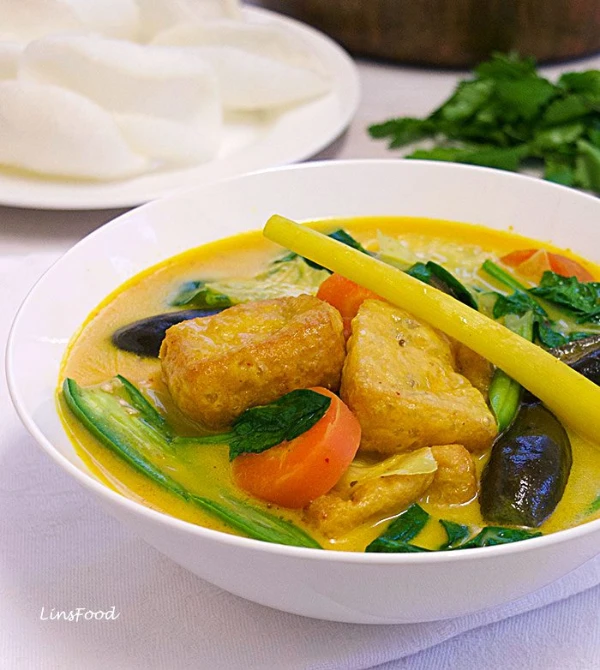 This Singaporean vegetable stew cooked in coconut milk is a simple vegetarian dish that's notable for its creaminess and slightly citrusy flavor, thanks to the lemongrass talks it's cooked with. It's honestly a great way to use up any vegetables in the fridge that seem to be wilting (much like a minestrone!), but if you really want to get it right, you could opt for traditional veggies, including cabbage, tempeh, Chinese eggplant, and long bean. The stew is also prepared with chilies, which would explain the strong mouth-watering effect it has on all diners eagerly anticipating this dish. To make it fully vegetarian, remember to leave the shrimp paste out; the spices, coconut milk, and chilies will ensure there's enough rich flavor left in the dish.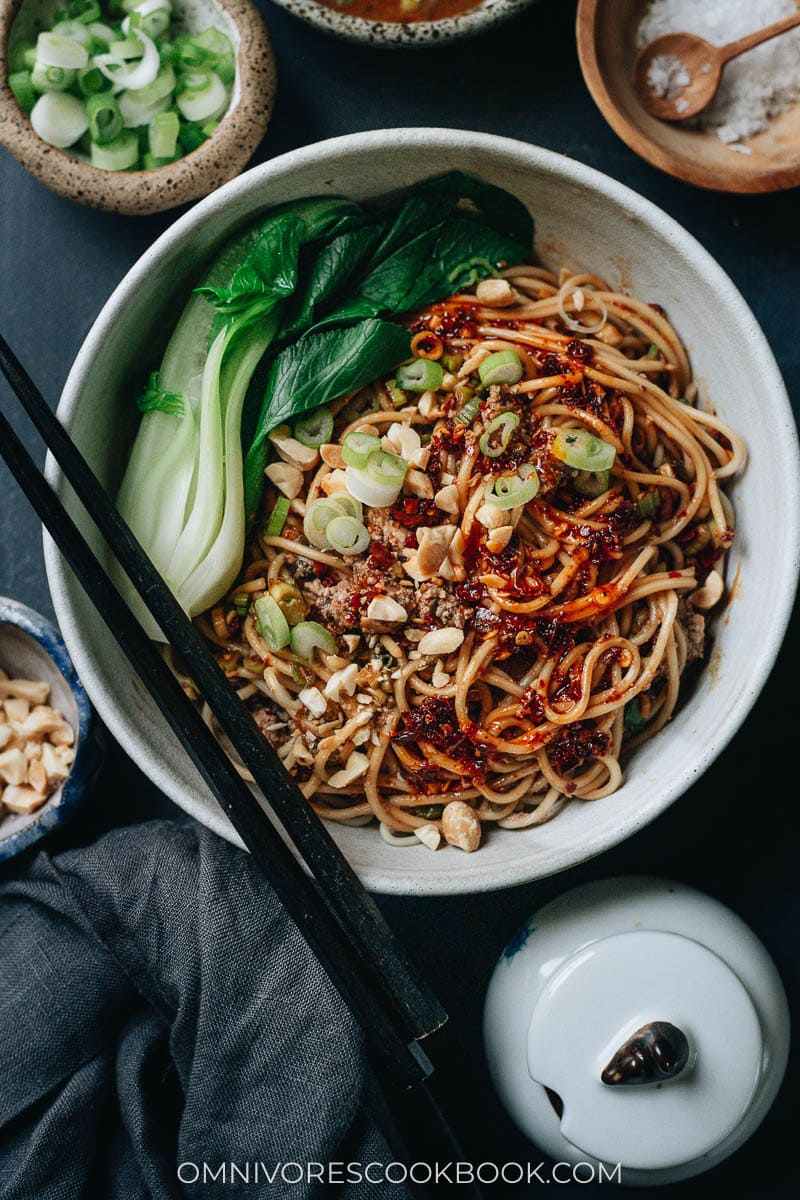 While originally prepared with minced pork, this vegetarian version of the classic Sichuan Chinese noodle dish leaves nothing out in terms of fiery flavor. It just calls for a few essential elements, including: the noodles, the chili oil, vegan meat, the vegetables, and most importantly, the sauce. I know — the dish might look simple (and it is, at least preparation-wise!) but it takes a careful curation of precise ingredients to make the magic happen. Of course, a few swaps never hurt, and in this vegan iteration, a tasty vegan meat topping made of tofu, nuts, and mushrooms keeps the savory spirit of pork alive and well. To keep it low-carb and plant-based, you could easily swap in immi noodles as well.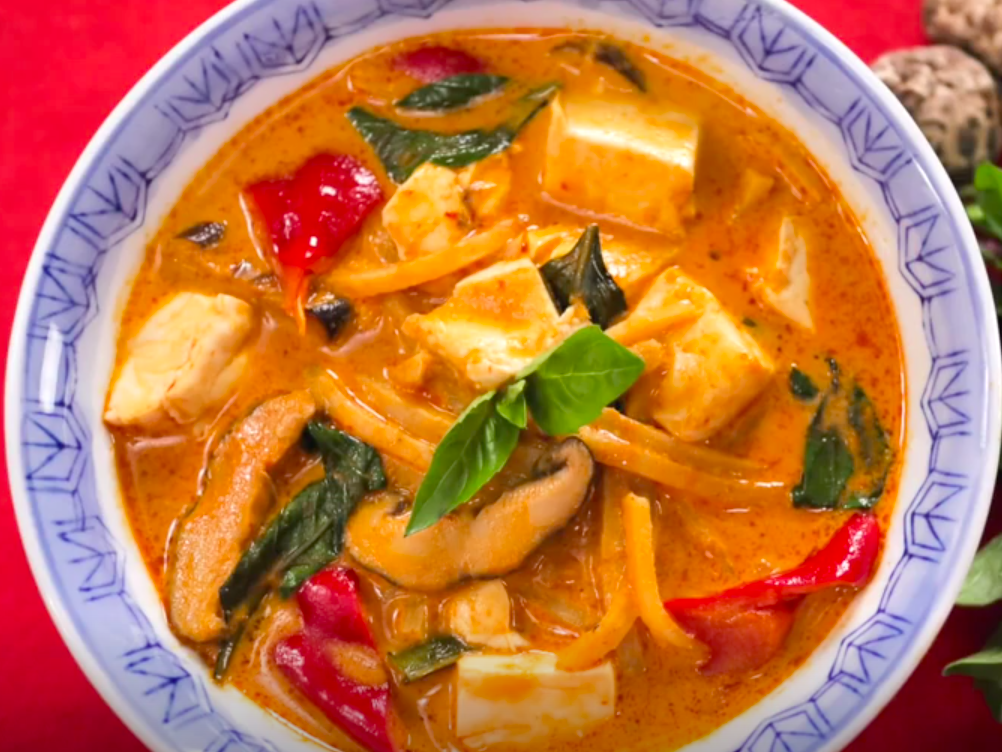 In the world of Thai cuisine, red curry is one of the most ubiquitous dishes out there. But it's more than a simple mash-up of coconut milk and curry paste. To carry the flavor through, this vegan curry recipe combines a few hallmarks of Thai cuisine, including kaffir lime leaves, which impart a wonderful citrusy aroma, bamboo shoots, and Thai basil, which has a distinctive spicy, almost cinnamon-ey flavor. I love Thai red curry because it's the perfect year-round comfort food that goes as well with tofu as with any other non-vegan protein. There's something about the combination of savory, fragrant, and slightly sweet flavors and creamy coconut milk broth that really calms my nerves after a long day of work. I often have it with rice — but have also tried it to delicious results with noodles.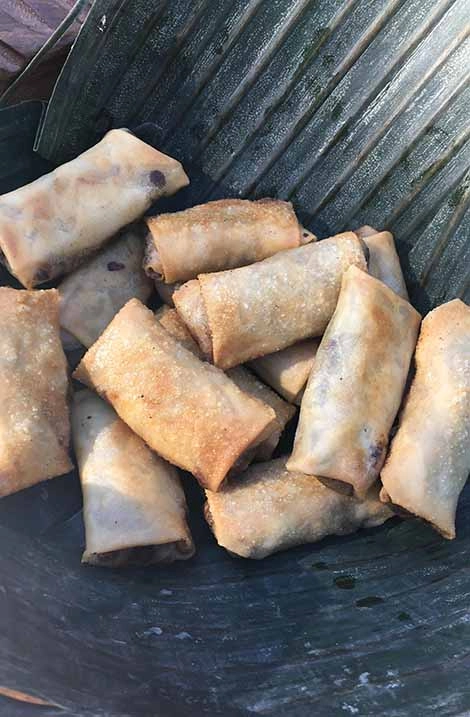 Tightly wrapped into long cylinders and slightly denser than other spring rolls, this Filipino egg roll is the perfect appetizer or midday snack. I love that that this lumpia filling calls for eggs to bind the whole mixture together — the recipe is almost optimized for mess-prone home chefs who've seen way too many egg rolls fall apart while cooking. In this vegetarian rendition, you can swap out the usual ground pork with mushrooms and liquid amino acids (or soy sauce). For the best eating experience, do as the Filipino do and dip your lumpia in banana sauce, banana ketchup, or sweet chili sauce.